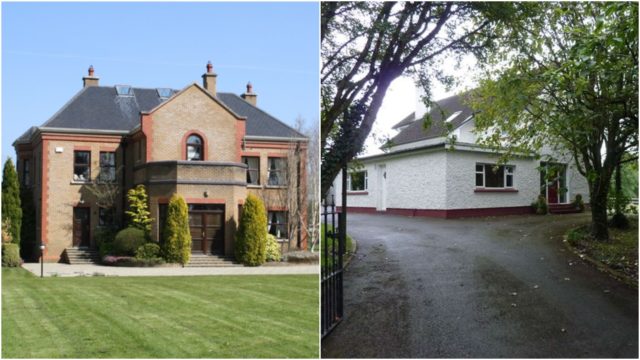 The number of residential properties that changed hands in Laois in August and September was down on previous months, but one property did break the €500,000 barrier, making it only the fourth home in the county to do so in 2018.
In total there was 126 sales between the two months – 71 in August and 55 in September – down from 86 in June and 76 in July. The two months also marks a decline on the same two months in 2017, when 180 houses were sold. The figures are taken from the Property Price Register.
Clawhinch House in Rath, near Ballybrittas, sold for €550,000 in September, making it the most expensive property to be sold in the period and only the fourth house to surpass the half million mark this year.
The most expensive property to sell in Laois this year was in Castletown for €590,000 in June  while a property in Mount Henry Drive in Killenard made €510,000 in July and Spire Hill in Portarlington sold for €500,000 in the same month.
Indeed the house in Rath was the only property to exceed €400,000 in the two months – in total 10 homes have been over that figure this year.
A property in Kilminchy in Portlaoise sold for €380,000 in August while one in Foxburrow in Portlaoise made €350,000 in September.
At the other end of the market, a property in Rathdowney sold for €35,000 in September with three properties between €40,000 and €50,000 over the two months.
Since January of this year, 546 residential properties have changed hands, down from 555 over the same nine-month period in 2017. We have been tracking those sales each month.
For the first six months, 2018 had more sales than a year ago but that has since declined in recent months, indicating a bit of a slowdown, something that mirrors what auctioneers locally are experiencing.
The full list of properties sold and for what price are listed below.
AUGUST 2018
€380,000 – 86 Lake Drive, Kilminchy Village, Portlaoise – 23/08/18
€330,000 – Fair Oaks, Killeshin Road, Carlow – 31/08/18
€308,000 – Kilcruise Lower, Castletown, Athy – 24/08/18
€300,000 – Windrush, Borris Road, Portlaoise – 17/08/18
€291,500 – Kylebeg House, Pike of Rushall – 28/08/18
€290,000 – Killanure, Ballybrittas – 30/08/18
€290,000 – Ross na Mullen, Derrymoyle, Portlaoise – 02/08/18
€280,000 – Fairyhill House, Conoboro Road, Rathdowney – 24/08/18
€270,000 – 18 The Downs, Stradbally Road, Portlaoise – 22/08/18
€265,000 – 38 Aughnaharna, Stradbally Road, Portlaoise – 30/08/18
€260,000 – The Rock, Ballyroan – 30/08/18
€255,000 – 6 Millbrook Manor, Portarlington – 03/08/18
€245,000 – 4 Pine Villa, Droughill, Portarlington – 22/08/18
€232,000 – 19 Cherrygarth, Abbeyleix Road, Portlaoise – 17/08/18
€230,000 – Grantstown, Ballacolla – 10/08/18
€190,000 – 3 Meadowsway, Springhill Road, Crossneen – 28/08/18
€190,000 – Shannon Road, Mountrath – 17/08/18
€190,000 – Clonrooske Abbey, Portlaoise – 13/08/18
€190,000 – Killeen, Stradbally – 13/08/18
€187,000 – 135 The Hermitage, Borris Road, Portlaoise – 20/08/18
€185,000 – 18 Garden Village, Portlaoise – 15/08/18
€185,000 – 323 Berrybridge Avenue, Maryborough Village, Portlaoise – 13/08/18
€180,617 – 249 Bellingham, Mountrath Rd, Portlaoise – 29/08/18
€175,000 – 9 Woodgrove, Ballyfin Road, Portlaoise – 09/08/18
€175,000 – 100 Lake Drive, Kilminchy, Portlaoise – 10/08/18
€175,000 – Tonduff, Abbeyleix – 22/08/18
€175,000 – 57 Triogue Manor, Portlaoise – 27/08/18
€174,796.75 – 176 Maryborough Village, Mountrath Road, Portlaoise – 14/08/18
€172,500 – 17 Barrow View, Portarlington – 03/08/18
€169,000 – 26 Boughlane Way, Bellingham, Portlaoise – 10/08/18
€165,000 – Stradbally Road, Portlaoise – 15/08/18
€163,295 – 52 Marian Avenue, Portlaoise – 16/08/18
€162,000 – 51 Rinnuccini, Portlaoise – 27/08/18
€160,000 – 12 Knockiel Drive, Rathdowney – 22/08/18
€161,233.48 – 279 Maryborough Village, Portlaoise
€161,000 – Main Street, Stradbally – 30/08/18
€160,000 – 18 Slieve Bloom Heights, Rathdowney – 29/08/18
€160,000 – 2 Carmody Square, Fairgreen Village, Portlaoise – 07/08/18
€145,000 – 3 Masslough Meadow, Ballinakill – 09/08/18
€145,000 – 45 Bianconi Way, Ridge Road, Portlaoise – 21/08/18
€141,000 – Greenmount, Coote Street, Portlaoise – 01/08/18
€140,000 – The Strand, Ballickmoyler – 31/08/2018
€137,000 – Apartment 33A, Stradbrook, Portlaoise – 02/08/18
€130,000 – 83 Lough Gate, Portarlington – 15/08/18
€130,000 – 13 Grove Park, Mountmellick – 23/08/18
€125,000 – 10 Forest Mountrath – 31/08/18
€125,000 – 2 Treascon, Portarlington – 17/08/18
€121,000 – Conoboro, Rathdowney – 23/08/18
€120,000 – 18 Elm Lawn, Mountmellick Road, Portlaoise – 10/08/18
€120,000 – Moore Street, Rathdowney – 09/08/18
€120,000 – 1 Mooreville Crescent, Rathdowney – 31/08/18
€120,000 – 391 The Sycamores, Kilnacourt, Portarlington – 31/08/18
€118,000 – Swan Road, Durrow – 31/08/18
€117,500 – 2 Lake Grove, Kilminchy, Portlaoise – 10/08/18
€117,500 – 2A Lake Grove, Kilminchy, Portlaoise – 10/08/18
€117,500 – 25 Lake Glade, Kilminchy, Portlaoise – 10/08/18
€117,500 – 25A Lake Grove, Kilminchy, Portlaoise – 10/08/18
€100,500 – Coach House, Kylebeg House, Pike of Rushall – 28/08/18
€100,000 – 169 Crann Nua, Edenderry Road, Portarlington – 28/08/18
€99,500 – Camira, Mountmellick – 08/08/18
€90,000 – Ballintubber, Athy – 08/08/18
€90,000 – 70 Borris Little, Portlaoise – 13/08/18
€76,000 – 48 Rush Hall, Mountrath – 03/08/18
€75,000 – Drumnabehy, Rosenallis – 21/08/18
€69,075 – Lackamore, Killeigh, Co Laois – 31/08/18
€65,000 – Knockbaun, Spink – 20/08/18
€60,000 – Doonane, Crettyard – 24/08/18
€60,000 – 25 Stradbrook, Portlaoise – 27/08/18
€52,500 – 4 Greenview, Portlaoise -27/08/18
€47,000 – Apartment 23, College View, Mountmellick – 01/08/18
€43,000 – 34 College View, Mountmellick – 23/08/18
SEPTEMBER 2018
€550,000 – Clawinch House, Rath, Ballybrittas – 20/09/18
€350,000 – 14 Cherrybrook, Foxburrow – 21/09/18
€332,500 – 10 Dun Masc, Dublin Road, Portlaoise – 21/09/18
€295,000 – 89 Aghnaharna Drive, Stradbally Road, Portlaoise – 21/09/18
€265,000 – 7 Boughlaone Way, Bellingham, Portlaoise  – 12/09/18
€250,000 – Shraduff Glebe, Clonaslee – 28/09/18
€252,000 – Townparks, Mountmellick – 07/09/18
€250,000 – The Chestnuts, Ballyhide, Carlow – 18/09/18
€240,000 – Derrycarrow, Camross – 05/09/18
€240,000 – Stoneacre, Ballybeg, Ballylinan – 28/09/18
€220,000 – 3 Rath Gailine, Dublin Road – 21/09/18
€220,000 – La Lupa, Shanrath, Wolfhill – 13/09/18
€210,000 – Melita, Glenside, Portlaoise – 04/09/18
€198,000 – 22 The Garden Village, Mountmellick Road, Portlaoise – 07/09/18
€193,000 – 13 Forest Park Avenue, Portlaoise – 21/09/18
€183,000 – 34 Grange Hall, Mountmellick – 07/09/18
€182,500 – 19 Ballymorris Court, Portarlington – 04/09/18
€180,000 – Castletown Road, Mountrath – 14/09/18
€175,000 – 3 Ridge Road, Portlaoise – 06/09/18
€175,000 – 55 Station Court, Portarlington – 07/09/18
€175,000 – 12 Barrow View, Portarlington – 25/09/18
€170,000 – 44 The Village, Ballylinan – 10/09/18
€167,500 – Loyola, Beladd, Stradbally Road, Portlaoise – 24/09/18
€165,000 – 29 Bluebell Way, Esker Hills, Portlaoise – 28/09/18
€160,000 – 6 Bramley Court, Mountmellick Road, Portlaoise – 14/09/18
€160,000 – 44 Woodgrove, Ballyfin Road, Portlaoise – 07/09/18
€160,000 – 45 Highfield Meadows, Borris Road, Portlaoise – 07/09/18
€157,000 – 49 Fairways, Abbeyleix – 12/09/18
€155,000 – Brookside Ville, Borris-in-Ossory – 24/09/18
€155,000 – 47 Highfield Manor, Graiguecullen – 04/09/18
€150,000 – Aughnacross, Ballinakill – 17/09/18
€145,000 – The Glebe, Rathdowney – 18/09/18
€140,000 – 43 Rathevan Close, Borris Road, Portlaoise – 11/09/18
€135,000 – 4 Mountrath Road, Portlaoise – 17/09/18
€135,000 – 12 Station Grove, Station Road, Portarlington – 11/09/18
€135,000 – Apt 50A Stradbrook, Stradbally Road, Portlaoise – 07/09/18
€133,000 – Killeen, Stradbally – 04/09/18
€130,000 – Derrylusk, Mountrath – 17/09/18
€125,000 – 14 Maryborough Crescent, Dublin Road, Portlaoise – 12/09/18
€118,000 – 44 Lakeglen, Portlaoise – 17/09/18
€115,000 – 8 Daly Terrace, Rathdowney – 13/09/18
€115,000 – 50 Corrig Glen, Station Road, Portarlington – 21/09/18
€105,000 – 7 The Birches, Kilnacourt, Portarlington – 25/09/18
€105,000 – 84 College Avenue, Mountmellick – 04/09/18
€95,000 – 47 The Birches, Kilnacourt Woods, Portarlington – 10/09/18
€85,000 – Main Street, Rathdowney – 12/09/18
€80,000 – Castle Avenue, Derrin, Borris-in-Ossory – 13/09/18
€76,500 – Briody Apartment, Main Street, Portarlington – 21/09/18
€75,000 – 4 The Oaks, Kilnacourt Woods, Portarlington –
14/09/18
€72,250 – The Bungalow, Killasmeestia, Ballybrophy – 11/09/18
€70,000 – 50 Rushall, Mountrath – 17/09/18
€60,000 – The Gem, Main Street, Mountrath – 18/09/18
€60,000 – The Pub, Main Street, Mountrath – 18/09/18
€48,557.48 – Apt 16 Block A, Stradbrook, Dublin Road, Portlaoise – 06/09/18
€35,000 – Main Street, Rathdowney – 13/09/18
SEE ALSO – 76 houses sold in Laois in July – here's the full list