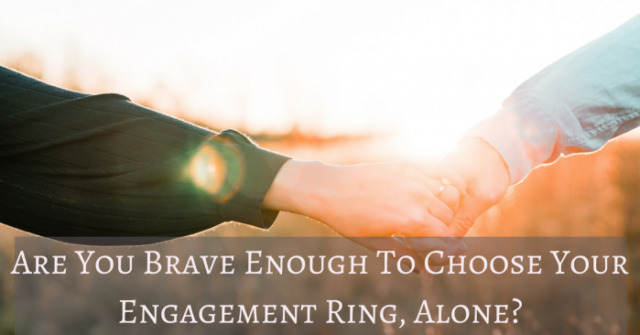 We say go for it. Any person who plans a romantic proposal unknown to their partner has had great success.
The surprise story will go down in your history as a couple forever.  How did your partner propose will be discussed for many years to come and will be a lovely story to tell your family.  At Gerry Browne Jewellers, we will come with you on that journey and we will hold your hand and help you make it a great love story.
Lifetime of Love
Many years after the big event, your rings won't wilt like flowers or go stale like a cake.  It will last a lifetime and even a few life times. The ring will always be a symbol of eternity and dedication to one another.
The circle of love is what the ring symbolizes. You know its not as hard as you might think.  A few simple questions and a little research on your part, and you are ready to go.
What Can We Do to Help
Learn to keep your eyes and ears open in the weeks before you take the plunge.  Watch out for little hints, like I love solitaire rings or just something very simple.  Does your partner like white coloured jewellery and watches, yellow or rose.  These are all pointing the finger towards their preferences.  Sometimes flicking through magazines can highlight likes and dislikes. 
Some partners just decide on what they would like their partner to wear – and do you know what?
The chosen item is rarely if ever changed.  So taking that brave bold step brings a lot of kudos with it.  Lead the way.  Sometimes we love to be lead and we think this can be one time to do it.
Practical Tips For Going It Alone
Have a budget in mind
Know her size or buy a ring that can be easily sized afterwards – note some rings cannot be sized and would need to be re-ordered, which can take a few weeks
It would be helpful if you had an idea of what colour metal is preferable – e.g. white gold, yellow gold or platinum
Style – we can definitely help here but it would be very beneficial if you had been looking, watching and learning for ideas of the their preferred style over the previous few months e.g. magazines, shop windows or even notice what style rings your loved is wearing right now.  Do they like big rings or dainty ones.
Are you shopping for the biggest ring you can get for your money or is it a simple solitaire – sometimes one diamond says it all!
If it's a diamond ring you are planning on buying do you want a certified diamond?
Remember, you don't have to be an expert on diamonds to buy a ring.  We will answer all your questions.  Buy a ring that looks amazing to the naked eye.
Have a look through our vast selection of diamond ring styles. 
SEE ALSO – The best places for Laois people to find love back in the day