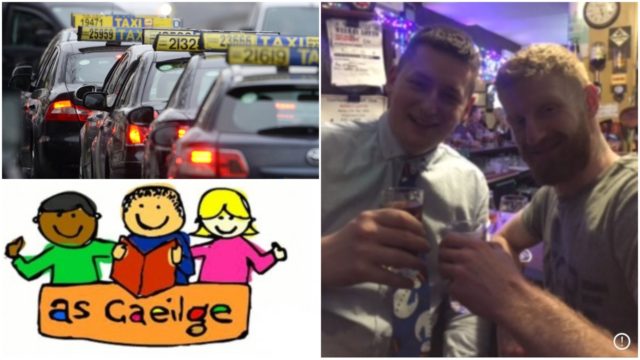 We're back again with our Top Tweets of the Week from all around Laois.
In the car & my 5 yr old boy, who is learning his weather words as gaeilge Is very proudly trying to teach our 2 yr old girl the Irish for 'wet'.

I'll leave you to figure out for yourself what that's coming out sounding like.

If you need a hint, the Irish for wet is 'fliuch'.

— Brian Ramsbottom (@TheOneRam) January 24, 2019
Hilarious
If you ever think you were made a clown of, wait until you read this thread:

— Murt Norton (@thebouldgoblin) January 24, 2019
This thread is gold
Big ups to the taxi man who found my phone last night and even charged the fucker to full battery

— david lawlor (@CrankyBurger) January 24, 2019
We love soundness
Take away 123 bags and it's still one bag too much. Every time a life is lost to suicide, it's somebody's son or daughter, brother or sister, friend or colleague. Depression is real. Anxiety is real. Mental Health is real. Let's talk, let's listen and let's look after eachother. https://t.co/bYWhYPZeYI

— Mark Bartley (@MarkBartley95) January 23, 2019
Top Tweet
Where are the Laois boys going to take over next saterday now that the big tree is gone 🤔🤔 Laois Laois Laois

— Mick ram (@Mickram1) January 25, 2019
Good question Mick
And who's gonna pay for it??

LAOIS!!! https://t.co/0NucL96G6H

— Paddy Mac (@paddymac85) January 25, 2019
We will not
@LaoisToday floods in Laois in 1990 pic.twitter.com/Bobpgrn4od

— harry (@dunnehimself) January 25, 2019
Yikes
Laois people will agree with this …

The way RTÉ people pronounce "Portlaoise" as "Portlaois-ah" https://t.co/wPoBu009Nk

— Al Dunne (@aldunne) January 25, 2019
Yes
Do you ever creep on someone you're potentially gonna follow & then you see where they're from in their bio & u do a quick U turn?? Examples include; Leitrim, Laois, Tipperary, or god forbid – Offaly.

— Hannah Ní Rosaitéar (@rannahhossiter) January 24, 2019
Oi Hannah, we're nice people!!
2005 Leinster Football final. Mossy Quinn scoring a last minute free to beat Laois by a point. Devastating

— Brian Harrington (@Brian_Harry) January 23, 2019
That one still hurts a lot
SEE ALSO – In Pictures: The Walls Project lights up Portlaoise