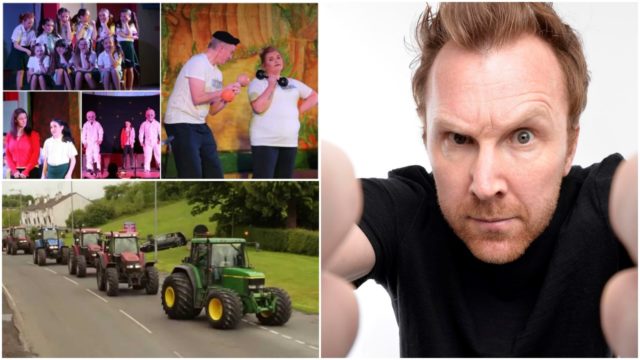 Brought to you be Laois Tourism
It's another busy weekend in Laois with the launch of our first large festival of the year, the Mountmellick Drama Festival.
This festival brings eight nights of the highest quality amateur drama to Laois and is a great place to see some of the best Irish plays on the circuit.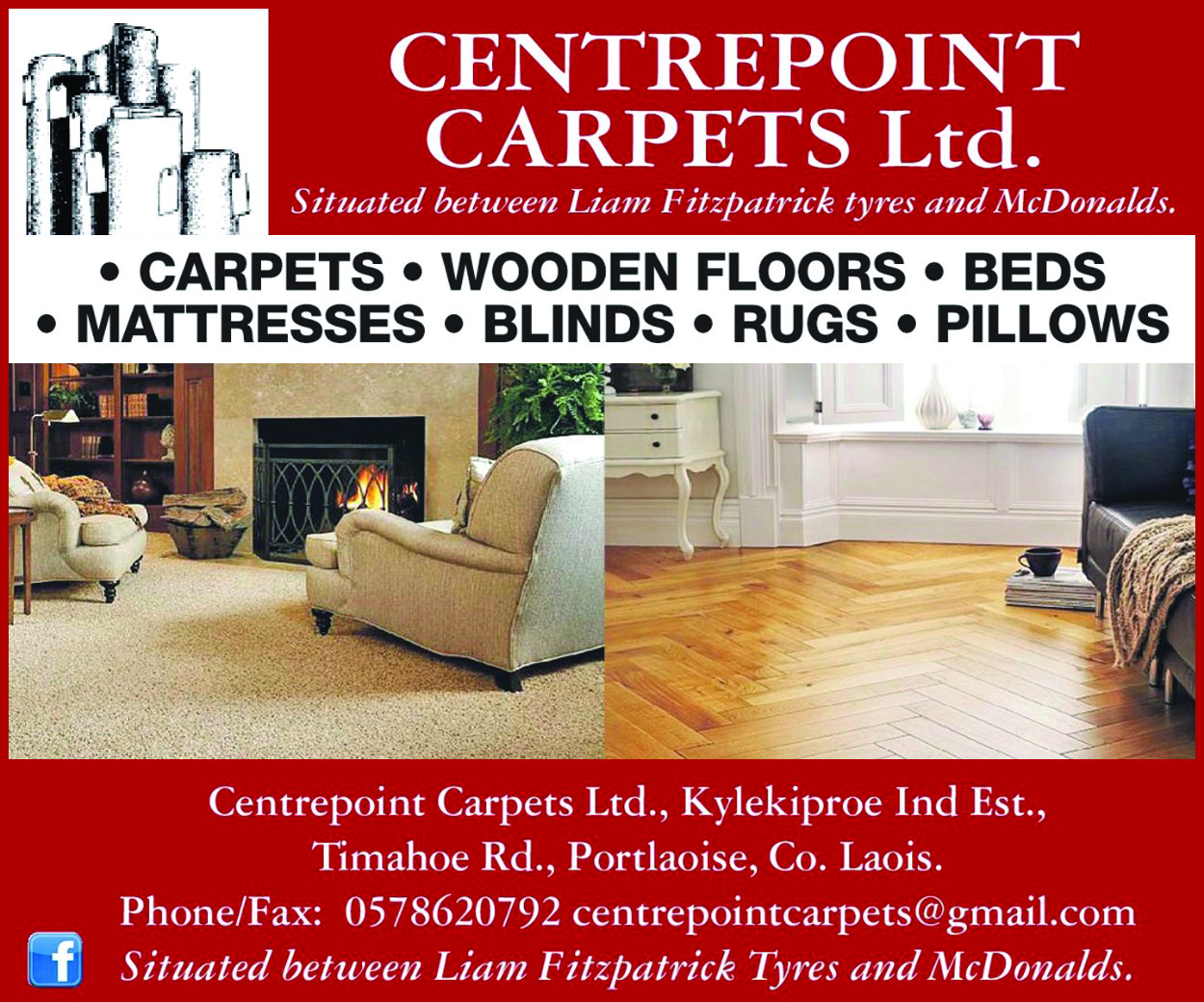 Rathdowney Pantomime launches Thursday night for a 4 day run and promises all the fun and madness that panto brings.
John Dunne's new book about Portlaoise launches Thursday night and John is an engaging speaker and a great night is guaranteed.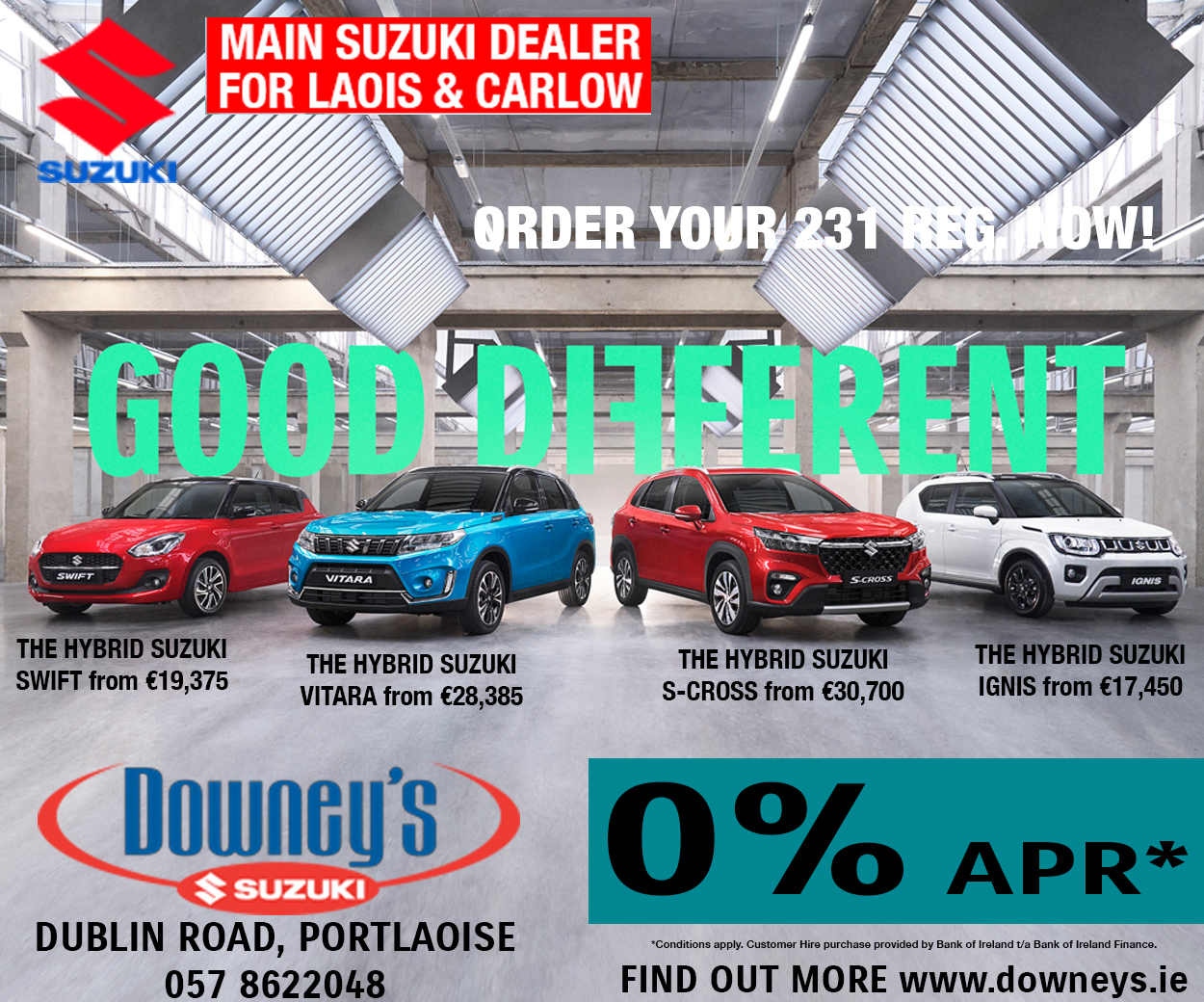 There's lots of live music across the county with the 4 of Us playing the Dunamaise Arts Centre and we have darts legend Robert Thornton in Portlaoise for an evening of darts, interviews and photo ops. It's truly a mixed bag this weekend with something for everyone.
THURSDAY MARCH 7
John Dunne – A Book About Portlaoise
Dunamaise Arts Centre is celebrating World Book Day with the launch of the most comprehensive book ever written about Portlaoise and its people.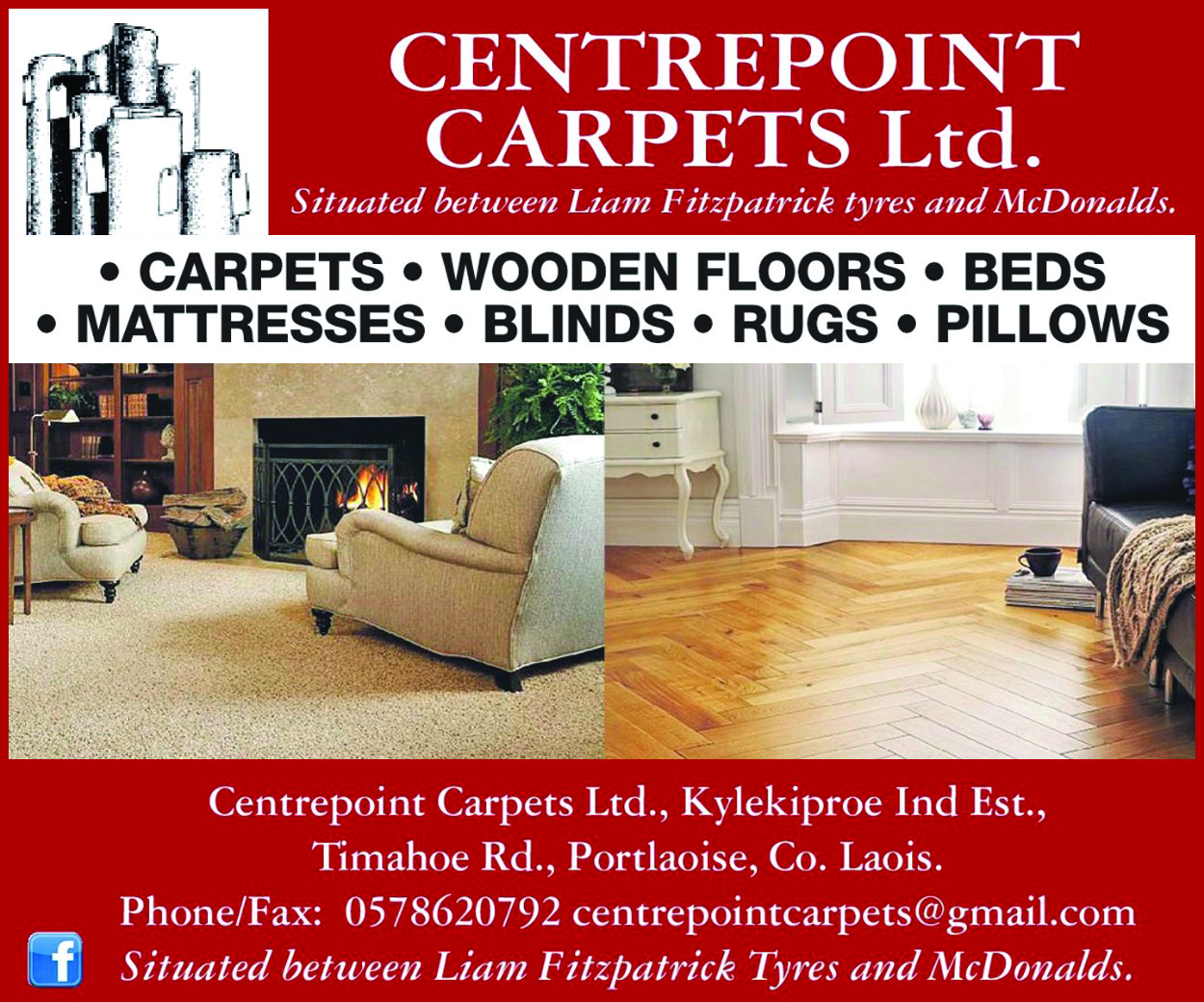 Written by well loved local John Dunne this is a fascinating read. It is available in a hardback, limited edition with the entire profits of which will go to Portlaoise St Vincent de Paul.
Pop along and here John speaks about the book and pick up a copy. The event begins at 7pm.
Spring/Summer Fashion Show
Learn all about the spring summer trends at a fashion show in aid of the Evergreens. It will be held in Graiguecullen & Killeshin Parish Centre and will begin with a punch reception at 8pm.
The event will be compared by Faith Amond and there will be a door prize & a special guest on the night.
Tickets are €15 and are available from the parish centre or the pool office.
The Royals, The Witch and The Woodcutter
Rathdowney Pantomime Group presents its 33rd annual show The Royals, The Witch and The Woodcutter. This is an original production that is not to be missed.
The story has plenty of characters with witches, wolves, the royal family, a woodcutter, a baron and a duke, some baddies, Laurel & Hardy to mention just a few. This is Panto at its best.
The panto runs in Rathdowney Community Centre on March 7,8 and 9 at 8pm nightly and at 5pm on March 10. Tickets are on sale in the Card Stand, Rathdowney.
FRIDAY MARCH 8
Heritage Talk – Abbeyleix Baby Linen Society
Come along to Heritage House and hear about fascinating Abbeyleix Baby Linen Society that ran from 1845.
This is history on our door step and presented in an engaging way. The event begins at 8pm and costs just €3. For more information see here.
The 4 Of Us
The 4 Of Us are one of the most acclaimed bands in Ireland and a steadfast part of Irish music history for over 25 years. Don't miss the chance to see them in Laois. Tickets are €20 and begins at 8pm.
Jason Byrne 'You Can Come In But Don't Start Anything'
A brand new show from the king of live comedy. Jason Byrne is one of the most exciting live comedy performers in the world.
Come along and enjoy the madness. The event over 18s. Come along to the Midlands Park Hotel at 7pm and tickets are €25. For tickets see here.
The Lonesome West – MOUNTMELLICK DRAMA FESTIVAL 2019
Kicking off an eight night run for Mountmellick Drama Festival 2019 is The Lonesome West, a play by Martin MacDonagh performed by Mullingar Theatre Lab, Westmeath.
The Lonesome West follows the trials and tribulations of two brothers, Valene and Coleman who have lived together for years with constant petty squabbling.
Now, after their father's death and following the exhortations of a local priest a new understanding might develop… might that it, if the two brothers can stop arguing over crisps, ornaments, who had Valene's pen last and who's turn it is to read a magazine.
Enjoy a different show each night from the finest amateur drama groups in the county in a beautiful 400 seater theatre Mountmellick Arts Centre.
Tickets on the door night cost €10 Concession €5. Season ticket for all eight shows are €50 Concession €25.
Whiplash – Live Music
Colm Kavanagh's Headbangers Night presents Metallica tribute act- Whiplash. The gig begins at 9.30pm in Kavanagh's Bar & Venue and tickets cost €10.
Rathdowney Errill GAA Table Quiz
Support your club and test your knowledge in Ray's Bar Errill this Friday night. A table of 4 is €40 and it begins at 9.30pm.
SATURDAY MARCH 9
The Whistle Blower – Out of Time Tour
Film, live music and images are weaved to bring audiences on the amazing journey of The 'Sallins Mail Train Robbery Case' in 1978 which was the longest running trial in the history of the State.
This is a great opportunity to see the show in Dunamaise Arts Centre at 8pm. Tickets are €16/€14.
Darts Exhibition with Robert Thornton
Former World Grand Prix Champ, UK Open Champ and World Masters Champ will be putting on a darts exhibition against loads of local talent, plus a Q&A and photo opportunities.
Donations and sponsorship cards on the night will all go to the Special Care Baby Unit in Portlaoise. So pop along to Manhattan Mixer at 8pm. F
or more information call Dara on 087 9835678 or see here.
The Beauty Queen of Leenane MOUNTMELLICK DRAMA FESTIVAL 2019
Night two of Mountmellick Drama Fesitval brings us Skibbereen Theatre Society performing the classic The Beauty Queen of Leenane by Martin MacDonagh.
The Beauty Queen of Leenane by Martin McDOnagh tells the darkly comic take of Maureen Folan, a lonely woman in her early forties and Mag her manipulative mother.
Mag's interference in her daughter's first and only possibility final chance of a loving relationship sets in motion a train of events that lead inexorably towards the play's inevitable denouement.
The show begins in the Mountmellick Arts Centre at 8pm.
Tickets are available on the door nightly and cost €10, Concession €5 or a Season Ticket for all eight shows is €50. Concession is €25.
Phone Jessie on 087 794 2995 or email jessieconroy61@gmail.com or Noreen on 087 412 1205 or email norsavage@eircom.net
Slieve Bloom Guided Walk
The Slieve Bloom Walking Club's next guided walk is the Enchanted Woodland Walk. This walk is a Grade B 10km walk and takes 3-4 hours so a good level of fitness is required.
Meeting point is at Clonaslee Community Centre at 1pm. €5 per walk or €20 annual membership (€30 for family).
SUNDAY MARCH 10
Slieve Bloom Guided Walk
The Slieve Bloom Walking Club's next guided walk is Ridge of Capard, Stoneyman Walk. This walk is a Grade B 10km walk and takes 3- 4 hours so a good level of fitness is required.
Meeting point is at Ridge of Capard Carpark (N364 065) at 11am. €5 per walk or €20 annual membership (€30 for family).
The Ajs – Live music
Two talented Portlaoise musicians, Alan Smyth and James O'Connor, have joined forces. A great band to get the crowd going. They play Kavanagh's Bar & Venue at 7pm and there's no cover charge.
Rabbit Hole MOUNTMELLICK DRAMA FESTIVAL 2019
Night 3 of Mountmellick Drama Festival sees the Glenamaddy Players Galway perform the Rabbit Hole play by David Lindsay Abaire, yhe recipient of a Pulitzer Prize for Drama in 2007.
Rabbitt Hole tells the story of the Corbett family, who have everything the family could want, until the day their world is turned upside down.
In the aftermath of a life shattering accident, a young husband and wife find themselves drifting perilously apart, Rabbit Hole charts the bittersweet search for comfort in the darkest of places and for a path that will lead them back up into the light of day.
The show begins in the Mountmellick Arts Centre at 8pm. Tickets are available on the door nightly and cost €10, Concession €5 or a Season Ticket for all 8 shows for €50.
The Swan Tractor Run
The Swan Community Hall is the starting point for the Swan tractor run in aid of the Swan Development Association.
There is a great 30km route planned that should delight all participants. The cost of entry is €20 per vehicle and registration begins at 11am with the run beginning at 12pm.
Laois Hunt Charity Ride Rosenallis 2019
Laois Hunt Charity 2019 will take place in Rosenallis in aid of The Cuisle Centre. A great day guaranteed with plenty of jumping. Suitable for all levels. Donations are requested and the event begins at 1pm in Rosenallis.
Marvellous Mascot Show-Portlaoise
Killeshin Hotelhost a New Live Tribute Show filled with lots of children's favourite characters. It's a fully interactive show for kids but adults can sing and dance along too! Tickets cost €10 per person and a family of 5 is €40. The show begins at 3pm.
If you would like to have something included in our What's On Guide email us on info@laoistoday.ie or call 057 8670722
SEE ALSO – Top restaurants in Laois announced at Irish Restaurant Awards