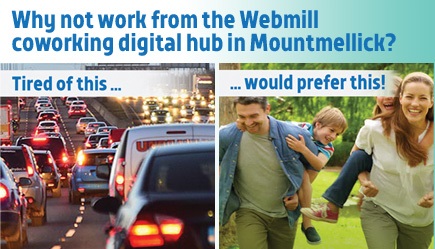 Are you tired of unneccesarily early starts and late finishes? Are you fed up of driving long distances to work or rushing to make the train?
Would you like to have more time in the evenings to spend with your families or on your hobbies?
Do you think you could continue working for the same business but do the work closer to home? Are you currently working from home but could do with a professional, fully-serviced office space to get you out of the house?
The new Webmill co-working digital hub in Mountmellick could solve a lot of those issues for you.
Significant investment has been pumped into the facility which will have numerous offices and desk space for up to 50 workers.
Work is currently underway on the development with the first workers expected to move in at the end of this month.
Based in the Mountmellick Development Association (MDA) building in Irishtown, the Webmill co-working Digital Hub boasts the following:
High-speed broadband
Modern office setting
Day and long-term usage options
Flexible working hours
Free car parking
On campus restaurant
On campus creche
Adjacent to park and river walks
Be part of a like-minded community
Access to 3rd level institutions
Supports in place to turn you ideas into realities
"Mountmellick Webmill is the ultimate mashup of entrepreneurs, startups, growth companies, educational institutions, the Laois Chamber, state agencies and local government," says Paddy Buggy, manager of the MDA where the Webmill Digital Hub is based.
"Mountmellick Webmill allows entrepreneurs to use collaborative spaces, coworking spaces, mingle with other entrepreneurs and have efficient access to everything from insights into the latest technology to legal and financial advice.
"Rather than endure long commutes and daily congestion, residents of the Digital Hub can choose to work and live in places that are connected, walkable, bike-able and connected by technology.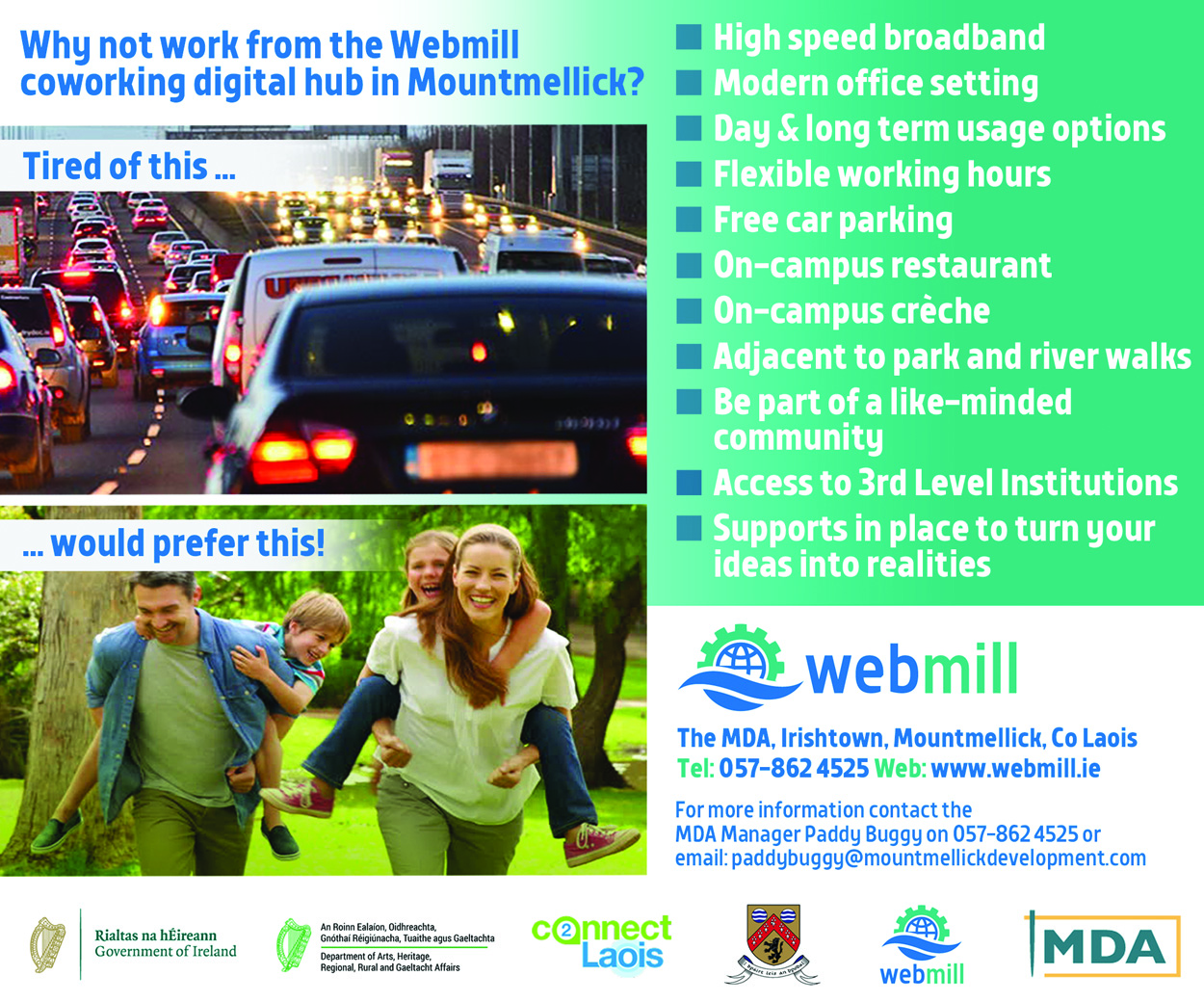 "Along with Laois County Council, we took the first step in making what we have called the Webmill a reality. In March 2018, renovation started on the Mountmellick Business Park with the Mountmellick Development Association, and soon the Webmill will open the doors officially to startup companies."
For further information, contact the MDA manager Paddy Buggy on 057 8624525 or email paddybuggy@mountmellickdevelopment.com.
SEE ALSO – Check out the dedicated jobs section on LaoisToday