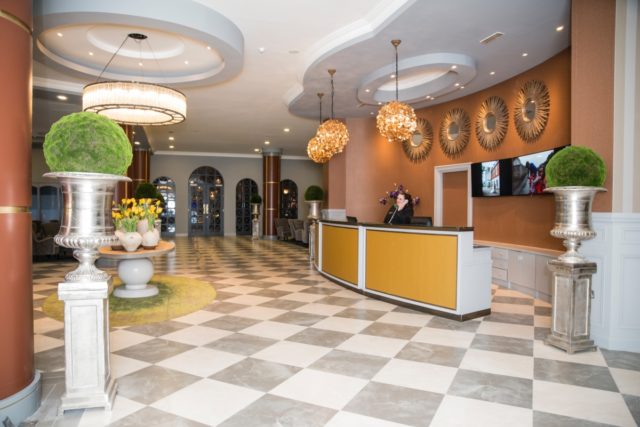 The Midlands Park Hotel in Portlaoise are holding a recruitment evening next week as they look to fill a number of positions as they increase their team to meet the growing demand.
The recruitment evening takes place next Thursday, April 18, from 6pm to 8pm.
"Our last recruitment drive was very successful and we would like to reach the same audience again. We filled many vacancies both full and part time and those employees are still with us as valued members of our team" says Maureen Harvey, HR Department
"Our business is set to increase over the summer months with weddings, tourists and return guests keeping the hotel and outlets buzzing with activity. Due to increasing demand for this fantastic hotel venue, we are now looking to recruit more employees to join our award-winning team."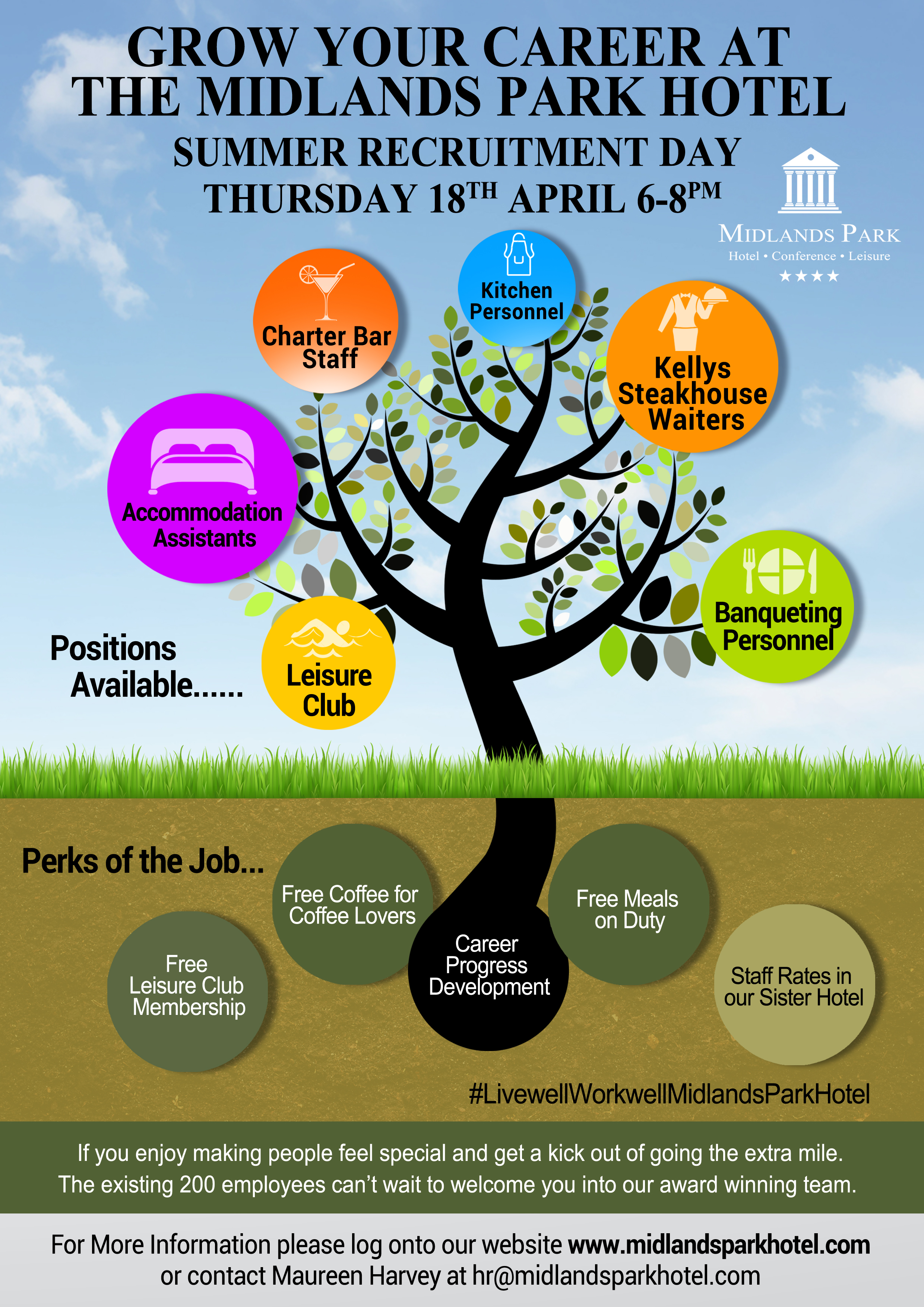 We are hoping to add to our Culinary Team amongst other departments. This is a great opportunity for young and seasoned chefs alike to expand their knowledge, learn new skills and progress their careers under the watchful eye of Executive Head Chef Bernard Rochford. Bernard, a chef with 23 years' experience both at home and internationally, advocates for young chefs trying to get a foothold in the industry.
"I hope to bring good leadership, to mentor young cooks and inspire them to be chefs, and to create good food." says Bernard.
"When it comes to candidates for junior chefs we are looking for people who are willing to look, learn, and listen, show keen interest in progressing up the ladder and a passion for creativity".
For Senior Chef's roles being able to work on your own initiative, experience dealing with high volume catering and remaining calm under pressure are important attributes.  To be able to mentor junior chefs and help them progress is also an important quality in a candidate.
Applications are invited for people to work in the following parts of the hotel:
Food & Beverage outlets
Accommodation
Kitchen
Leisure Club
Successful applicants will be able to avail of Perks of the Job as follows:
Free leisure club membership
Career progression and development
Free meals on duty
Fun days/evenings out
Staff room rates in our sister property at the Riverside Park Hotel
Free coffee for coffee lovers
"The Hotel has invested a great deal into their staff to ensure that they are an employer of choice in the area.
"Over the past year the hotel has promoted eight employees to supervisor positions, invested in training courses; Invisio Management Training, Supervisory Management Course run by Laois Offaly Education and Training Board and Customer Excellence with Fáilte Ireland to name a few."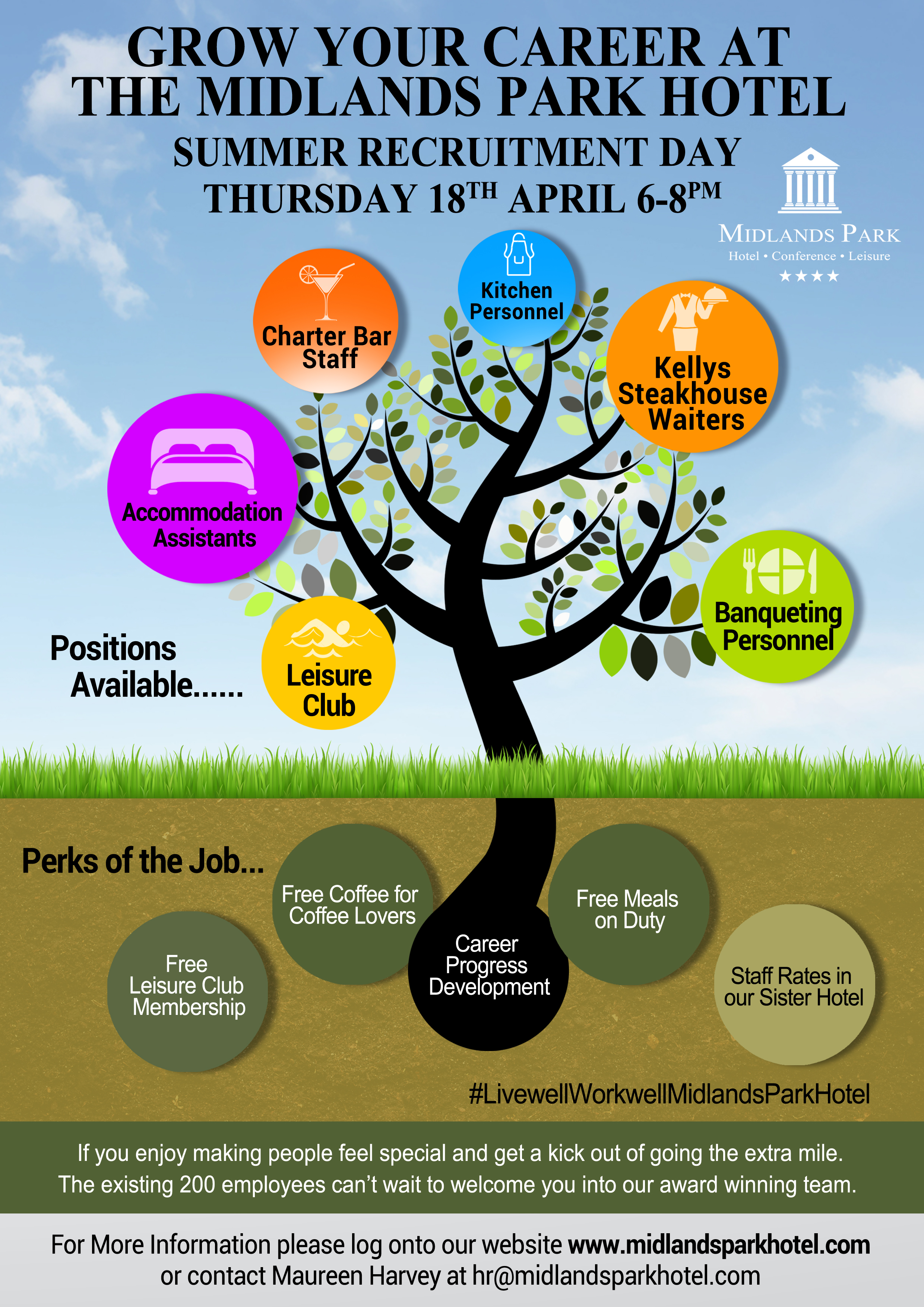 The Midlands Park Hotel won Hotel Team of the Year at the Irish Hospitality Awards in 2018.
"Our mission will always be to look after each other, while we look after our guests. Our focus must always remain on the present and future success of the business".
This is proven in the increase in numbers of employees in the last number of years from 135 to a current 200 and a projected 240 within the next year
For more information check out the Midlands Park Hotel Career Page and send your CV to hr@midlandsparkhotel.com
The recruitment open evening takes place on Thursday, April 18, 6pm–8pm.
SEE ALSO – From part-time waitress to management role – rising through the ranks in the Midlands Park Hotel