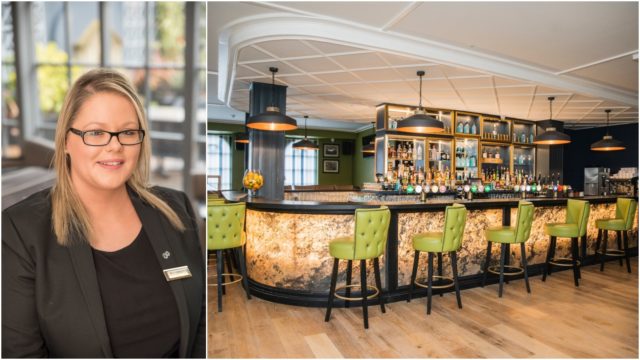 The 
Midlands Park Hotel
 in Portlaoise are holding a recruitment evening this week as they look to fill a number of positions as they increase their team to meet growing demand.
The recruitment evening takes place next Wednesday, October 17, from 5pm to 8pm.
Ahead of the event we heard the story of long-serving staff member Joyce Bray who started out as a part-time waitress and is now the hotel's Front Office Manager.
Tell us a bit about your background and how you ended up working in the Midlands Park Hotel?
As a mother of three I required a part time job so I started working as a waitress on weekends which suited childcare arrangements at the time.
From there as my hours increased I became interested in pursuing a different role within the hotel.
In order to do this I needed to update my qualifications so I did a computer course. This involved studying the course during the day and working in Spagos restaurant at night.
As a result I applied for and was successful in acquiring a receptionist position.
After two years I was promoted to head receptionist and then a year and a half later I was promoted to reception supervisor. I am now after being promoted to the role of Front Office Manager.
What does your role entail and how has it changed over the years?
My role as a Front Office Manager is both challenging and fulfilling. No day is the same. The wonderful thing about my job is you get to meet people from all walks of life and all corners of the globe.
The biggest hurdle of course was the recession, keeping things afloat through a difficult time.
The reward for getting through this was the recent refurbishment of the hotel. It's wonderful to see new life breathed into the hotel.
We are extremely proud of the hotel and how it looks now. It's very modern and classy and people enjoy the wonderful social space the new Charter bar brings.
Many important events in people's life's are held in the hotel from engagement parties and important birthdays to weddings in our beautiful Maryborough suite to confirmations and communion in our private rooms.
We love creating long-lasting memories for people from the moment they walk through our door. It's important people feel at home with us.
What is the most important thing when working in a dynamic hotel like the Midlands Park Hotel?
The most important thing is organisation and attention to detail. People like to feel they are more than a number or a face in the crowd but that they are valued important guests.
Although weddings have a myriad of details – small things like having a cot in the room for a the guests prior to arrival or having chocolates and prosecco in the room for a special occasion. Recently, as soon as we found out a set of twins were celebrating their birthday while staying with us, we got balloons with the children's age on it and had it in their room before they arrived. Sometimes it really is the little things that can make our guests' stay memorable.
Who's the most famous person you've come across during your time working here?
It was wonderful to meet Pippa O'Connor – she was very friendly, down to earth and a pleasure to look after while she stayed with us during her shows here in the hotel earlier this year. We're looking forward to welcoming her back again this week as she returns to us with her fantastic team and putting on yet another sold out shows. I've also met Claire Byrne amongst others.
What's your favourite thing about the job?
I'm a real people person and love the dynamics of the front desk. Its so versatile, busy and varied. I'm the type of person who likes to keep busy, the day just flies by and every day is different.
What made you go into this industry?
Initially because the working arrangements suited my family life. Then, as my children grew older, I was looking for career progression and I was able to do this in the hotel industry.
What advice would you give to newcomers working in the hotel business?
The advice I would give to anybody looking for a career in the hotel and hospitality industry is that when you put the work in the rewards can be rewarding and fulfilling.
In my experience they encourage ambition and hard work in their staff by having these opportunities for promotion. In the hotel industry talent and hard graft by employees gets noticed by management.
Other rewards include a great team spirit which is helped out by staff night outs, most recently we had a table quiz in Kavanagh's bar in Portlaoise and bowling in the nearby  Roll n Bowl.
I personally feel the employees get to know each other which helps promote a better working relationship. We are friends as well as colleagues.
SEE ALSO – Check out the full list of vacancies available in the Midlands Park Hotel
SEE ALSO – Very proud of what has been achieved as new owners officialy launch Midlands Park Hotel 
SEE ALSO – In Pictures: Check out the new-look Midlands Park Hotel 
SEE ALSO – New manager appointed at Midlands Park Hotel