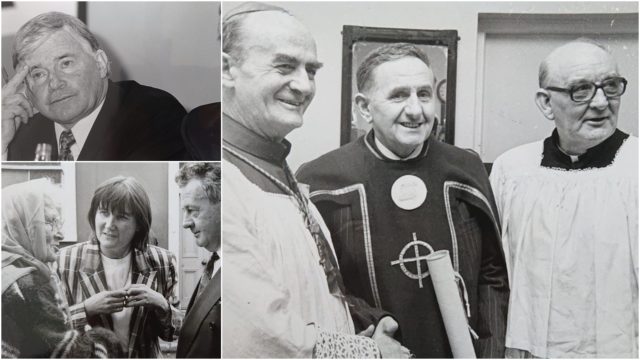 Brought to you in association with People First Credit Union
'Plus ca change, plus c'est la meme chose', the more it changes, the more they remain the same.
It is interesting that as we face into next week's elections and referendum that the challenges faced by rural communities and another divorce referendum are still on the agenda.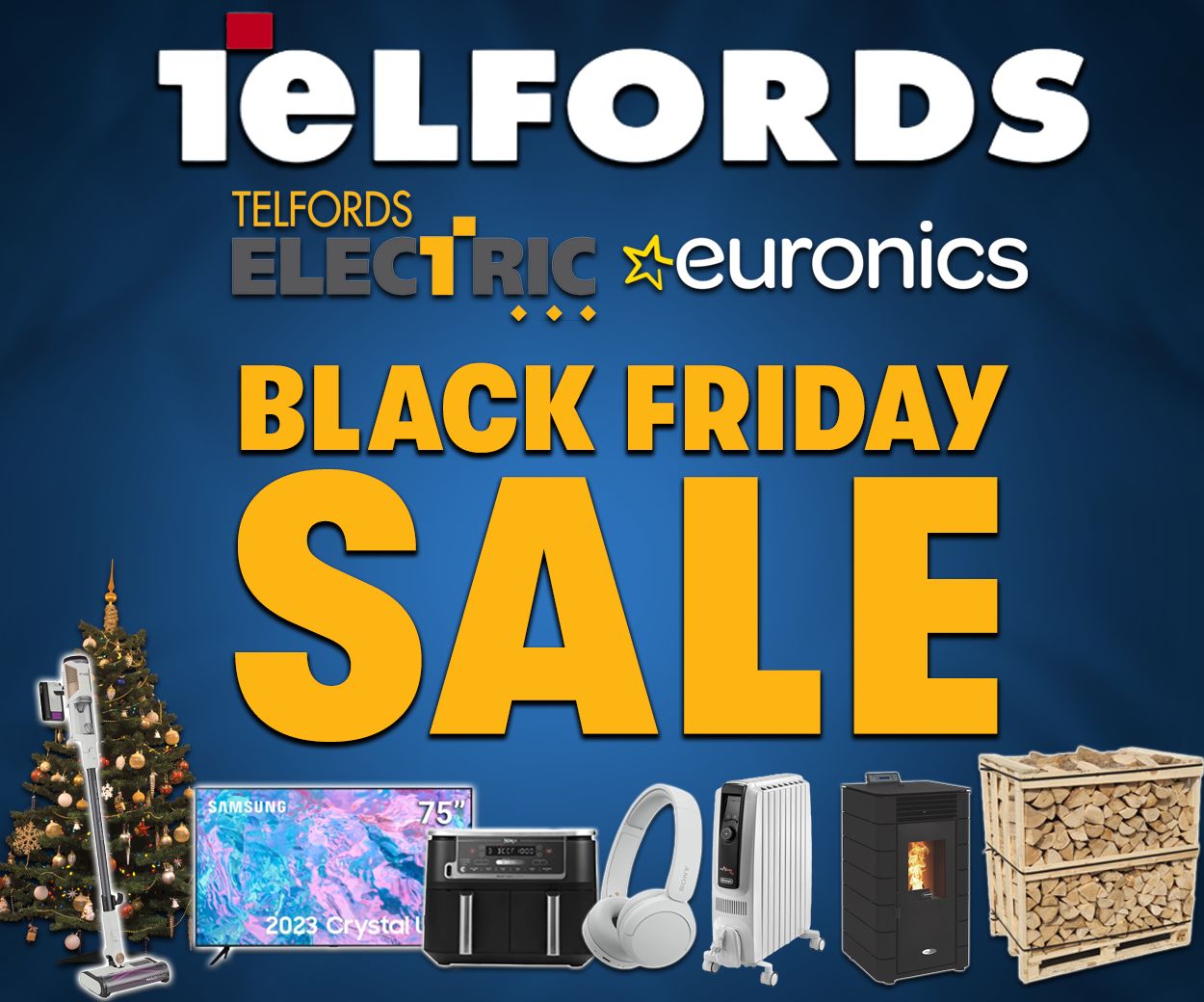 While there has been significant changes in the nature of rural lifestyle and public opinion on the question of divorce, they were both topics that dominated the local elections back in 1991 and the general election a year later in '92.
If any politician devoted his life to the cause and concerns of rural Ireland, well then it was Liam Hyland.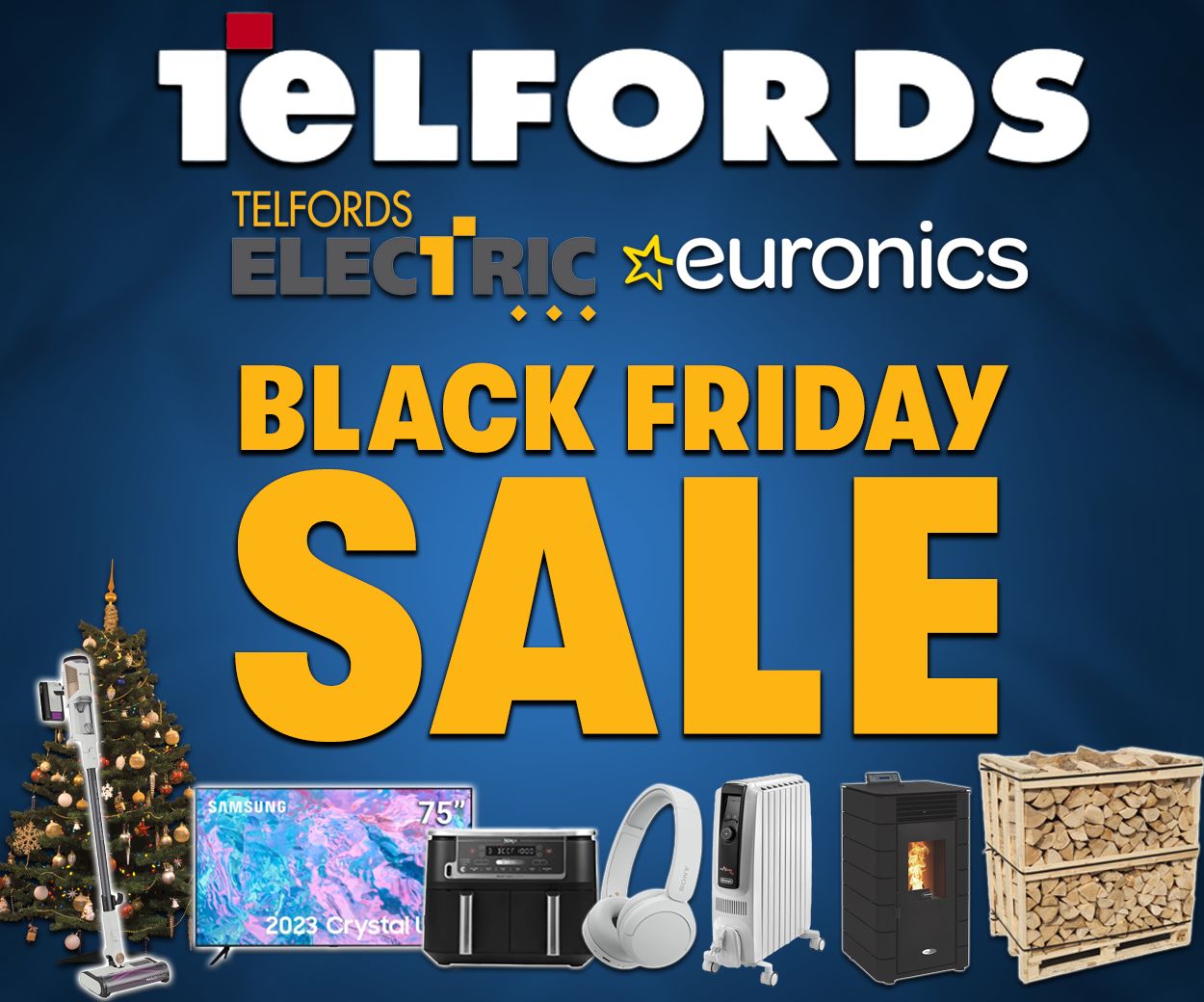 The Ballacolla man who marked his 86th birthday last month set out on his illustrious political career on Laois County Council in the '70s before advancing first to the Senate, then the Dáil and ultimately a number of successful terms in the European Parliament.
Hyland never stopped or missed an opportunity to stand up for rural communities. The need for more rural employment, off-farm opportunities, upskilling and third level education, transition planning, diversification, emigration, population decline and the need to support initiatives such as REPS, the rural environmental protection scheme were his regular hobby horses.
Many of the same issues prevail and remain relevant to this day.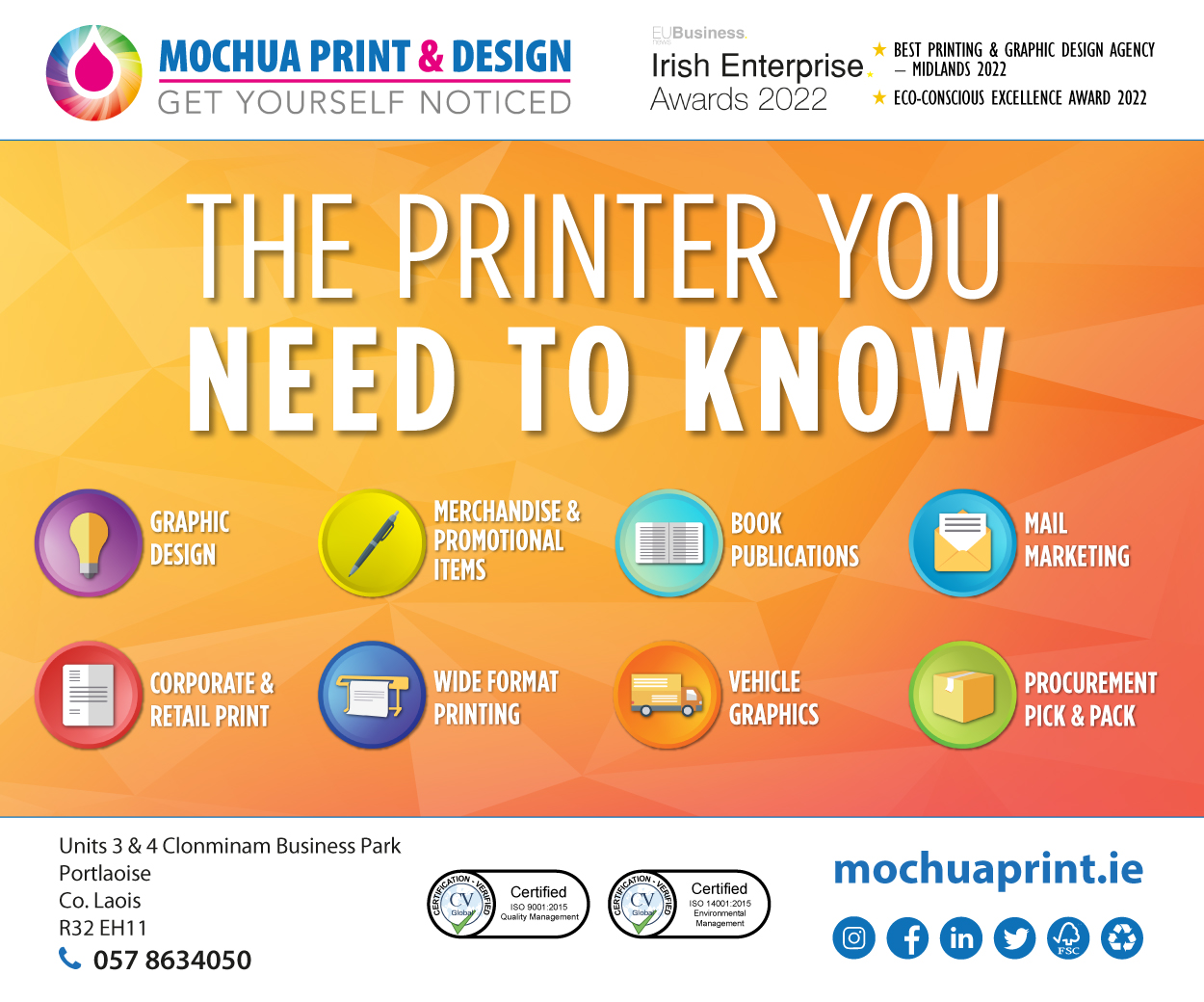 It is unfortunate that the Laois man didn't get a greater opportunity to influence national policy. He was never flavour of the month with Charlie Haughey and didn't support him in the various leadership heaves.
Liam Hyland's one and only opportunity came under the Albert Reynold's leadership when he was appointed Minister for State at the Department of Agriculture, appropriately with responsibility for rural development, but only for a short tenure from 1992-93.
He served under Agriculture Minister Joe Walsh, with Larry O'Loughlin from Rosenallis being seconded from Teagasc as his Special Advisor and it was generally agreed that they were a good team and worked well.
Liam Hyland departed for the European Parliament in 1994, where he served for ten years. He did continue to champion many of the same issues within the EU.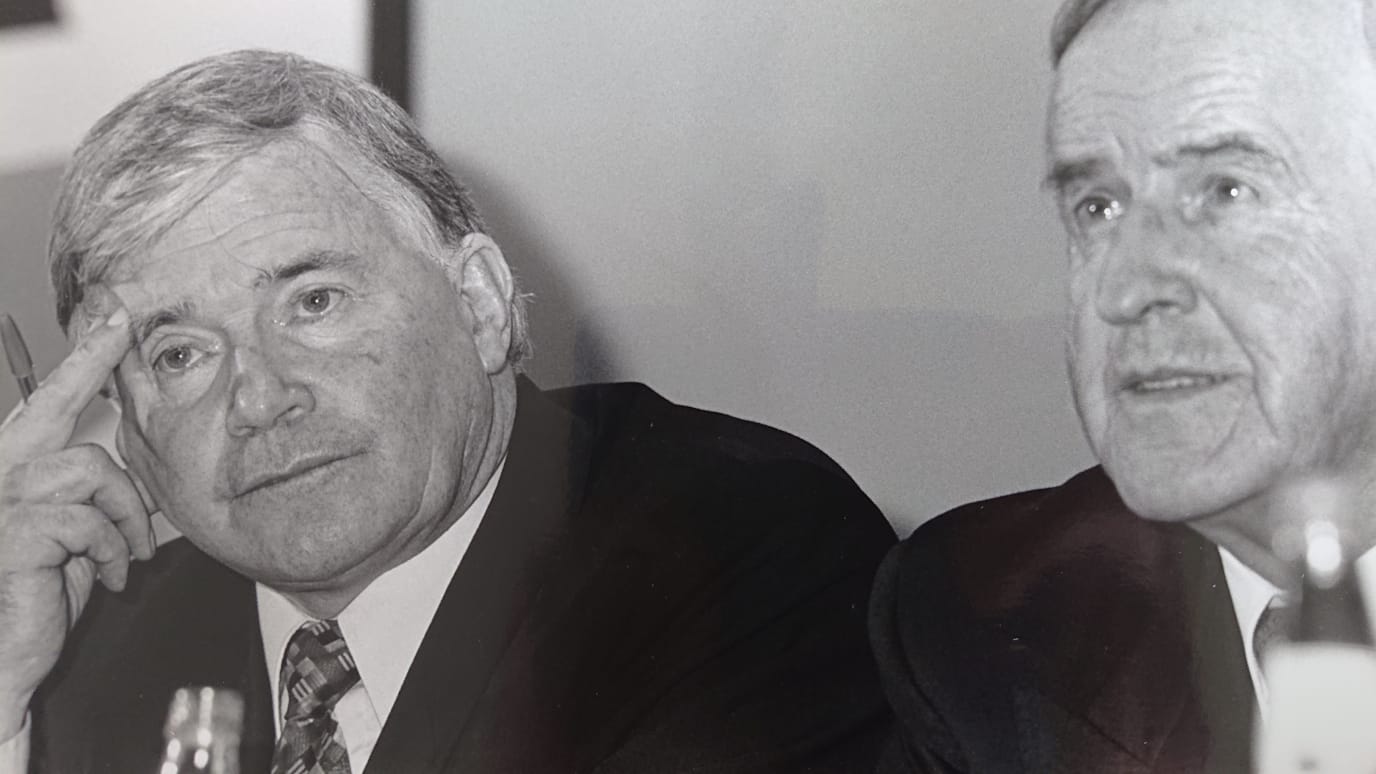 'Hello Divorce – Bye Bye Daddy'
It's now 24 years since the people of Ireland voted in favour of ending the country's long-standing ban on divorce. It was lifted by only the narrowest of margins with 50.3% in favour.
In 1991-92 it was still a most vexed and divisive issue with the political establishment afraid to touch the topic with a barge poll as the electorate had voted overwhelmingly by a 25% margin against permitting divorce in the contentious first divorce referendum in 1986.
This may be hard to believe today as there is hardly a word about next week's divorce referendum based on relaxing and liberalising the provisions around divorce even further.
In any event the doomsday predictions from those opposing divorce in 1986 and a decade later in 1995 that it would open the floodgates for marital breakdown, led to the break-up not just of families but of family farms with the campaign defined by dramatic predictions on billboards such as the infamous, 'Hello Divorce – Bye Bye Daddy' campaign slogan.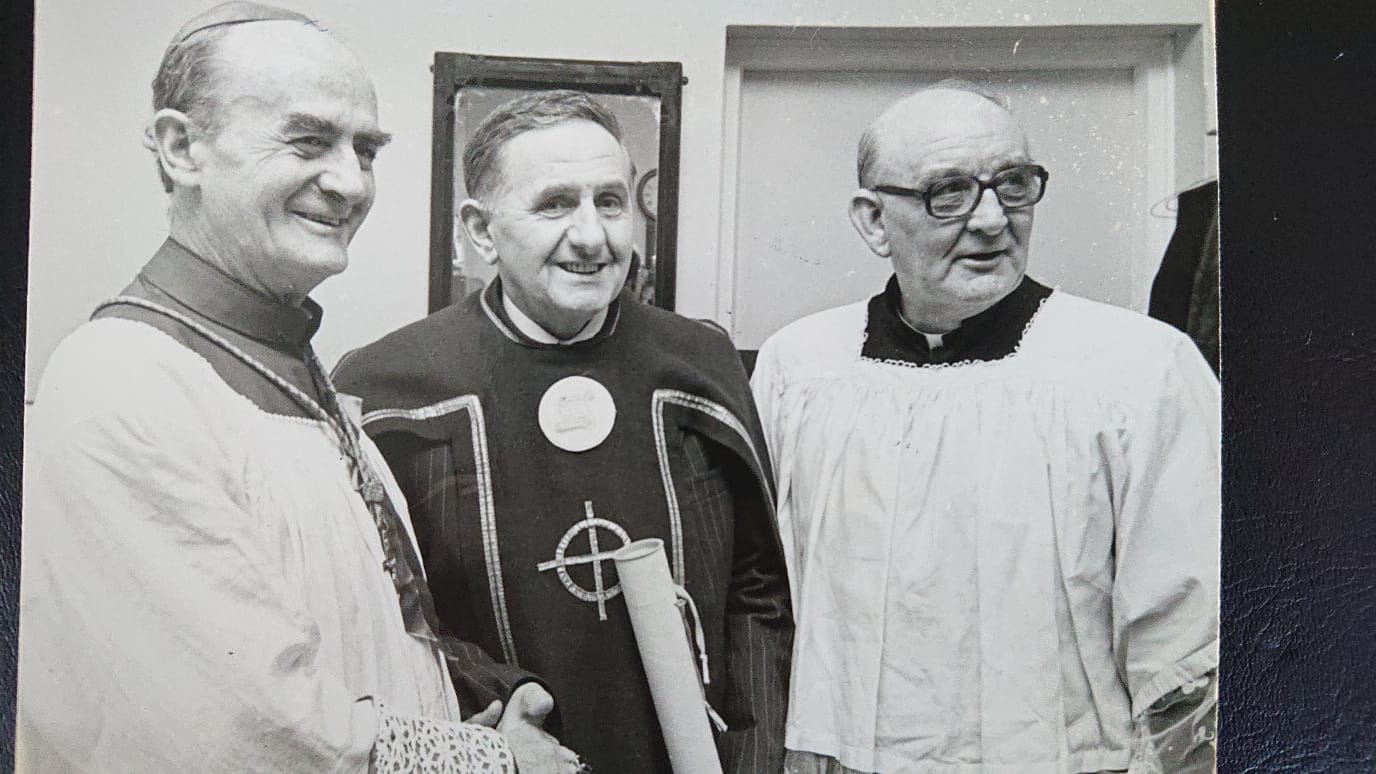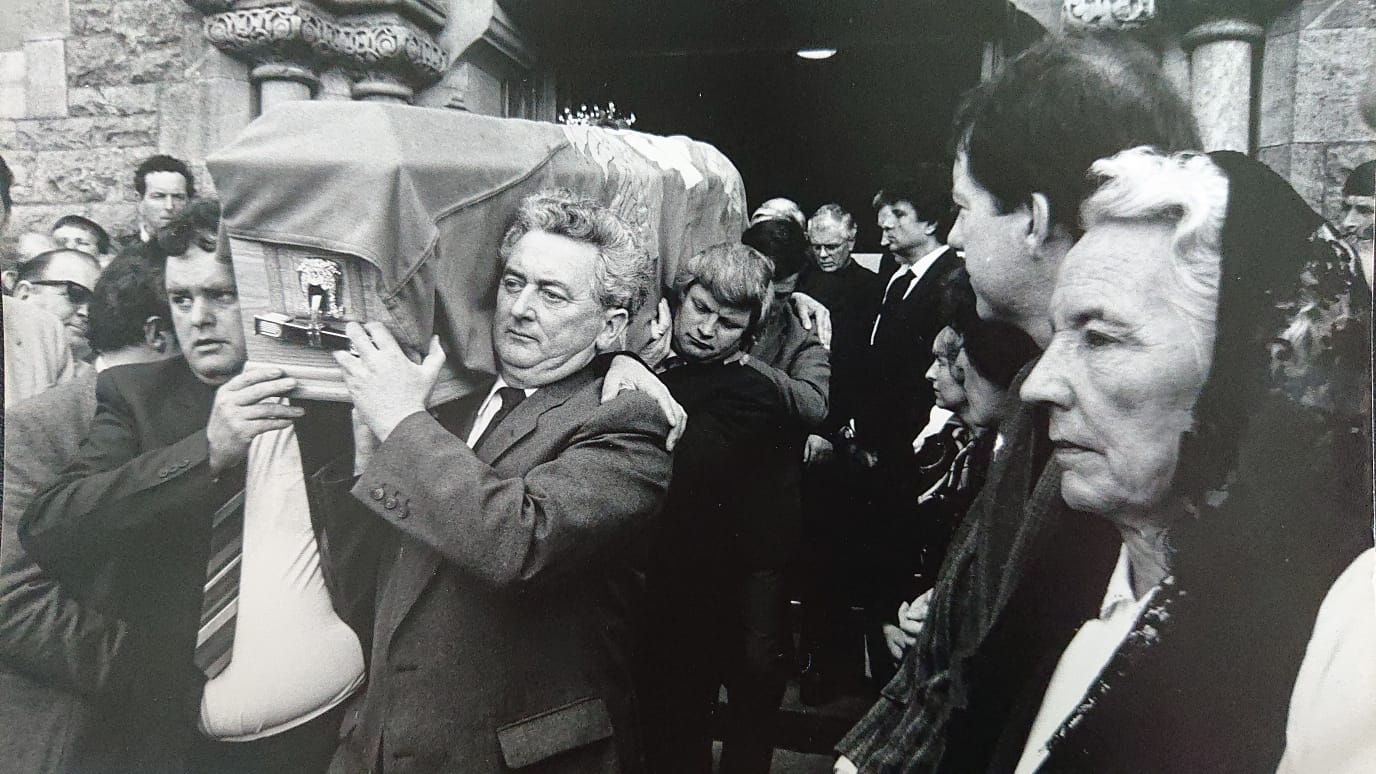 Locally, the bitter 1986 divorce referendum saw a young Charlie Flanagan on opposite sides of the debate to his father, the legendary Oliver J Flanagan, who was not only a devout conservative Catholic but also a decorated member of the secretive all male Knights of Saint Columbanus.
Oliver J. died in April of the following year after serving as a TD continuously from 1943, but lived to see his only son Charlie take up his seat in the general election of February 1987.
The Spring Tide delivers Pat Gallagher
Just over a year on from the 1991 local elections came the general election of November 1992 which would ultimately see the formation of the Fianna Fáil-Labour coalition government of Albert Reynolds and Dick Spring, which would go on to run a full five-year term.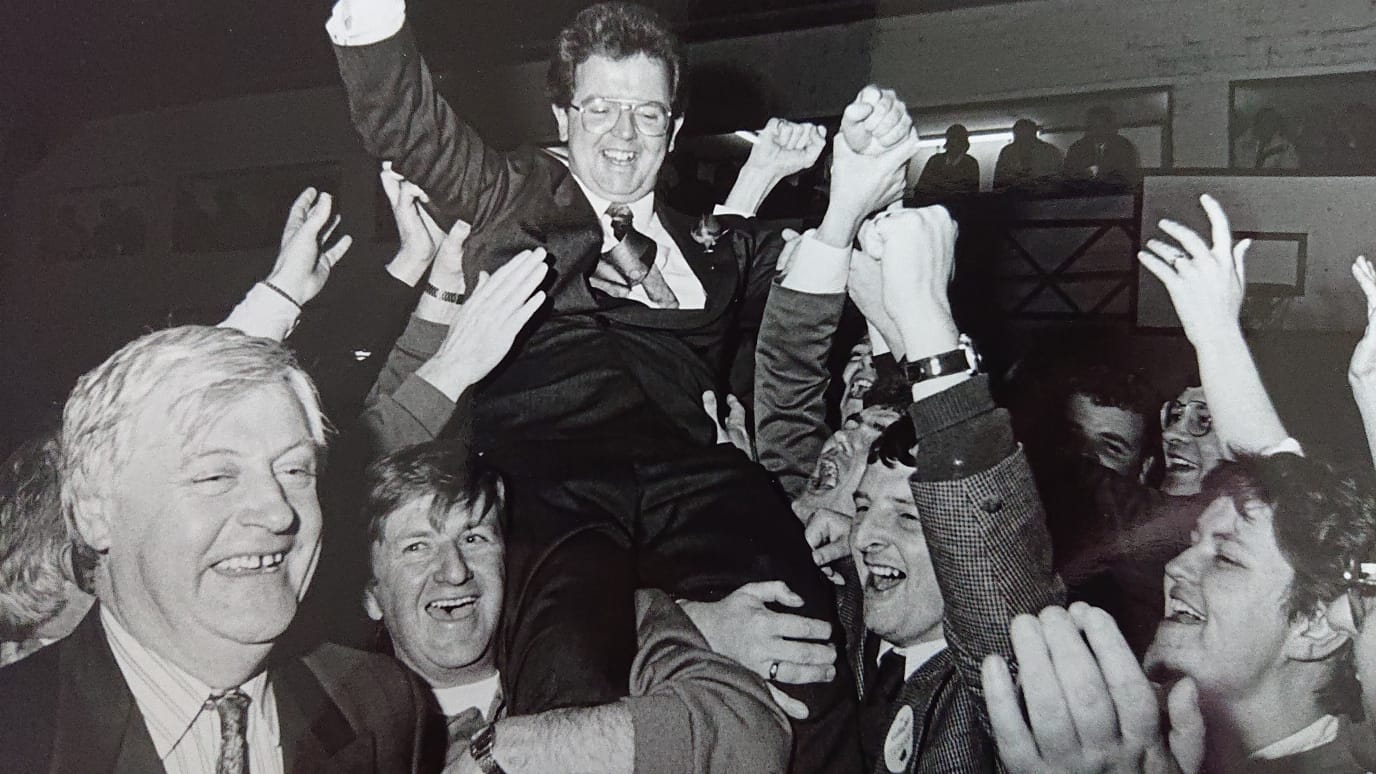 Reynolds had just replaced Haughey as leader of FF in February of that year but the Fianna Fáil-Progressive Democrat government was collapsed by Des O'Malley amid allegations of dishonesty at the Beef Tribunal.
The election did not go well for Albert or Fianna Fáil as they lost nine seats, down to 68 from 77, with a 20% decline in overall support.
By stark contrast Labour were on a high and today can only look back wistfully on what became known as the Spring Tide as they swept in to government with the energetic Dick Spring at the helm of its 33 TDs.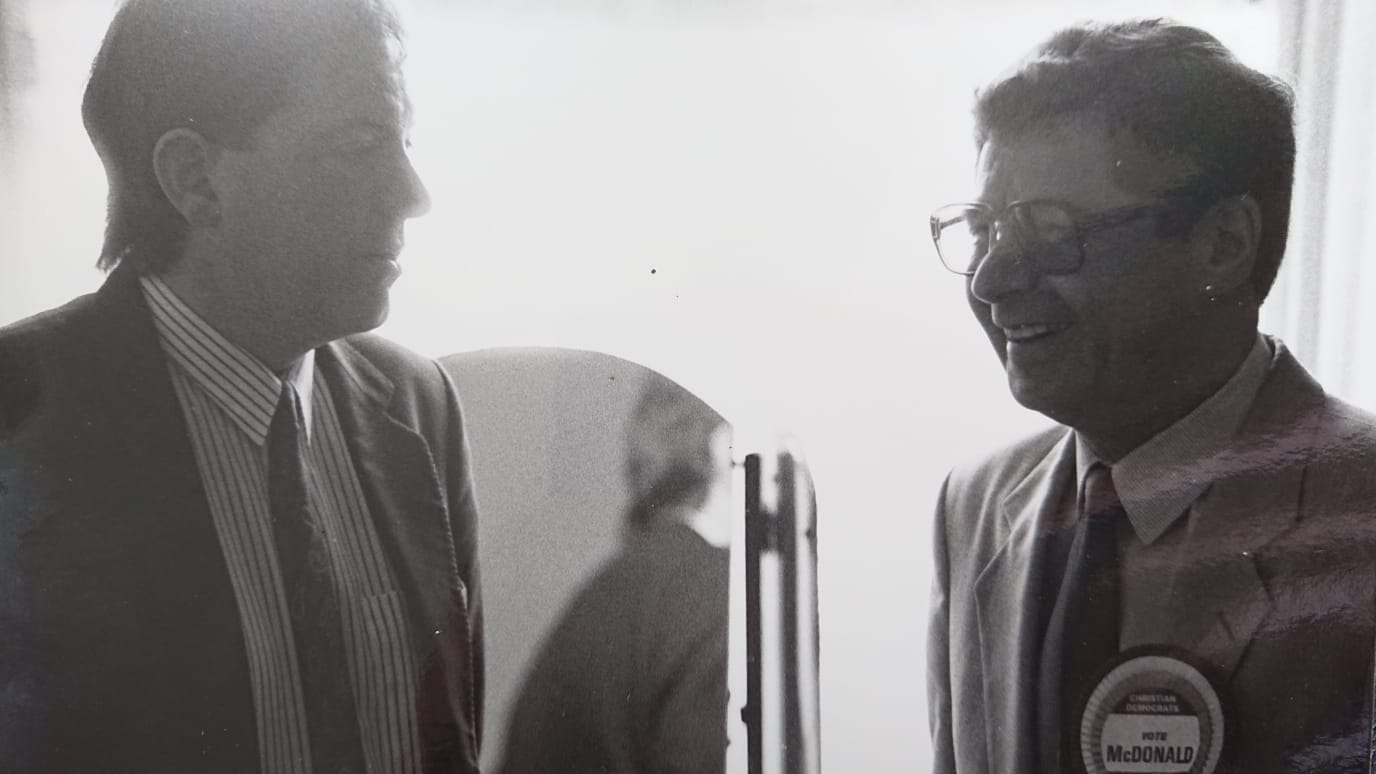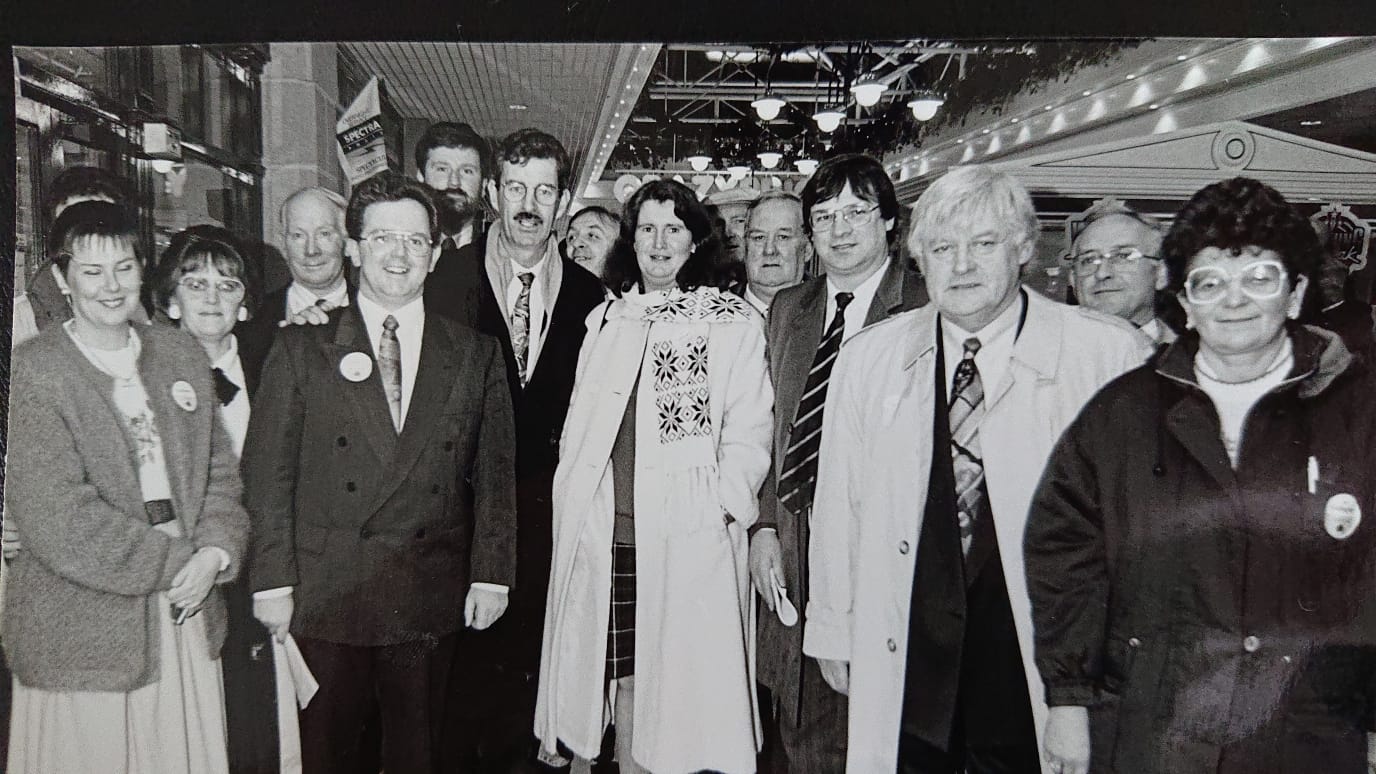 Among them were the Clare doctor Moosajee Bhamjee and in Laois-Offaly, Pat Gallagher from Tullamore took Birr man Tom Enright's seat.
Gallagher was regarded by all sides as a most hard working and helpful TD and was unlucky not to be re-elected in 1997. He later went on to serve as County Manager in Offaly and Westmeath.
FF hold their ground in Laois-Offaly
In Laois however, Fianna Fáil held its ground both in the local elections of 1991 and the general election of 1992.
In the general election Brian Cowen comfortably topped the poll and was returned along with Liam Hyland and Ger Connolly, with FF retaining the three out of five seats.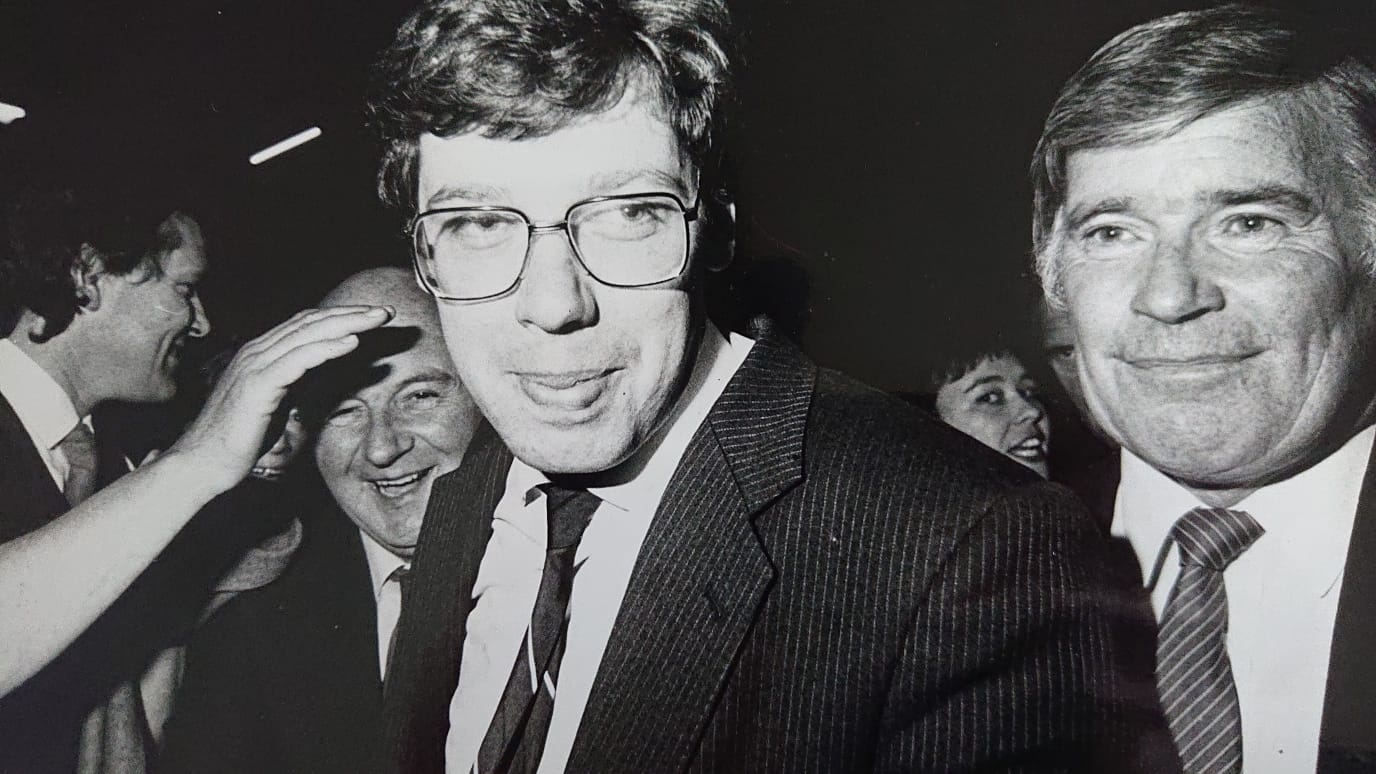 In the local elections of 1991 Liam Hyland was the top vote getter in the Borris-in-Ossory electoral area. He had that distinction in the 1989 general election when he topped the poll with 8,443 votes.
Following him in second place in Borris was former Labour man and now independent, Jimmy Kelly, uncle of the current serving councillor James Kelly.
Also elected were Kieran Phelan and Willie Mansfield, the Rathdowney auctioneer. Larry Kavanagh came through in Mountrath for Labour (and was to be a key man for Gallagher a year later in the general election); Marty Phelan was elected for FG for the first time, while Eamon Rafter was returned for FF. Eamon Rafter was the last councillor to be returned from the Durrow area.
While Fianna Fáil retained the overall majority on the Council in Laois gaining 13 of the 25 seats, they did drop one seat overall, with Fintan Phelan in Mountrath and Marty Rohan in Ballinakill both losing, while Tom Jacob registered a gain in Portlaoise, making it a net loss of one.
Marty Rohan was the outgoing chairman of the Council in 1991 and lost his seat in what was later to become known as the 'curse of the chairman', as it was a similar fate that would befall both Tom Jacob and Joe Digan.
From 1991 to 1999 Fianna Fáil rotated the chairman's role between their own group with Joe Digan, Ray Cribbin, Eamon Rafter, Jerry Lodge, Jimmy Cooney, Seamus McDonald, Mary Wheatley and Kieran Phelan all taking it in turn.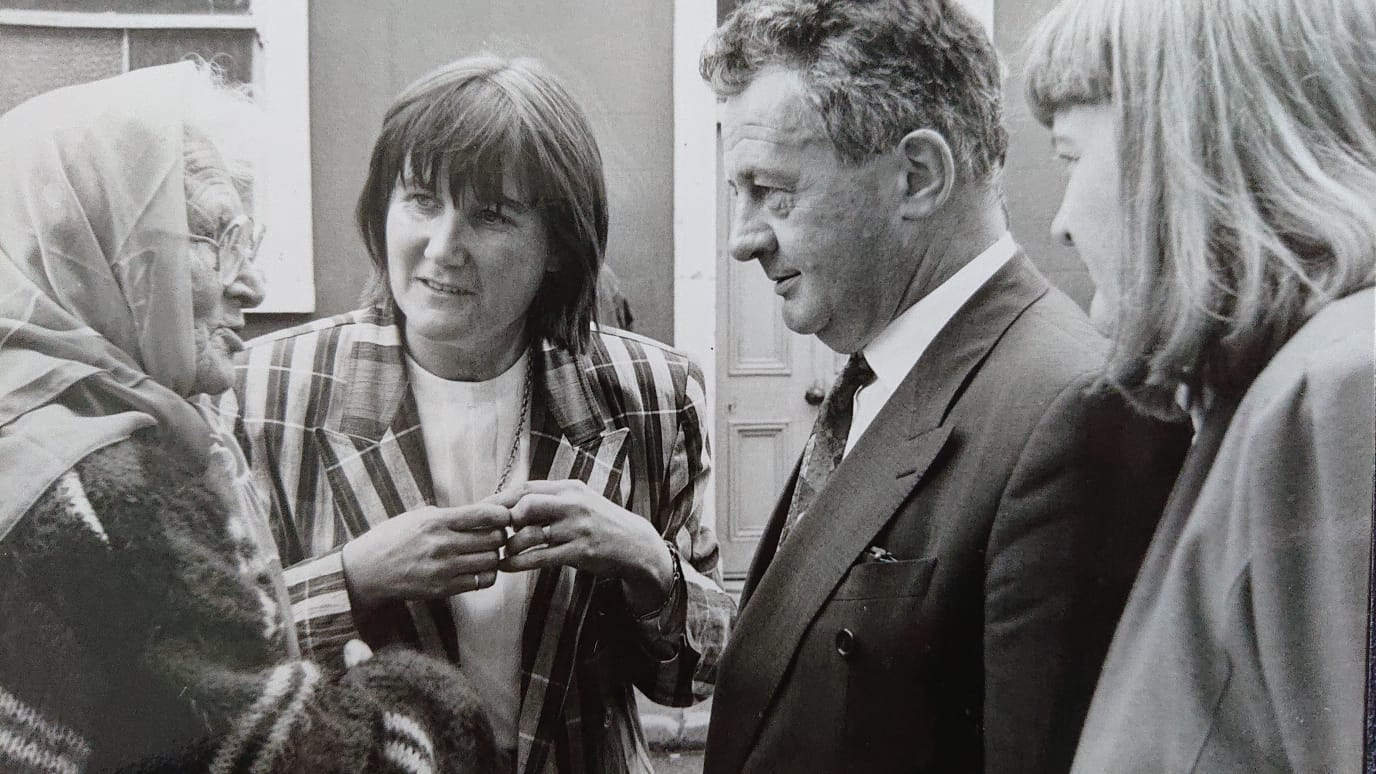 Cathy Honan's Senate term
In 1985 Mary Wheatley had become the first woman councillor in Laois. She was followed in 1991 by Portarlington's Cathy Honan for the Progressive Democrats and Theresa Mulhare from The Heath for Fianna Fáil.
Like so many PDs, Cathy Honan had been an active member of Fianna Fáil but broke away from the Party and the CJ Haughey leadership.
She forged a close friendship with the founders of the PDs, Des O'Malley and Mary Harney.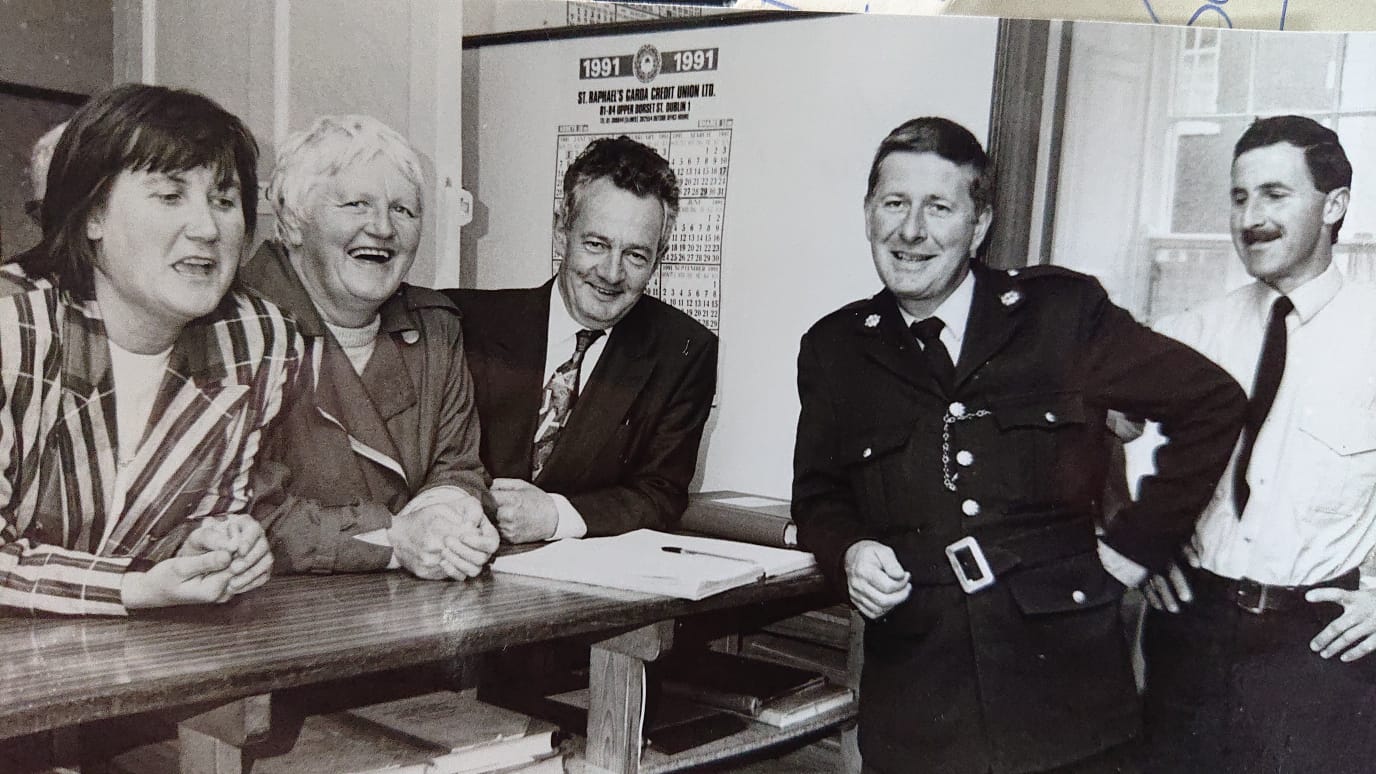 Cathy Honan was elected to Laois County Council at the same time as her Portarlington colleague Bridget Emerson (the mother of the star Laois footballer, Hughie) was on the other side of the Barrow Bridge to Offaly County Council.
Cathy Honan contested four consecutive general elections for the PDs in 1987, '89, 1992 and 1997.
She only served one Council term from 1991 to 1999 but her national breakthrough came following the 1992 general election when she was subsequently elected to the Senate Industrial and Commercial Panel.
Ironically this was with the assistance and due to a voting pact with the PD's politically polar opposites the Democratic Left, a new party which had been formed by Prionsias de Rossa, Eamon Gilmore, Pat Rabbitte, Joe Sherlock, Kathleen Lynch and Eric Byrne after a split within the Workers Party.
Democratic Left itself would alter merge with the Labour Party in 1999.
Jim Buggie in Stradbally and Ray Cribbin in Port were both returned to the Council in the Emo electoral area.
Paddy Bray of the Labour Party, a well-regarded Stradbally man, was unable to retain the seat to which he had been co-opted following the death of Portarlington's Ned Kelly.
Change of personnel in Luggacurren and Tinnahinch
There were changes abroad in the Luggacurren electoral area which saw the re-election of Jimmy Cooney and Mary Wheatley for FF, but two outgoing councillors failed to get re-elected with Marty Rohan and Senator Charlie McDonald losing out to two new councillors James Daly in Timahoe and John Moran in Ballylinan.
John Moran has served ever since and attended his final meeting of Laois Council last week as he has decided to retire. His daughter Aisling is running in a bid to retain his seat for Fine Gael.
1991 was James Daly's first election and he successfully won back the seat his father John Daly had held from 1979 to 1985 and he himself went on to serve for 23 years, including a term as chairman in 2009.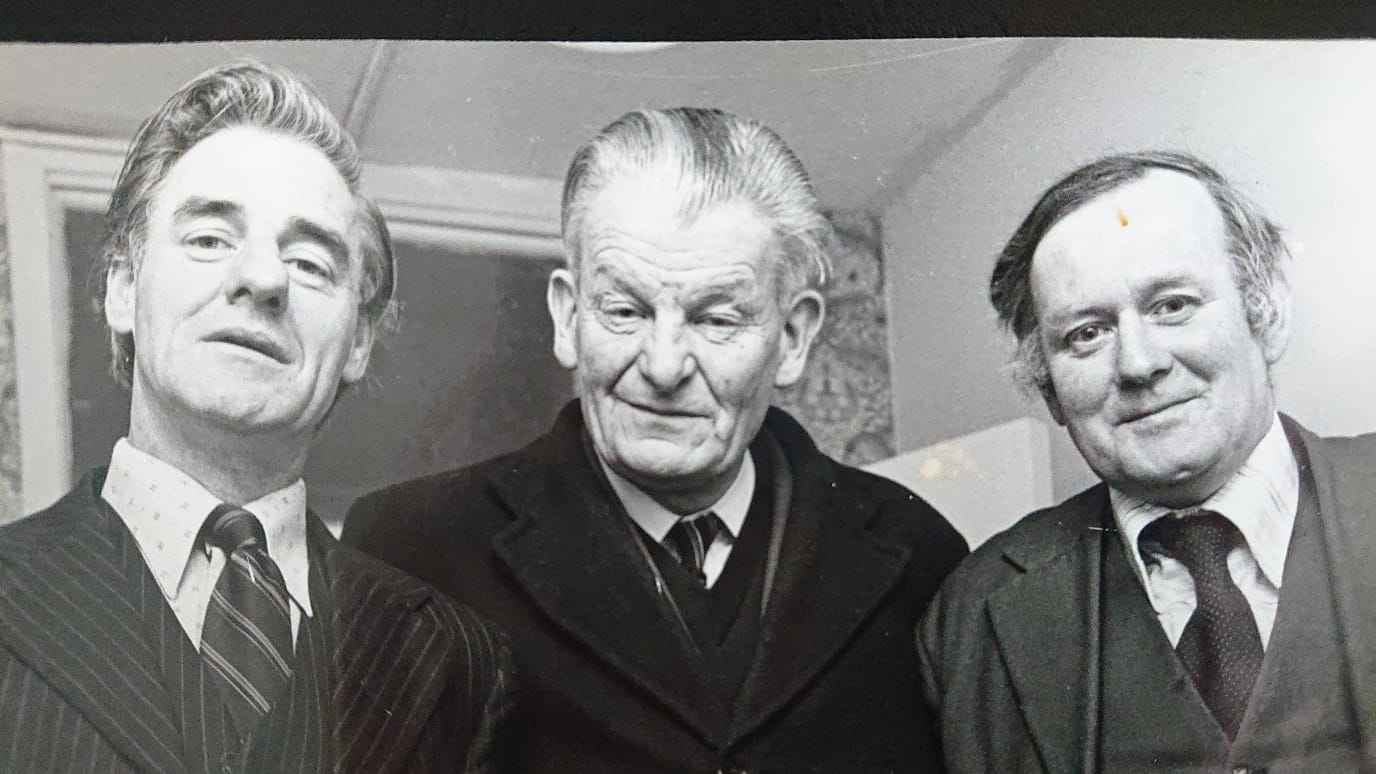 Outgoing councillors Joe Dunne, Willie Aird, Tom Keenan and Jerry Lodge were all re-elected in Portlaoise and were joined for the first time by Tom Jacob for FF, with Joe Dunne doing the honours once more as the popular poll topper.
Others to contest the Portlaoise electoral area unsuccessfully in 1991 were Tom Phelan the loyal Labour standard bearer; Ger O'Donoghue, the Abbeyleix based solicitor who was close to Charlie Flanagan and Assumpta Broomfield from Ballyfin who ran for the PDs.
John Moloney comfortably topped the poll for FF in Tinnahinch as the Mountmellick electoral area was then designated. Comfortably sailing in with him were Seamus McDonald and Joe Digan.
Not so lucky was David Goodwin.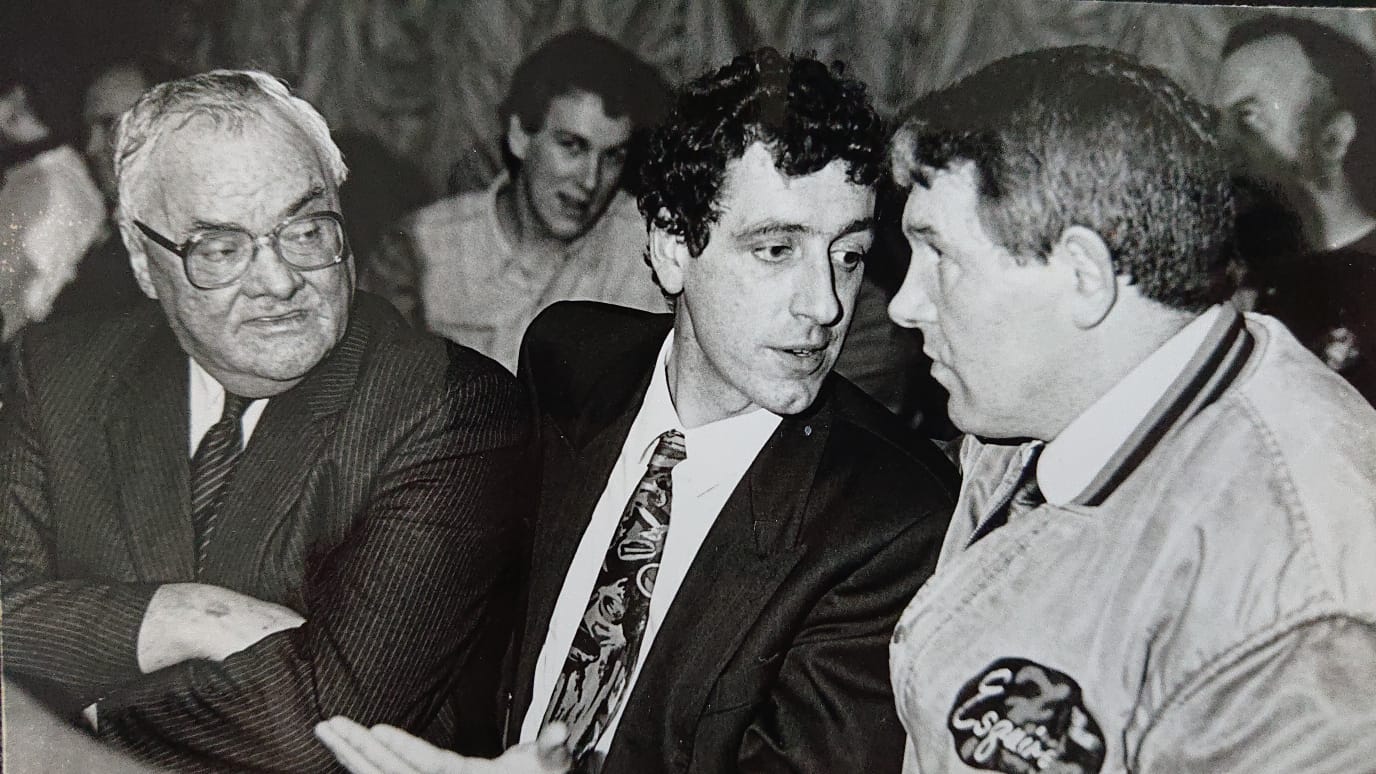 Charlie Flanagan who had been first elected to the Dáil in 1987 was returned to the Council to which he had been co-opted on the death of his father, Olive J.
Making a comeback was Mick Lalor from Camross, who you may recall had lost his seat in the previous 1985 elections to Joe Digan by just four votes. He made no mistake on this occasion and took the second seat with 872.
David Goodwin was squeezed out on this occasion and had to wait until 1999 to win back his seat, which he duly did. He is contesting again next Friday.
How they voted in 1991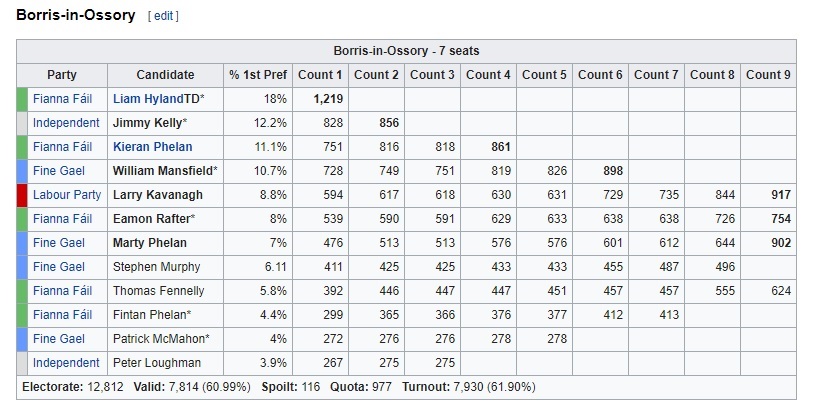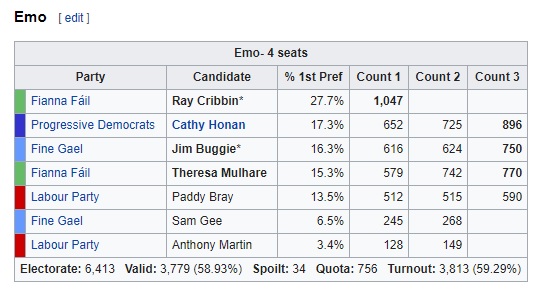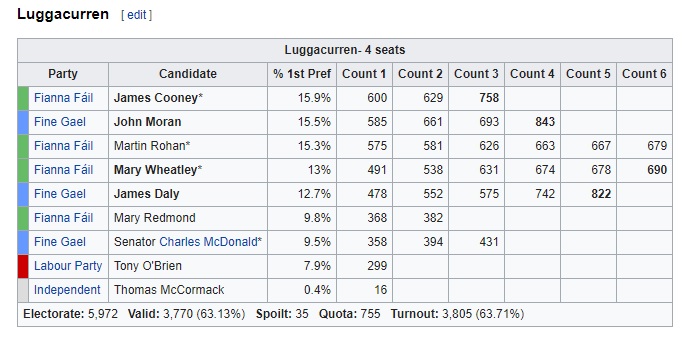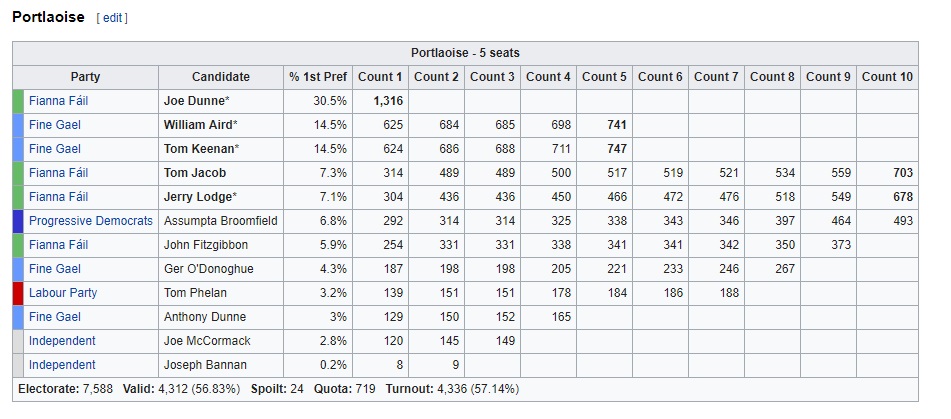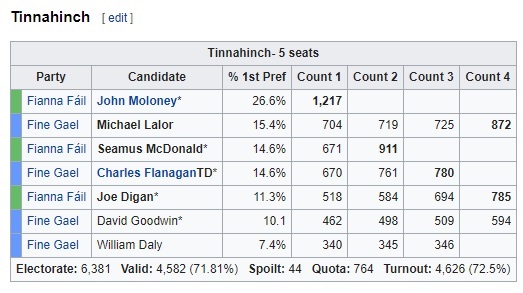 SEE ALSO – 2004 Local Election Memories: No TDs, some PDs, a breakthrough for Sinn Féin and a split in FF