Brought to you in association with People First Credit Union
One of the puzzling anomalies of Laois-Offaly politics is how villages like Ballacolla and Bracknagh could return TDs to Dáil Éireann and Portlaoise failed to sufficiently support candidates like Joe Dunne, Jerry Lodge or Tom Keenan over the years to do so.
Similarly in the local elections it is an interesting phenomenon that the small village of Rosenallis can boast not one but two councillors of its own for decades in David Goodwin and Seamus McDonald and yet a thriving community like Durrow does not.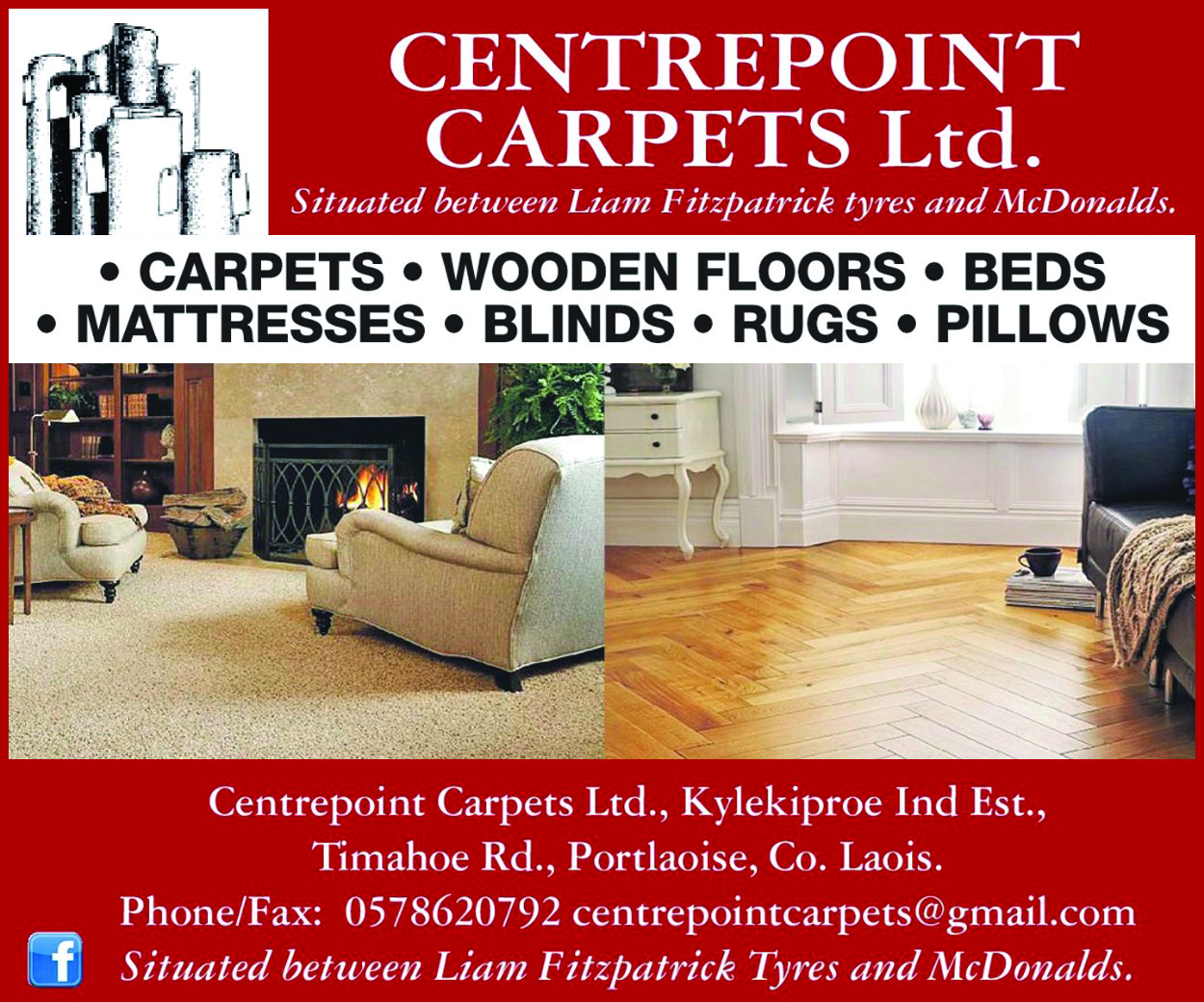 Party loyalties are on the wane and sometimes personalities and geography can play as decisive a role in the outcome as any policies.
If all politics is local well then that was never a truer word than in the local elections. Getting votes to travel from one party to another may be easier than getting them to travel from one parish to another.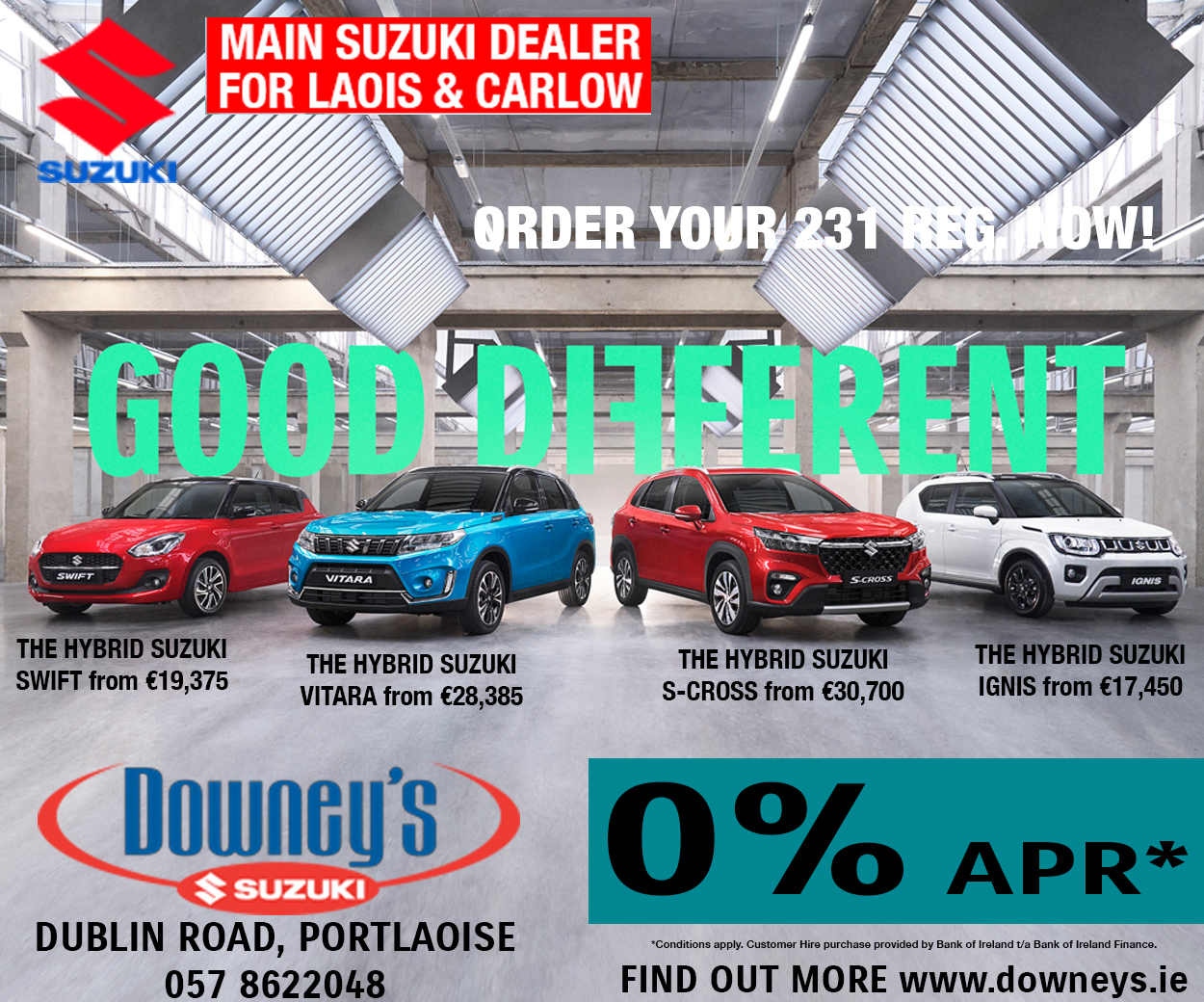 Votes, it seems, think badly of crossing motorways and mountains.
It is very difficult for candidates from the Rathdowney end of the county to attract support from Rosenallis and beyond into the Slieve Blooms and Clonaslee, and of course vice versa.
There are six Council seats at stake in this sprawling electoral area which comprises of 42 per cent of the expanse of County Laois. In the last local elections this electoral district had by far the highest turnout in the county at over 61%, giving a quota of just over 1,700 votes.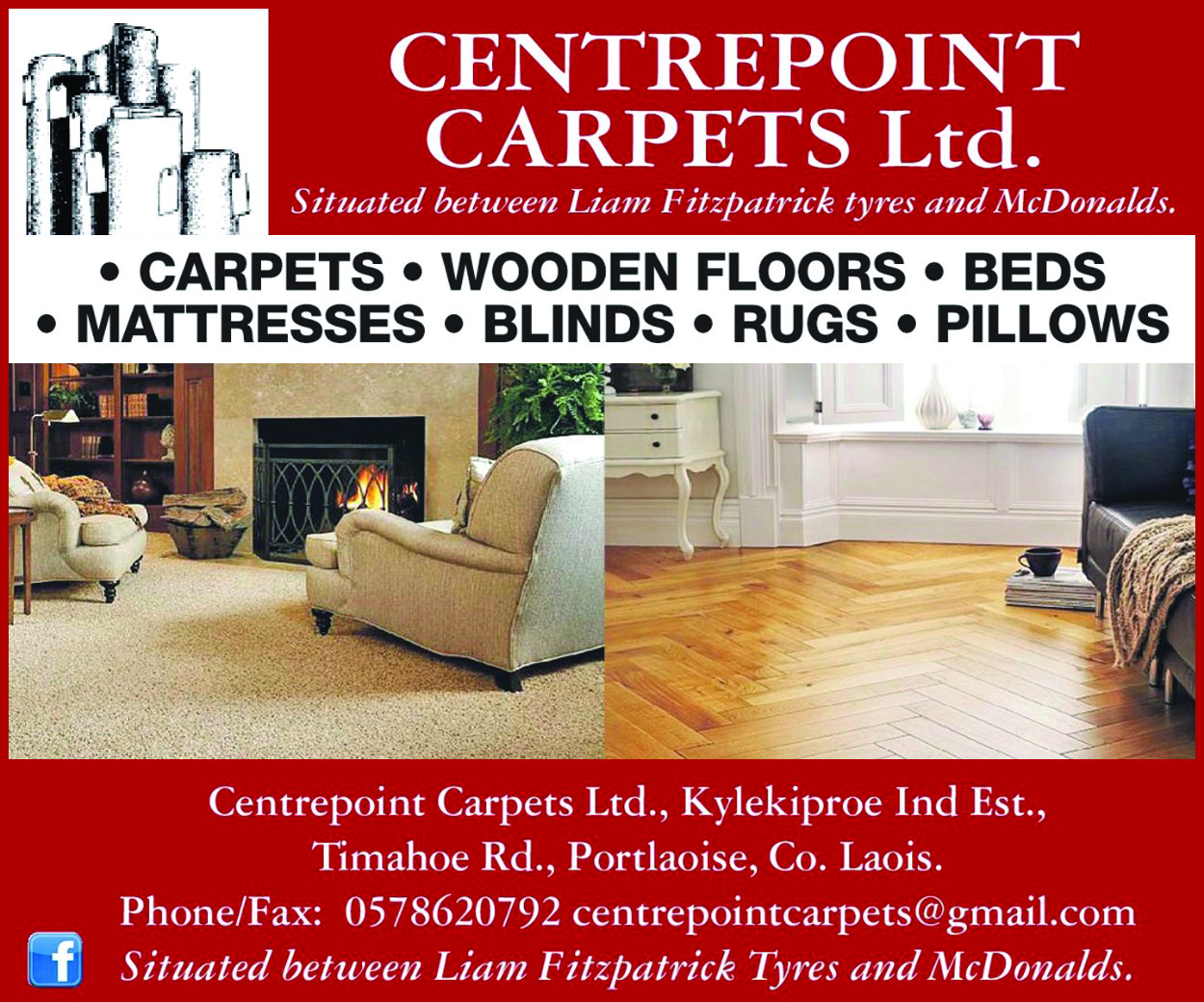 14 candidates for six seats
There are 14 candidates vying for those six seats, so it is competitive. All six outgoing councillors are seeking re-election, but one senses that the turnout of voters is unlikely to be as high as in 2014.
And while elections are notorious for surprises, upsets and making fools of pundits I can't see a whole lot of scope in this area for any major changes even though there are a number of new young candidates bidding to dislodge more senior long-serving councillors.
The six sitting councillors are mostly bunched at opposite ends of the electoral area with Paddy Bracken, Seamus Mc Donald and David Goodwin all from the Mountmellick-Rosenallis area; John King and Brendan Phelan are at the opposite end in Rathdowney-Donaghmore; while James Kelly is sweeping up the support in the Mountrath-Borris middle section.
Gap in Durrow-Cullahill?
There is a glaring gap in the Durrow-Cullahill catchment and this is something that first time candidate Ollie Clooney is hoping to exploit.
With political roots in FG he is running as an independent and will have to hoover up massive support in his own heartland to be in with a chance.
He is certainly one to watch, will be heartened by the swelling support in the polls for independents, but he has his work cut out.
The GAA vote?
If Liam O'Neill from Trumera had a pub and undertaker businesses you'd say he was the perfect candidate.
As a former President of the GAA and a retired primary school principal with fluent Irish, whose wife is formerly the principal of the secondary school in Rathdowney, you would say he is the next best thing, with impeccable credentials. Is there such a thing as the GAA vote?
Maybe only in Laois do we entertain doubts someone like Liam O'Neill can make it on to the Council first time out.
Fianna Fáil will have high hopes of a gain here but for O'Neill to secure a win, someone has to lose out and it's difficult to see him dislodging either James Kelly or Brendan Phelan.
Phelan Independent
Brendan Phelan may be the target but he still has strong FF roots and can justifiably argue that he didn't leave Fianna Fáil but they left him, by failing to select him last time out, in preference for Michael G Phelan.
The Gee had a strong body of community work and campaigning to his credit and still couldn't make the breakthrough.
FG seeking seat in Mountmellick
Elsewhere it will be interesting to see how Fergal Conroy goes in Mountmellick. The popular driving instructor and civil defence man with close ties to Charlie Flanagan could prove a dark horse, especially with Bobby Delaney and Lisa Delaney not running on this occasion, there are Mountmellick votes in the mix.
Fergal will be hoping to go one better than his father Davy who ran 20 years ago in 1999 when he finished with 731 votes, just 50 shy of taking a seat.
King and Kelly
You would be foolish to back against James Kelly being returned while the outgoing Chairman of the Council, John King has had a good busy year, won his seat the hard way and won't be giving it up lightly.
The local elections are all about ground hurling and no one knows that more than John King and James Kelly.
Sinn Féin seeking gains and Furlong looking for support
This electoral area continues to defy Sinn Féin's attempts to return a councillor in all three electoral areas and Lorna Holohan-Garry from Clonaslee seems to have more groundwork to do before Sinn Féin can score that hat-trick.
Holohan-Garry is from Mountmellick and based in Clonaslee and will be looking to build on Rhoda Dooley-Brogan's vote from the last time when she was sixth in terms of first preferences with almost 900 votes but bowed out in the eighth count.
Brian Furlong the retired prison officer from Mountmellick was previously involved with Sinn Féin, before a brief flirtation with the Anti-Austerity Alliance and is running on his own steam as an independent.
He was a strong anti-water charges protester but with that issue put to bed for now at least it is difficult to see where he can build sufficient momentum.
Bergin, Good and Hogan
Conor Bergin is another young Charlie Flanagan protégé on the FG ticket and while he has his work out on this occasion the experience will surely do him no harm if he plans to persevere in politics.
Ger Hogan is running as an independent out of Camross, once the strong hold of FG's Mick Lalor, while retired Garda superintendent Declan Good is holding the fort for FF in Clonaslee where Joe Digan had cultivated a strong block of votes over the years.
The full list of candidates as they will appear on your ballot paper are as follows, with the outgoing councillors designated in bold:
Conor Bergin (Fine Gael)
Paddy Bracken (Fianna Fáil)
Ollie Clooney (Independent)
Fergal Conroy (Fine Gael)
Brian Furlong (Independent)
Declan Good (Fianna Fáil)
David Goodwin (Fine Gael)
Ger Hogan (Independent)
Lorna Holohan-Garry (Sinn Féin)
James Kelly (Independent)
John King (Fine Gael)
Seamús McDonald (Fianna Fáil)
Liam O'Neill (Fianna Fáil)
Brendan Phelan (Independent)
How they voted in 2014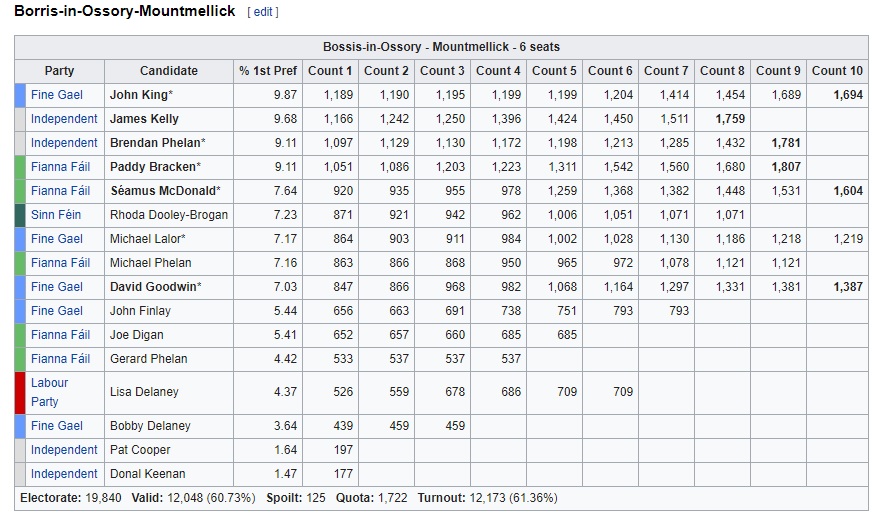 SEE ALSO – Listen to the LaoisToday political podcast as we preview all three Laois areas
SEE ALSO – Check out all the LaoisToday Local Election coverage here