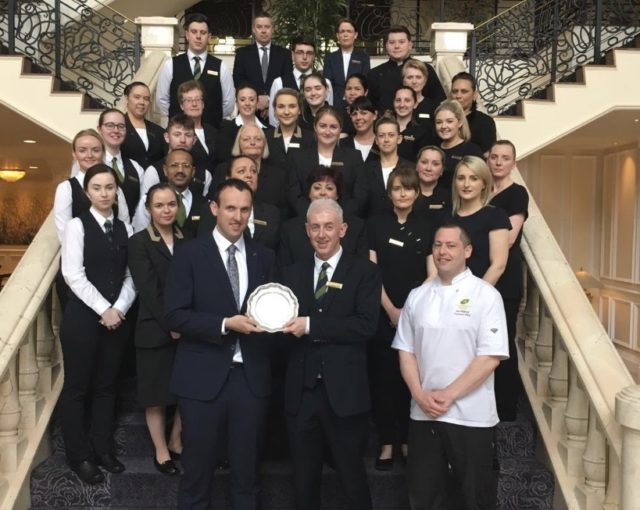 The Heritage Hotel, Killenard has been awarded 'Best Overall Hotel' at the 2nd annual Midlands 103 Hospitality Awards.
The Midlands 103 Hospitality Awards recognise hotels and tourist attractions in the Midlands region that go above and beyond to deliver a best in class customer experience.
The winners of awards across 56 categories were crowned at a gala awards ceremony in The Bridge House Hotel, Tullamore on Monday night.
The 'Best Overall Hotel' award was a highly contended category, with a long list of worthy nominees from across the region. In the weeks leading up to the awards, nominated hotels were paid a visit by category judge and Head Chef of the Radisson Blu Hotel Sligo, Joe Shannon.
Each hotel was assessed against a number of key criteria to measure quality, presentation and service. Listeners of Midlands 103 were also invited to vote for their preferred hotel.
The Heritage won the 'Best Overall Hotel' award based on the quality and attractiveness of the hotel and spa facilities and the high standard of hospitality and customer service experienced.
The hotel was also nominated in two other categories, 'Wedding Venue of the Year' and 'Best Destination Hotel'.
Situated in Killenard, Co. Laois just one hour from Dublin, The Heritage features 85 well-appointed guestrooms, 13 luxury suites, a tranquil health club and spa, and an extensive wedding, conference and banqueting centre.
The property overlooks the renowned Seve Ballesteros-designed championship golf course, comprising 7,345-yards of green and a variety of tees to suit golfers of all standards.
The hotel, acquired by leading Irish hotel and property group FBD Hotels & Resorts in January 2019, employs 38 full-time and 108 part-time staff.
Last month, the company announced the appointment of Ger Alley as General Manager of the hotel, bringing a wealth of hospitality and managerial experience to the post.
Commenting on the win, Ger Alley said: "We are thrilled to have been awarded the prestigious Best Overall Hotel award at the Midlands 103 Hospitality Awards.
"We would like to say a huge thank you to all of our valued and loyal customers who voted for us.
"I am very proud of our team at the hotel, without whom this win would not have been possible. They work tirelessly every day to ensure that the highest quality standards in hospitality management and customer service are upheld.
"It is a busy time for The Heritage as we continue to improve and expand on our hotel and spa facilities. Since January, we have worked closely with our parent company FBD Hotels & Resorts Group to complete a full refurbishment of our bar and ballroom.
"We have many more exciting developments in the pipeline and we look forward to sharing these with our valued customers in the coming months."
SEE ALSO – Check out the dedicated jobs section on LaoisToday