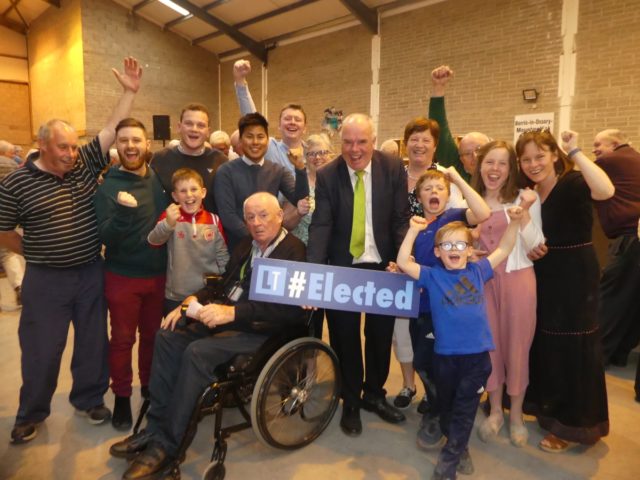 There were 31 boxes in the Portlaoise Municipal District – with 22 of them in Portlaoise and the remaining nine spread across a wide area, going from The Rock just outside Mountmellick to Raheen, Knock, Ballinakill, two in Ballyroan and three in Abbeyleix.
And it was in those three Abbeyleix boxes that John Joe Fennelly (Fianna Fáil) dominated en route to another first count election.
He broke 60% in two of the boxes and over 57% in the other, according to the Fine Gael tallies that have been seen and studied by LaoisToday.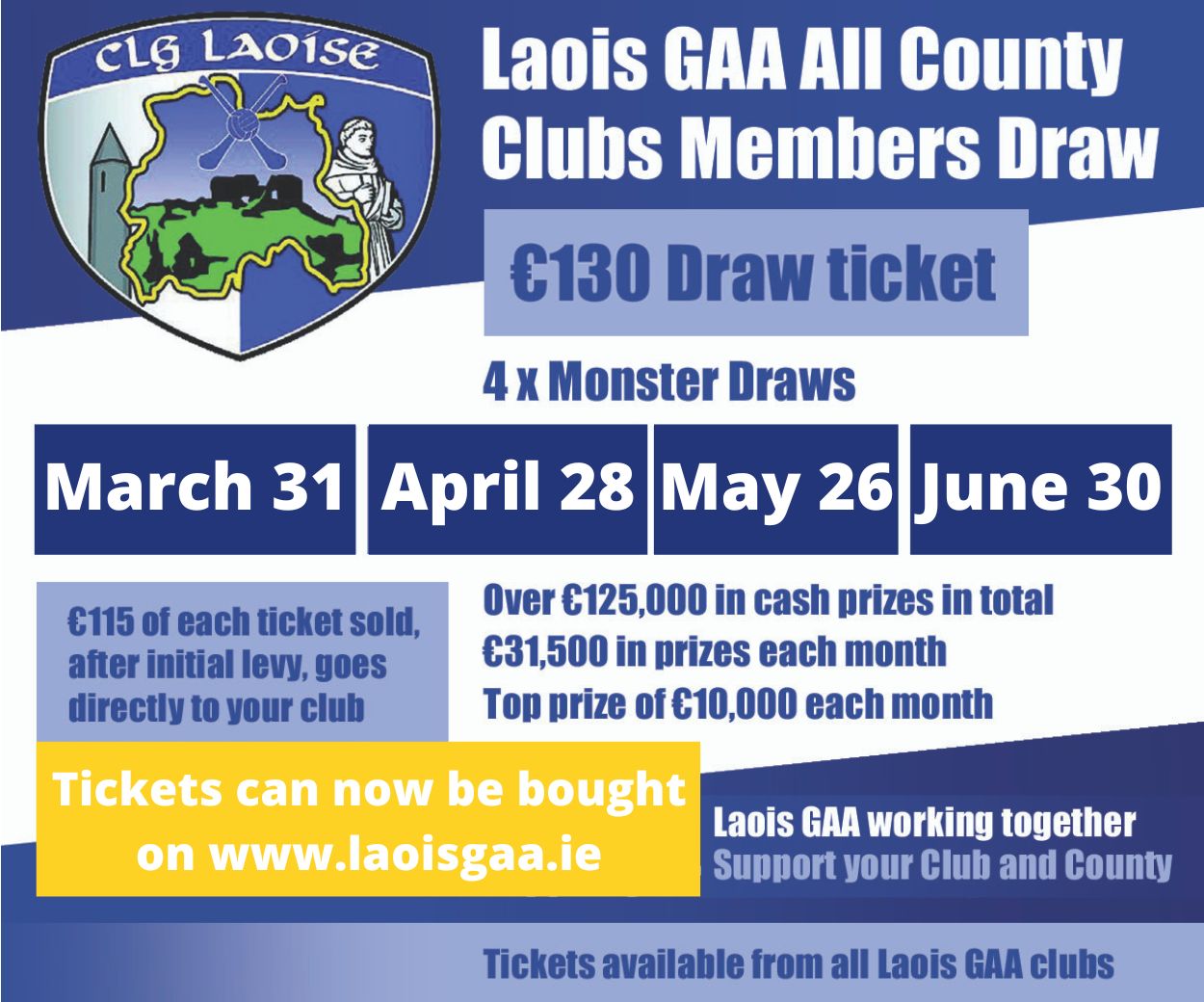 The tallies aren't 100% accurate but do give a very good indication of voting trends.
That accounted to over 800 votes in Abbeyleix and with strong performances in Raheen and where he exceeded 50% and Ballinakill and Knock where he broke 40% in both made up a high proportion of his haul. And that massive support around his home base (over 90%) meant that he didn't need Portlaoise.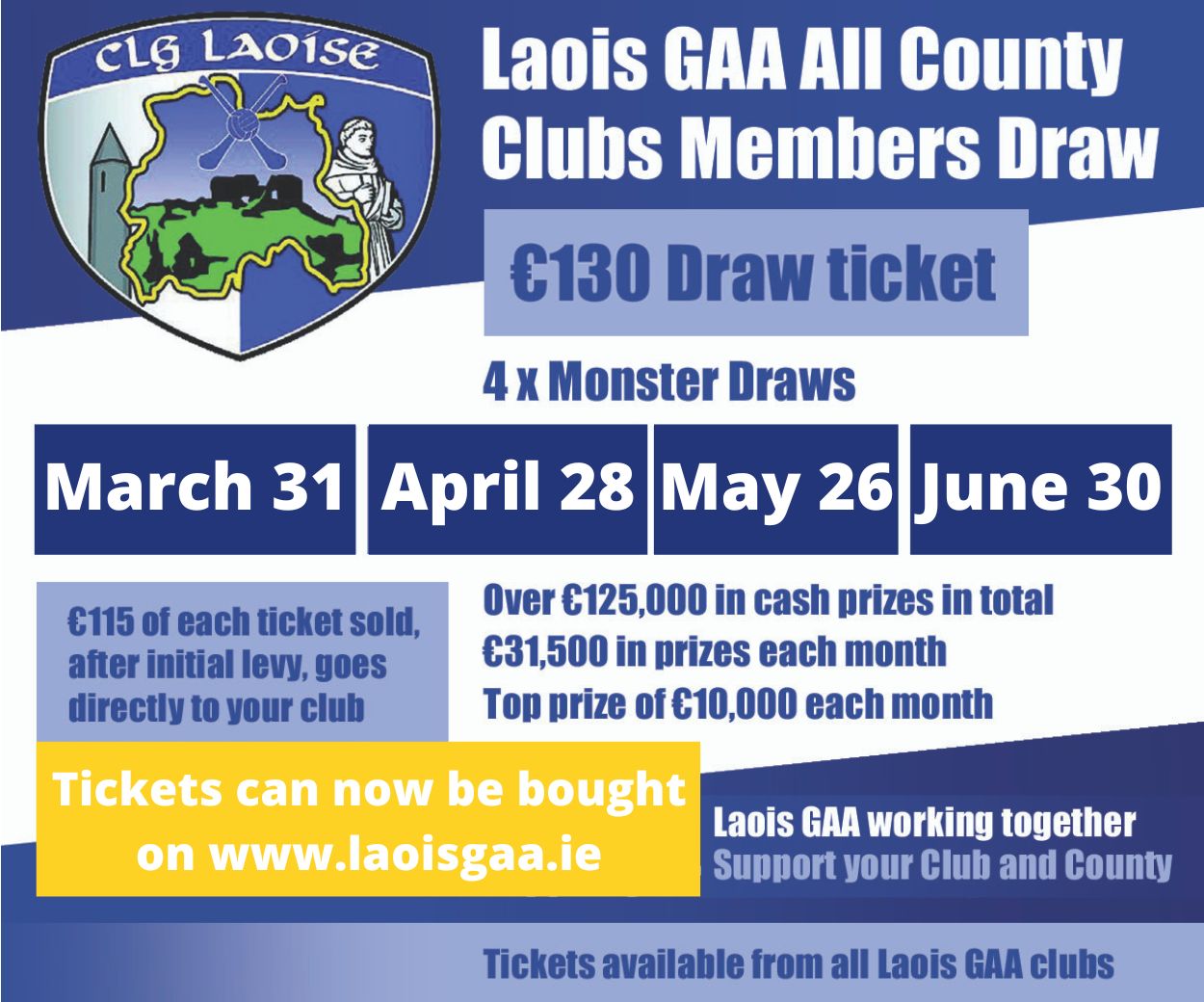 Compared to the other two areas in Laois, where local community support was very evident, Portlaoise was more evenly distributed, particularly in the Portlaoise town boxes.
Mary Sweeney's (Fine Gael) dominance in Ballyroan (56% in one box and 40% in the other) ensured she was the only other candidate aside from Fennelly to do better than 50% in any of the tallies.
Poll topper Willie Aird (Fine Gael)picked up a good spread of votes everywhere and while he 'only' broke 40% in one box (one of the 18 boxes in Holy Family), he only dropped below 10% in eight of the 31 boxes in total.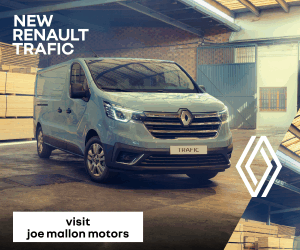 According to the tallies, he was over 200 votes clear of Catherine Fitzgerald (Fianna Fail), who was the next best in the 22 Portlaoise boxes, just marginally ahead of Caroline Dwane-Stanley (Sinn Fein) and Noel Tuohy (Labour).
Interestingly elected candidate Thomasina Connell (Fine Gael) was 10th in the tallies in the Portlaoise boxes but decent support in the non-Portlaoise areas, particularly in Abbeyleix and The Rock, were crucial in helping her to the final seat in Portlaoise.
We have listed all of the 31 boxes below here as by the Fine Gael tallies as well as separating out the Portlaoise and non-Portlaoise areas.
Portlaoise (18 Holy Family and 4 Knockmay boxes)
Willie Aird (Fine Gael) – 1,175
Catherine Fitzgerald (Fianna Fail) – 938
Caroline Dwane-Stanley (Sinn Fein) – 937
Noel Tuohy (Labour) – 936
Naeem Iqbal (Independent) – 392
Mary Sweeney (Fine Gael) – 336
Timothy Adejumo (Independent) – 300
Pauline Madigan (Fianna Fail) – 299
Dom Dunne (Renua) – 284
Thomasina Connell (Fine Gael) – 277
Donal Kelly (Fianna Fail) – 271
Tom Duffy (Independent) – 127
John Joe Fennelly (Fianna Fail) – 101
Judith Preston-Grace (Independent) – 96
Noel O'Rourke (Renua) – 87
John Gormley (Sinn Fein) – 42
Abbeyleix (3 boxes), Ballyroan (2 boxes), Ballinakill, Raheen, Knock and The Rock
John Joe Fennelly (Fianna Fail) – 1,369
Mary Sweeney (Fine Gael) – 673
Willie Aird (Fine Gael) – 333
Caroline Dwane-Stanley (Sinn Fein) – 166
Thomasina Connell (Fine Gael) – 129
Catherine Fitzgerald (Fianna Fail) – 91
Dom Dunne (Renua) – 81
John Gormley (Sinn Fein) – 80
Noel Tuohy (Labour) – 75
Donal Kelly (Fianna Fail) – 43
Judith Preston-Grace (Independent) – 40
Noel O'Rourke (Renua) – 37
Naeem Iqbal (Independent) – 29
Pauline Madigan (Fianna Fail) – 20
Timothy Adejumo (Independent) – 18
Tom Duffy (Independent) – 16
Scoil Mhuire Abbeyleix 1
Timothy Adejumo (Independent) 7
Willie Aird (Fine Gael) – 23
Thomasina Connell (Fine Gael) – 35
Tom Duffy (Independent) – 4
Dom Dunne (Renua) – 13
Caroline Dwane-Stanley (Sinn Fein) – 25
John Joe Fennelly (Fianna Fail) – 367
Catherine Fitzgerald (Fianna Fail) – 7
John Gormley (Sinn Fein) – 12
Naeem Iqbal (Independent) – 18
Donal Kelly (Fianna Fail) – 0
Pauline Madigan (Fianna Fail) – 3
Noel O'Rourke (Renua) – 2
Judith Preston-Grace (Independent) – 6
Mary Sweeney (Fine Gael) – 107
Noel Tuohy (Labour) – 10
Scoil Mhuire Abbeyleix 2
Timothy Adejumo (Independent) – 4
Willie Aird (Fine Gael) – 10
Thomasina Connell (Fine Gael) – 6
Tom Duffy (Independent) – 0
Dom Dunne (Renua) – 2
Caroline Dwane-Stanley (Sinn Fein) – 4
John Joe Fennelly (Fianna Fail) – 140
Catherine Fitzgerald (Fianna Fail) – 2
John Gormley (Sinn Fein) – 7
Naeem Iqbal (Independent) – 0
Donal Kelly (Fianna Fail) – 1
Pauline Madigan (Fianna Fail) – 0
Noel O'Rourke (Renua) – 2
Judith Preston-Grace (Independent) – 14
Mary Sweeney (Fine Gael) – 29
Noel Tuohy (Labour) – 6
Scoil Mhuire Abbeyleix 3
Timothy Adejumo (Independent) – 1
Willie Aird (Fine Gael) – 49
Thomasina Connell (Fine Gael) – 19
Tom Duffy (Independent) – 3
Dom Dunne (Renua) – 5
Caroline Dwane-Stanley (Sinn Fein) – 12
John Joe Fennelly (Fianna Fail) – 295
Catherine Fitzgerald (Fianna Fail) – 7
John Gormley (Sinn Fein) – 13
Naeem Iqbal (Independent) – 1
Donal Kelly (Fianna Fail) – 5
Pauline Madigan (Fianna Fail) – 0
Noel O'Rourke (Renua) – 7
Judith Preston-Grace (Independent) – 1
Mary Sweeney (Fine Gael) – 45
Noel Tuohy (Labour) – 15
Ballinakill
Timothy Adejumo (Independent) – 0
Willie Aird (Fine Gael) – 52
Thomasina Connell (Fine Gael) – 12
Tom Duffy (Independent) – 3
Dom Dunne (Renua) – 6
Caroline Dwane-Stanley (Sinn Fein) – 37
John Joe Fennelly (Fianna Fail) – 146
Catherine Fitzgerald (Fianna Fail) – 2
John Gormley (Sinn Fein) – 10
Naeem Iqbal (Independent) – 3
Donal Kelly (Fianna Fail) – 4
Pauline Madigan (Fianna Fail) – 2
Noel O'Rourke (Renua) – 4
Judith Preston-Grace (Independent) – 2
Mary Sweeney (Fine Gael) – 43
Noel Tuohy (Labour) – 11
Ballyroan 1
Timothy Adejumo (Independent) – 1
Willie Aird (Fine Gael) – 13
Thomasina Connell (Fine Gael) – 17
Tom Duffy (Independent) – 1
Dom Dunne (Renua) – 4
Caroline Dwane-Stanley (Sinn Fein) – 20
John Joe Fennelly (Fianna Fail) – 54
Catherine Fitzgerald (Fianna Fail) – 16
John Gormley (Sinn Fein) – 8
Naeem Iqbal (Independent) – 0
Donal Kelly (Fianna Fail) – 6
Pauline Madigan (Fianna Fail) – 1
Noel O'Rourke (Renua) – 10
Judith Preston-Grace (Independent) – 5
Mary Sweeney (Fine Gael) – 207
Noel Tuohy (Labour) – 6
Ballyroan 2
Timothy Adejumo (Independent) – 3
Willie Aird (Fine Gael) – 48
Thomasina Connell (Fine Gael) – 4
Tom Duffy (Independent) – 3
Dom Dunne (Renua) – 11
Caroline Dwane-Stanley (Sinn Fein) – 8
John Joe Fennelly (Fianna Fail) – 75
Catherine Fitzgerald (Fianna Fail) – 17
John Gormley (Sinn Fein) – 5
Naeem Iqbal (Independent) – 5
Donal Kelly (Fianna Fail) – 4
Pauline Madigan (Fianna Fail) – 3
Noel O'Rourke (Renua) – 6
Judith Preston-Grace (Independent) – 8
Mary Sweeney (Fine Gael) – 137
Noel Tuohy (Labour) – 5
The Rock NS
Timothy Adejumo (Independent) – 0
Willie Aird (Fine Gael) – 66
Thomasina Connell (Fine Gael) – 18
Tom Duffy (Independent) – 0
Dom Dunne (Renua) – 4
Caroline Dwane-Stanley (Sinn Fein) – 35
John Joe Fennelly (Fianna Fail) – 5
Catherine Fitzgerald (Fianna Fail) – 30
John Gormley (Sinn Fein) – 5
Naeem Iqbal (Independent) – 2
Donal Kelly (Fianna Fail) – 18
Pauline Madigan (Fianna Fail) – 3
Noel O'Rourke (Renua) – 1
Judith Preston-Grace (Independent) – 3
Mary Sweeney (Fine Gael) – 1
Noel Tuohy (Labour) – 7
Raheen 
Timothy Adejumo (Independent) – 0
Willie Aird (Fine Gael) – 43
Thomasina Connell (Fine Gael) – 17
Tom Duffy (Independent) – 2
Dom Dunne (Renua) – 1
Caroline Dwane-Stanley (Sinn Fein) 24
John Joe Fennelly (Fianna Fail) – 166
Catherine Fitzgerald (Fianna Fail) – 8
John Gormley (Sinn Fein) – 10
Naeem Iqbal (Independent) – 0
Donal Kelly (Fianna Fail) – 4
Pauline Madigan (Fianna Fail) – 2
Noel O'Rourke (Renua) – 2
Judith Preston-Grace (Independent) – 1
Mary Sweeney (Fine Gael) – 19
Noel Tuohy (Labour) – 10
Knock NS
Timothy Adejumo (Independent) – 2
Willie Aird (Fine Gael) – 29
Thomasina Connell (Fine Gael) – 1
Tom Duffy (Independent) – 0
Dom Dunne (Renua) – 35
Caroline Dwane-Stanley (Sinn Fein) – 1
John Joe Fennelly (Fianna Fail) – 121
Catherine Fitzgerald (Fianna Fail) – 2
John Gormley (Sinn Fein) – 10
Naeem Iqbal (Independent) – 0
Donal Kelly (Fianna Fail) – 1
Pauline Madigan (Fianna Fail) – 6
Noel O'Rourke (Renua) – 3
Judith Preston-Grace (Independent) – 0
Mary Sweeney (Fine Gael) – 85
Noel Tuohy (Labour) – 5
Holy Family Junior 1
Timothy Adejumo (Independent) – 41
Willie Aird (Fine Gael) – 31
Thomasina Connell (Fine Gael) – 21
Tom Duffy (Independent) – 5
Dom Dunne (Renua) – 16
Caroline Dwane-Stanley (Sinn Fein) – 48
John Joe Fennelly (Fianna Fail) – 2
Catherine Fitzgerald (Fianna Fail) – 34
John Gormley (Sinn Fein) – 3
Naeem Iqbal (Independent) – 22
Donal Kelly (Fianna Fail) – 17
Pauline Madigan (Fianna Fail) – 11
Noel O'Rourke (Renua) – 2
Judith Preston-Grace (Independent) – 5
Mary Sweeney (Fine Gael) – 19
Noel Tuohy (Labour) – 56
Holy Family Junior 2
Timothy Adejumo (Independent) – 15
Willie Aird (Fine Gael) – 26
Thomasina Connell (Fine Gael) – 3
Tom Duffy (Independent) – 2
Dom Dunne (Renua) – 5
Caroline Dwane-Stanley (Sinn Fein) – 22
John Joe Fennelly (Fianna Fail) – 2
Catherine Fitzgerald (Fianna Fail) – 17
John Gormley (Sinn Fein) – 3
Naeem Iqbal (Independent) – 58
Donal Kelly (Fianna Fail) – 4
Pauline Madigan (Fianna Fail) – 9
Noel O'Rourke (Renua) – 4
Judith Preston-Grace (Independent) – 4
Mary Sweeney (Fine Gael) – 4
Noel Tuohy (Labour) – 19
Holy Family Junior 3
Timothy Adejumo (Independent) – 38
Willie Aird (Fine Gael) – 65
Thomasina Connell (Fine Gael) – 21
Tom Duffy (Independent) – 3
Dom Dunne (Renua) – 17
Caroline Dwane-Stanley (Sinn Fein) – 47
John Joe Fennelly (Fianna Fail) – 2
Catherine Fitzgerald (Fianna Fail) – 45
John Gormley (Sinn Fein) – 2
Naeem Iqbal (Independent) – 20
Donal Kelly (Fianna Fail) – 7
Pauline Madigan (Fianna Fail) – 16
Noel O'Rourke (Renua) – 4
Judith Preston-Grace (Independent) – 7
Mary Sweeney (Fine Gael) – 18
Noel Tuohy (Labour) – 47
Holy Family Junior 4
Timothy Adejumo (Independent) – 11
Willie Aird (Fine Gael) – 48
Thomasina Connell (Fine Gael) – 15
Tom Duffy (Independent) – 3
Dom Dunne (Renua) – 13
Caroline Dwane-Stanley (Sinn Fein) – 33
John Joe Fennelly (Fianna Fail) – 2
Catherine Fitzgerald (Fianna Fail) – 43
John Gormley (Sinn Fein) – 1
Naeem Iqbal (Independent) – 9
Donal Kelly (Fianna Fail) – 31
Pauline Madigan (Fianna Fail) – 12
Noel O'Rourke (Renua) – 3
Judith Preston-Grace (Independent) – 6
Mary Sweeney (Fine Gael) – 10
Noel Tuohy (Labour) – 29
Holy Family Junior 5
Timothy Adejumo (Independent) – 19
Willie Aird (Fine Gael) – 71
Thomasina Connell (Fine Gael) – 13
Tom Duffy (Independent) – 2
Dom Dunne (Renua) – 27
Caroline Dwane-Stanley (Sinn Fein) – 50
John Joe Fennelly (Fianna Fail) – 3
Catherine Fitzgerald (Fianna Fail) – 50
John Gormley (Sinn Fein) – 1
Naeem Iqbal (Independent) – 24
Donal Kelly (Fianna Fail) – 18
Pauline Madigan (Fianna Fail) – 7
Noel O'Rourke (Renua) – 3
Judith Preston-Grace (Independent) – 2
Mary Sweeney (Fine Gael) – 13
Noel Tuohy (Labour) – 26
Holy Family Junior 6
Timothy Adejumo (Independent) – 7
Willie Aird (Fine Gael) – 133
Thomasina Connell (Fine Gael) – 3
Tom Duffy (Independent) – 2
Dom Dunne (Renua) – 9
Caroline Dwane-Stanley (Sinn Fein) – 42
John Joe Fennelly (Fianna Fail) – 6
Catherine Fitzgerald (Fianna Fail) – 36
John Gormley (Sinn Fein) – 2
Naeem Iqbal (Independent) – 8
Donal Kelly (Fianna Fail) – 9
Pauline Madigan (Fianna Fail) – 8
Noel O'Rourke (Renua) – 8
Judith Preston-Grace (Independent) – 2
Mary Sweeney (Fine Gael) – 12
Noel Tuohy (Labour) – 21
Holy Family Junior 7
Timothy Adejumo (Independent) – 15
Willie Aird (Fine Gael) – 42
Thomasina Connell (Fine Gael) – 12
Tom Duffy (Independent) – 3
Dom Dunne (Renua) – 7
Caroline Dwane-Stanley (Sinn Fein) – 37
John Joe Fennelly (Fianna Fail) – 8
Catherine Fitzgerald (Fianna Fail) – 39
John Gormley (Sinn Fein) – 2
Naeem Iqbal (Independent) – 16
Donal Kelly (Fianna Fail) – 7
Pauline Madigan (Fianna Fail) – 8
Noel O'Rourke (Renua) – 3
Judith Preston-Grace (Independent) – 2
Mary Sweeney (Fine Gael) – 9
Noel Tuohy (Labour) – 13
Holy Family Junior 8
Timothy Adejumo (Independent) – 6
Willie Aird (Fine Gael) – 70
Thomasina Connell (Fine Gael) – 11
Tom Duffy (Independent) – 6
Dom Dunne (Renua) – 9
Caroline Dwane-Stanley (Sinn Fein) – 33
John Joe Fennelly (Fianna Fail) – 10
Catherine Fitzgerald (Fianna Fail) – 49
John Gormley (Sinn Fein) – 0
Naeem Iqbal (Independent) – 8
Donal Kelly (Fianna Fail) – 12
Pauline Madigan (Fianna Fail) – 6
Noel O'Rourke (Renua) – 5
Judith Preston-Grace (Independent) – 2
Mary Sweeney (Fine Gael) – 32
Noel Tuohy (Labour) – 26
Holy Family Junior 9
Timothy Adejumo (Independent) – 10
Willie Aird (Fine Gael) – 99
Thomasina Connell (Fine Gael) – 25
Tom Duffy (Independent) – 2
Dom Dunne (Renua) – 9
Caroline Dwane-Stanley (Sinn Fein) – 21
John Joe Fennelly (Fianna Fail) – 9
Catherine Fitzgerald (Fianna Fail) – 38
John Gormley (Sinn Fein) – 0
Naeem Iqbal (Independent) – 33
Donal Kelly (Fianna Fail) – 7
Pauline Madigan (Fianna Fail) – 18
Noel O'Rourke (Renua) – 4
Judith Preston-Grace (Independent) – 2
Mary Sweeney (Fine Gael) – 32
Noel Tuohy (Labour) – 30
Holy Family Junior 10
Timothy Adejumo (Independent) – 1
Willie Aird (Fine Gael) – 62
Thomasina Connell (Fine Gael) – 10
Tom Duffy (Independent) – 0
Dom Dunne (Renua) – 6
Caroline Dwane-Stanley (Sinn Fein) – 25
John Joe Fennelly (Fianna Fail) – 2
Catherine Fitzgerald (Fianna Fail) – 16
John Gormley (Sinn Fein) – 1
Naeem Iqbal (Independent) – 4
Donal Kelly (Fianna Fail) – 18
Pauline Madigan (Fianna Fail) – 16
Noel O'Rourke (Renua) – 1
Judith Preston-Grace (Independent) – 1
Mary Sweeney (Fine Gael) – 11
Noel Tuohy (Labour) – 47
Holy Family Senior 11
Timothy Adejumo (Independent) – 38
Willie Aird (Fine Gael) – 36
Thomasina Connell (Fine Gael) – 11
Tom Duffy (Independent) – 7
Dom Dunne (Renua) – 11
Caroline Dwane-Stanley (Sinn Fein) – 57
John Joe Fennelly (Fianna Fail) – 4
Catherine Fitzgerald (Fianna Fail) – 37
John Gormley (Sinn Fein) – 2
Naeem Iqbal (Independent) – 29
Donal Kelly (Fianna Fail) – 15
Pauline Madigan (Fianna Fail) – 7
Noel O'Rourke (Renua) – 8
Judith Preston-Grace (Independent) – 5
Mary Sweeney (Fine Gael) – 7
Noel Tuohy (Labour) – 45
Holy Family Senior 12
Timothy Adejumo (Independent) – 12
Willie Aird (Fine Gael) – 71
Thomasina Connell (Fine Gael) – 25
Tom Duffy (Independent) – 1
Dom Dunne (Renua) – 9
Caroline Dwane-Stanley (Sinn Fein) – 24
John Joe Fennelly (Fianna Fail) – 2
Catherine Fitzgerald (Fianna Fail) – 34
John Gormley (Sinn Fein) – 2
Naeem Iqbal (Independent) – 31
Donal Kelly (Fianna Fail) – 7
Pauline Madigan (Fianna Fail) – 10
Noel O'Rourke (Renua) – 6
Judith Preston-Grace (Independent) – 4
Mary Sweeney (Fine Gael) – 13
Noel Tuohy (Labour) – 35
Holy Family Senior 13
Timothy Adejumo (Independent) – 8
Willie Aird (Fine Gael) – 79
Thomasina Connell (Fine Gael) – 10
Tom Duffy (Independent) – 5
Dom Dunne (Renua) – 10
Caroline Dwane-Stanley (Sinn Fein) – 18
John Joe Fennelly (Fianna Fail) – 0
Catherine Fitzgerald (Fianna Fail) – 70
John Gormley (Sinn Fein) – 4
Naeem Iqbal (Independent) – 11
Donal Kelly (Fianna Fail) – 6
Pauline Madigan (Fianna Fail) – 16
Noel O'Rourke (Renua) – 1
Judith Preston-Grace (Independent) – 3
Mary Sweeney (Fine Gael) – 10
Noel Tuohy (Labour) – 43
Holy Family Senior 14
Timothy Adejumo (Independent)  – 14
Willie Aird (Fine Gael) – 69
Thomasina Connell (Fine Gael) – 20
Tom Duffy (Independent) – 2
Dom Dunne (Renua) – 33
Caroline Dwane-Stanley (Sinn Fein) – 21
John Joe Fennelly (Fianna Fail) – 6
Catherine Fitzgerald (Fianna Fail) – 65
John Gormley (Sinn Fein) – 2
Naeem Iqbal (Independent) – 28
Donal Kelly (Fianna Fail) – 9
Pauline Madigan (Fianna Fail) – 47
Noel O'Rourke (Renua) – 5
Judith Preston-Grace (Independent) – 6
Mary Sweeney (Fine Gael) – 21
Noel Tuohy (Labour) – 54
Holy Family Senior 15
Timothy Adejumo (Independent) – 9
Willie Aird (Fine Gael) – 39
Thomasina Connell (Fine Gael) – 9
Tom Duffy (Independent) – 3
Dom Dunne (Renua) – 14
Caroline Dwane-Stanley (Sinn Fein) – 26
John Joe Fennelly (Fianna Fail) – 13
Catherine Fitzgerald (Fianna Fail) – 78
John Gormley (Sinn Fein) – 0
Naeem Iqbal (Independent) – 13
Donal Kelly (Fianna Fail) – 18
Pauline Madigan (Fianna Fail) – 21
Noel O'Rourke (Renua) – 2
Judith Preston-Grace (Independent) – 4
Mary Sweeney (Fine Gael) – 11
Noel Tuohy (Labour) – 99
Holy Family Senior 16
Timothy Adejumo (Independent) – 5
Willie Aird (Fine Gael) – 50
Thomasina Connell (Fine Gael) – 12
Tom Duffy (Independent) – 2
Dom Dunne (Renua) – 31
Caroline Dwane-Stanley (Sinn Fein) – 42
John Joe Fennelly (Fianna Fail) – 3
Catherine Fitzgerald (Fianna Fail) – 48
John Gormley (Sinn Fein) – 2
Naeem Iqbal (Independent) – 16
Donal Kelly (Fianna Fail) – 17
Pauline Madigan (Fianna Fail) – 19
Noel O'Rourke (Renua) – 5
Judith Preston-Grace (Independent) – 14
Mary Sweeney (Fine Gael) – 15
Noel Tuohy (Labour) – 58
Holy Family Senior 17
Timothy Adejumo (Independent) – 8
Willie Aird (Fine Gael) – 18
Thomasina Connell (Fine Gael) – 8
Tom Duffy (Independent) – 15
Dom Dunne (Renua) – 10
Caroline Dwane-Stanley (Sinn Fein) – 84
John Joe Fennelly (Fianna Fail) – 3
Catherine Fitzgerald (Fianna Fail) – 27
John Gormley (Sinn Fein) – 5
Naeem Iqbal (Independent) – 18
Donal Kelly (Fianna Fail) – 7
Pauline Madigan (Fianna Fail) – 8
Noel O'Rourke (Renua) – 5
Judith Preston-Grace (Independent) – 8
Mary Sweeney (Fine Gael) – 9
Noel Tuohy (Labour) – 58
Holy Family Senior 18
Timothy Adejumo (Independent) – 7
Willie Aird (Fine Gael) – 53
Thomasina Connell (Fine Gael) – 9
Tom Duffy (Independent) – 8
Dom Dunne (Renua) – 11
Caroline Dwane-Stanley (Sinn Fein) – 29
John Joe Fennelly (Fianna Fail) – 3
Catherine Fitzgerald (Fianna Fail) – 45
John Gormley (Sinn Fein) – 1
Naeem Iqbal (Independent) – 16
Donal Kelly (Fianna Fail) – 10
Pauline Madigan (Fianna Fail) – 10
Noel O'Rourke (Renua) – 0
Judith Preston-Grace (Independent) – 4
Mary Sweeney (Fine Gael) – 14
Noel Tuohy (Labour) – 48
Knockmay NS 1
Timothy Adejumo (Independent) – 3
Willie Aird (Fine Gael) – 18
Thomasina Connell (Fine Gael) – 1
Tom Duffy (Independent) – 32
Dom Dunne (Renua) – 11
Caroline Dwane-Stanley (Sinn Fein) – 107
John Joe Fennelly (Fianna Fail) – 2
Catherine Fitzgerald (Fianna Fail) – 45
John Gormley (Sinn Fein) – 2
Naeem Iqbal (Independent) – 11
Donal Kelly (Fianna Fail) – 11
Pauline Madigan (Fianna Fail) – 1
Noel O'Rourke (Renua) – 2
Judith Preston-Grace (Independent) – 2
Mary Sweeney (Fine Gael) – 13
Noel Tuohy (Labour) – 35
Knockmay NS 2
Timothy Adejumo (Independent) – 6
Willie Aird (Fine Gael) – 5
Thomasina Connell (Fine Gael) – 5
Tom Duffy (Independent) – 11
Dom Dunne (Renua) – 5
Caroline Dwane-Stanley (Sinn Fein) – 75
John Joe Fennelly (Fianna Fail) – 1
Catherine Fitzgerald (Fianna Fail) – 21
John Gormley (Sinn Fein) – 0
Naeem Iqbal (Independent) – 4
Donal Kelly (Fianna Fail) – 3
Pauline Madigan (Fianna Fail) – 3
Noel O'Rourke (Renua) – 2
Judith Preston-Grace (Independent) – 2
Mary Sweeney (Fine Gael) – 4
Noel Tuohy (Labour) – 10
Knockmay NS 3
Timothy Adejumo (Independent) – 22
Willie Aird (Fine Gael) – 49
Thomasina Connell (Fine Gael) – 17
Tom Duffy (Independent) – 6
Dom Dunne (Renua) – 7
Caroline Dwane-Stanley (Sinn Fein) – 61
John Joe Fennelly (Fianna Fail) – 12
Catherine Fitzgerald (Fianna Fail) – 49
John Gormley (Sinn Fein) – 4
Naeem Iqbal (Independent) – 10
Donal Kelly (Fianna Fail) – 17
Pauline Madigan (Fianna Fail) – 15
Noel O'Rourke (Renua) – 3
Judith Preston-Grace (Independent) – 4
Mary Sweeney (Fine Gael) – 20
Noel Tuohy (Labour) – 38
Knockmay NS 4
Timothy Adejumo (Independent) – 5
Willie Aird (Fine Gael) – 41
Thomasina Connell (Fine Gael) – 16
Tom Duffy (Independent) – 7
Dom Dunne (Renua) – 14
Caroline Dwane-Stanley (Sinn Fein) – 35
John Joe Fennelly (Fianna Fail) – 6
Catherine Fitzgerald (Fianna Fail) – 52
John Gormley (Sinn Fein) – 3
Naeem Iqbal (Independent) – 3
Donal Kelly (Fianna Fail) – 21
Pauline Madigan (Fianna Fail) – 31
Noel O'Rourke (Renua) – 11
Judith Preston-Grace (Independent) – 7
Mary Sweeney (Fine Gael) – 39
Noel Tuohy (Labour) – 99
SEE ALSO – Box by Box – how your area voted in the Graiguecullen-Portarlington Municipal District
SEE ALSO – Box by Box – how your area voted in the Borris-Municipal District