Brought to you in association with People First Credit Union
On close examination of the tallies for the Borris-in-Ossory/Mountmellick Municipal District, there's one set of figures that jump straight off the page.
Almost 80% of the voters in the two Durrow boxes, gave their number one preference to local first-time independent candidate Ollie Clooney.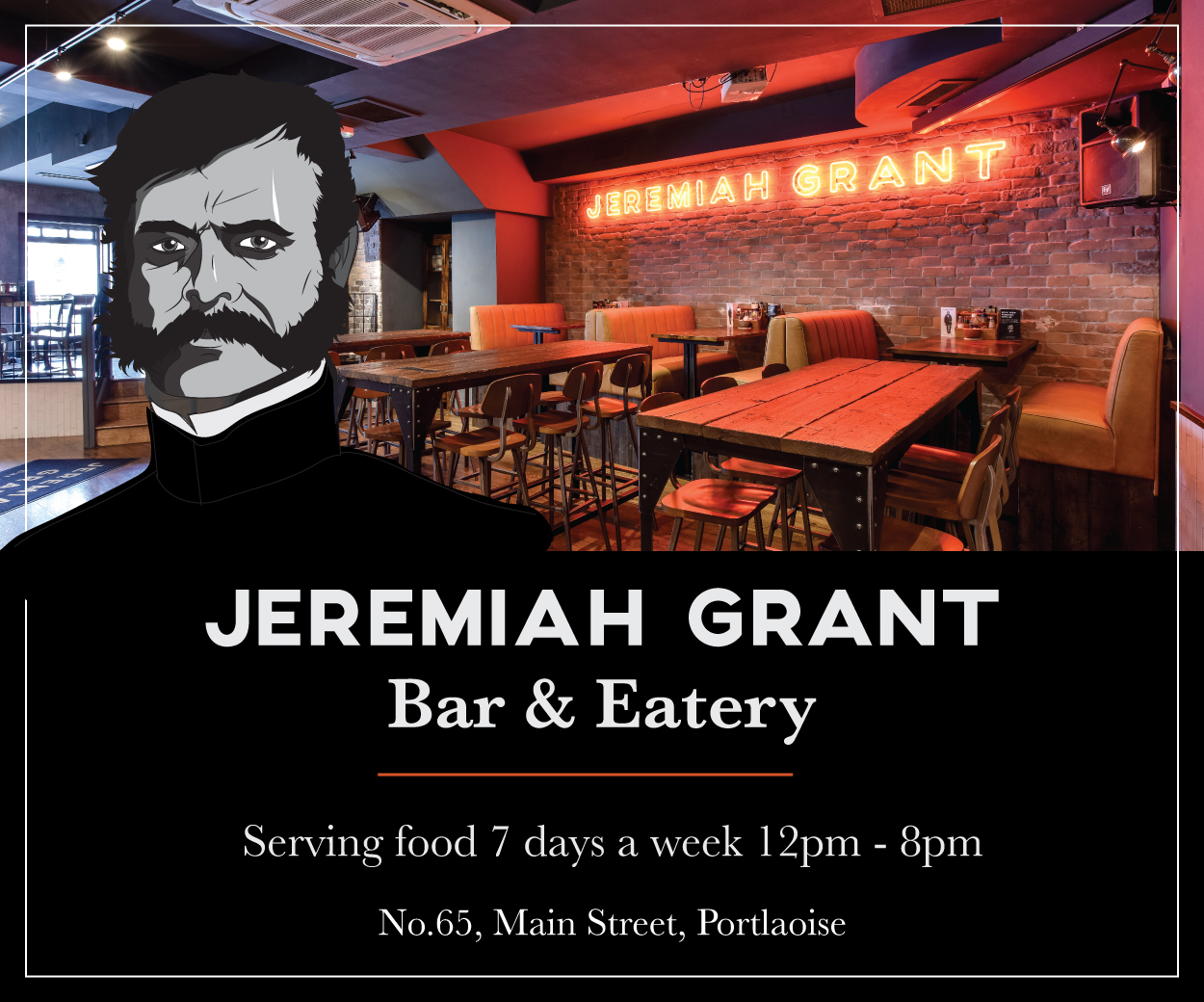 It was a phenomenal show of support. Indeed no area in the entire county supported their local candidate to the same extent as Durrow backed Clooney.
That 80% in figures meant a whopping 649 votes out of 826 and made up over half of his eventual 1,129 first preferences. It was a solid launching pad to send him to County Hall and dislodge Brendan Phelan from nearby Rathdowney.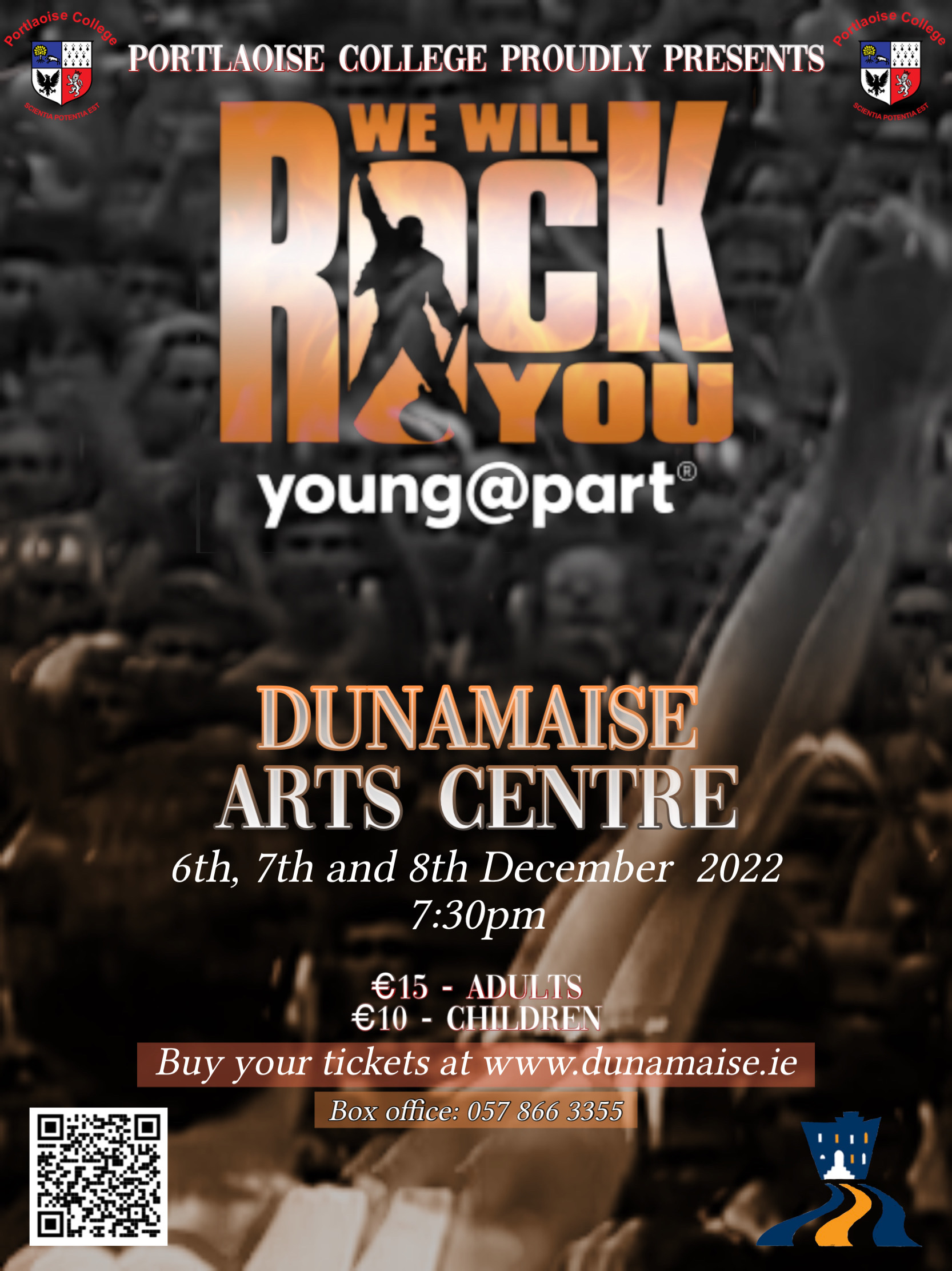 While the tallies aren't 100% accurate and we've only seen the Fine Gael figures, it does give a very good indication of voting patterns.
Clooney also did well in nearby Cullohill and Ballacolla, where according to the tallies he pulled in 160 and 117 votes respectively (both close to 43%) while he also did well in Shanahoe with 50 votes or just under 40%.
James Kelly, who topped the poll, was very strong in his native Mountrath, with over 66% in the three boxes there and just under 50% down the road in Castletown.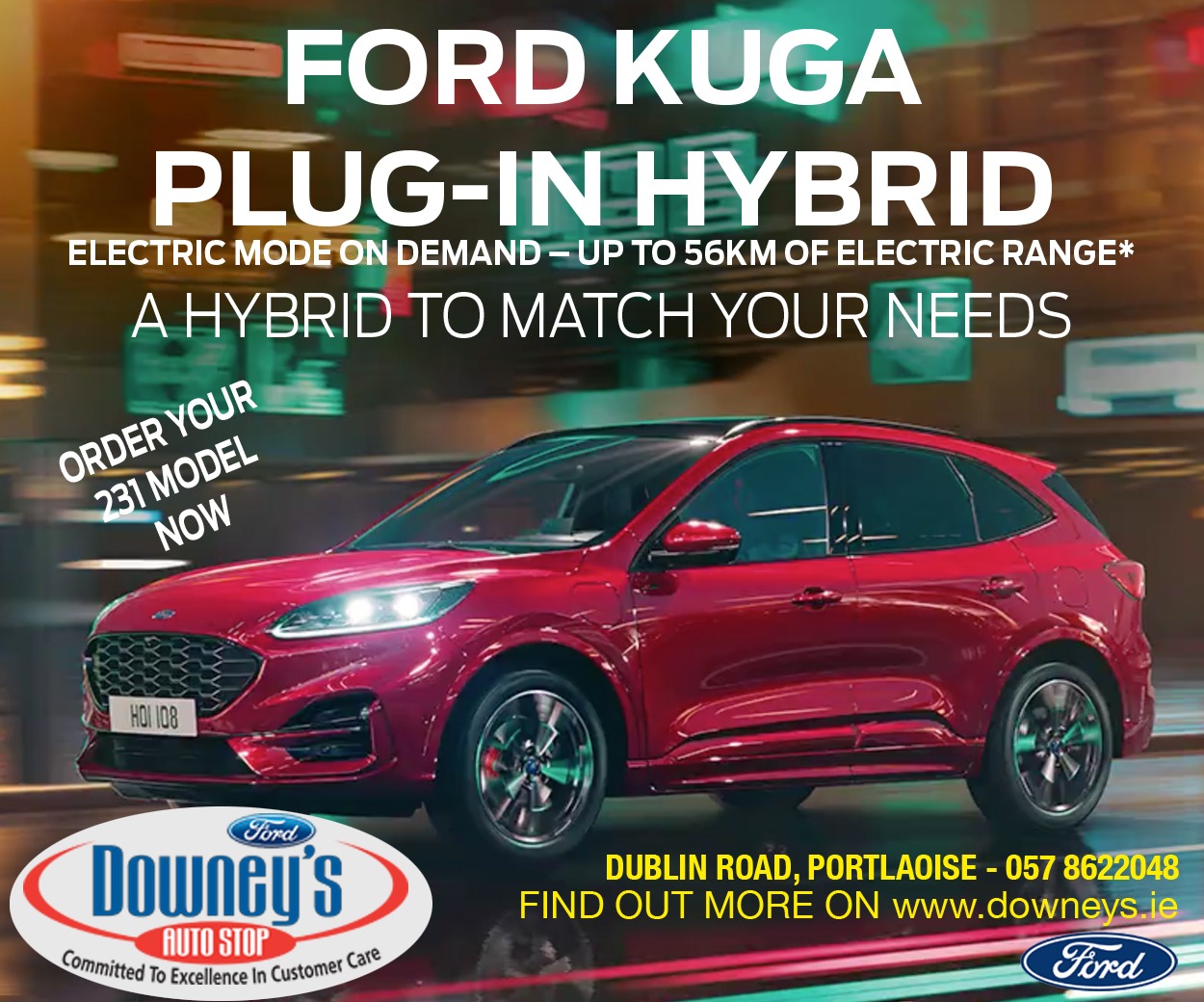 Fianna Fail's Paddy Bracken, who took the first seat in that area, broke 50% in three of the eight Mountmellick boxes on his way to taking over 44% of the vote in his home town while Conor Bergin's breakthrough success was helped massively by getting over 54% (or 234 votes) in his local area Borris-in-Ossory.
The only other candidate in the area to break 50% was outgoing Cathaoirleach John King in Rathdowney where he pulled in about 500 votes across the three boxes out of a possible total of about 960.
The councillors elected in this area were Paddy Bracken, James Kelly, John King, Ollie Clooney, Conor Bergin and Seamus McDonald.
Here we break down each of the 37 boxes in this area, according to the Fine Gael tallies, to show where the votes went.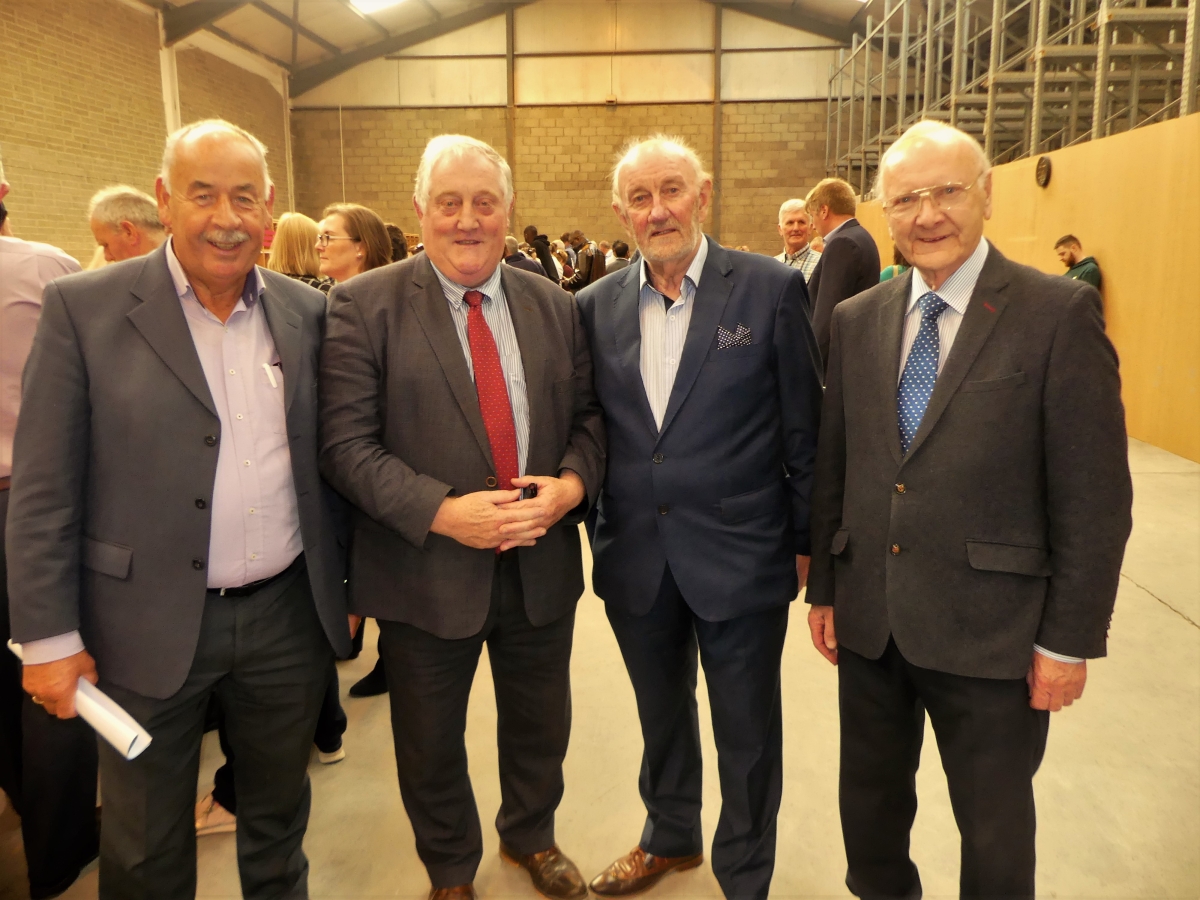 Ballyfin
Conor Bergin (Fine Gael) – 9
Paddy Bracken (Fianna Fail) – 26
Ollie Clooney (Independent) – 0
Fergal Conroy (Fine Gael) – 45
Brian Furlong (Independent) – 3
Declan Good (Fianna Fail) – 22
David Goodwin (Fine Gael) – 70
Ger Hogan (Independent) – 2
Lorna-Holohan-Garry (Sinn Fein) – 17
James Kelly (Independent) – 21
John King (Fine Gael) – 5
Seamus McDonald (Fianna Fail) – 112
Liam O'Neill (Fianna Fail) – 20
Brendan Phelan (Independent) 7
Killasmeestia
Conor Bergin (Fine Gael) – 89
Paddy Bracken (Fianna Fail) – 2
Ollie Clooney (Independent) – 0
Fergal Conroy (Fine Gael) – 1
Brian Furlong (Independent) – 1
Declan Good (Fianna Fail) – 0
David Goodwin (Fine Gael) – 4
Ger Hogan (Independent) – 0
Lorna-Holohan-Garry (Sinn Fein) – 9
James Kelly (Independent) – 30
John King (Fine Gael) – 76
Seamus McDonald (Fianna Fail) – 2
Liam O'Neill (Fianna Fail) – 14
Brendan Phelan (Independent) – 103
Borris-in-Ossory
Conor Bergin (Fine Gael) – 234
Paddy Bracken (Fianna Fail) – 1
Ollie Clooney (Independent) – 1
Fergal Conroy (Fine Gael) – 2
Brian Furlong (Independent) – 1
Declan Good (Fianna Fail) – 0
David Goodwin (Fine Gael) – 2
Ger Hogan (Independent) – 2
Lorna-Holohan-Garry (Sinn Fein) – 17
James Kelly (Independent) – 74
John King (Fine Gael) – 38
Seamus McDonald (Fianna Fail) – 2
Liam O'Neill (Fianna Fail) – 14
Brendan Phelan (Independent) – 43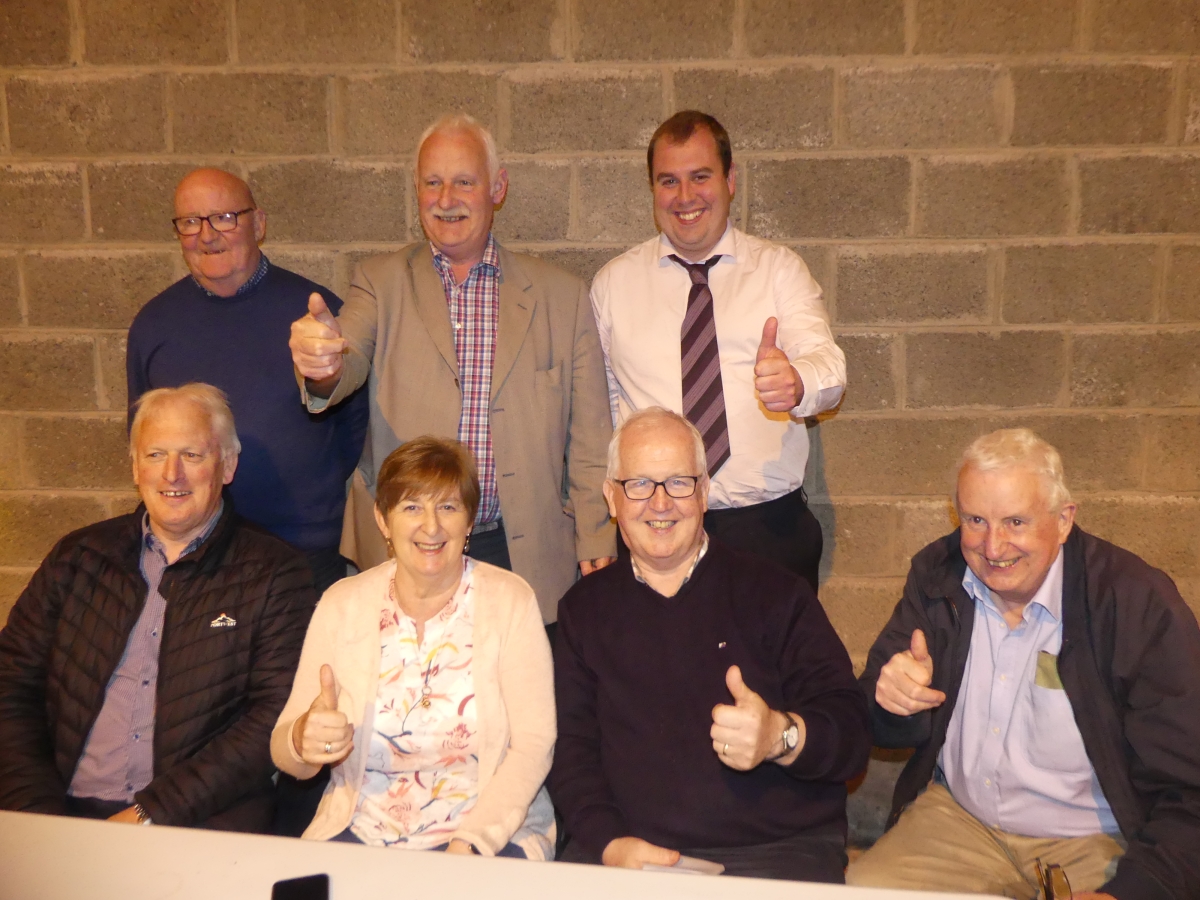 Rushall
Conor Bergin (Fine Gael) – 70
Paddy Bracken (Fianna Fail) – 4
Ollie Clooney (Independent) – 1
Fergal Conroy (Fine Gael) – 5
Brian Furlong (Independent) – 0
Declan Good (Fianna Fail) – 0
David Goodwin (Fine Gael) – 15
Ger Hogan (Independent) – 6
Lorna-Holohan-Garry (Sinn Fein) – 6
James Kelly (Independent) – 90
John King (Fine Gael) – 19
Seamus McDonald (Fianna Fail) – 6
Liam O'Neill (Fianna Fail) – 18
Brendan Phelan (Independent) – 28
Clonaghadoo
Conor Bergin (Fine Gael) – 4
Paddy Bracken (Fianna Fail) – 54
Ollie Clooney (Independent) – 1
Fergal Conroy (Fine Gael) – 24
Brian Furlong (Independent) – 8
Declan Good (Fianna Fail) – 1
David Goodwin (Fine Gael) – 56
Ger Hogan (Independent) – 1
Lorna-Holohan-Garry (Sinn Fein) – 17
James Kelly (Independent) – 8
John King (Fine Gael) – 0
Seamus McDonald (Fianna Fail) – 134
Liam O'Neill (Fianna Fail) – 5
Brendan Phelan (Independent) – 2
Castletown 1
Conor Bergin (Fine Gael) – 25
Paddy Bracken (Fianna Fail) – 2
Ollie Clooney (Independent) – 15
Fergal Conroy (Fine Gael) – 1
Brian Furlong (Independent) – 0
Declan Good (Fianna Fail) – 5
David Goodwin (Fine Gael) – 7
Ger Hogan (Independent) – 1
Lorna-Holohan-Garry (Sinn Fein) – 8
James Kelly (Independent) – 103
John King (Fine Gael) – 4
Seamus McDonald (Fianna Fail) – 1
Liam O'Neill (Fianna Fail) – 28
Brendan Phelan (Independent) – 14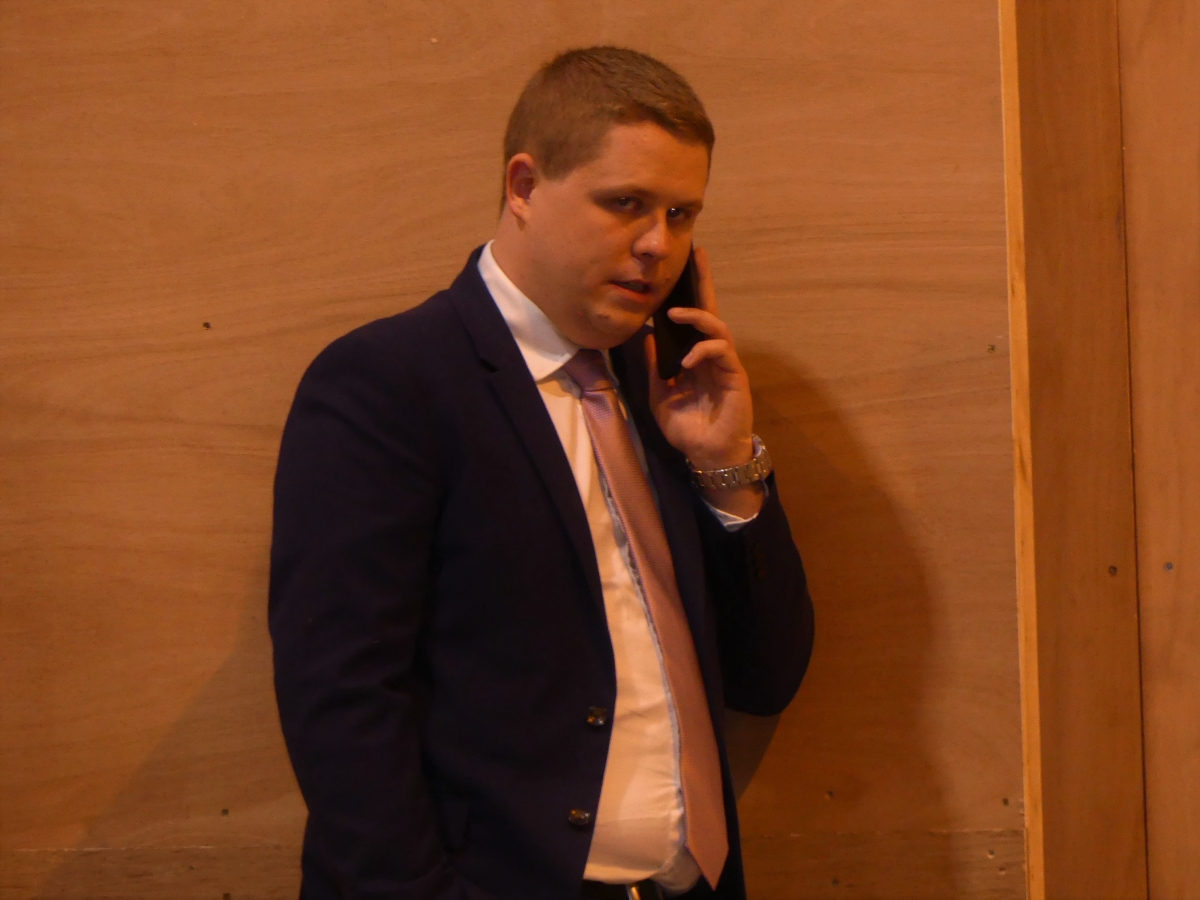 Castletown 2
Conor Bergin (Fine Gael) – 17
Paddy Bracken (Fianna Fail) – 4
Ollie Clooney (Independent) – 16
Fergal Conroy (Fine Gael) – 0
Brian Furlong (Independent) – 0
Declan Good (Fianna Fail) – 1
David Goodwin (Fine Gael) – 7
Ger Hogan (Independent) – 2
Lorna-Holohan-Garry (Sinn Fein) – 8
James Kelly (Independent) – 131
John King (Fine Gael) – 2
Seamus McDonald (Fianna Fail) – 0
Liam O'Neill (Fianna Fail) – 62
Brendan Phelan (Independent) – 13
Clonaslee 1
Conor Bergin (Fine Gael) – 2
Paddy Bracken (Fianna Fail) – 20
Ollie Clooney (Independent) – 5
Fergal Conroy (Fine Gael) – 6
Brian Furlong (Independent) – 4
Declan Good (Fianna Fail) – 258
David Goodwin (Fine Gael) – 63
Ger Hogan (Independent) – 1
Lorna-Holohan-Garry (Sinn Fein) – 27
James Kelly (Independent) – 0
John King (Fine Gael) – 0
Seamus McDonald (Fianna Fail) – 140
Liam O'Neill (Fianna Fail) – 4
Brendan Phelan (Independent) – 0
Clonaslee 2
Conor Bergin (Fine Gael) – 2
Paddy Bracken (Fianna Fail) – 9
Ollie Clooney (Independent) – 1
Fergal Conroy (Fine Gael) – 13
Brian Furlong (Independent) – 5
Declan Good (Fianna Fail) – 142
David Goodwin (Fine Gael) – 42
Ger Hogan (Independent) – 3
Lorna-Holohan-Garry (Sinn Fein) – 24
James Kelly (Independent) – 1
John King (Fine Gael) – 1
Seamus McDonald (Fianna Fail) – 96
Liam O'Neill (Fianna Fail) – 3
Brendan Phelan (Independent) – 1
Foxrock
Conor Bergin (Fine Gael) – 51
Paddy Bracken (Fianna Fail) – 2
Ollie Clooney (Independent) – 20
Fergal Conroy (Fine Gael) – 0
Brian Furlong (Independent) – 1
Declan Good (Fianna Fail) – 0
David Goodwin (Fine Gael) – 21
Ger Hogan (Independent) – 1
Lorna-Holohan-Garry (Sinn Fein) – 10
James Kelly (Independent) – 20
John King (Fine Gael) – 157
Seamus McDonald (Fianna Fail) – 0
Liam O'Neill (Fianna Fail) – 42
Brendan Phelan (Independent) – 43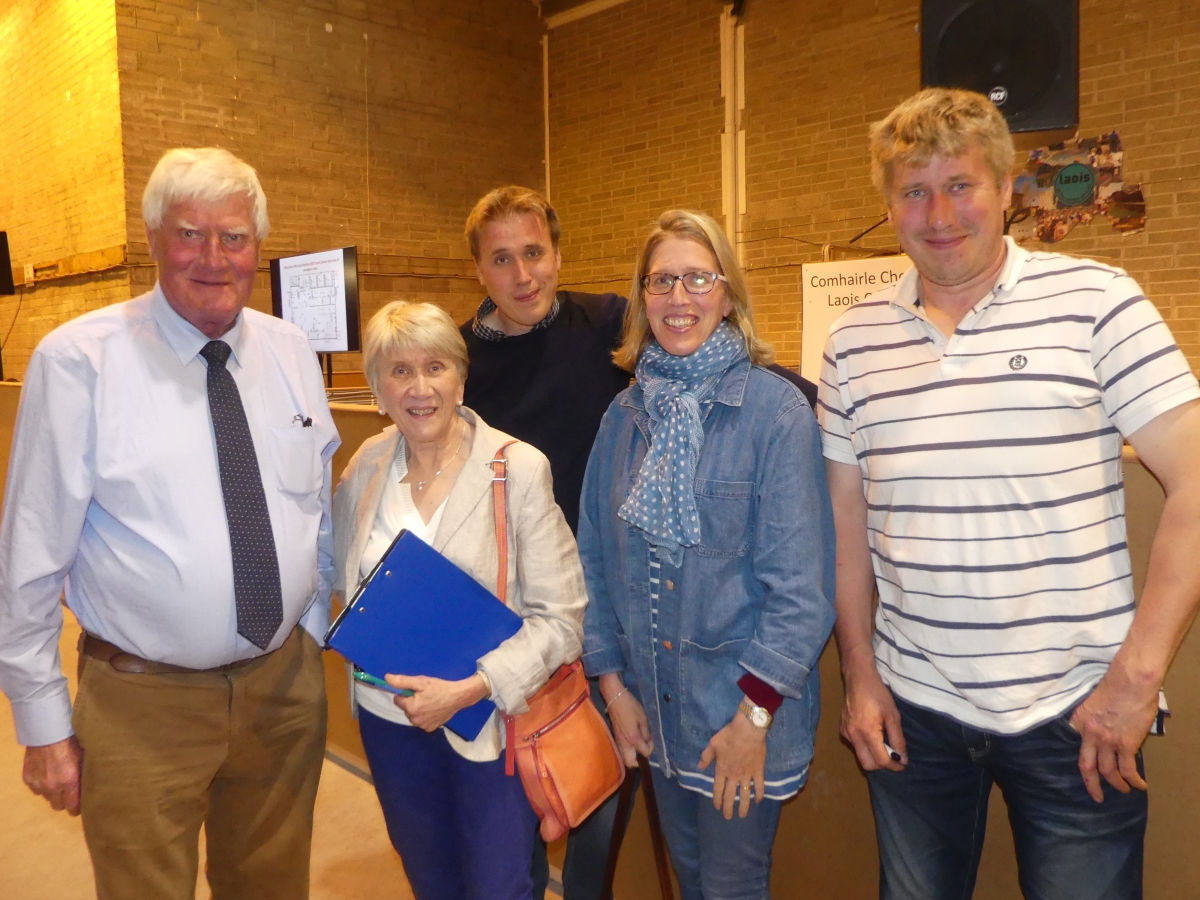 Cullohill
Conor Bergin (Fine Gael) – 20
Paddy Bracken (Fianna Fail) – 3
Ollie Clooney (Independent) – 160
Fergal Conroy (Fine Gael) – 0
Brian Furlong (Independent) – 0
Declan Good (Fianna Fail) – 2
David Goodwin (Fine Gael) – 11
Ger Hogan (Independent) – 0
Lorna-Holohan-Garry (Sinn Fein) – 3
James Kelly (Independent) – 2
John King (Fine Gael) – 70
Seamus McDonald (Fianna Fail) – 7
Liam O'Neill (Fianna Fail) –  28
Brendan Phelan (Independent) – 63
Durrow 1
Conor Bergin (Fine Gael) – 13
Paddy Bracken (Fianna Fail) – 3
Ollie Clooney (Independent) – 340
Fergal Conroy (Fine Gael) – 3
Brian Furlong (Independent) – 0
Declan Good (Fianna Fail) – 6
David Goodwin (Fine Gael) – 12
Ger Hogan (Independent) – 0
Lorna-Holohan-Garry (Sinn Fein) – 7
James Kelly (Independent) – 9
John King (Fine Gael) – 12
Seamus McDonald (Fianna Fail) – 3
Liam O'Neill (Fianna Fail) – 6
Brendan Phelan (Independent) – 27
Durrow 2
Conor Bergin (Fine Gael) – 4
Paddy Bracken (Fianna Fail) – 1
Ollie Clooney (Independent) – 309
Fergal Conroy (Fine Gael) – 4
Brian Furlong (Independent) – 0
Declan Good (Fianna Fail) – 3
David Goodwin (Fine Gael) – 2
Ger Hogan (Independent) – 0
Lorna-Holohan-Garry (Sinn Fein) – 20
James Kelly (Independent) – 11
John King (Fine Gael) – 8
Seamus McDonald (Fianna Fail) – 1
Liam O'Neill (Fianna Fail) – 13
Brendan Phelan (Independent) – 9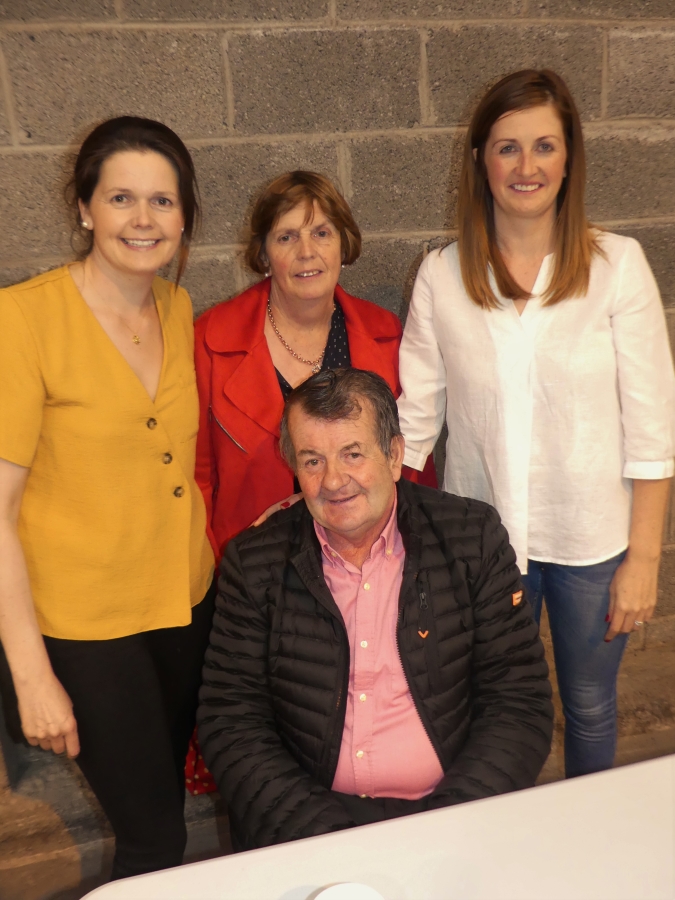 Errill
Conor Bergin (Fine Gael) – 31
Paddy Bracken (Fianna Fail)  – 2
Ollie Clooney (Independent) – 2
Fergal Conroy (Fine Gael) – 0
Brian Furlong (Independent) – 3
Declan Good (Fianna Fail) – 2
David Goodwin (Fine Gael) – 7
Ger Hogan (Independent) – 0
Lorna-Holohan-Garry (Sinn Fein) – 29
James Kelly (Independent) – 6
John King (Fine Gael) – 235
Seamus McDonald (Fianna Fail) – 0
Liam O'Neill (Fianna Fail) – 13
Brendan Phelan (Independent) – 155
Ballacolla
Conor Bergin (Fine Gael) – 29
Paddy Bracken (Fianna Fail) – 0
Ollie Clooney (Independent) – 117
Fergal Conroy (Fine Gael) – 0
Brian Furlong (Independent) – 0
Declan Good (Fianna Fail) – 1
David Goodwin (Fine Gael) – 11
Ger Hogan (Independent) – 3
Lorna-Holohan-Garry (Sinn Fein) – 5
James Kelly (Independent) – 0
John King (Fine Gael) – 43
Seamus McDonald (Fianna Fail) – 3
Liam O'Neill (Fianna Fail) – 27
Brendan Phelan (Independent) – 37
Ballaghmore
Conor Bergin (Fine Gael) – 76
Paddy Bracken (Fianna Fail) – 0
Ollie Clooney (Independent) – 0
Fergal Conroy (Fine Gael) – 0
Brian Furlong (Independent) – 0
Declan Good (Fianna Fail) – 0
David Goodwin (Fine Gael) – 1
Ger Hogan (Independent) – 2
Lorna-Holohan-Garry (Sinn Fein) – 6
James Kelly (Independent) – 31
John King (Fine Gael) – 6
Seamus McDonald (Fianna Fail) – 0
Liam O'Neill (Fianna Fail) – 17
Brendan Phelan (Independent) – 29
Paddock
Conor Bergin (Fine Gael) – 31
Paddy Bracken (Fianna Fail) – 3
Ollie Clooney (Independent) – 2
Fergal Conroy (Fine Gael) – 9
Brian Furlong (Independent) – 2
Declan Good (Fianna Fail) – 10
David Goodwin (Fine Gael) – 20
Ger Hogan (Independent) – 25
Lorna-Holohan-Garry (Sinn Fein) – 6
James Kelly (Independent) – 106
John King (Fine Gael) – 0
Seamus McDonald (Fianna Fail) – 5
Liam O'Neill (Fianna Fail) – 19
Brendan Phelan (Independent) – 8
Camross 1
Conor Bergin (Fine Gael) – 77
Paddy Bracken (Fianna Fail) – 0
Ollie Clooney (Independent) – 14
Fergal Conroy (Fine Gael) – 5
Brian Furlong (Independent) – 1
Declan Good (Fianna Fail) – 11
David Goodwin (Fine Gael) – 29
Ger Hogan (Independent) – 71
Lorna-Holohan-Garry (Sinn Fein) – 25
James Kelly (Independent) – 86
John King (Fine Gael) – 5
Seamus McDonald (Fianna Fail) – 2
Liam O'Neill (Fianna Fail) – 18
Brendan Phelan (Independent) – 5
Camross 2
Conor Bergin (Fine Gael) – 47
Paddy Bracken (Fianna Fail) – 0
Ollie Clooney (Independent) – 1
Fergal Conroy (Fine Gael) – 2
Brian Furlong (Independent) – 0
Declan Good (Fianna Fail) – 5
David Goodwin (Fine Gael) – 17
Ger Hogan (Independent) – 36
Lorna-Holohan-Garry (Sinn Fein) – 7
James Kelly (Independent) – 40
John King (Fine Gael) – 1
Seamus McDonald (Fianna Fail) – 3
Liam O'Neill (Fianna Fail) – 14
Brendan Phelan (Independent) – 5
Mountmellick Community Centre 1
Conor Bergin (Fine Gael) – 6
Paddy Bracken (Fianna Fail) – 108
Ollie Clooney (Independent) – 2
Fergal Conroy (Fine Gael) – 95
Brian Furlong (Independent) – 17
Declan Good (Fianna Fail) – 16
David Goodwin (Fine Gael) – 58
Ger Hogan (Independent) – 0
Lorna-Holohan-Garry (Sinn Fein) – 35
James Kelly (Independent) – 17
John King (Fine Gael) – 3
Seamus McDonald (Fianna Fail) – 59
Liam O'Neill (Fianna Fail) – 7
Brendan Phelan (Independent) – 1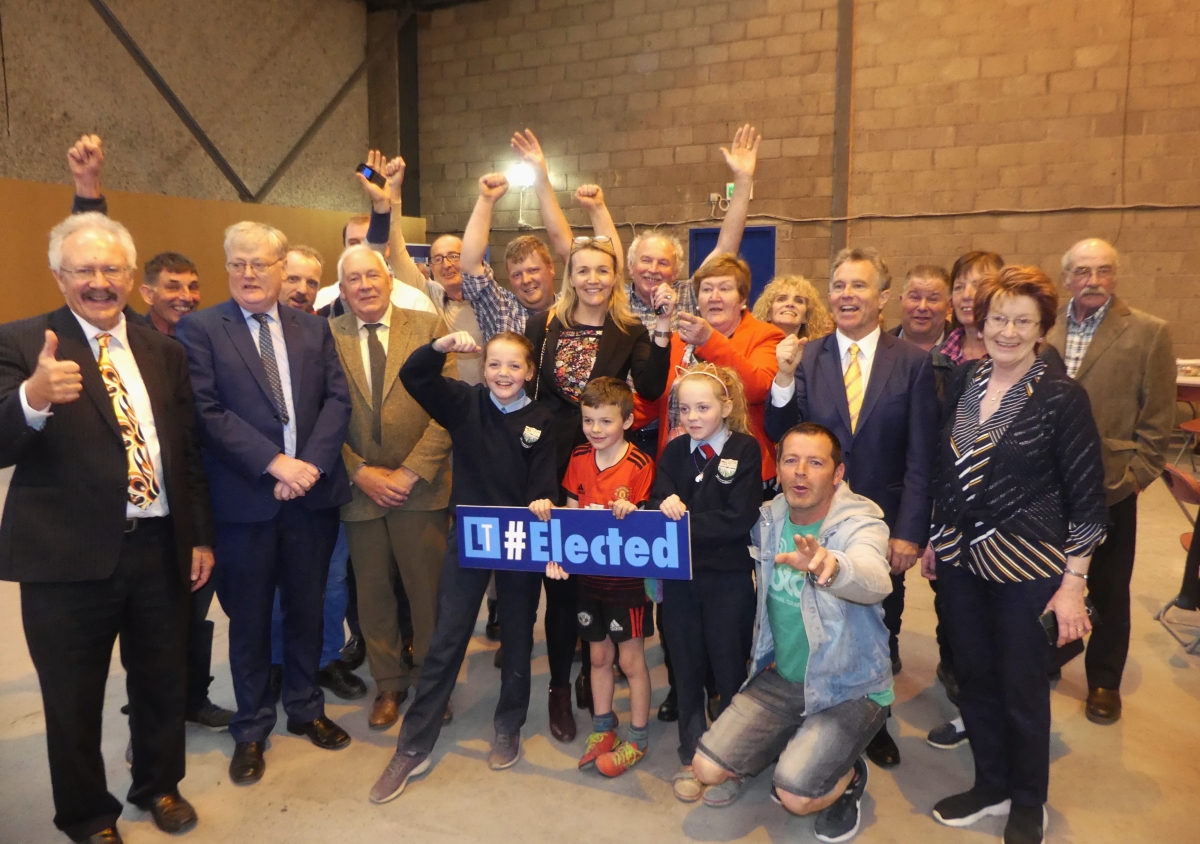 Mountmellick Scoil Padraig 1
Conor Bergin (Fine Gael) – 3
Paddy Bracken (Fianna Fail) – 119
Ollie Clooney (Independent) – 2
Fergal Conroy (Fine Gael) – 54
Brian Furlong (Independent) – 27
Declan Good (Fianna Fail) – 1
David Goodwin (Fine Gael) – 37
Ger Hogan (Independent) – 1
Lorna-Holohan-Garry (Sinn Fein) – 49
James Kelly (Independent) – 5
John King (Fine Gael) – 0
Seamus McDonald (Fianna Fail) – 31
Liam O'Neill (Fianna Fail) – 1
Brendan Phelan (Independent) – 0
Mountmellick Scoil Padraig 2
Conor Bergin (Fine Gael) – 4
Paddy Bracken (Fianna Fail) – 121
Ollie Clooney (Independent) – 0
Fergal Conroy (Fine Gael) – 90
Brian Furlong (Independent) – 16
Declan Good (Fianna Fail) – 14
David Goodwin (Fine Gael) – 50
Ger Hogan (Independent) – 0
Lorna-Holohan-Garry (Sinn Fein) – 19
James Kelly (Independent) – 9
John King (Fine Gael) – 0
Seamus McDonald (Fianna Fail) – 37
Liam O'Neill (Fianna Fail) – 5
Brendan Phelan (Independent) – 1
Mountmellick Community Centre 2
Conor Bergin (Fine Gael) – 1
Paddy Bracken (Fianna Fail) – 204
Ollie Clooney (Independent) – 1
Fergal Conroy (Fine Gael) – 38
Brian Furlong (Independent) – 29
Declan Good (Fianna Fail) – 0
David Goodwin (Fine Gael) – 17
Ger Hogan (Independent) – 1
Lorna-Holohan-Garry (Sinn Fein) – 20
James Kelly (Independent) – 2
John King (Fine Gael) – 0
Seamus McDonald (Fianna Fail) – 33
Liam O'Neill (Fianna Fail) – 0
Brendan Phelan (Independent) – 0
Mountmellick Scoil Padraig 3
Conor Bergin (Fine Gael) – 0
Paddy Bracken (Fianna Fail) – 136
Ollie Clooney (Independent) – 6
Fergal Conroy (Fine Gael) – 33
Brian Furlong (Independent) – 27
Declan Good (Fianna Fail) – 4
David Goodwin (Fine Gael) – 13
Ger Hogan (Independent) – 0
Lorna-Holohan-Garry (Sinn Fein) – 37
James Kelly (Independent) – 3
John King (Fine Gael) – 1
Seamus McDonald (Fianna Fail) – 17
Liam O'Neill (Fianna Fail) – 1
Brendan Phelan (Independent) – 0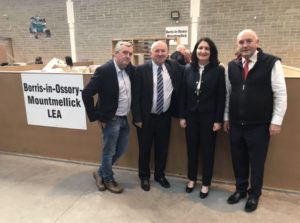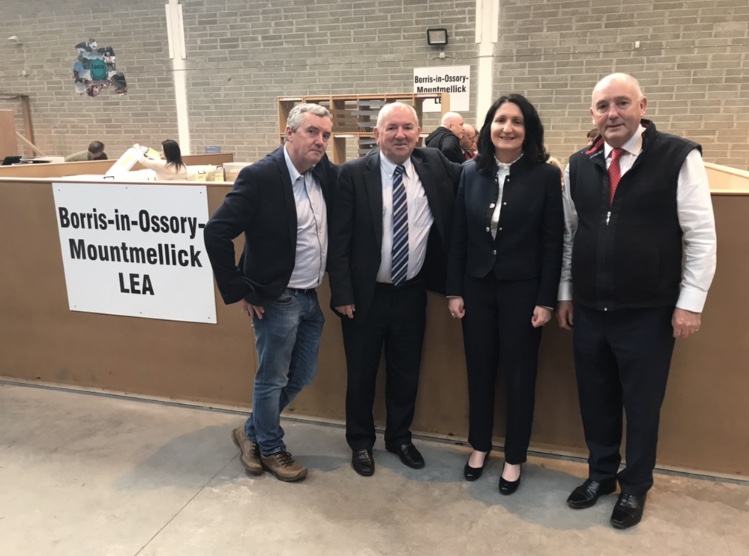 Mountmellick Scoil Padraig 4
Conor Bergin (Fine Gael) – 2
Paddy Bracken (Fianna Fail) – 133
Ollie Clooney (Independent) – 2
Fergal Conroy (Fine Gael) – 18
Brian Furlong (Independent) – 31
Declan Good (Fianna Fail) – 1
David Goodwin (Fine Gael) – 4
Ger Hogan (Independent) – 3
Lorna-Holohan-Garry (Sinn Fein) – 50
James Kelly (Independent) – 0
John King (Fine Gael) – 0
Seamus McDonald (Fianna Fail) – 42
Liam O'Neill (Fianna Fail) – 0
Brendan Phelan (Independent) – 0
Mountmellick Scoil Padraig 5
Conor Bergin (Fine Gael) – 0
Paddy Bracken (Fianna Fail) – 136
Ollie Clooney (Independent) – 0
Fergal Conroy (Fine Gael) – 47
Brian Furlong (Independent) – 26
Declan Good (Fianna Fail) – 0
David Goodwin (Fine Gael) – 11
Ger Hogan (Independent) – 0
Lorna-Holohan-Garry (Sinn Fein) – 35
James Kelly (Independent) – 2
John King (Fine Gael) – 1
Seamus McDonald (Fianna Fail) – 13
Liam O'Neill (Fianna Fail) – 1
Brendan Phelan (Independent) – 0
Mountmellick Scoil Padraig 6
Conor Bergin (Fine Gael) – 1
Paddy Bracken (Fianna Fail) – 188
Ollie Clooney (Independent) – 1
Fergal Conroy (Fine Gael) – 37
Brian Furlong (Independent) – 42
Declan Good (Fianna Fail) – 0
David Goodwin (Fine Gael) – 20
Ger Hogan (Independent) – 0
Lorna-Holohan-Garry (Sinn Fein) – 20
James Kelly (Independent) – 2
John King (Fine Gael) – 0
Seamus McDonald (Fianna Fail) – 37
Liam O'Neill (Fianna Fail) – 0
Brendan Phelan (Independent) – 0
Mountmellick St Vincent's Hospital
Mountrath 1
Conor Bergin (Fine Gael) – 13
Paddy Bracken (Fianna Fail) – 1
Ollie Clooney (Independent) – 3
Fergal Conroy (Fine Gael) – 2
Brian Furlong (Independent) – 1
Declan Good (Fianna Fail) – 0
David Goodwin (Fine Gael) – 22
Ger Hogan (Independent) – 2
Lorna-Holohan-Garry (Sinn Fein) – 7
James Kelly (Independent) – 250
John King (Fine Gael) – 4
Seamus McDonald (Fianna Fail) – 4
Liam O'Neill (Fianna Fail) – 36
Brendan Phelan (Independent) – 0
Mountrath 2
Conor Bergin (Fine Gael) – 10
Paddy Bracken (Fianna Fail) – 1
Ollie Clooney (Independent) – 2
Fergal Conroy (Fine Gael) – 0
Brian Furlong (Independent) – 3
Declan Good (Fianna Fail) – 0
David Goodwin (Fine Gael) – 7
Ger Hogan (Independent) – 4
Lorna-Holohan-Garry (Sinn Fein) – 13
James Kelly (Independent) – 179
John King (Fine Gael) – 2
Seamus McDonald (Fianna Fail) – 1
Liam O'Neill (Fianna Fail) – 32
Brendan Phelan (Independent) – 4
Mountrath 3
Conor Bergin (Fine Gael) – 12
Paddy Bracken (Fianna Fail) – 4
Ollie Clooney (Independent) – 7
Fergal Conroy (Fine Gael) – 6
Brian Furlong (Independent) – 2
Declan Good (Fianna Fail) – 2
David Goodwin (Fine Gael) – 12
Ger Hogan (Independent) – 6
Lorna-Holohan-Garry (Sinn Fein) – 17
James Kelly (Independent) – 224
John King (Fine Gael) – 3
Seamus McDonald (Fianna Fail) – 14
Liam O'Neill (Fianna Fail) – 87
Brendan Phelan (Independent) – 6
Rathdowney 1
Conor Bergin (Fine Gael) – 8
Paddy Bracken (Fianna Fail) – 1
Ollie Clooney (Independent) – 17
Fergal Conroy (Fine Gael) – 0
Brian Furlong (Independent) – 4
Declan Good (Fianna Fail) – 5
David Goodwin (Fine Gael) – 4
Ger Hogan (Independent) – 0
Lorna-Holohan-Garry (Sinn Fein) – 10
James Kelly (Independent) – 5
John King (Fine Gael) – 158
Seamus McDonald (Fianna Fail) – 1
Liam O'Neill (Fianna Fail) – 2
Brendan Phelan (Independent) – 89
Rathdowney 2
Conor Bergin (Fine Gael) – 3
Paddy Bracken (Fianna Fail) – 2
Ollie Clooney (Independent) – 5
Fergal Conroy (Fine Gael) – 0
Brian Furlong (Independent) – 3
Declan Good (Fianna Fail) – 0
David Goodwin (Fine Gael) – 1
Ger Hogan (Independent) – 0
Lorna-Holohan-Garry (Sinn Fein) – 29
James Kelly (Independent) – 15
John King (Fine Gael) – 177
Seamus McDonald (Fianna Fail) – 2
Liam O'Neill (Fianna Fail) – 5
Brendan Phelan (Independent) – 93
Rathdowney 3
Conor Bergin (Fine Gael) – 8
Paddy Bracken (Fianna Fail) –  1
Ollie Clooney (Independent) – 2
Fergal Conroy (Fine Gael) – 1
Brian Furlong (Independent) – 0
Declan Good (Fianna Fail) – 0
David Goodwin (Fine Gael) – 1
Ger Hogan (Independent) – 0
Lorna-Holohan-Garry (Sinn Fein) – 19
James Kelly (Independent) – 12
John King (Fine Gael) – 172
Seamus McDonald (Fianna Fail) – 2
Liam O'Neill (Fianna Fail) – 3
Brendan Phelan (Independent) – 99
Rosenallis 1
Conor Bergin (Fine Gael) – 1
Paddy Bracken (Fianna Fail) – 29
Ollie Clooney (Independent) – 0
Fergal Conroy (Fine Gael) – 14
Brian Furlong (Independent) – 7
Declan Good (Fianna Fail) – 9
David Goodwin (Fine Gael) – 63
Ger Hogan (Independent) – 1
Lorna-Holohan-Garry (Sinn Fein) – 4
James Kelly (Independent) – 0
John King (Fine Gael) – 0
Seamus McDonald (Fianna Fail) – 118
Liam O'Neill (Fianna Fail) – 1
Brendan Phelan (Independent) – 4
Rosenallis 2
Conor Bergin (Fine Gael) – 1
Paddy Bracken (Fianna Fail) – 56
Ollie Clooney (Independent) – 1
Fergal Conroy (Fine Gael) – 20
Brian Furlong (Independent) – 8
Declan Good (Fianna Fail) – 12
David Goodwin (Fine Gael) – 124
Ger Hogan (Independent) – 0
Lorna-Holohan-Garry (Sinn Fein) – 9
James Kelly (Independent) – 1
John King (Fine Gael) – 2
Seamus McDonald (Fianna Fail) – 170
Liam O'Neill (Fianna Fail) – 2
Brendan Phelan (Independent) – 0
Shanahoe
Conor Bergin (Fine Gael) – 15
Paddy Bracken (Fianna Fail) – 3
Ollie Clooney (Independent) – 50
Fergal Conroy (Fine Gael) – 1
Brian Furlong (Independent) – 0
Declan Good (Fianna Fail) – 0
David Goodwin (Fine Gael) – 5
Ger Hogan (Independent) – 0
Lorna-Holohan-Garry (Sinn Fein) – 7
James Kelly (Independent) – 3
John King (Fine Gael) – 3
Seamus McDonald (Fianna Fail) – 0
Liam O'Neill (Fianna Fail) – 27
Brendan Phelan (Independent) – 13
The full count results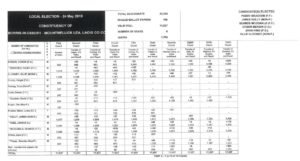 SEE ALSO – Brendan Phelan out for the count and fairly sore with Fianna Fail