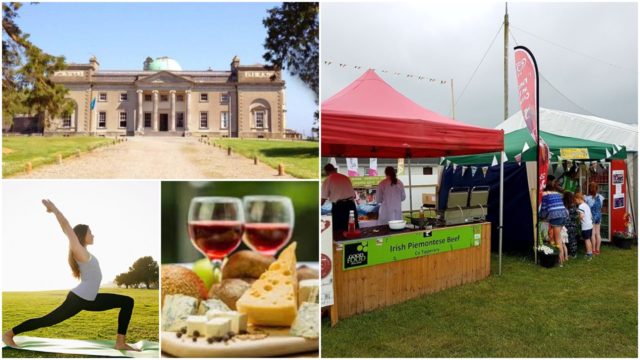 Brought to you by Laois Tourism
It's summer and it's a busy weekend all around Laois. There is a large garden festival in Spink on Sunday and a superb new addition of a garden trial on Saturday where all our wonderful gardens will be open to visitor with many events running in the gardens.  
Acesigns Laois Heartlands Rally is also on this weekend with amazing cars in town all weekend, with the main rally running on Sunday.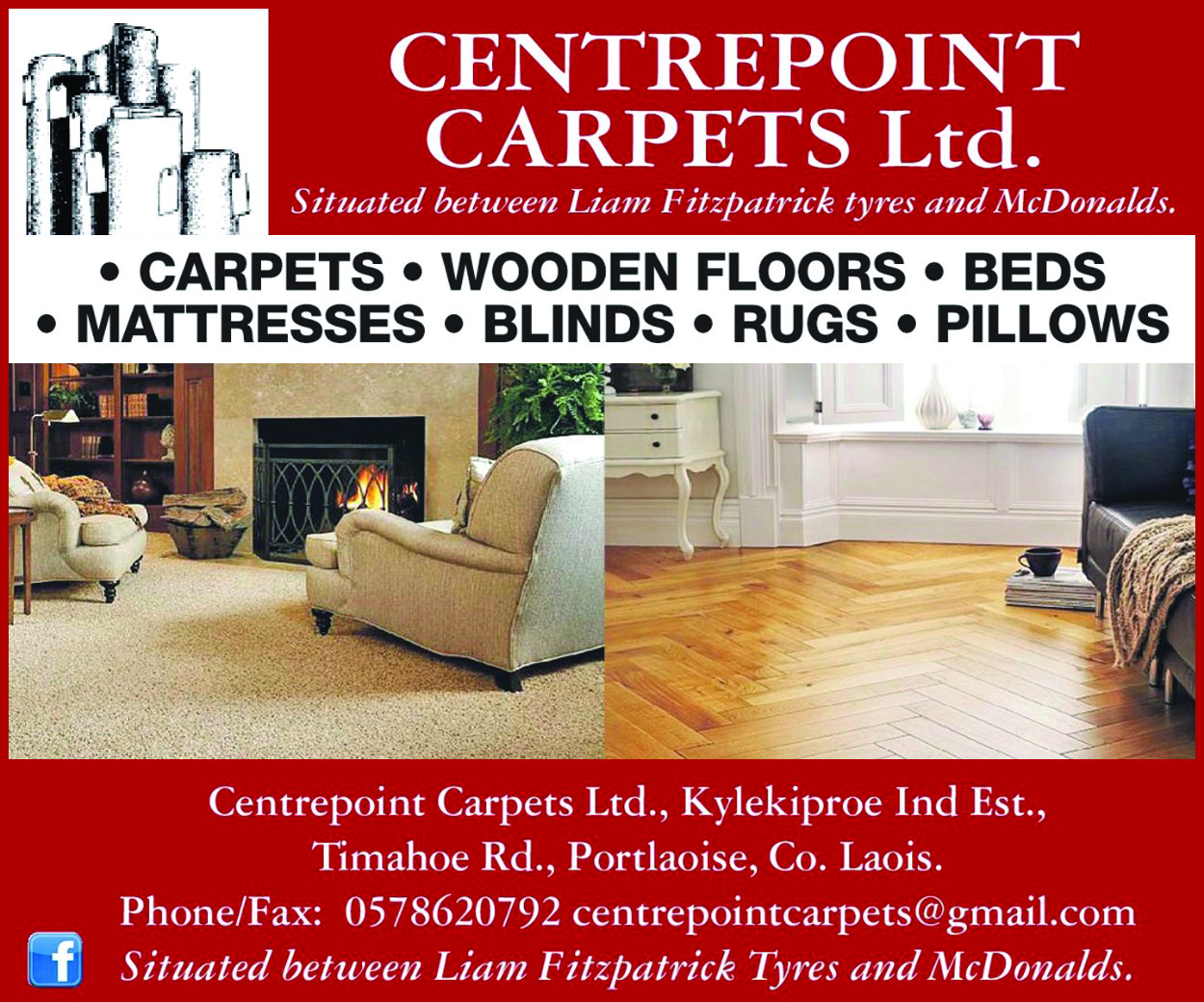 There's plays, live music, brewery tours, walking tours and so much more, something for everyone.
THURSDAY JUNE 6
C'mere 'til I Tell ya a Good One!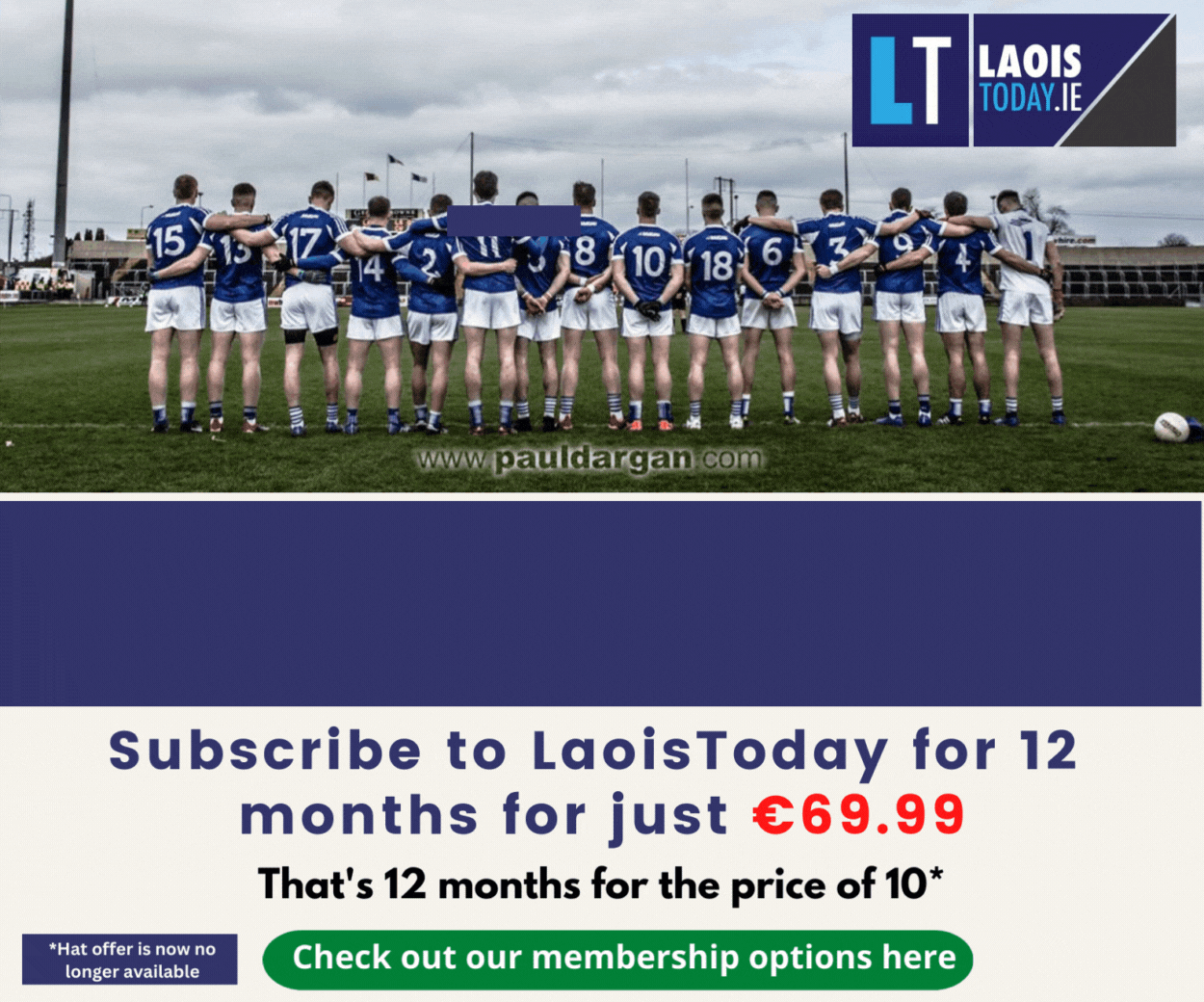 In this one man play, actor Michael Creagh regales the audience with songs & poems from his native parish Rathdowney/Errill.
Heart-warming, funny and well written this is a great way to start the weekend.  It runs in the Dunamaise Arts Centre at 8pm and tickets are €15/€12. 
FRIDAY JUNE 7
The Illegals with Niamh Kavanagh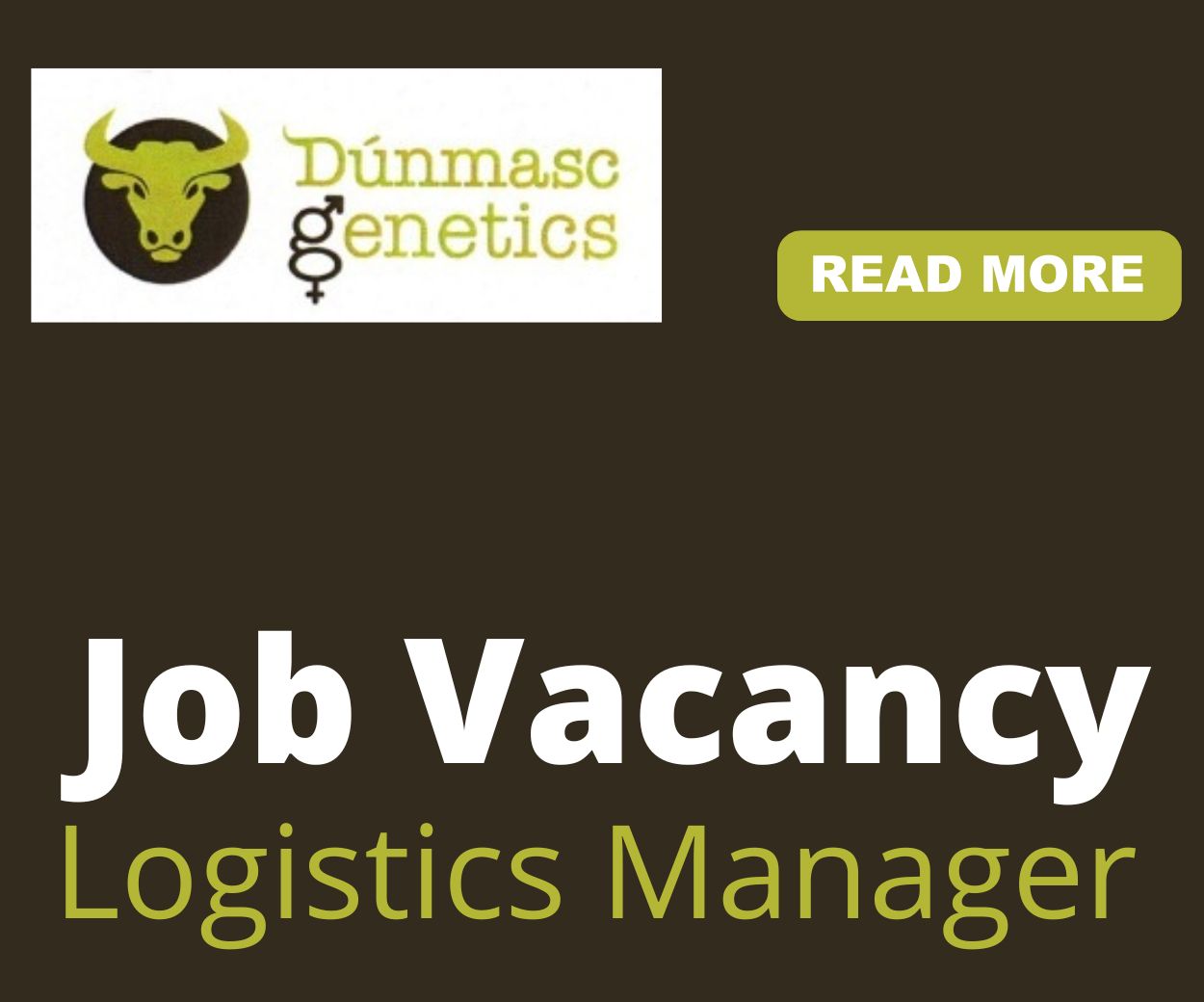 For 2019, The Illegals are putting a new show on the road to celebrate these two ground-shaking music events from the world's two most iconic rock bands.
Led by Niamh Kavanagh, she of the mesmerizing voice and mischievous spirit, The Illegals will take you on a journey for three hours of soulful harmonies, exciting riffs, blistering guitars and unforgettable songs.
The best of two legendary bands in one night? It's almost too good to be true. The show runs at Dunamaise Arts Centre at 8pm and tickets cost €20 and is selling out fast. To book see here. 
SATURDAY JUNE 8
Laois Garden Trail – Buds and Blossoms – Laois Garden Festival
As part of this year's Laois Garden Festival all our gardens are hosting open days on Saturday 8. This is a wonderful opportunity to visit these unique properties to view the gardens and talk to the designers.  
Many have plant sales or classes/ demonstrations on the day. For more information on the trial see here. The gardens include:
Fruitlawn Garden, Abbeyleix.

 Guided tour with its creator and designer, Arthur Shackleton, one of Ireland's leading garden designers.  There is also a sales area full of exciting and unusual plants.

Entry costs €5 and the garden is open from 10am-5pm.

Gash Gardens, Castletown

. An amazing oasis packed with interesting and unusual plants to lure and inspire both the keen plants person and the garden novice.  Enjoy the soothing ambience of still ponds and meandering streams.

At 11am & 3.30pm there will be a Walk and Talk Workshops led by owner Mary Keenan on border design. This will provide great tips on plant associations and plants suitable for a variety of garden situations.
Light refreshments will be available throughout the day. Plant sales also available. Entry is €5 and the garden is open from 10am-5pm
Gortnalee Garden, Donoghmore.

Colourful and intriguing gardens with woodland and herbaceous planting. Designed and begun in 2009 by Hazel Luskin Glennon. Challenged by her husband, the late Brendan Glennon to design a garden of 0.6 of an acre with no lawns for him to mow, she has turned a turnip field into a lovely garden. There will be living willow demonstrations at 11am & 3.30pm.

Entry is €5 and the garden is open from 10am-5pm

Selous Lodge Garden, Stradbally.

A biodiversity garden and woodland of about 1 acre. Designed and created by the owner in 2009 and made up of a courtyard garden, a stream supporting wildlife, small orchard, enclosed vegetable garden, pond garden, border beds and an open native woodland with water. The garden is open from 10am-5pm.

Ballintubbert Gardens, Stradbally.

Bring your own picnic & blanket and discover or remind yourselves of the magical world of Ballintubbert Gardens. Explore the 9 gardens in 14 acres of splendour.

Entry costs a €5 per adult or max €10 per car.

The garden is open from 12pm-5pm

Dove Sensory Garden, Abbeyleix.

The gardens were created by a team of people with intellectual disabilities and stimulate the senses. Vibrant plants appeal to the sense of sight, while hearing is reached through wind chimes and a humming stone. There are also scented plants and those with interesting textures. The garden is open from 10am-5pm.

Clonohill Garden, Coolrain.

Clonohill Gardens are the splendid creation of floral artist Enda Thompson-Phelan and feature many interesting and unusual plants on a one acre site surrounding Clonohill House.  2pm – Garden tour on garden design and planting plants with challenging conditions

Entry costs €6 and the garden open from 11-6pm.

Dunmore Country School, Abbeyleix.

Polytunnel Course & Summer Course. This is a choice of 2 half day courses that covers plant production, herb drying, companion planting & much more.

Polytunnel course: €50 Summer course: €50

Polytunnel course: 10am-1pm Summer course: 2pm. For more information see

www.dunmorecountryschool.ie
The following gardens are open as normal but are part of the Laois Garden Trail.
Emo Court, Emo

. The historic Emo Court was designed by James Gandon in 1790. 100 acres of parkland with formal lawns, mature trees and a nursery lake all located against the backdrop of a stately 18th century building.

Heywood Gardens

. This is a self-guided tour.  Heywood is 50 acres of woodland, lakes and formal gardens. The centrepiece of these gardens is the Lutyens Garden designed by Sir Edwin Lutyens, and dating from 1912.

Castle Durrow

Demesne gardens with formal terraces, herbaceous borders, and a vegetable and flower garden with mixed annuals.
Laois Dance Academy Annual Show
Laois Dance Academy students will display an interesting version of circus where bodies create a story through freedom and movement.
With a special participation of Jeca the Clown, Cirque du Laois will be a pleasant experience for all family.  The show runs in Dunamaise Arts Centre at 2pm and tickets cost €12/€10.
The Loopline Collection -Patrick Kavanagh – No Man's Fool
Abbeyleix Heritage House are hosting a series of four documentaries by acclaimed filmmaker Sé Merry Doyle. One film screening each Saturday, followed by a reception and Q&A with the director. 
This Saturday is Patrick Kavanagh – No Man's Fool. Tickets are €5 (or €15 for all 4 nights). The show begins at 7pm and tickets are available at Heritage House reception or see here. 
SUNDAY JUNE 9
Buds & Blossom Gardening Festival
Buds and Blossoms is fast growing as one of the best garden events in the country.
For the last three years they have attracted many of the specialist nurseries in Ireland, and this year that trend continues but with the addition of two of the leading nurseries in Britain.  
Not only is a great day for plant sales but there will also be talks from top gardening speakers.
These include Kevin Hughes, John Anderson and Dermot O'Neill.
While the gardening is a big part of the day it is also a great family day out with local food producers stalls and artisan food to purchase.
There is also a great entertainment zone to keep the kids entertained all day.
Tickets are great value at: Adult: €9 (save 10% online) Group (10+): €8 (save 20% online) Student: €5 Children U12: Free. The festival runs from 12-6pm in Spink GAA grounds.  For more information see here. 
Acesigns Laois Heartlands Rally 2019
The Acesigns Laois Heartlands Rally returns for 2019! On June 9th, rally drivers and navigators will take to two new stages and battle it out to become winner of this year's Heartlands rally!  
The rally HQ is O'Loughlin's Hotel. The service area will be in the council office car park where people will be able to view cars and watch mechanical scrutiny of cars on Saturday. The rally begins at 11am on Sunday and for full updates see here. 
Ballykilcavan Brewery Tour
Join David and Lisa Walsh Kemmis  for a guided tour of their new Ballykilcavan Brewery, including a look at the 18th century stone farmyard at Ballykilcavan.  
Enjoy a walk through the brewery and get an explanation of the brewing process, a chance to taste the raw ingredients and of course a chance to  sample some of the finished beers.
This is an adults only tour and costs €13.50 adults and is running at 3pm.  
Slieve Bloom Market
For the summer months the Slieve Bloom market is moving to outside the Wine Buff on the Dublin Road, Portlaoise.
This is an artisan food and craft market including free wine tastings, handmade chocolates, Artisan coffee, sourdough bread, organic cheese, organic grains, nuts and pulses, organic fruit juices, olives, pesto, candles, hot food, cupcakes and much more. It runs from 11am-2pm. 
Summer Wedding Showcase
Planning on getting married then you need to check out the Midlands Park Hotel's wedding showcase this Sunday.
View the newly renovated and designed Ballroom, with up lighting, mood lit ceiling, and fairy lit backdrop. Taste some gourmet delights from the Head Chef on the day.  This runs from 2pm-5pm in the Midlands Park Hotel.
Slieve Bloom Guided Walk
The Slieve Bloom Walking Club's next guided walk is the Clonaslee Woods/ Brittas Lake Walk.  This walk is a Grade B 12km walk and takes 4 hours so a good level of fitness is required. Meeting point is the Catholes Car Park at 11am.  €5 per walk or €20 annual membership (€30 for family).
David Hicks – Count John McCormack & Moore Abbey
Come to the recently renovated Emo Court for this illustrated talk, presented by the architectural and social historian David Hicks. He will chart McCormack's rise to fame, his passion for art and the time when an international celebrity decided to become a country gentleman in 1920's Ireland.
This a free but ticketed event and runs from 3pm-5pm. To find out more or to book see here. 
Creating Sunshine Yoga Day
Blackhill Woods Summer Yoga Day at the heavenly Blackhill Woods for yoga, movement, meditation, pure relaxation, scrumptious vegan food and lots of peaceful moments. The day costs €75 and runs from 10am-3pm.  
If you would like to have something included in our What's On Guide email us on info@laoistoday.ie or call 057 8670722.
SEE ALSO – Laois group against controversial power project issue statement after national exposé