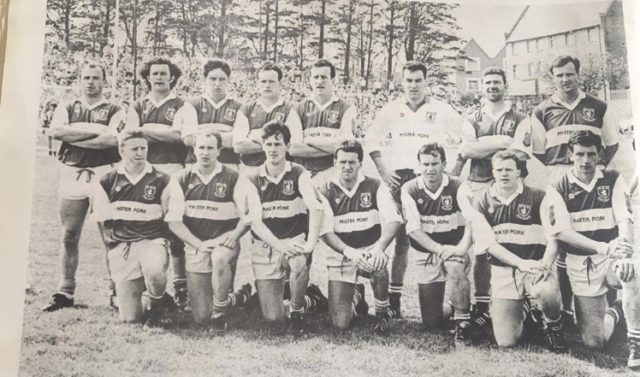 At the time Meath were the bluebloods of Gaelic football; they were revered, feared and respected and had not only scaled the peak once but had camped at the top for a number of years.
When Laois rocked up to Navan in May 1992 for the opening round of the Leinster championship, they did so as massive outsiders.
Meath had been in four of the previous five All Ireland finals, had been back to back champions in 1987-88, had won five of the previous six Leinster titles and won the league twice. From almost nothing, Sean Boylan had built a dynasty.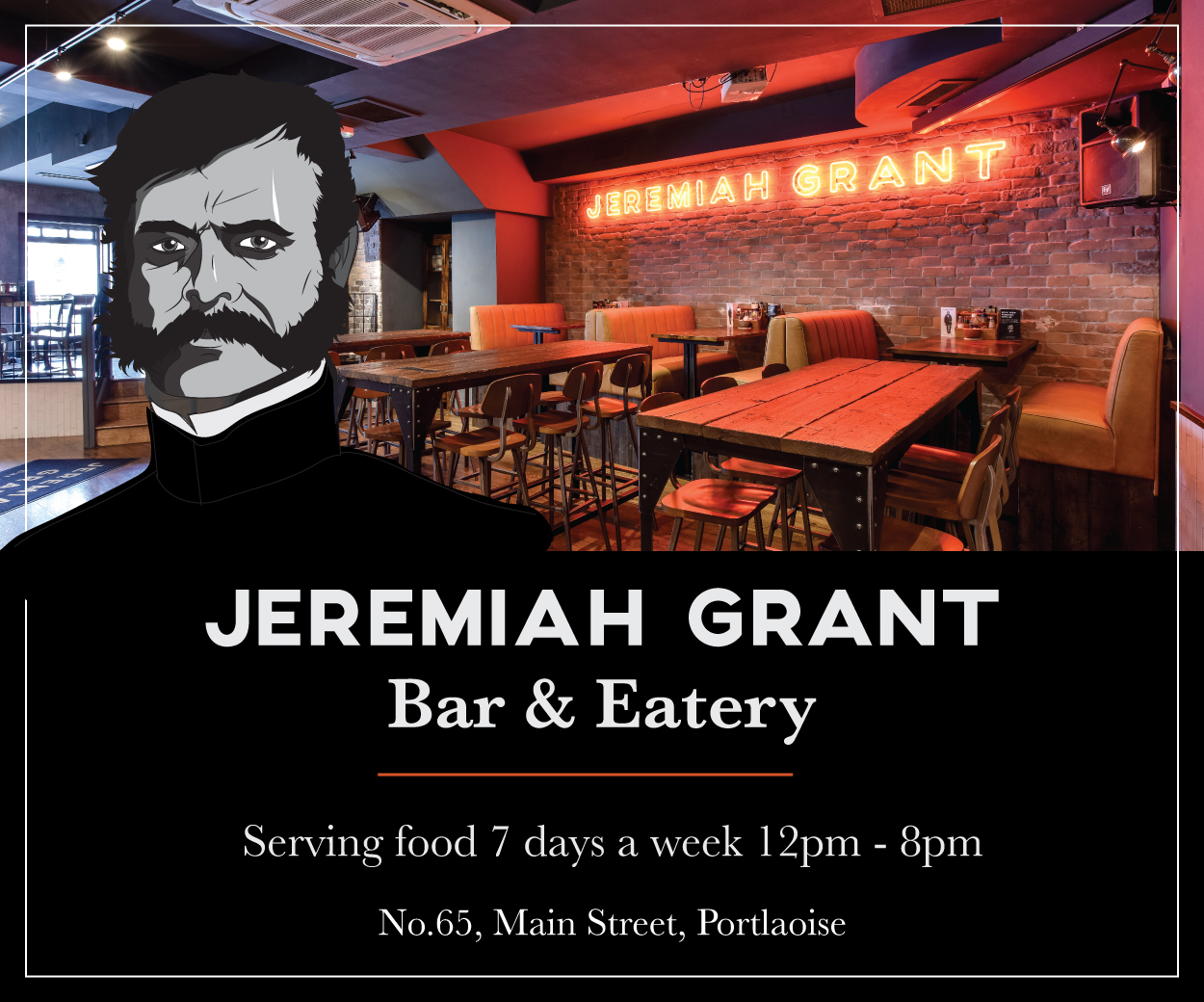 Boylan had taken over the Meath manager's job in 1982 when nobody wanted it, stuck around for a few years of slogging and grinding, suffered a ten-point defeat Laois in a Leinster semi-final in 1985 before breaking the Dublin/Offaly monopoly in Leinster the following year.
They were hated and loved, despised and admired in equal measure in different parts of the country and almost three decades later the names on that Meath team still trip off the tongue comfortably.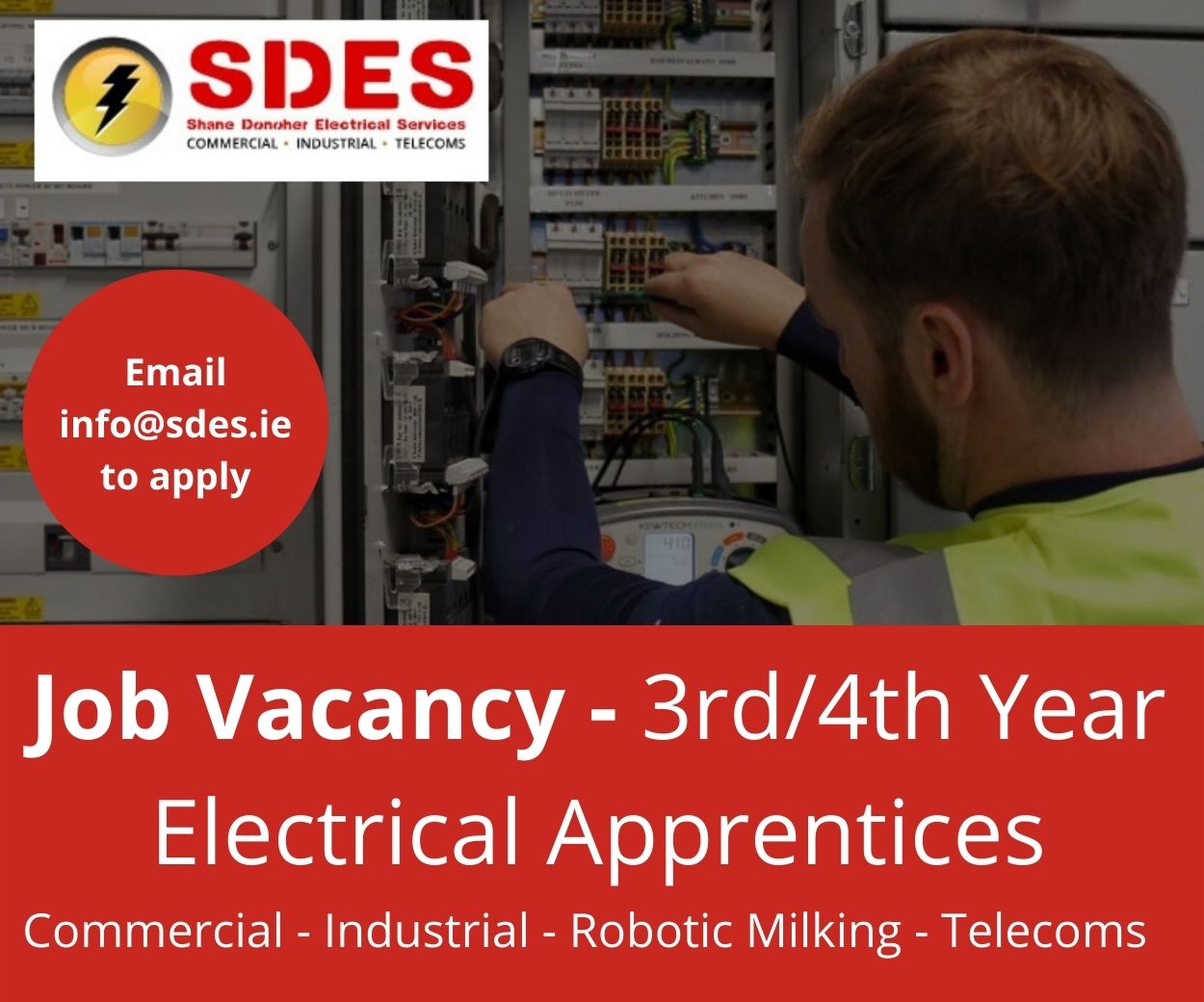 Lyons, Foley, Harnan, O'Connell, Hayes, McEntee, Beggy, O'Rourke, Stafford, Flynn. All of them great footballers; most of them hardy, ruthless men.
While their battles with Dublin and Cork were well documented, Laois shared a certain rivalry with them too. In 1990 Richie Connor – a former All Ireland winning captain with Offaly – took over Laois and went about doing what Laois had failed to do for almost half a century – win a Leinster championship.
He would leave three years later without having done that of course and while Laois suffered their usual quota of sob stories during his reign, they enjoyed one memorable day in 1992. One extraordinary afternoon that saw a Laois team go to Pairc Tailteann in Navan on a sweltering hot May day in front of a heaving crowd and dethrone the Leinster champions.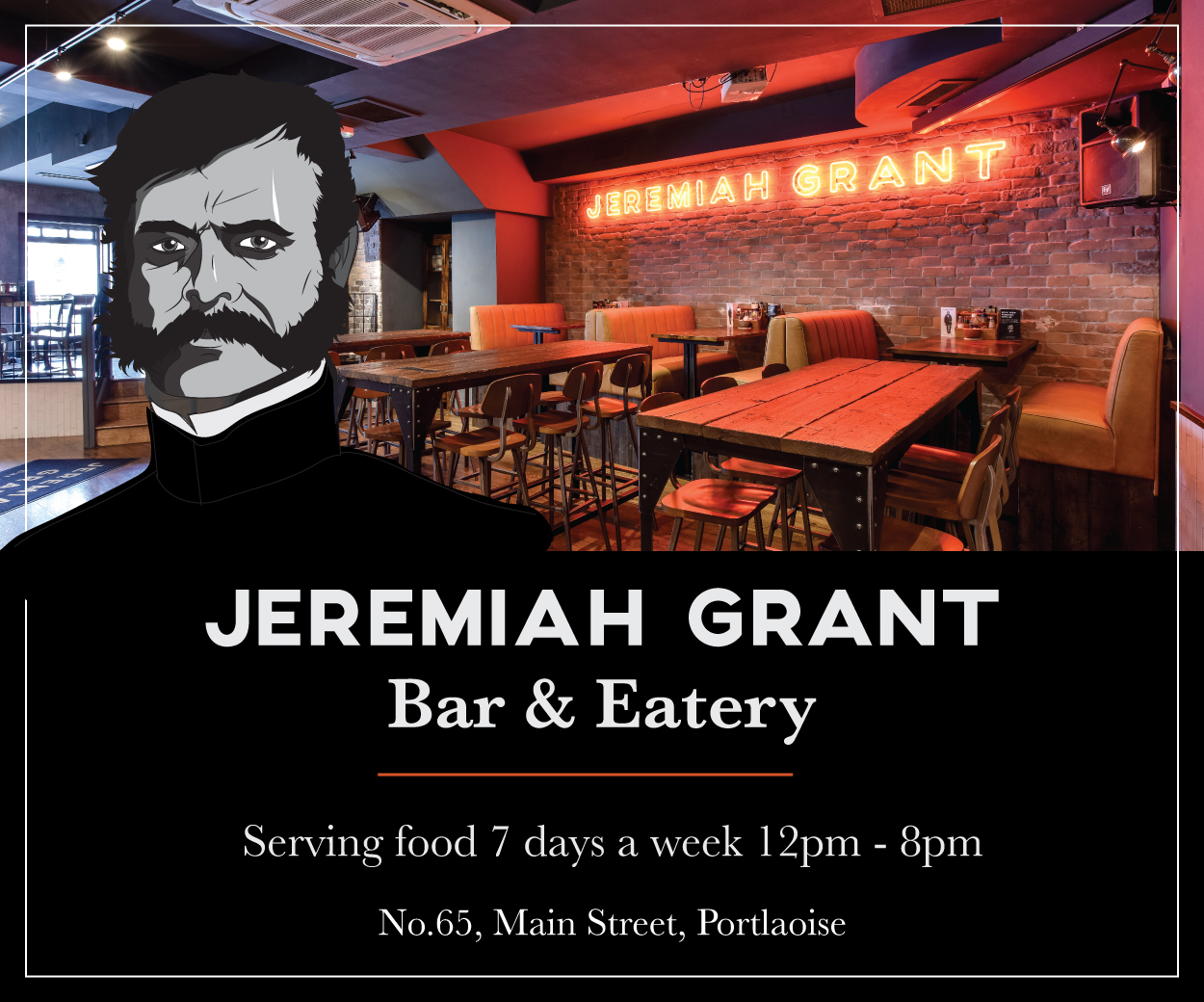 The championship was straight knockout then, there was no back door. Meath's summer was ended there and then and Laois players recall Meath supporters telling them on the pitch afterwards that they had "ruined their summer".
Given that Meath had played 10 championship games in Croke Park the year before in a season that ended with a narrow All Ireland final loss to Down and included a four-game saga with Dublin, to be out of the championship before June had even started was almost unthinkable.
Laois had been beaten 4-14 to 0-6 by Meath in the semi-final in 1990 and 1-11 to 0-8 in the Leinster final in 1991 but meticulous preparation and a well-constructed plan brought Laois's finest day since the League win six years previous.
Laois won 2-11 to 1-11 and the day has many happy snapshots. Hughie Emerson at 18 years of age just weeks before his Leaving Cert wearing number 22, playing centre-forward and committing himself easily to memory because of that big bead of hair.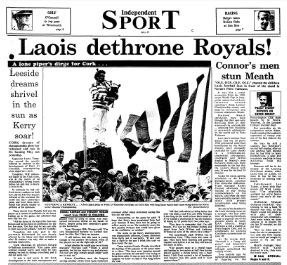 He was the AN Other on the match programme but by the end of the 70 minutes' he was well known; Liam Hayes had been controversially dropped for the game but having come on for the injured debutant, John McDermott, got sent off near the end for striking out at Emerson.
Hayes was the second player to be sent off after Laois's Joe Nolan was given his marching orders midway through the second-half.
Ten players were booked and an ugly melee broke out 20 minutes into the first half. Mick Turley came on at half-time and hit 1-3 and the crucial winning goal came from Laois 'keeper Tony McMahon from a penalty after future Laois senior manager Sean Dempsey was hacked down in the square.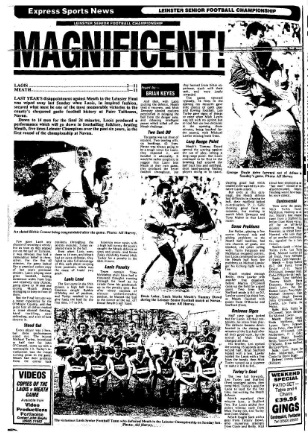 Meath led 0-5 to 0-2 at the break but went four points down after a tremendous Laois surge in the second-half.
Tommy Dowd scored a fine team goal in to the town end goal to narrow the gap to just one near the finish it and it looked as if Meath were to stage another of their remarkable recoveries. McMahon's goal ensured  they didn't, however.
Twenty seven years on it remains arguably Laois's finest win over Meath. That they went and lost to Louth the next day out darkens the tale somewhat but it was still a great day and one that is fondly remembered.
It was the end of that Meath team. The signs were there before the game that Boylan was weeding out some of the old stock
After the pre-match kick-around, Hayes. Robbie O'Malley and Colm Coyle made their way to the dugout and Gerry McEntee, already retired, sat in the stand.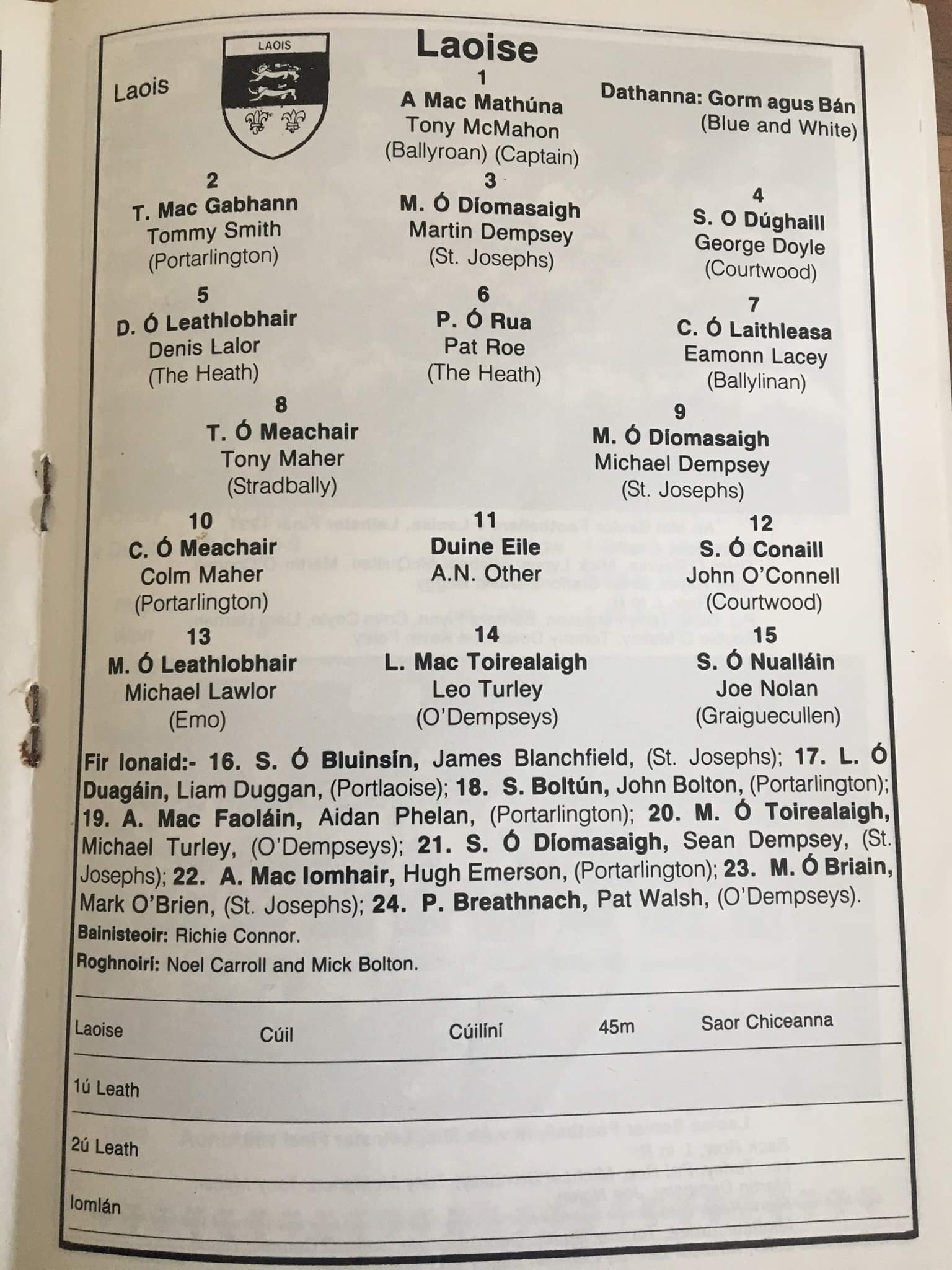 A week later, Colm O'Rourke in his Sunday Tribune column wrote under the headline – 'The end of the affair' and remembered the good times Meath had had.
"Laois dethrone Royals!" was the lead headline on the front page of the Irish Independent sports section the next day. "Navan smash and grab," was the headline on the report inside. "Magnificent," was the Leinster Express take a couple of days later.
Laois's win over Meath in 1985 marked the end of their spell in the doldums. They ended a 15-year wait for Leinster glory in 1986 and the dominated until Laois beat them in 1992, a result that opened the door for Dublin to win the next four provincial titles before Boylan came with a new team to win the All Ireland in 1996 and again in 1999.
"It was one of the really good days playing with Laois," recalled Leo Turley – who scored four points from play off Mick Lyons that day – in a feature in the Leinster Express in 2004.
"We spent a lot of time analysing Meath," remembered Richie Connor, also in 2004. "We watched a lot of videos of them playing and we went on a training week to Spain where we were able to concentrate a lot on that.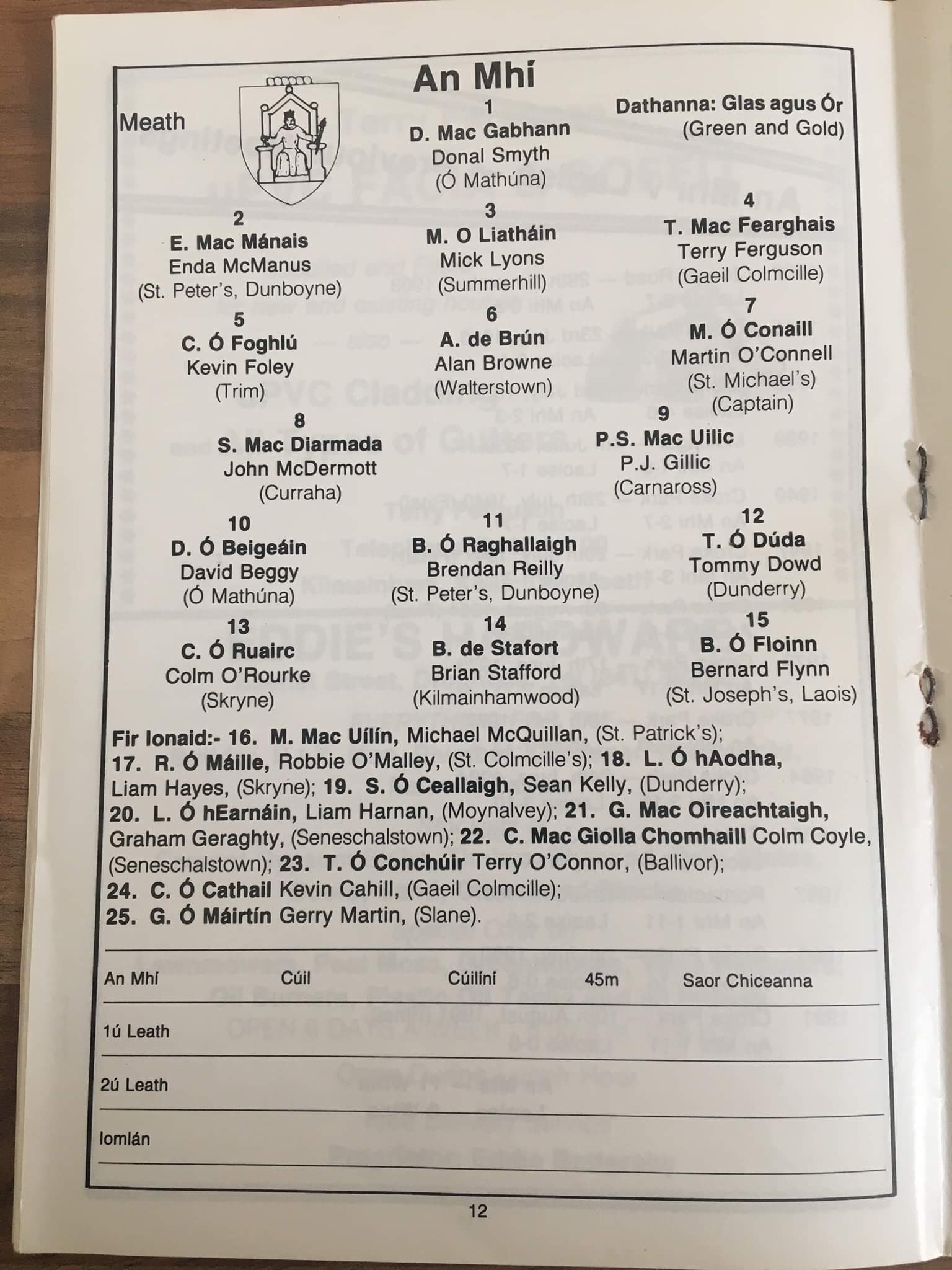 "Meath seemed to be a big obstacle to us at the time but the main thing I can recall from that game is Tony McMahon scoring a penalty.
"Tony was the designated penalty taker, he had a great strong kick and he drove it past the Meath goalkeeper. We were ahead when we got the penalty and it put us in a great position.
"Everyone will remember Hughie Emerson for that game, the long hair and being so young and all. Mick Dempsey had a great game in the middle of the field that day but the most unfortunate thing was that we went and lost to Louth then in the next game.
"There was probably a lack of maturity about us and we mightn't have had what it took to beat two top teams back to back like the present team. I think we may have paid a price for paying so much attention to Meath."
"My abiding memory of that game is of Hughie Emerson," said Mick Dempsey, midfielder on that team and now part of Brian Cody's backroom team with the Kilkenny hurlers, for that same Leinster Express piece in 2004. "Every time he got the ball he took them on, he ran at them and I don't think he had any inhibitions at all. The kick the Laois fans got out of that game was unbelievable.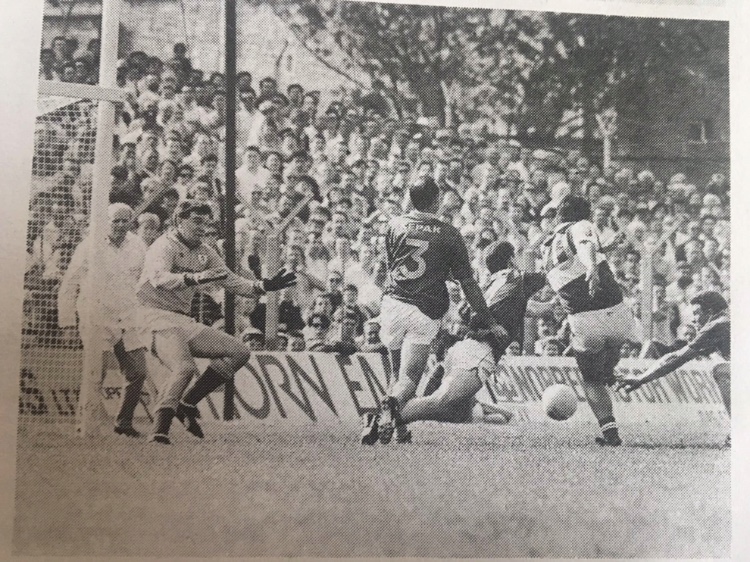 "They were a brilliant team and for us to go there and beat them in Navan was a great result.
"I have great memories of that day. It was great in itself to beat Meath that day but it was a pity we couldn't have built on it afterwards."
George Doyle, who was corner-back on that team and marked Colm O'Rourke, keeping the Meath legend to just one point, also remembered it fondly.
"I think the full-back line (of Tommy Smith, Martin Dempsey and himself) kept the Meath full forward line of O'Rourke, Brian Stafford and Bernard Flynn to just one point from play in total," he said.
Doyle, who was only in his third season at intercounty level and who would go on to play until 2000, recalls how big a name O'Rourke was.
"He hit me a box on the back of the head and then lay down himself. The referee came into see was he alright!"
"The roar that went up when Dowd got that goal was just unreal," said Pat Roe who was centre-back.  
"But we got a penalty and Tony McMahon came up from the goals and scored it and then had to sprint back.
"What I remember most is the intensity of the game and the ferocity of the crowd but it was a very sweet occasion.
"There were great scenes afterwards and it is the highlight of my time playing with Laois. It is one of the few highlights and I suppose it is sad when a first round win is the highlight of your career – but at the time it was a great day."
LAOIS: Tony McMahon (1-0); Tommy Smith, Martin Dempsey, George Doyle; Denis Lalor, Pat Roe, Eamon Lacey; Tony Maher. Michael Dcmpsey; Colm Maher (0-1), Hughie Emerson, John O'Connell; Michael l.awlor (0-3, all frees), Leo Turley (0-4), Joe Nolan. Subs: Michael Turley (1-3, 0-1 free) for O'Connell, Sean Dempsey for Lawlor.
MEATH: Donal Smyth; Enda McManus, Mick Lyons, Terry Ferguson; Kevin Foley, Alan Browne, Martin O'Connell (0-1); John McDermott, PJ Gillic; David Beggy, Brendan Reilly (0-1), Tommy Dowd (1-1); Colm O'Rourke (0-1), Brian Stafford (1-7, all frees), Bernard Fynn. Subs: Liam Hayes for McDermott, Robbie O'Malley for McManus, Colm Coyle for Beggy.
REFEREE: Tommy Howard (Kildare)
SEE ALSO – Remembering Laois's historic 1986 National Football League final win