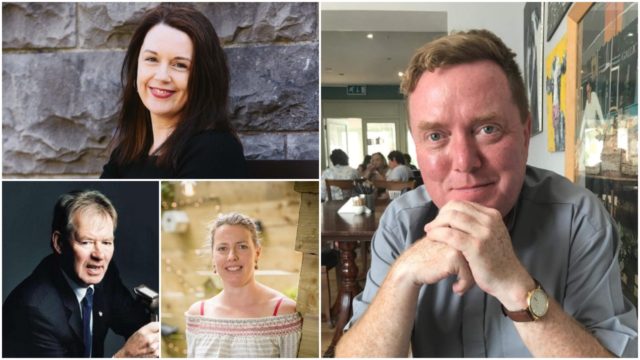 The 'Power of Words' Festival is set to take place in Laois this weekend with a simply stunning line-up of guests.
The Power of Words Festival is a brand-new festival celebrating words, language and literature in all their shapes and forms, written, spoken, acted and sung which will emerge in Abbeyleix, on the weekend of August 23 to 25.
Creating the festival are Amanda Kelly, Evelyn Quinlan, Francine Ashe, Marna Hatton and Noelle O'Connell – a group of like-minded creative people who all share a spirit of inclusion and belonging and who each have a wide range of experience and expertise in producing and delivering creative and community events.
The Power of Words Festival will focus on new and emerging writers as well as more established writers.
There are some well-established names on the line-up, but there are some other new and emerging talents too.
Overall the feel of the festival is refreshing and accessible and if you will pardon the pun, a novel approach, which hopes to grow The Power of Words organically into a sustainable annual festival.
Some very notable authors will share their work and expertise, over the festival weekend.
Among them are the wonderful Jason O'Neill, Dr. K. Mark Hilliard, Niamh Boyce, John MacKenna, Andrea Carter, Helena Duggan, Shane Dunphy, Caroline Busher and Sheila Forsey.
For sporting enthusiasts, the legendary Mícheál Ó Muircheartaigh will be there while so too with parish priest of Abbeyleix Fr Paddy Byrne.
A selection of writing workshops will give participants a chance to explore fiction, song-writing and memoir.
A number of 'Open Mic' sessions throughout the weekend will provide plenty of opportunity for anyone wishing to come along and share their work.
'The Living Poets Society' is another unique feature of the festival. A chosen 'Living Poet' will have their work honoured and celebrated throughout the weekend. The festival's chosen poet for its inaugural year is Pat Ingoldsby.
Laois people will remember Pat Ingoldsby featuring in the Mountmellick Mardi Gras festival back in 1987 in the heyday of his popularity as a presenter of children's TV.
However, the organisers behind The Power of Words are quick to point out that in the intervening years Pat Ingoldsby has produced a moving, powerful and touching body of work relating to mental health and the loneliness of the soul.
Poems like 'True for Me' are likely to feature in this retrospective tribute to the frail but prolific poet and author.
Central to the festival's aspirations are an open, diverse, relaxed and inclusive spirit and to this end the programme will be an emphasis on children and a series of heritage walks and talks.
A great selection of fun and interesting events and workshops are lined up for both, with some of the finer details remaining to be confirmed.
Among the venues which will be used across the weekend in Abbeyleix for The Power of Words programme will be Heritage House; Mueller and O' Connell Bakery; the Conservatory at the Gallic Kitchen, Bramleys; Morrissey's Pub Sitting Room area; Abbeyleix Library; the lobby in the Abbeyleix Manor Hotel for the intriguingly titled, 'Letters in the Lobby' and Abbeyleix Bog, where a recently unearthed 18th century poem of the locality will be read, performed, disclosed, revealed…who knows?
There is certainly something in there to whet the appetite of the curious mind for all ages in Laois' latest festival offering.
For further information and ticket bookings, go to website www.powerofwords.ie or Facebook page 'The Power of Words Festival' or send an email to powerofwordsfestival@gmail.com
SEE ALSO – IT'S BACK: The search for Laois's Hottest Men is on!!