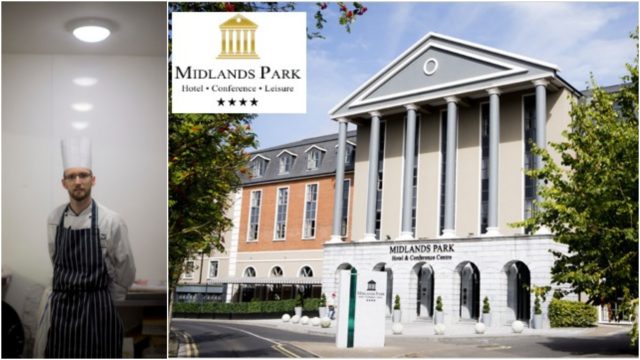 The Midlands Park Hotel went under a considerable refurbishment in recent years as they strive to provide the highest quality service to their guests.
We spoke recently with one of the key people in the whole business – Bernard Rochford, who has worked in top hotels in Ireland and abroad and has returned to his native Portlaoise in recent years to take up the role of head chef in the Midlands Park Hotel.
Bernard is passionate about food, highly experienced and now thrilled to be back in his home town leading a team in a busy and vibrant premises like the Midlands Park Hotel.
Tell us a bit about your background in the catering industry? 
I have 22 years' experience as a chef. I started at the age of 16 working in the Killeshin Hotel Portlaoise. I studied in Athlone IT and in the culinary academy in Sydney, Australia.
I spent two years working in Athlone, where I became the youngest member to be invited on to the panel of chefs of Ireland
I worked for four years in Australia, two years in France, two years in Jersey before returning to Ireland, where I worked as head chef for the Talbot Hotel in Carlow, before moving to Lough Rynn Castle in Leitrim where I spent four years as the Executive Sous Chef.
I then moved to the Midlands Park Hotel in August 2016 to take up the role as head chef. 
What is your favourite recipe?
My favourite recipe would have to be Slow Braised Featherblade Steak, Champ Mash, Squash Puree, Vine Tomato, Quenelle of Horseradish Cream with Rosemary Jus.
What is most important to a chef when running a busy kitchen? 
It is important to be calm and organised, everything running smoothly, everybody working together, and most the important thing is communication.
What do you hope to bring to the Midlands Park Hotel?
I hope to bring good leadership, to mentor young cooks and inspire them to be chefs, and to create good food.
What is the favourite thing about your job?
Getting ready for an extremely mental day and getting home at the end of I know it went fantastic.
What made you want to be a chef? 
I studied home economics in school and that inspired me to be a chef.
Are you looking forward to taking this position? 
I am loving my current position, it's a fabulous hotel and it's getting busier and busier all the time. 
What changes do you hope to bring to the menu? 
I can bring a great balance of flavours from around the world and a great attention to detail. 
The Midlands Park Hotel recruitment evening takes place in the hotel on Tuesday next, October 22.
SEE ALSO – We're here for the long haul say Portlaoise's newest hotel owners