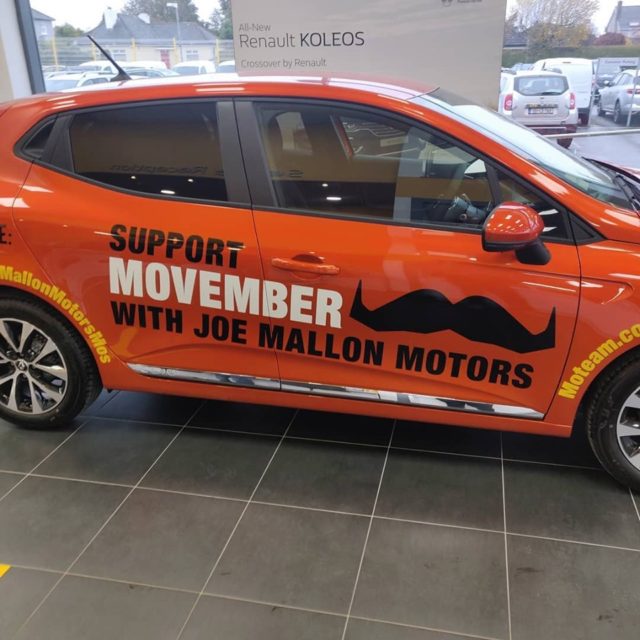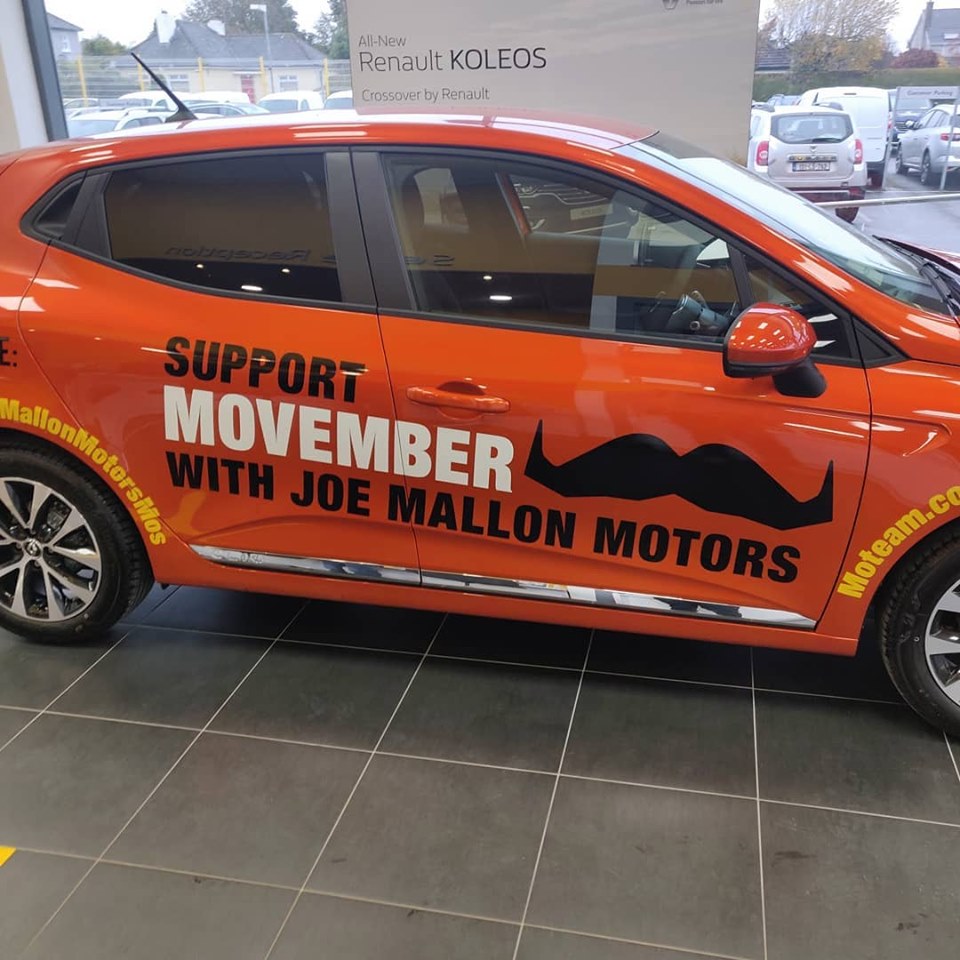 Did you know that men die on average four years younger than women? Did you know that eight out of ten suicides in Ireland are men?
Did ou that one in seven Irish men will be diagnosed with Prostate Cancer in their lifetime or that Testicular Cancer rates have doubled over the last 50 years?
You'll have seen and heard about Movember of course – the annual craze every November where men will grow and attempt to grow moustaches. Some impressive, some dodgy, some harmless.
That side of it is all good humoured – but it's all for a very worthy cause. And the Joe Mallon Motors team in Portlaoise and in Naas really led the way this year.
They've even branded a couple of cars – with a number of Renault Clios having been wrapped very tastefully by their very skilled graphic designer Michael O'Connell, who himself was one of the leading fundraisers.
Their staff in both places grew Mos and many more took on the additional Move challenge of committing to running or walking 60km over the course of the month
In all they raised over €12,000 with donations still coming in.
They also held Men's Health talks in both showrooms for the staff. Watching out for the signs of testicular and prostate cancer and being aware of mental health issues were among the key takeaways.
"Stop men dying too young," is the Movember mantra, a movement that was started in Australia by two friends in 2003. It is now the largest charity tackling men's health, having raised over half a billion dollars and funded more than 1,200 men's health programmes.
"Men continue to face a health crisis that isn't being talked about. They're dying too young. But the efforts you made during Movember are helping us change that – so men can live happier, healthier, longer lives."
The Joe Mallon team held a Shave Down in their Naas showroom last Saturday ahead of their Christmas party.
The Mos may now be no more – but the awareness and the funds raised is the legacy of a great month's work. Well done to all.
SEE ALSO – County champions Portlaoise on the hunt for new manager as Rigney departs