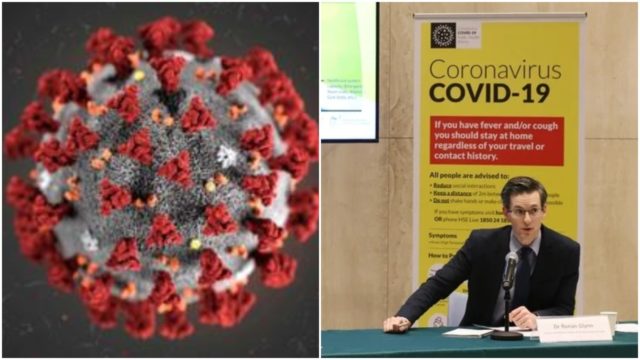 A total of 1,068 new cases of Coronavirus have been diagnosed in Ireland today.
This is an increase on the 11,195 cases from yesterday and takes the overall total to 12,547
657 new confirmed cases of COVID-19 are reported by Irish laboratories. While an additional 411 confirmed cases of COVID-19 are reported by a laboratory in Germany – this brings the total figure to 12,547.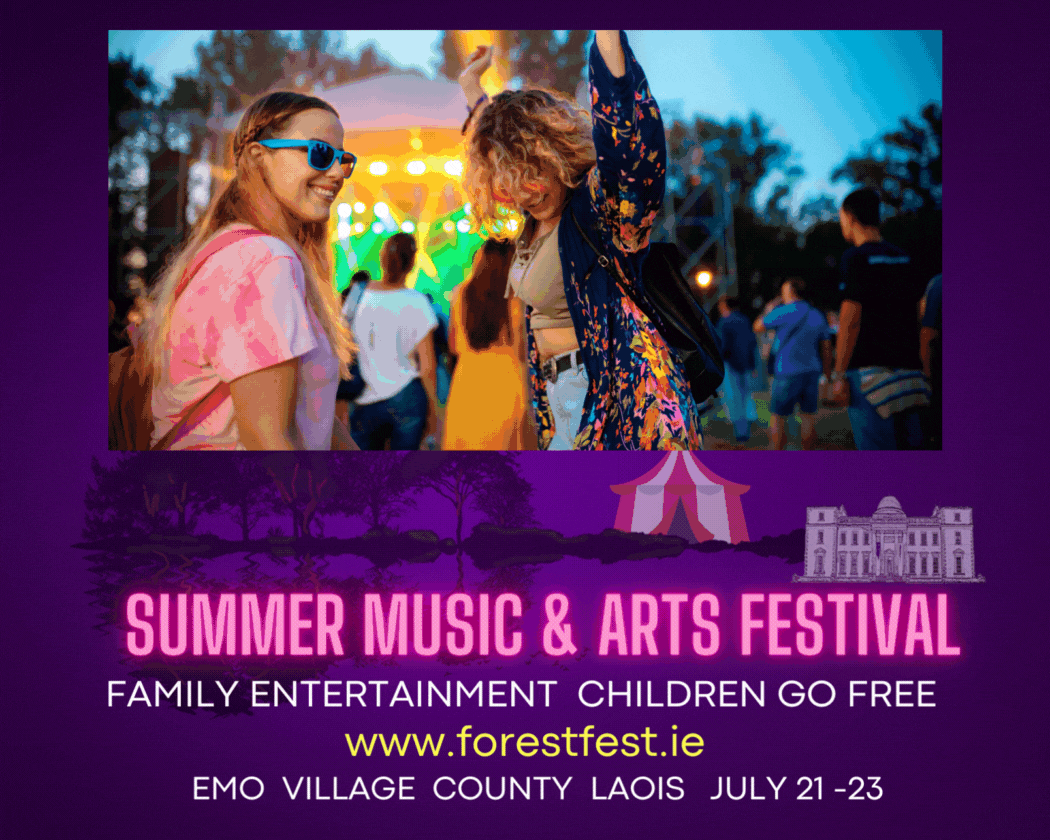 As of Monday April 13, there are 118 cases of the virus in Laois.
While now 444 people have died from the disease – an increase of 38 from yesterday.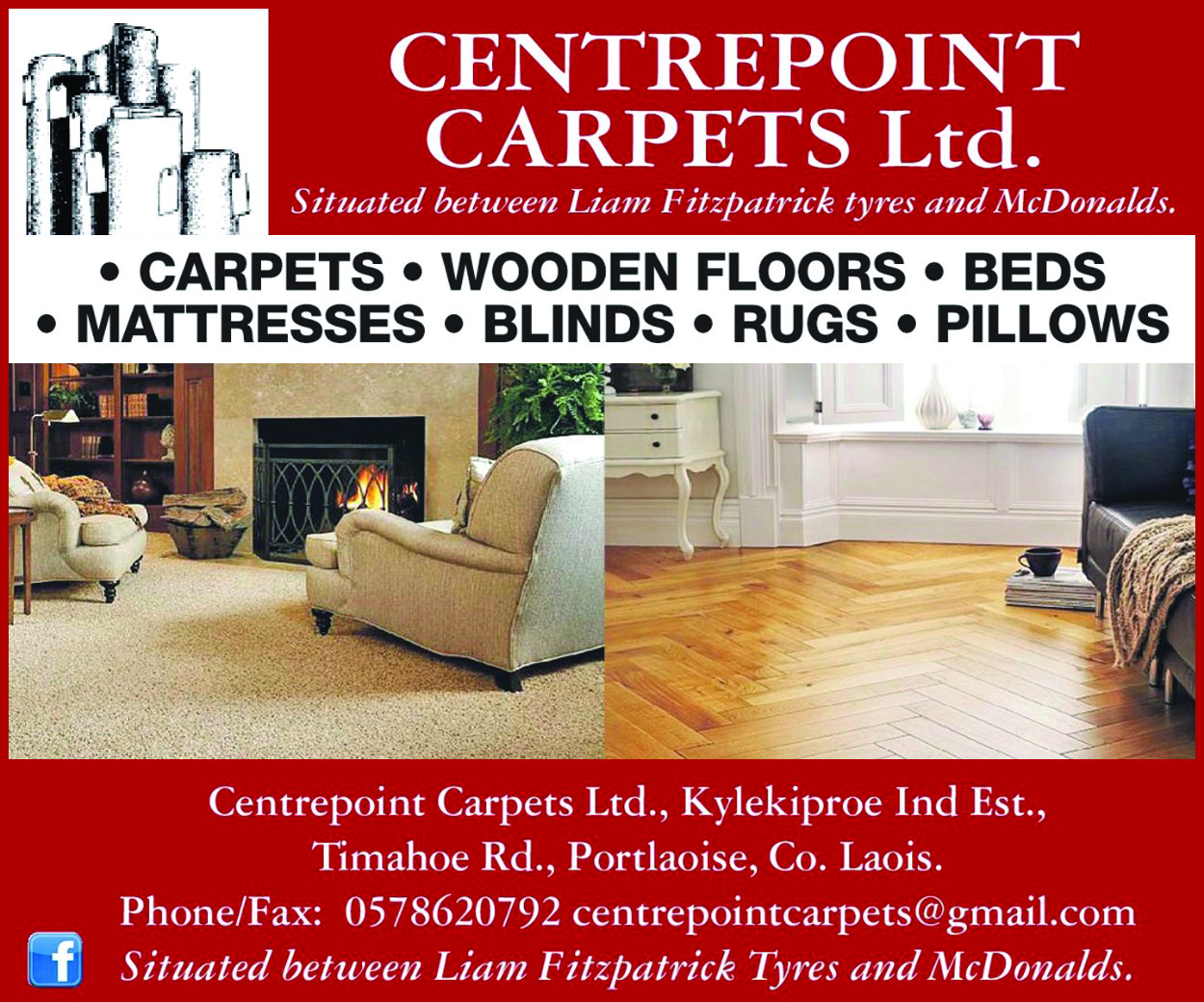 29 of the deaths arelocated in the east, 6 in the west, 3 in the south of the country. The people included 22 males and 16 females.
The median age of today's reported deaths is 84 and 28 people were reported as having underlying health conditions.
Dr. Tony Holohan, Chief Medical Officer, Department of Health, said: "We are continuing to monitor the course of this disease across a range of indicators – not only in the number of confirmed cases and deaths reported but also through hospital and ICU admissions, clusters and patterns of transmission.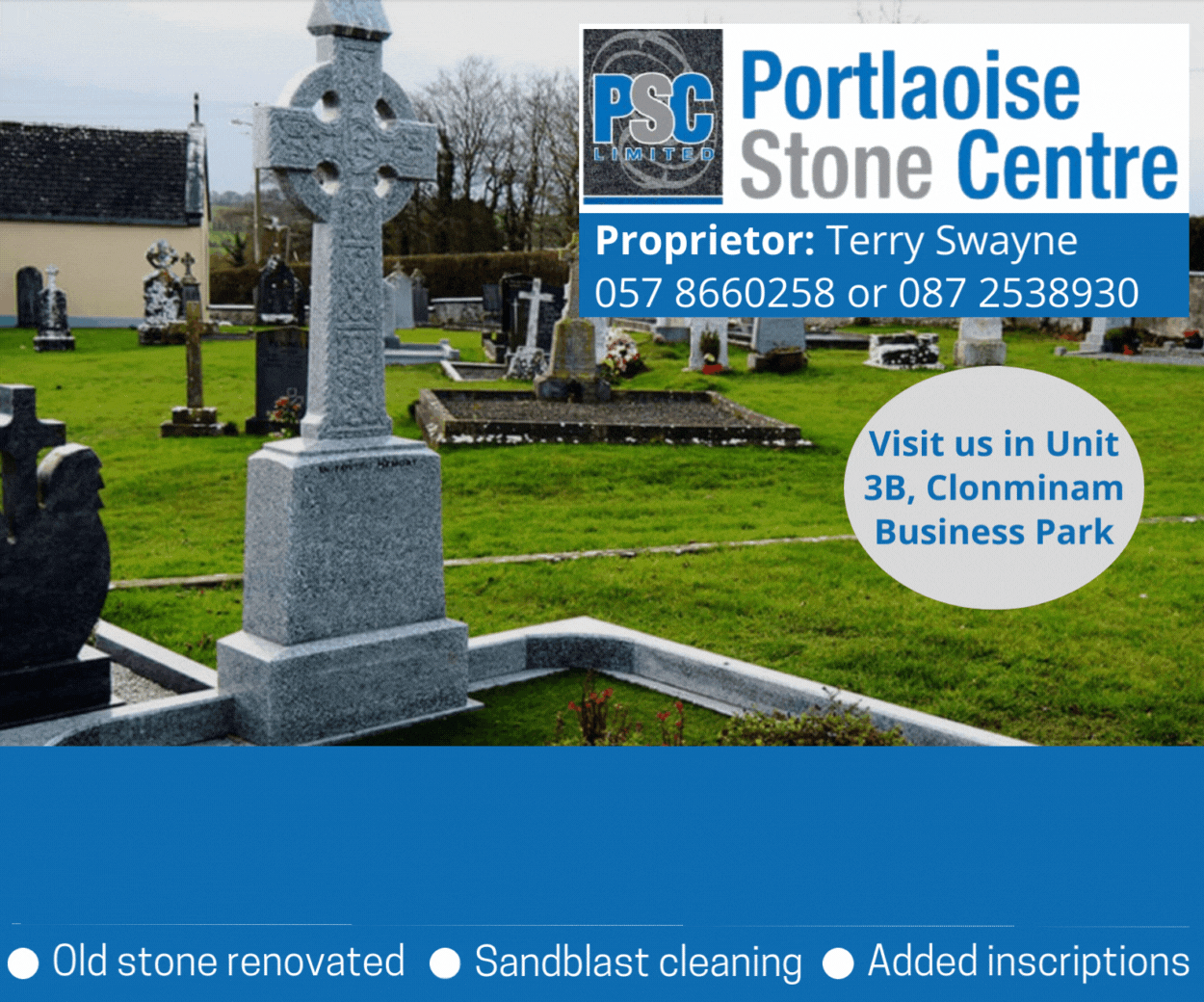 "While a number of these parameters are going in a positive direction, it is clear that we need to keep going in our efforts, on an individual level, to limit the spread of this virus."
Dr. Ronan Glynn, Deputy Chief Medical Officer, Department of Health, said; "The World Health Organisation yesterday published its COVID-19 strategy update.
"This strategy re-emphasises the need for comprehensive public health measures to slow the spread of the virus, with additional capacity to respond rapidly to sporadic cases and clusters when they occur."
Dr Siobhan Ni Bhriain, Consultant Psychiatrist and HSE Integrated Care Lead, said; "There are still concerning reports that attendance to emergency departments is unusually low. This concerns us.
"Everyone should continue to seek medical intervention if concerned about their health. Do not ignore symptoms of illness because of fear of contracting COVID-19 or fear of imposition on healthcare staff. The health service is there for everyone and all medical concerns."
Today's data from the HPSC, as of midnight, Monday 13th April (11,261 cases), reveals:
· 55% are female and 45% are male, with 413 clusters involving 2,244 cases
· the median age of confirmed cases is 48 years
· 1,968 cases (18%) have been hospitalised
· Of those hospitalised, 280 cases have been admitted to ICU
· 2,872 cases are associated with healthcare workers
· Dublin has the highest number of cases at 5,850 (52% of all cases) followed by Cork with 829 cases (7%)
· Of those for whom transmission status is known: community transmission accounts for 52%, close contact accounts for 42%, travel abroad accounts for 6%
Links to today's other Coronavirus stories 
Studying during Coronavirus: Scoil Chriost Ri student on prepping for state exams in a pandemic
WATCH: Community comes together to give young Laois girl 'a birthday she will never forget'
Laois Local Enterprise Office welcomes expansion of business supports
Popular Laois Heartlands Rally postponed due to Coronavirus
JOB VACANCY: Breslin's SuperValu Rathdowney seeking to hire Deli and Bakery staff
Home deliveries from Breslin's SuperValu Abbeyleix and Rathdowney
Laois recruitment company acknowledging frontline heroes – and supporting local businesses
Northern Ireland, the UK and globally 
There have been 6 more deaths in Northern Ireland as result of Coronavirus bringing the total to 140. There has also been 121 new cases of Covid-19, bringing the total to 2,088.
Meanwhile, Stormont First Minister Arlene Foster confirmed that Covid-19 restrictions in Northern Ireland will remain in place for a further 3 weeks, and will be reviewed again at that stage.
Robin Swann told the Stormont Covid committee that Northern Ireland should have more than sufficient capacity to deal with current surge. There are currently 49 Coronavirus patients in ICU beds in Northern Ireland plus another 39 non Covid patients. This leaves a spare capacity of 56 ICU beds.
In the UK, Coronavirus deaths surged again by 761 in the last 24 hours to 12,868.
Once again, it is important to remember that these are hospital deaths only and do not include nursing homes or deaths in community setting.
The British Medical Journal reports that in the US, black people are being admitted to hospital and dying in disproportionate numbers from Covid-19.
An analysis found that black majority counties, had three times the coronavirus infection rate and almost 6 times the death rate of white majority counties. Almost 27,000 people have now died there.
Nursing homes account for nearly half of all coronavirus-related deaths in Belgium, new statistics reveal – they have 4,440 deaths.
South Koreans headed to the polls today, with a big turnout expected despite the coronavirus threat.
South Korea is among the first countries, with a major virus outbreak, to hold a national election since the global pandemic began, and a raft of safety measures were in place around the ballot, as well as affecting the campaigns. They have 10,000 cases but more than 7,600 of these have recovered.
China has also reported a decline in new confirmed cases of the coronavirus in the mainland. However, there was an increasing number of local transmissions, in its far-northeast, bordering Russia.
Moscow has introduced a travel permit system to help it police a lockdown meant to slow the spread of the coronavirus, a move that initially created traffic jams and long queues of people wanting to use the metro. They reported more than 3,000 new cases today.
There are now more than 2,030,000 cases globally with at least one in almost every country on the planet. Almost 130,000 people have died. While 495,000 have recovered.
Latest on hospitalisation and ICU admissions
This shows that three people aged between 25-34 have died from Covid-19 in Ireland.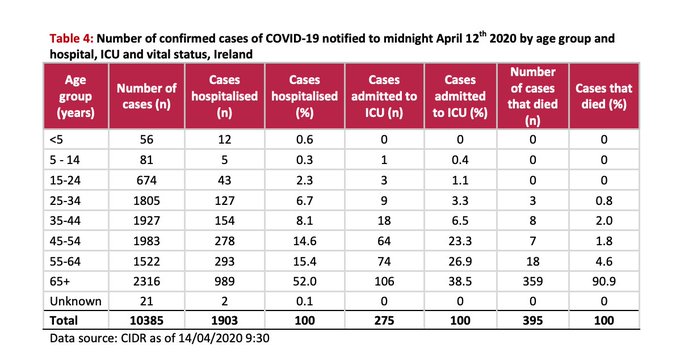 There was a total of 408 clusters as of Sunday midnight.
Nursing home count now up to 151. Hospitals have 61, Residential institutions (58) and Long-stay units have 23.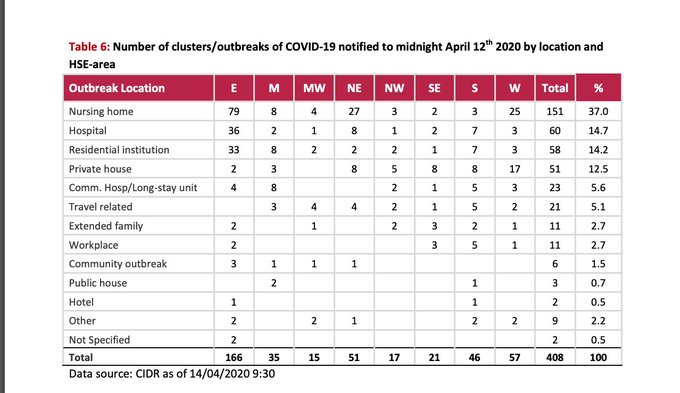 Confirmed cases among healthcare workers is now 2,707. Here's the breakdown by HSE region: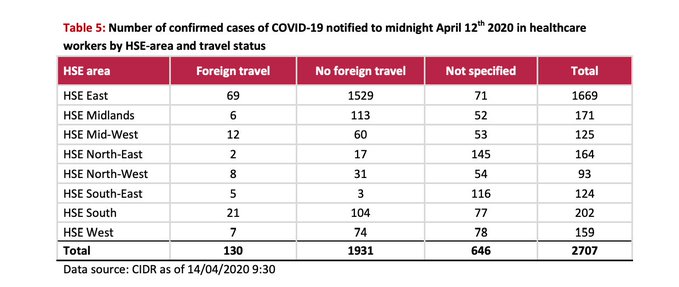 Trump, China and the World Health Organisation
Last night, US President Donald Trump announced that he was suspending the funding that the country gives to the WHO – around $500 million per year.
China concealed crucial information about the coronavirus outbreak from the rest of the world and so should answer for its deceit, the former head of Britain's MI6 foreign intelligence service has claimed.
John Sawers, the chief of Britain's Secret Intelligence Service, or MI6, from 2009 to 2014, said it would be better to hold China responsible rather than the WHO.
Paracetamol for Coronavirus?
Paracetamol should only be used by someone who has Covid-19 if they are miserable with a fever, Dr Marie Finn, a GP has said, because there is evidence to show that a high temperature may reduce the rate of replication of the virus.
Speaking on RTÉ's Today with Seán O'Rourke Dr Finn suggested people should take plenty of fluids and stay in a cool room. She advised not to use a fan, due to the aerosolised nature of the droplet based virus.
She said if people are suffering with a cough, they try to use non drug-treatment, like honey and lemon, and should lie on their tummy, or to try sleeping sitting up.
Wexford man charged
A twenty four year old man has appeared in court in Wexford charged with breaching the restrictions on movement introduced to stop the spread of the coronavirus.
He is the first person to be charged with offences under the new emergency legislation brought in by the Government last month.
Ryanair 
Ryanair is steeling for an airline price war that it expects to win once Coronavirus restrictions are lifted and passengers flock back to tourist destinations, Chief Executive Michael O'Leary says.
Brushing off forecasts of a sluggish recovery, O'Leary predicted a swift traffic rebound, with the pain coming instead from "massive price-dumping" that traditional airlines now seeking bailouts would struggle to keep up with.
"When this thing is over there is going to be such massive discounting going on that there will be a large spike upward intravel and tourism for a period of time," O'Leary told Reuters.
Tour de France 
The Tour de France has been postponed to 29 August to 20 September due to the coronavirus pandemic, the International Cycling Union (UCI) has announced.
Coronavirus Myths
As yet, there is no cure currently for COVID-19.
So people suggesting/selling special remedies like vitamin C, garlic, home cures, drinking bleach, or putting half an onion in rooms around the house are – well you know don't you?
The World Health Organisation has advice on some of these urban legends.
Cuisle Centre 
The Coronavirus outbreak has led to the Cuisle Centre in Portlaoise closing.
They said: "The Covid-19 restrictions mean that we have had to temporarily close our doors, but we are still here to support you and your family.
"As we know this is a confusing time for our patients as chemotherapy and surgery are been rescheduled – we will be continuing to give you support and guidance over the phone.
"Just call 0578681492 and leave your name, number and a brief message and we will get back to you. You can also contact us on email: info@cuislecancersupportcentre.ie or messenger us through facebook.
"Stay safe everyone, wash your hands and take a little exercise."
Important information 
Symptoms of Covid-19 include:
Cough
Shortness of breath
Fever
Breathing difficulties.
Further resources:
A helpline for older people who are concerned about the coronavirus has been launched by Alone. The number is 0818 222 024, and it's open Monday to Friday, 8am-8pm.
SEE ALSO – For more Coronavirus stories click here