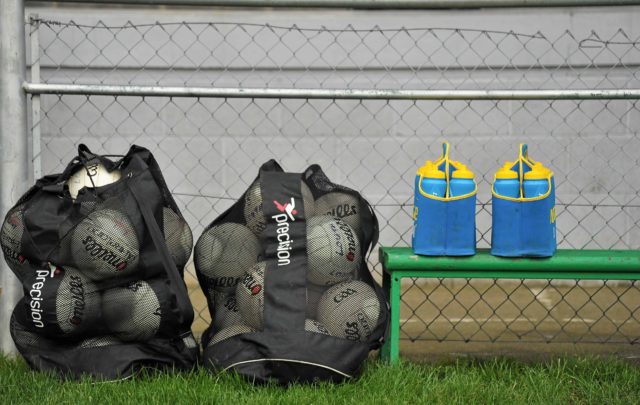 Laois GAA have outlined in detail the schedule of adult club games in the county, which will get underway on Saturday, July 18.
In a season like no other, where the only competitive club games in the county have been a couple of league fixtures and Kelly Cup matches back in March, football and hurling championships will be played in a condensed ten-week period, finishing on Saturday, October 3.
And it will be the pre-season football competition the Kelly Cup that will get things underway on Saturday, July 18 when Ballylinan host Killeshin in the semi-final.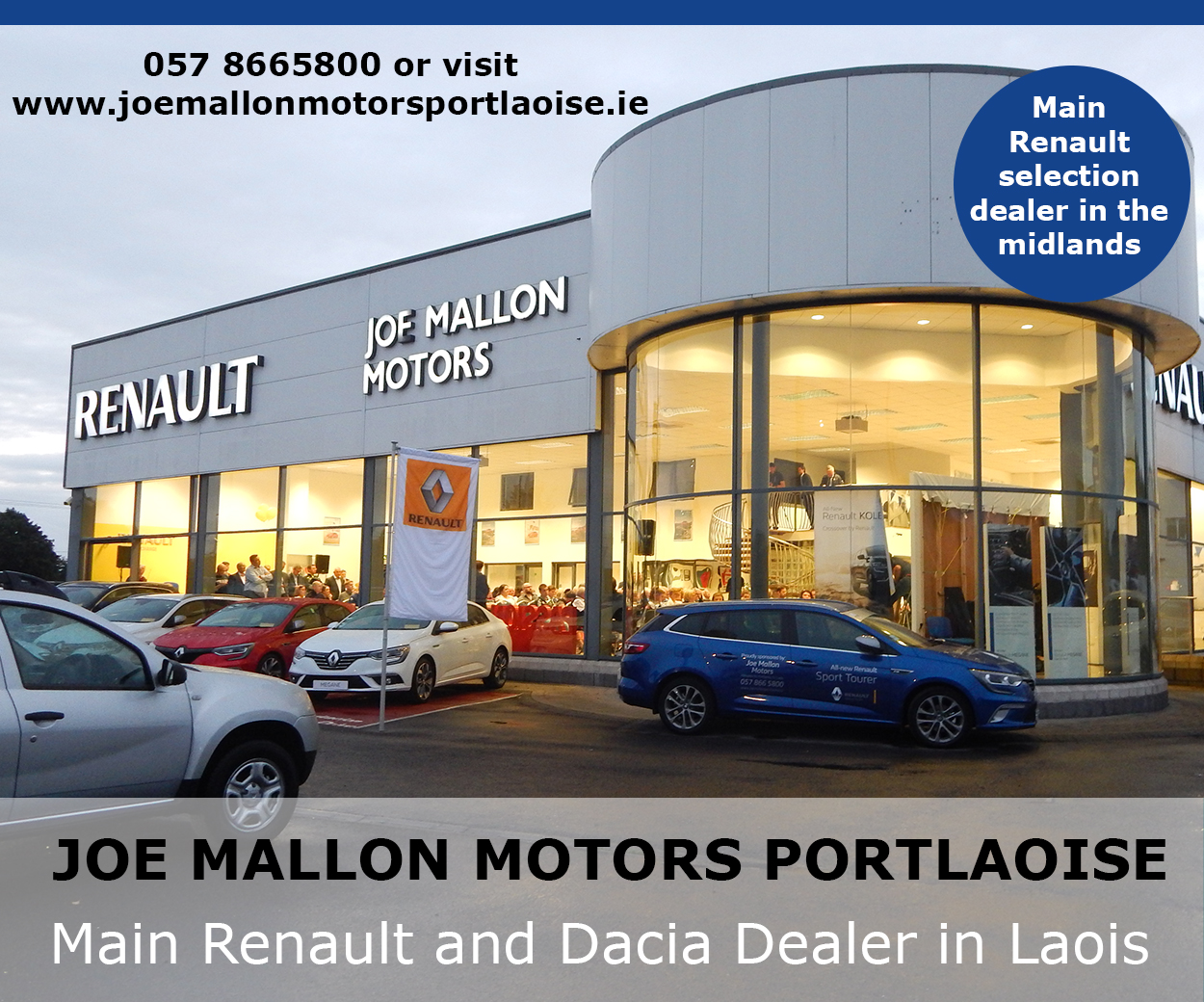 The winners will meet Graiguecullen in the final a week later while the hurling fare will get underway with a senior hurling championship clash between neighbours Camross – champions in 2017 and 2018 – and last year's beaten finalists Borris-Kilcotton.
The following evening will see another tasty looking clash between champions Rathdowney-Errill and Clough-Ballacolla in the other group.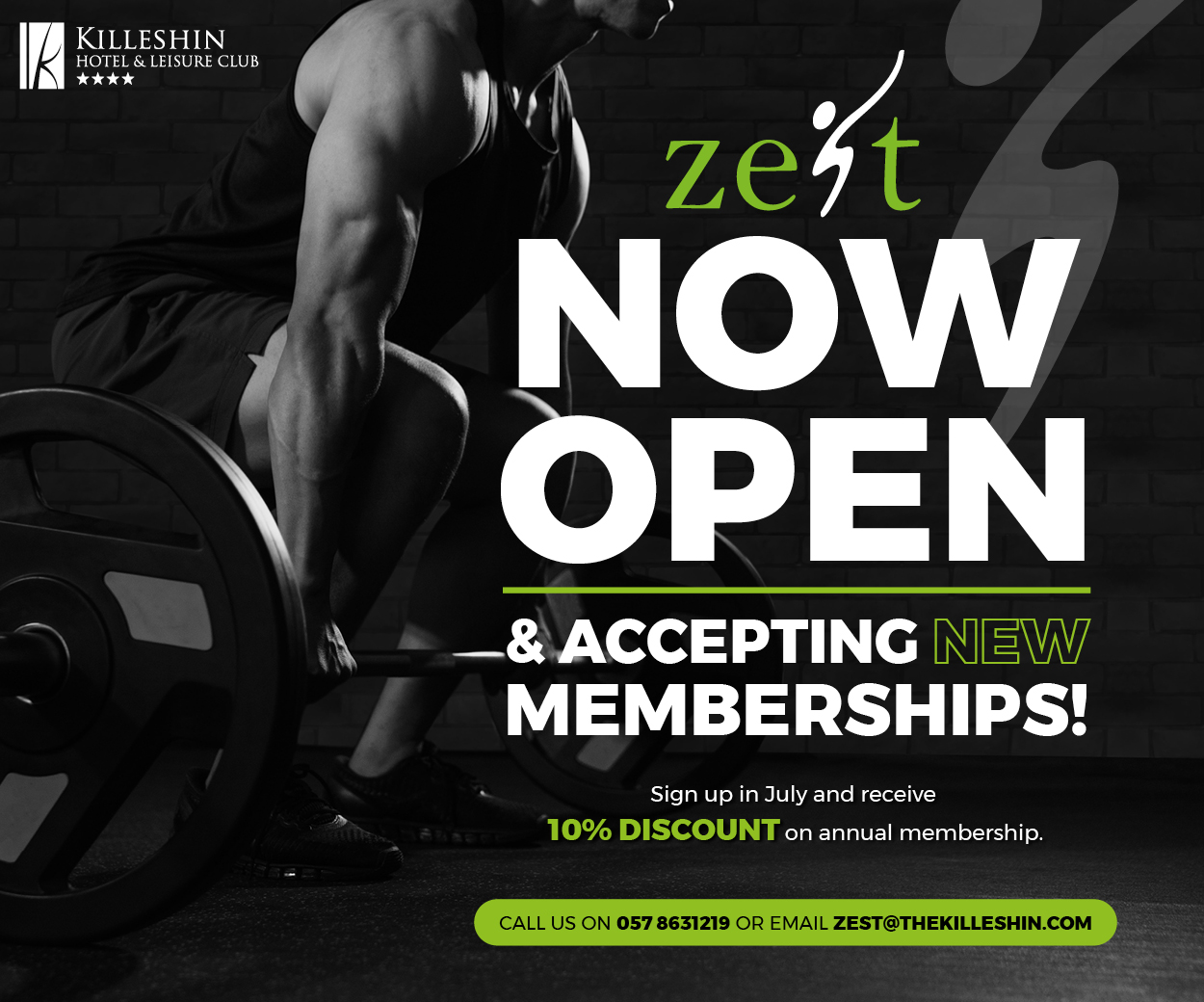 With the SHC having changed format slightly to allow just two teams through from the four-team groups, an opening round win would give some breathing space.
As in previous seasons, all senior fixtures will be in MW Hire O'Moore Park with hurling and football alternating, for the most part, on successive weekends.
The first game of the Laois SFC will see Ballyroan-Abbey come up against St Joseph's on Thursday, August 6.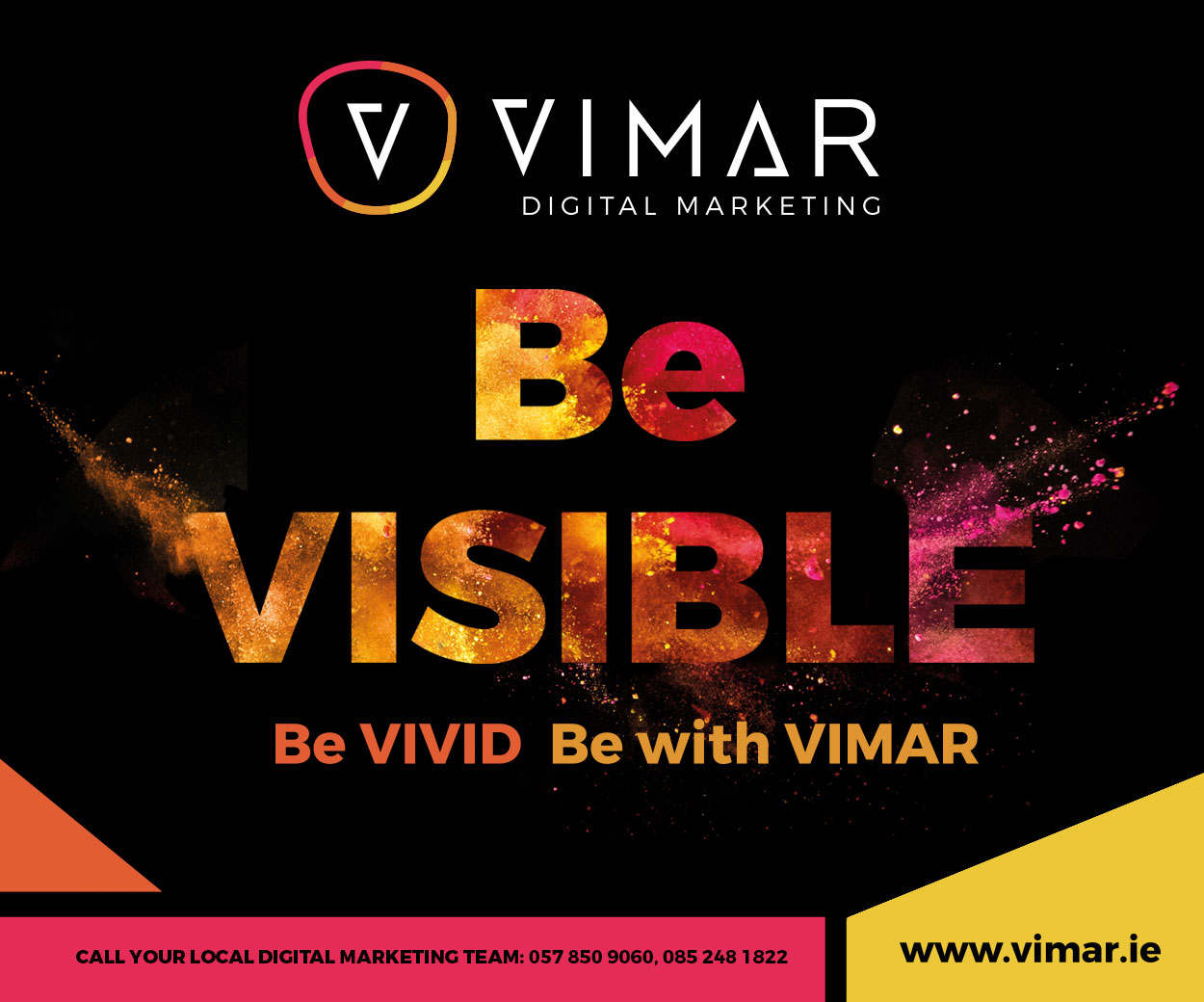 Arles-Killeen will take on Graiguecullen on the Friday night with a double header involving champions Portlaoise and Ballylinan and Courtwood v O'Dempsey's on Saturday night. There will then be two double headers on the Sunday.
Though there is group stages in the JFC 'A' and JFC 'B', as well as in the top four hurling grades, a winner on the day must be found in all other competitions – which will mean extra time and then penalties if the sides are still level.
Only the senior and intermediate finals will go to replays if necessary.
The hurling championships will conclude with a busy weekend of finals in senior, premier intermediate, intermediate and junior on September 26-27.
And there will also be one weekend where football and hurling championship will be played – with Round 3 of senior football on a 'hurling' weekend, on Sunday, August 30. This could lead to some fixture headaches if dual clubs are involved though the football games in that case would be moved to Monday or Tuesday night.
The changes will lead to a more condensed football championship, with Round 3 one week after Round 2 and the quarter-finals a week later again. Previously there would have been a two-week break followed by a three-week gap because of Electric Picnic.
But Laois GAA are conscious of finding a balance between using all the available time for club games and giving the senior county management as much preparation time as possible for their resumed inter-county games.
The senior and intermediate football county finals are down for Saturday, October 3, with the junior football final the last club game of the year on Saturday, October 10.
There will be no Leinster club competitions this year while the Laois footballers will resume their Allianz Football League Division 2 campaign away to Westmeath on October 17-18 and away to Fermanagh a week later on October 24-25.
They will then have a two-week break before meeting the winners of Longford and Louth in the Leinster SFC quarter-final.
SATURDAY, JULY 18
Laois GAA Kelly Cup Semi Final
Ballylinan v Killeshin in Ballylinan at 7.30pm
SATURDAY, JULY 25
Laois GAA Kelly Cup Final
Graiguecullen v winner Ballylinan V Killeshin – Venue TBC
THURSDAY, JULY 30
Laois Shopping Centre SHC Group B Round 1
Borris-Kilcotton v Camross in MW Hire O'Moore Park at 7.30pm
Laois Shopping Centre Premier IHC Group A Round 1
Portlaoise V Ballyfin in Mountrath at 7.30pm
Laois Shopping Centre IHC Group B Round 1
Ballypickas v Trumera in Ballypickas at 7.30pm
FRIDAY, JULY 31
Laois Shopping Centre SHC Group A Round 1
Rathdowney Errill v Clough-Ballacolla in MW Hire O'Moore Park at 7.30pm
Laois Shopping Centre Premier IHC Group B Round 1
Camross v The Harps in Colt at 7.30pm
Laois Shopping Centre IHC Group A Round 1
Park Ratheniska-Timahoe v Mountmellick in Ratheniska at 7.30pm
SATURDAY, AUGUST 1
Laois Shopping Centre SHC Group B Round 1
Rosenallis v Ballinakill in MW Hire in O'Moore Park at 5.45pm
Laois Shopping Centre SHC Group A Round 1
Abbeyleix v Castletown in O'Moore Park at 7.30pm
Laois Shopping Centre IHC Group A Round 1
Borris In Ossory/Kilcotton v Clough-Ballacolla in Kilcotton at 7pm
Laois Shopping Centre IHC Group B Round 1
Rathdowney-Errill v Clonad in Errill at 7pm
Laois Shopping Centre JHC 'B' Group A Round 1
The Harps V Park Ratheniska-Timahoe in The Harps at 7pm
Laois Shopping Centre JHC 'B' Group B Round 1
Portlaoise V Mountmellick in Rathleague at 7pm
Laois Shopping Centre JHC 'C' Preliminary Round
Ballyfin v Colt-Shanahoe in Ballyfin at 7pm
SUNDAY, AUGUST 2
Laois Shopping Centre Premier IHC Group B Round 1
Clonaslee v Mountrath in MW Hire O'Moore Park at 1.30pm
Premier IHC Group A Round 1
Colt-Shanahoe v Slieve Bloom at 3.15pm
Laois Shopping Centre JHC Group A Round 1
Rathdowney Errill v Abbeyleix St Lazarians in Errill at 6pm
Laois Shopping Centre JHC 'B' Group A Round 1
Kyle V Camross in Kyle at 12noon
Laois Shopping Centre JHC 'C' Preliminary Round
Castletown v Camross in Castletown at 6pm
Trumera v Clough-Ballacolla in Trumera at 6pm
MONDAY, AUGUST 3
Laois Shopping Centre JHC 'A' Group A Round 1
Colt-Shanahoe v The Harps in Shanahoe at 2pm
Laois Shopping Centre JHC 'A' Group B Round 1
Castletown v Borris In Ossory/Kilcotton in Castletown at 2pm
Portlaoise v St Fintan's Mountrath in Rathleague at 2pm
Laois Shopping Centre JHC 'B' Group B Round 1
Ballinakill v Rathdowney Errill in Ballinakill at 2pm
Laois Shopping Centre JHC 'C' Preliminary Round
Clonaslee v Abbeyleix in Clonaslee at 2pm
WEDNESDAY, AUGUST 5
First named teams have home advantage; all games at 7.30pm unless stated otherwise
Laois Shopping Centre JFC 'B' Group A Round 1
Graiguecullen v Arles/Kilcruise
Mountmellick v Rosenallis
Laois Shopping Centre JFC 'B' Group B Round 1
The Rock v Timahoe
Stradbally v Emo
Laois Shopping Centre JFC 'B' Group C Round 1
Spink v Slieve Bloom
Laois Shopping Centre JFC 'C' Preliminary Round
Annanough v Shanahoe
THURSDAY, AUGUST 6
Laois Shopping Centre SFC Round 1
Ballyroan-Abbey v St Joseph's in MW Hire O'Moore Park at 7.30pm
Laois Shopping Centre IFC Round 1
Annanough v The Rock at 7.30pm – Venue TBC
Laois Shopping Centre JFC 'A' Group A Round 1
Ballyroan Abbey v Portlaoise at 7.30pm
Killeshin v Ballylinan at 7.30pm
Laois Shopping Centre JFC 'A' Group B Round 1
Errill v Barrowhouse at 7.30pm
FRIDAY, AUGUST 7
All games at 7.30pm unless stated otherwise
Laois Shopping Centre SFC Round 1
Arles-Killeen v Graiguecullen in MW Hire O'Moore Park at 7.30pm
Laois Shopping Centre IFC Round 1
Clonaslee v Mountmellick at 7.30pm – Venue TBC
Crettyard v Timahoe at 7.30pm – Venue TBC
Laois Shopping Centre JFC 'A' Group B Round 1
Camross v St Joseph's in Camross at 7.30pm
Laois Shopping Centre JFC 'A' Group D Round 1
Park-Ratheniska v Castletown in Ratheniska at 7.30pm
SATURDAY, AUGUST 8
Laois Shopping Centre SFC Round 1
Ballylinan v Portlaoise in MW Hire O'Moore Park at 5.45pm
Courtwood v O'Dempseys in MW Hire O'Moore Park at 7.30pm
SUNDAY, AUGUST 9
Laois Shopping Centre IFC Round 1
O'Dempseys v Portlaoise at 12noon in Venue TBC
Laois Shopping Centre SFC Round 1
Emo v Killeshin in MW Hire O'Moore Park at 12.45pm
Portarlington v Stradbally in MW Hire O'Moore Park at 2.30pm
Laois Shopping Centre SFC Round 1
Ballyfin v Rosenallis in MW Hire O'Moore Park at 5.45pm
Arles-Kilcruise v The Heath in MW Hire O'Moore Park at 7.30pm
MONDAY, AUGUST 10
Laois Shopping Centre JFC Group C Round 1
Portarlington v Kilcavan in McCann Park at 7.30pm
TUESDAY, AUGUST 11
First-named team has home advantage; all games at 7.15pm unless stated otherwise
Laois Shopping Centre JHC 'B' Group A Round 2
Park Ratheniska-Timahoe V  Kyle
Camross v The Harps
Laois Shopping Centre JHC 'B' Group B Round 2
Rathdowney-Errill v Portlaoise
Mountmellick v Ballinakill
Laois Shopping Centre JHC 'C' Quarter-finals
Castletown or Camross  v Borris-Kilcotton
Ballyfin or Colt-Shanahoe v Rosenallis
Trumera or Clough-Ballacolla v Clonad
Clonaslee or Abbeyleix v Ballypickas
THURSDAY, AUGUST 13
First-named team has home advantage; all games at 7.15pm unless stated otherwise
Laois Shopping Centre JHC 'A' Group A Round 2
The Harps v Rathdowney Errill
Abbeyleix  v Colt-Shanahoe
Laois Shopping Centre JHC Group B Round 2
Mountrath v Castletown
Borris-Kilcotton v Portlaoise
FRIDAY, AUGUST 14
Laois Shopping Centre SHC Group A Round 2
Clough-Ballacolla v Abbeyleix in MW Hire O'Moore Park at 7.30pm
Laois Shopping Centre Premier IHC Group B Round 2
The Harps v Clonaslee St Manmans at 7.15pm in Venue TBC
Laois Shopping Centre IHC Group A Round 2
Mountmellick v Borris-Kilcotton at 7.15pm in Mountmellick
Laois Shopping Centre IHC Group B Round 2
Trumera v Rathdowney Errill at 7.15pm in Trumera
SATURDAY, AUGUST 15
Laois Shopping Centre SHC Group B Round 2
Ballinakill v Borris-Kilcotton in MW Hire O'Moore Park at 5.45pm
Camross v Rosenallis in MW Hire O'Moore Park at 7.30pm
Laois Shopping Centre Premier IHC Group A Round 2
Colt-Shanahoe v Portlaoise at 7.15pm in Venue TBC
Laois Shopping Centre IHC Group A Round 2
Clough-Ballacolla v Park Ratheniska-Timahoe in Clough-Ballacolla at 7.15pm
SUNDAY, AUGUST 16
Laois Shopping Centre SHC Group A Round 2
Castletown v Rathdowney Errill in MW Hire O'Moore Park at 3.45pm
Laois Shopping Centre Premier IHC Group A Round 2
Ballyfin v Slieve Bloom at 2pm – Venue TBC
Laois Shopping Centre Premier IHC Group B Round 2
Mountrath v Camross at 6.30pm – Venue TBC
Laois Shopping Centre IHC Group B Round 2
Clonad v Ballypickas
TUESDAY, AUGUST 18
First-named team has home advantage; all games at 7.15pm unless stated otherwise
Laois Shopping Centre JFC 'C' Round 1
Annanough or Shanahoe v Rathdowney
Mountrath v Borris-in-Ossory
The Heath v Colt
Killeshin v Ballyroan Abbey
Park-Ratheniska v St Joseph's
Kilcotton v Ballyfin
O'Dempsey's v Kilcavan
Courtwood v Clonaslee
WEDNESDAY, AUGUST 19
First-named team has home advantage; all games at 7.15pm unless stated otherwise
Laois Shopping Centre JFC 'A' Group A Round 2
Ballylinan v  Ballyroan Abbey
Portlaoise v Killeshin
Laois Shopping Centre JFC 'B' Group A Round 2
Rosenallis v Graiguecullen
Arles-Kilcruise v Mountmellick
Laois Shopping Centre JFC 'B' Group B Round 2
Emo v The Rock
Timahoe v Stradbally
Laois Shopping Centre JFC 'C' Group B Round 2
Slieve Bloom v Arles-Killeen
THURSDAY, AUGUST 20
First-named team has home advantage; all games at 7.15pm unless stated otherwise
Laois Shopping Centre SFC Round 2
Will be drawn after Round 1

Laois Shopping Centre JFC 'A' Group B Round 2
St Joseph's v Errill
Barrowhouse v Camross
Laois Shopping Centre JFC 'A' Group C Round 2
Kilcavan v The Heath
Laois Shopping Centre JFC 'A' Group D Round 2
Castletown v The Harps
FRIDAY, SATURDAY AND SUNDAY, AUGUST 21-22-23
Laois Shopping Centre SFC and Round 2
Will be drawn after Round 1
TUESDAY, AUGUST 25
First-named team has home advantage; all games at 7pm unless stated otherwise
Laois Shopping Centre JHC 'B' Group A Round 3
Park Ratheniska-Timahoe v Camross
Kyle v The Harps
Laois Shopping Centre JHC 'B' Group B Round 3
Mountmellick v Rathdowney-Errill
Ballinakilll v Portlaoise
Laois Shopping Centre JHC 'C' Semi-finals
THURSDAY, AUGUST 27
First-named team has home advantage; all games at 7pm unless stated otherwise
Laois Shopping Centre SHC Group A Round 3
Abbeyleix v Rathdowney Errill in MW Hire O'Moore Park at 7.30pm
Laois Shopping Centre JHC 'A' Group B Round 3
Borris-Kilcotton v St Fintan's Mountrath
Portlaoise v Castletown
FRIDAY, AUGUST 28
Laois Shopping Centre SHC Group B Round 3
Rosenallis v Borris-Kilcotton in MW Hire O'Moore Park at 7.30pm
Laois Shopping Centre Premier IHC Group A Round 3
Colt-Shanahoe V Ballyfin at 7pm – Venue TBC
Laois Shopping Centre IHC Group B Round 3
Trumera v Clonad at 7pm – Venue TBC
SATURDAY, AUGUST 29
Laois Shopping Centre SHC Group B Round 3
Camross V Ballinakill in MW Hire O'Moore Park at 5.45pm
Laois Shopping Centre SHC Group A Round 3
Clough-Ballacolla v Castletown in MW Hire O'Moore Park at 7.30pm
Laois Shopping Centre Premier IHC Group A Round 3
Slieve Bloom v Portlaoise at 7pm – Venue TBC
Laois Shopping Centre Premier IHC Group B Round 3
Mountrath v The Harps at 7pm – Venue TBC
Laois Shopping Centre IHC Group B Round 3
Rathdowney Errill v Ballypickas at 7pm – Venue TBC
SUNDAY, AUGUST 30
First-named teams have home advantage; all games at 12.30pm unless stated otherwise
Laois Shopping Centre SFC Round 3
(Pending participation of Dual Clubs or Players, whereby games may be played on Mon or Tues)
Laois Shopping Centre Premier IHC Group B Round 3
Camross v Clonaslee – Venue TBC
Laois Shopping Centre IHC Group A Round 3
Mountmellick v Clough-Ballacolla – Venue TBC
Borris-Kilcotton v Park Ratheniska-Timahoe – Venue TBC
Laois Shopping Centre JHC Group A Round 3
Abbeyleix v The Harps
Colt-Shanahoe v Rathdowney Errill
TUESDAY, SEPTEMBER 1
First-named teams have home advantage; all games at 7pm unless stated otherwise
Laois Shopping Centre JFC 'C' Quarter-finals
Laois Shopping Centre JFC 'B' Group A Round 3
Arles Kilcruise v Rosenallis
Mountmellick v Graiguecullen
Laois Shopping Centre JFC 'B' Group B Round 3
Timahoe v Emo
Stradbally v The Rock
Laois Shopping Centre JFC 'B' Group C Round 3
Arles-Killeen v Spink
FRIDAY, SEPTEMBER 4
First-named teams have home advantage; all games at 7pm unless stated otherwise
Laois Shopping Centre JFC 'A' Group A Round 3
Ballyroan Abbey v Killeshin
Ballylinan v Portlaoise
Laois Shopping Centre JFC 'A' Group B Round 3
Barrowhouse v St Joseph's
Camross v Errill
Laois Shopping Centre IFC Quarter-finals
Laois Shopping Centre IFC Relegation
Laois Shopping Centre SFC Relegation Semi-finals
SATURDAY, SEPTEMBER 5
First-named teams have home advantage; all games at 7pm unless stated otherwise
Laois Shopping Centre JFC 'A' Group C Round 3
The Heath v Portarlington
Laois Shopping Centre JFC 'A' Group D Round 3
The Harps v Park-Ratheniska
SUNDAY, SEPTEMBER 6
Laois Shopping Centre SFC Quarter-finals
TUESDAY, SEPTEMBER 8
Laois Shopping Centre JHC 'B' Semi-finals
Laois Shopping Centre JFC 'B' Playoff
WEDNESDAY, SEPTEMBER 9
Laois Shopping Centre JHC 'C' Final
FRIDAY, SATURDAY AND SUNDAY, SEPTEMBER 10-11-12
Laois Shopping Centre JHC 'A' Semi-finals
Laois Shopping Centre IHC Semi-finals
Laois Shopping Centre Premier IHC Semi-finals
Laois Shopping Centre SHC Semi-finals
Laois Shopping Centre JHC 'A' Relegation Final
Laois Shopping Centre IHC Relegation Final
Laois Shopping Centre Premier IHC Relegation Final
Laois Shopping Centre SHC Relegation Final
SUNDAY, SEPTEMBER 13
Laois Shopping Centre JFC 'B' Playoff
WEDNESDAY, SEPTEMBER 16
Laois Shopping Centre JFC 'C' Semi-finals
Laois Shopping Centre JFC 'B' Semi-finals
FRIDAY, SATURDAY AND SUNDAY, SEPTEMBER 17-18-19
Laois Shopping Centre JFC 'A' Quarter-Finals
Laois Shopping Centre IFC Semi-finals
Laois Shopping Centre SFC Semi-finals 
Laois Shopping Centre SFC Relegation Final
THURSDAY, SEPTEMBER 24
Laois Shopping Centre JHC 'B' Final
SATURDAY, SEPTEMBER 26
Laois Shopping Centre JHC Final
Laois Shopping Centre IHC Final
SUNDAY, SEPTEMBER 27
Laois Shopping Centre Premier IHC Final
Laois Shopping Centre SHC Final
THURSDAY-FRIDAY, OCTOBER 1-2
Laois Shopping Centre JFC 'C' Final 
Laois Shopping Centre JFC 'B' Final 
SATURDAY, OCTOBER 3
Laois Shopping Centre JFC 'A' Semi-finals 
SATURDAY, OCTOBER 4
Laois Shopping Centre IFC Final
Laois Shopping Centre SFC Final
SATURDAY, OCTOBER 10
Laois Shopping Centre JFC 'A' Final
SEE ALSO – Laois man linked to vacant Carlow football manager's position