Castletown 1-12 Portlaoise 0-11
1995 Laois SHC Final
There are some county final wins that are more significant than others.
For Laois hurling, 1995 represented the start of a new era. Having been dominated by Portlaoise and Camross for the previous 20 years (with only Clonad breaking their duoply in 1992), Castletown's breakthrough win in 1995 saw the balance of power shifting.
Though Camross and Portlaoise would win titles again in 1996 and 1998 respectively, 1995 was the start of Castletown's dominance, one that would see them win eight titles in an incredible 11-year spell.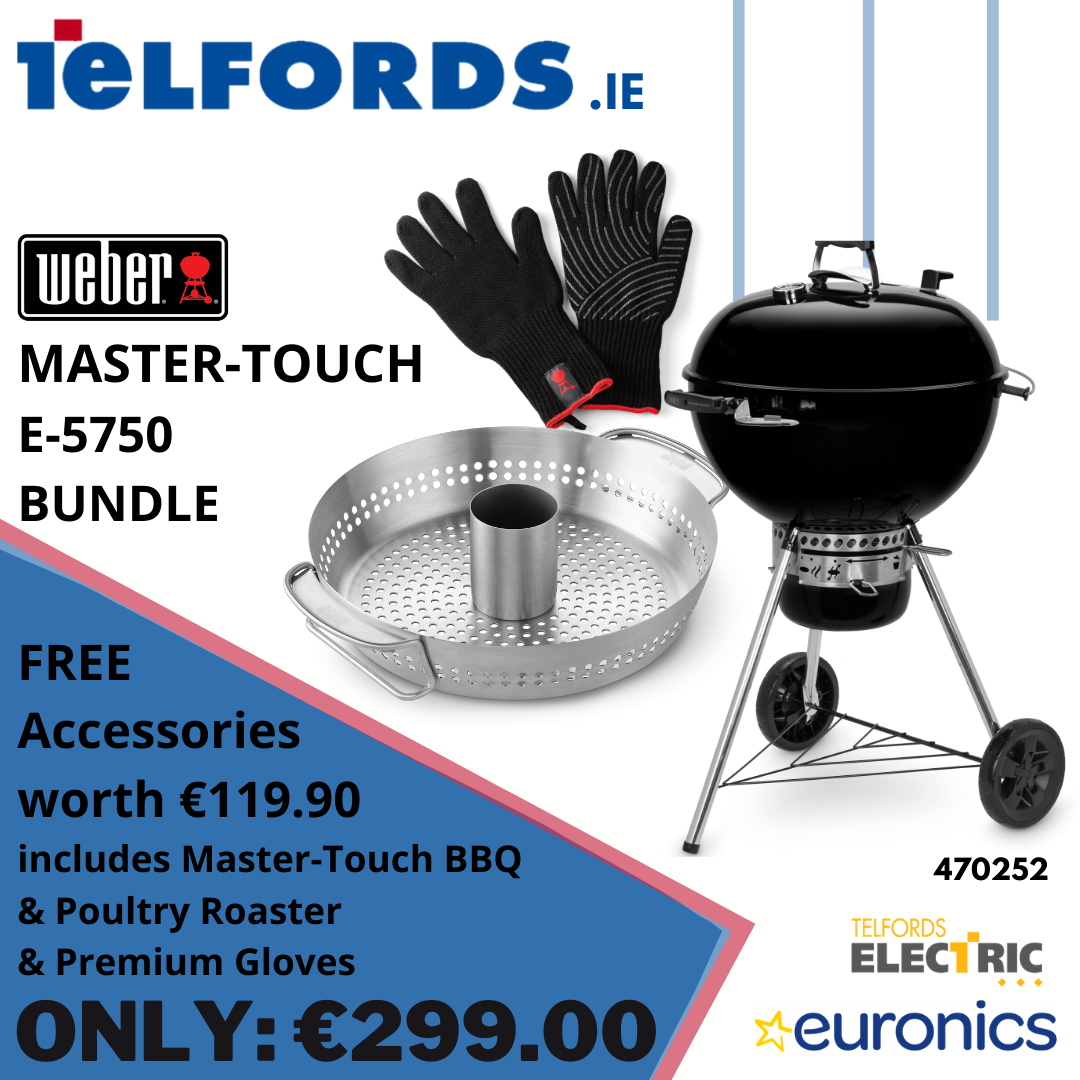 They only won the intermediate in 1993 and though beaten in the 1994 semi-final by Camross, they regrouped and came back better in 1995.
Early round group wins over Kilcotton and then Borris-in-Ossory set them up well and a draw in a thrilling final group game against Errill was enough to knock Errill out and put Castletown through to a semi-final.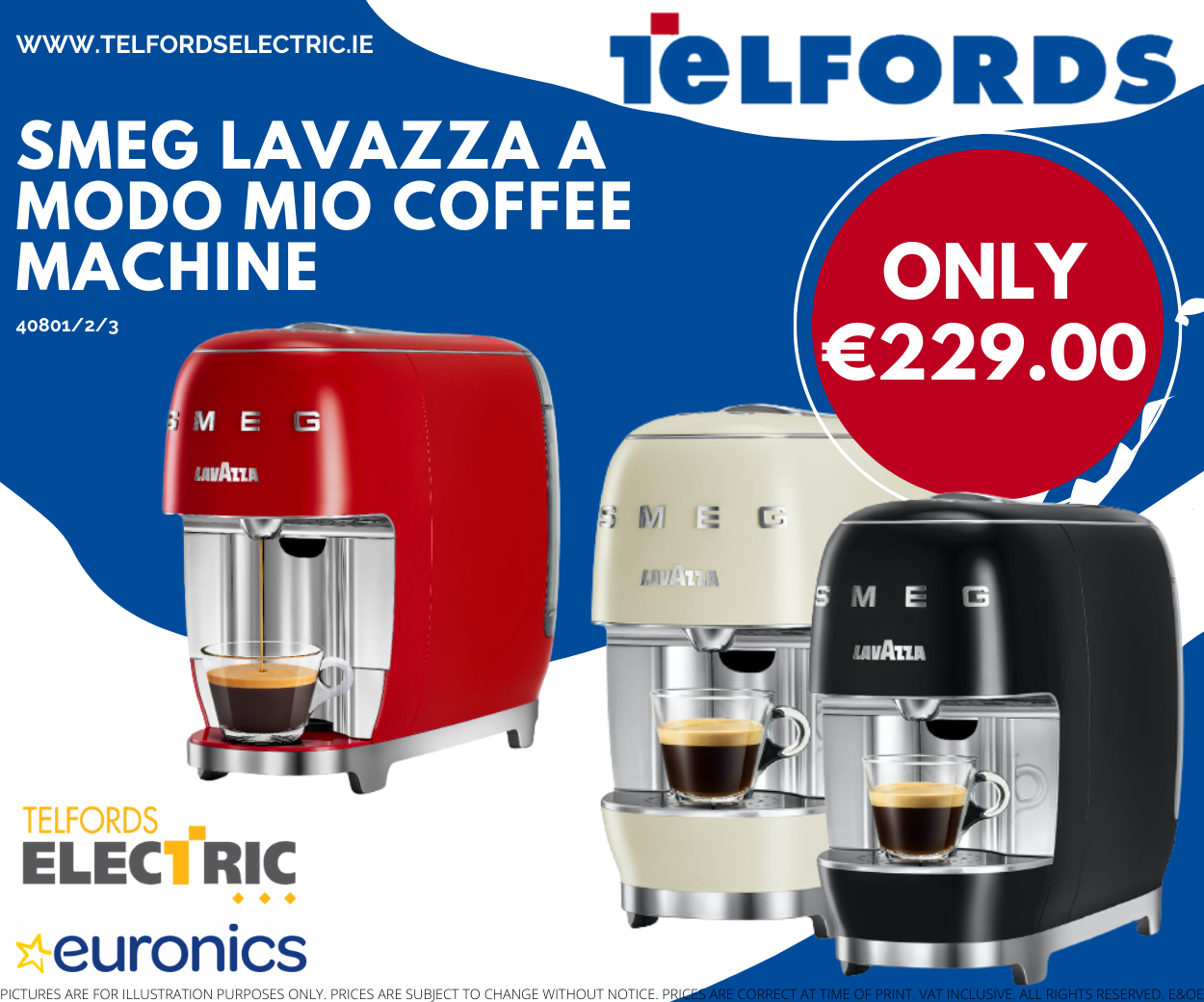 Waiting there again for them was Camross – but after years of defeats to their near neighbours, Castletown's time had come. They won that semi-final by 11 points.
"It was a long time since Camross had suffered such a humiliation," reported the Laois Nationalist at the time.
Portlaoise, for their part, reached the final with little or no fuss, and booked their final place thanks to a comfortable win over The Harps in the semi-final.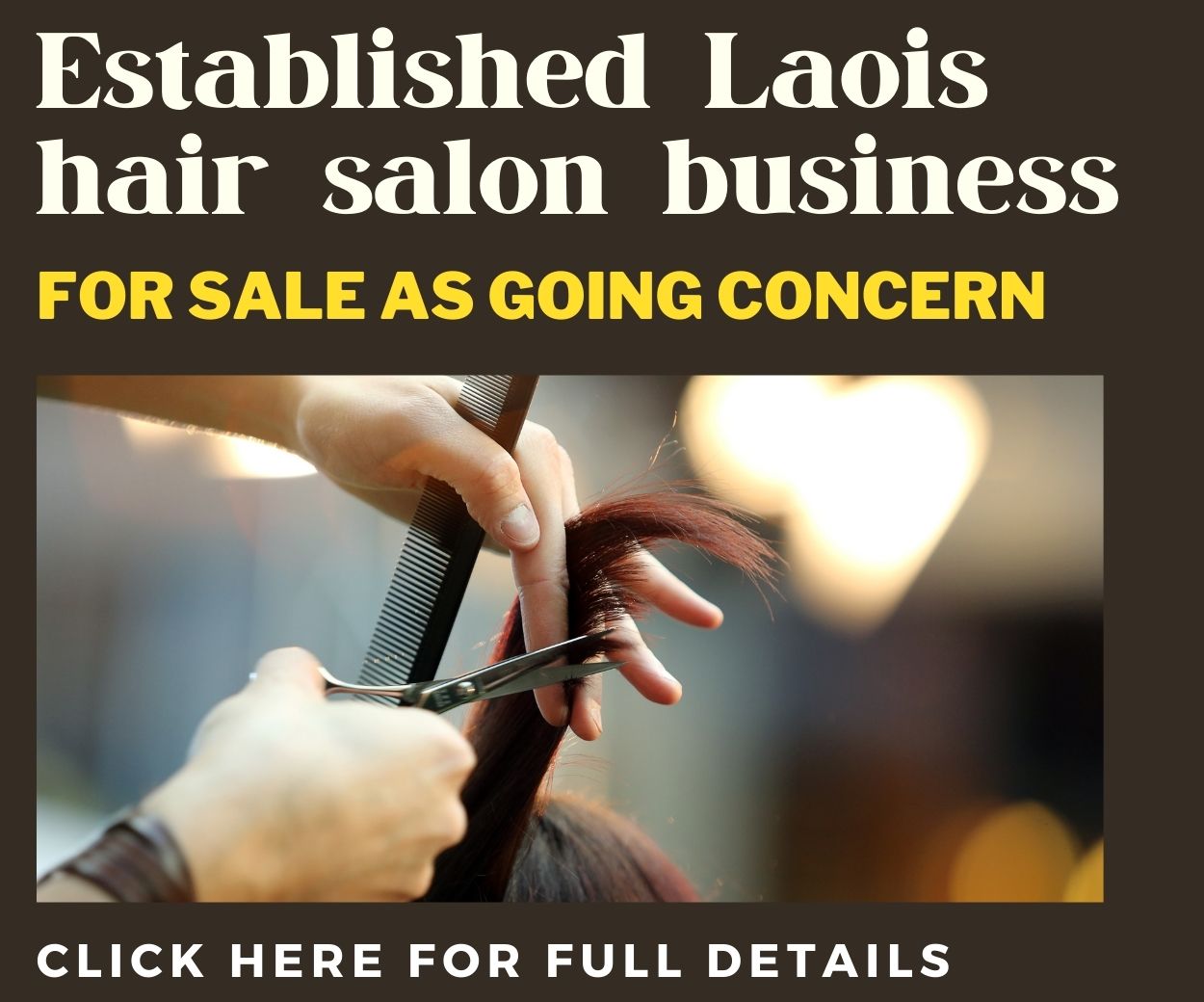 Having lost finals to Clonad in 1992 and Camross in 1993, Portlaoise were seeking to win their first title since 1991 as the memory of their four-in-a-row team of 1981 to 1984 was beginning to fade.
They were still favourites for the final, according to the The Nationalist in a comprehensive preview that also included an interview with the O'Sullivan family who were in the unusual position of having two brothers playing with Castletown and one with Portlaoise.
John O'Sullivan, who was both captain and trainer, and his brother Fionan were playing for their native Castletown; another brother Michael was with Portlaoise, having moved to live there a couple of years earlier. Having played with Laois and Castletown throughout his career he had been on the Castletown team that won the junior title as recently as 1992.

"I would have loved to have had the three of them playing together," Sean O'Sullivan, who had taught many of the players during his time in the Pike of Rushall, told the Nationalist. 
"Hurling was always a part of our family. Even though I'm a Kerryman, since I came to teach in The Pike in 1956, I've always been into the hurling.
"I suppose I would have to tilt towards Castletown. I mean we live here and with John training the team it's natural. He has done a fantastic job with them and it would break his heart to lose.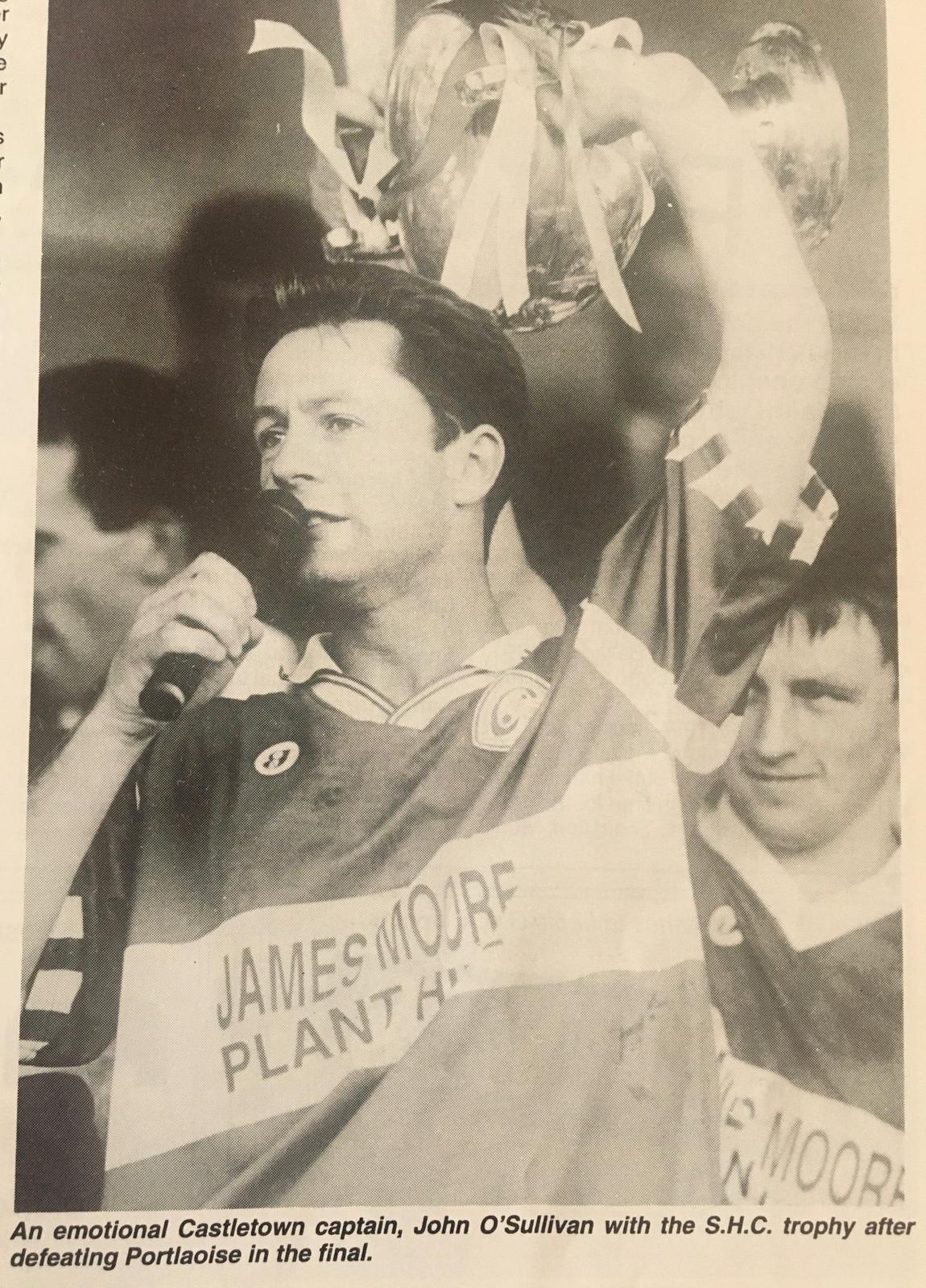 "That said I would live to see Michael win a county medal. Because he was living in Portlaoise and palling around with the lads it was only natural that he should play with them as well. He deserves a medal. He has given long service to the county.
"But in the long run I don't mind as long as it is a good game … the main thing is we'll all be together after the game and sure no matter who wins we can all celebrate."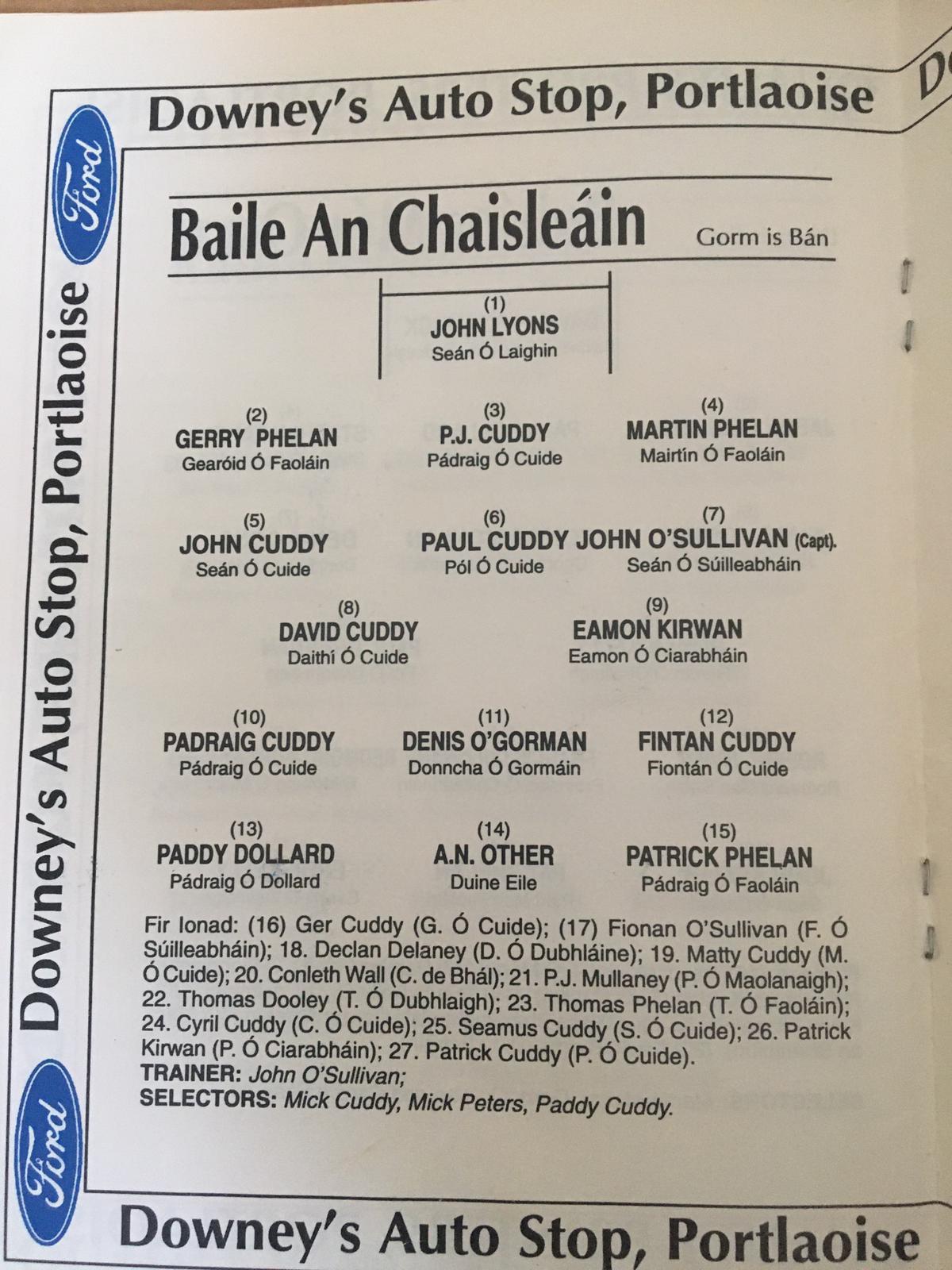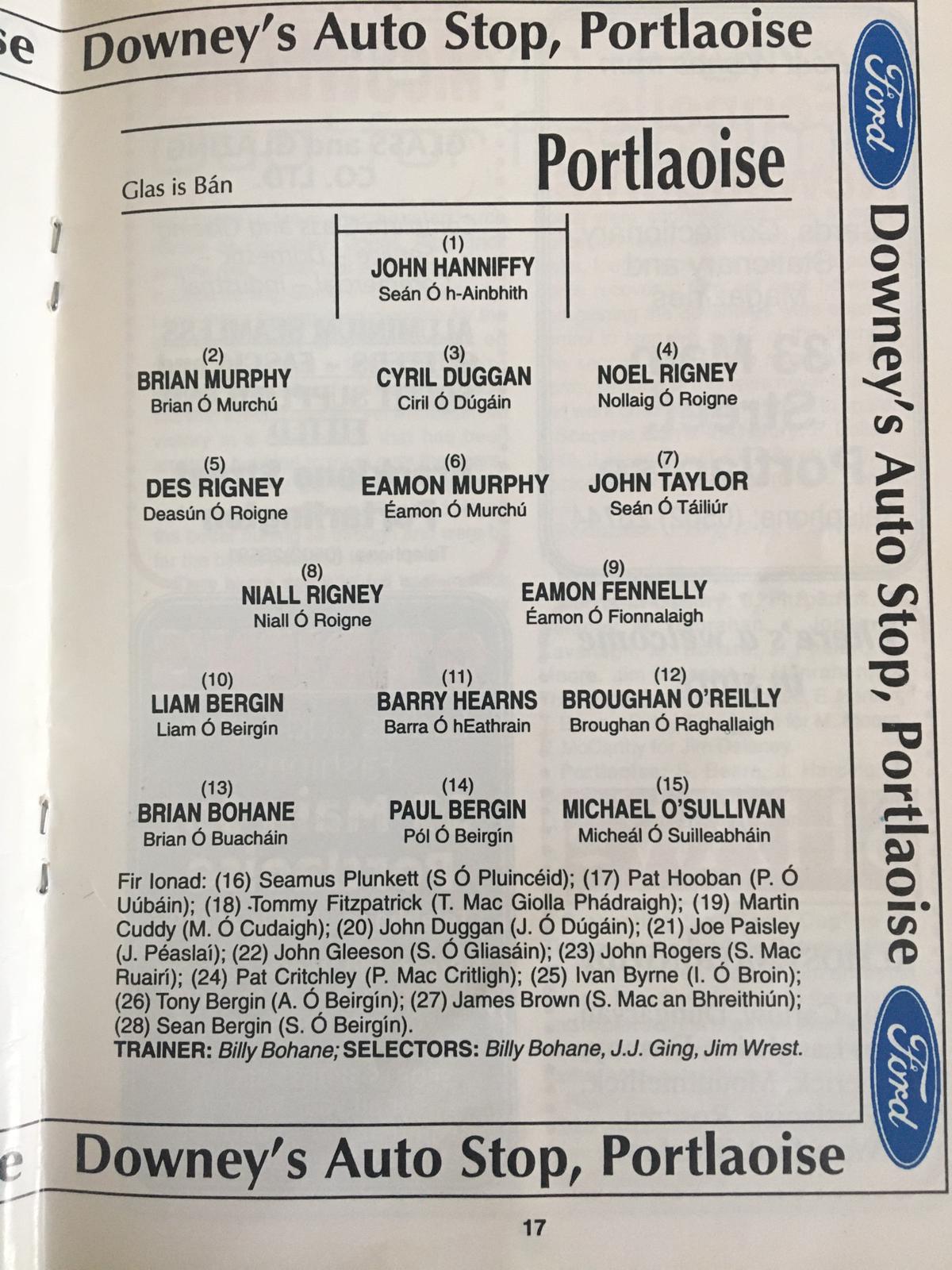 "This is one match I'm not looking forward to," said the lads mother Betty. "I won't be at it, probably!"
"The house is in total chaos. I say nothing, try to stay neutral and let them on with it. It's very hard on us with the three lads and them playing on opposite sides.
"I always say I won't go to the games but then I always end up going. Like with the semi-finals I said I would go and did and the first thing I see is Michael with blood streaming down his face!"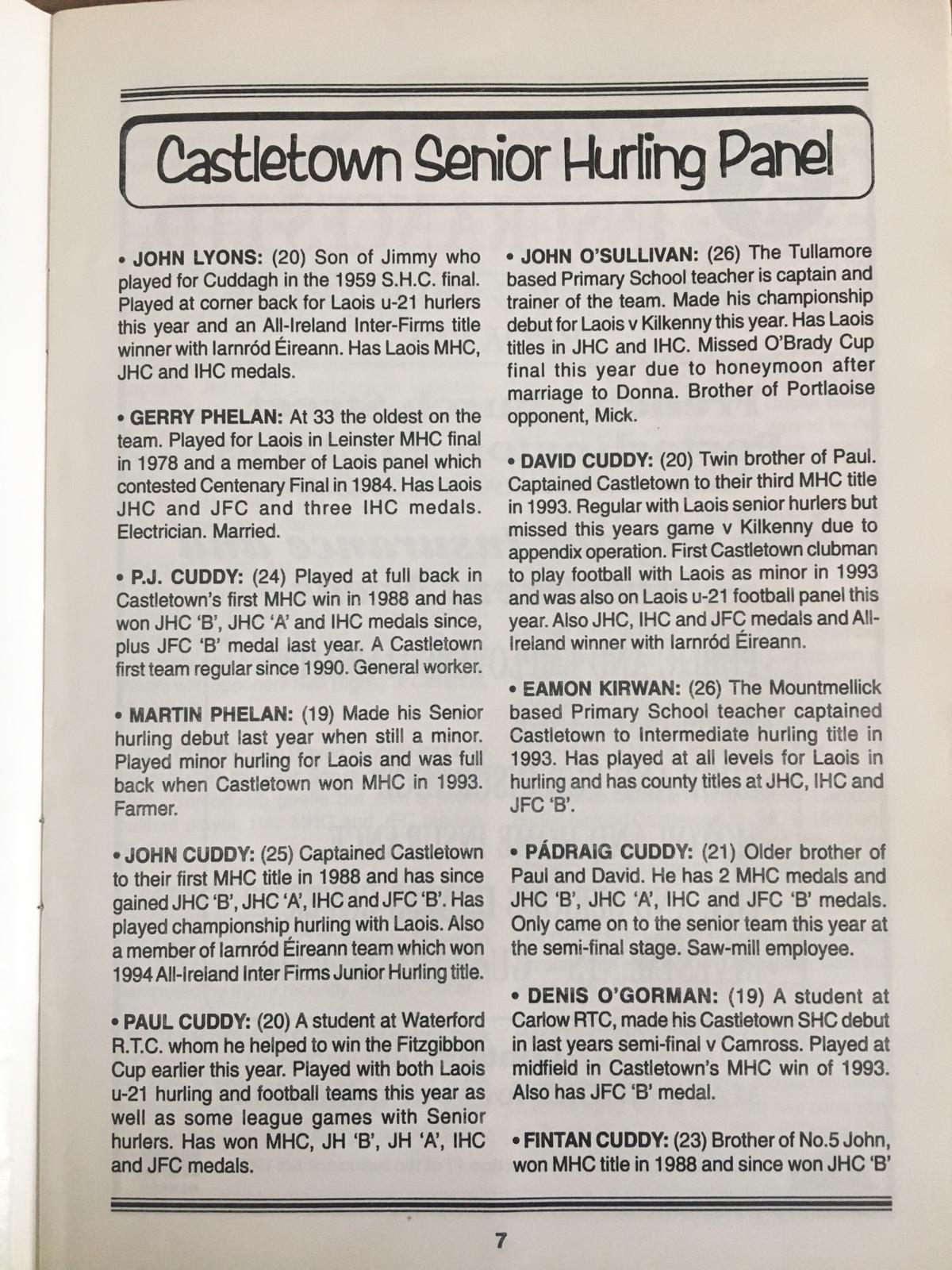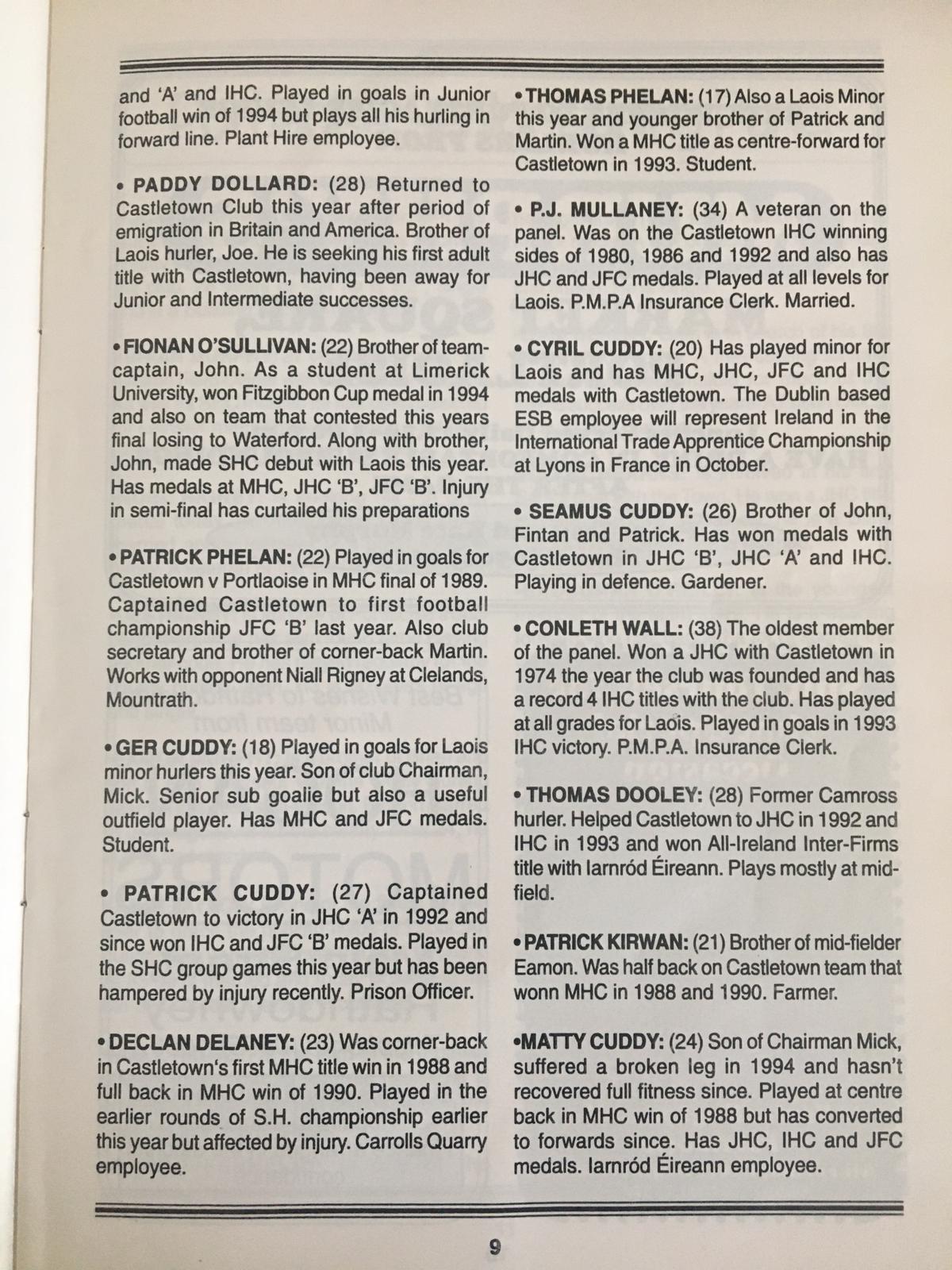 For the final, however, most of the concerns surrounded Fionan, who was reported to have torn ligaments in the semi-final.
"He's in Dublin hobbling around on crutches," Betty told the Nationalist. "It would be a disaster if he couldn't play, it would break his heart."
Fionan duly did play and scored a point in the 1-12 to 0-11 win. A goal from Paddy Dollard in the 24th minute after John Hanniffy had saved his initial effort helped Castletown to a 1-5 to 0-6 lead at the break.

Portlaoise drew level early in the second half and there was a sense that their greater experience might come to the fore.
"Instead of succumbing to the pressure, Castletown found new reserves of character," went The Nationalist report. "And struck back with five unanswered points."
Portlaoise threw everything at Castletown late on including switching veteran defenders John Taylor and Cyril Duggan to attack but it was Castletown's day.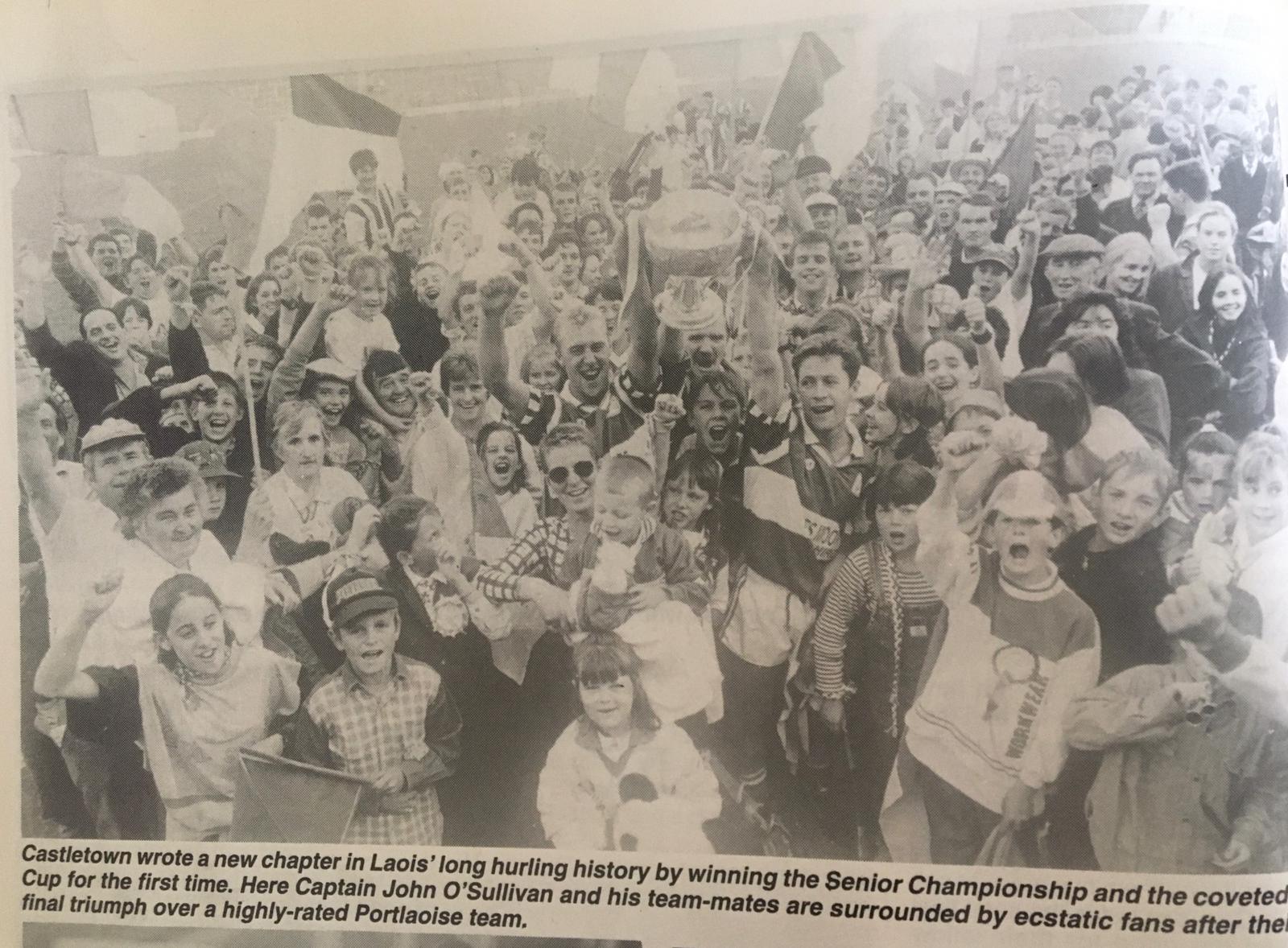 "It is hard to describe the ecstacy of the Castletown supporters at the final whistle, suffice to say the wild celebrations the conclusion of this absorbing battle."
"People put a lot of pressure on us over the past few years," said John O'Sullivan after the game, who added that "it was a dream come true".
He also had praise for Portlaoise. "Those lads don't realise that for years they were my heroes, I really looked up to them.
And he had a word for Michael, who found himself in the losing Portlaoise dressing room on his home club's biggest day.
"He has given a lot to Laois hurling and I was delighted to see him pulling on a jersey once again (after injury). It was just disappointing it wasn't a Castletown one. Maybe he will see the error of his ways and come back to us!"
Michael did come back though to Castletown in the following years but living in Portlaoise with his family, he's now involved with The Town.
That day was Castletown's – and they'd have many more to come.
"On the evidence of Sunday's performance, they are set to dominate Laois hurling for a number of years," said The Nationalist. 
How right they were.
SCORERS – Castletown: Pat Phelan 0-5 (three frees), Paddy Dollard 1-1, David Cuddy 0-3 (one sideline cut), Paul Cuddy 0-2 (both frees), Fionan O'Sullivan 0-1. Portlaoise: Niall Rigney 0-5 (two frees, two '65s), Brian Bohane 0-2 (frees), Paul Bergin 0-2, John Taylor 0-1, Liam Bergin 0-1
CASTLETOWN: John Lyons; Gerry Phelan, PJ Cuddy, Martin Phelan; John Cuddy, Paul Cuddy, John O'Sullivan; David Cuddy, Eamon Kirwan; Padraig Cuddy, Denis O'Gorman, Fintan Cuddy; Paddy Dollard, Fionan O'Sullivan, Pat Phelan. Subs: Cyril Cuddy for D O'Gorman, Declan Delaney for G Phelan, Matty Cuddy for Padraig Cuddy
PORTLAOISE: John Hanniffy; Brian Murphy, Cyril Duggan, Noel Rigney; Des Rigney, Eamon Murphy, John Taylor; Niall Rigney, Eamon Fennelly; Liam Bergin, Barry Hearns, Broughan Reilly; Brian Bohane, Paul Bergin, Michael O'Sullivan. Subs: Pat Hooban for Hearns, Ivan Byrne for O'Sullivan, John Gleeson for Hooban
SEE ALSO – Check out more pieces from our County Final Memory series here
SEE ALSO – Sporting Memories: John O'Sullivan on Castletown, Laois and his favourite moments