A Laois school is hoping to build a brand new astroturf pitch plus running track and has relaunched a fundraiser that they began earlier in the year.
Scoil Naomh Eoin, Killenard, managed to raise €10,000 back in February before Coronavirus brought their efforts to a shuddering halt.
However, speaking to LaoisToday, principal Stephen Donovan explained how thanks to one parent in particular – their fundraising effort has been revived.
He said: "The goal of the appeal is to raise €100,000 to build an Astroturf Pitch and Running Track around the perimeter which will provide additional year-round playing space for the pupils of Scoil Naomh Eoin.
"In a few short weeks we raised €10,000 towards the appeal before Covid-19 brought our fundraising to a shuddering halt.
"The call went out to the school community to come up with ideas for a socially-distant, Covid-compliant fundraising events and that call was answered by Mark Milligan.
"Mark is a parent of three children in Scoil Naomh Eoin and he has challenged himself to run 100km in just one day on Saturday December 5.
"A Parents' Committee and the Parents' Council thought of a number of ways the community can get behind Mark in his 'Superhuman' challenge and help raise some much needed funds for this worthy cause.
"The organisers have set up a dedicated website and a Facebook page for the event to enable people to get behind Mark and donate."
Mr Donovan also revealed that staff will complete a 100km relay around Killenard on the same day.
While past pupils are also encouraged to get in touch with the website and sign up to take part.
Aside from the obvious benefits of having an astro surface to play on and a running track, Mr Donovan explained the many other benefits.
He said: "In recent years the school has been awarded both the Active Schools Flag and the Amber Flag in recognition of our efforts to teach our pupils about the benefits of living an active healthy lifestyle and our efforts to create a healthy, inclusive environment that supports mental wellbeing.
"We, as a school, take a holistic approach to pupil wellbeing catering for their physical, mental, emotional and spiritual development.
"It is our belief that the school environment plays a significant role in promoting wellbeing and it is with this in mind that we are seeking to improve our school grounds.
"We are immensely proud of our school but as you can see from the picture below, playing space is very limited during the winter months as our current pitch is unplayable.
"The provision of an Astroturf Pitch and Running Track around the perimeter would provide a playing space for all children all year round."
A range of other mini-fundraisers such as a 'Movie Day', sponsorship cards and a virtual concert.
Stephen said: "This is open to young and old. If you fancy showing off your musical or singing talents, simply email Killenard100K4100K@gmail.com with your name, contact details and title of your performance.
"Event organisers will be in touch and Eimear from Club Ceoil will compile the performances into an online concert which will be broadcast on the event website on the night of the 5th December.
"Concert tickets will go on sale through Eventbrite closer to the date."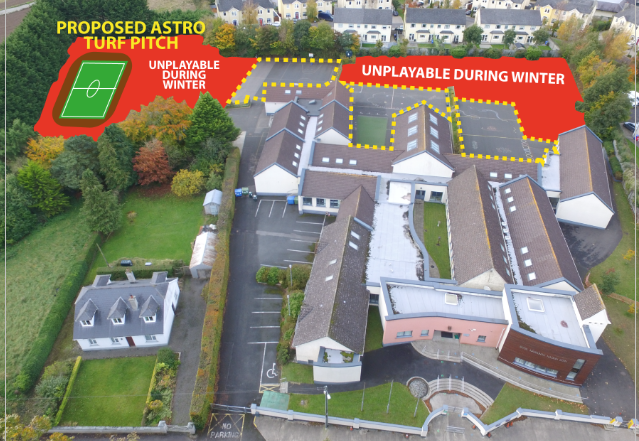 SEE ALSO – In Pictures: Tributes paid as much loved Laois school principal retires