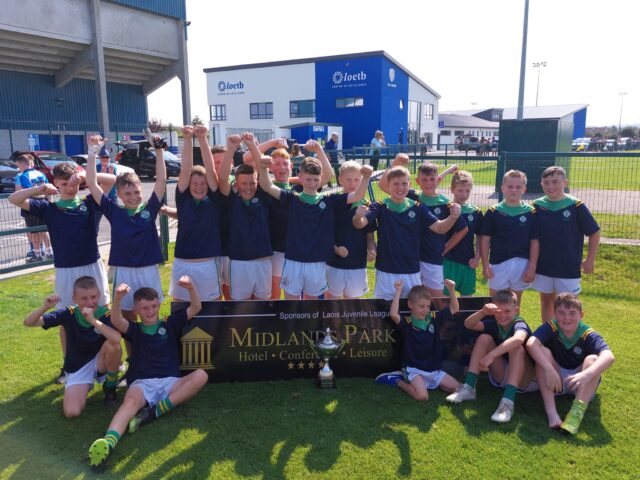 Crettyard 2-6 Kilcavan-The Rock 1-5
U-13 Football 'C' Championship Final
Two goals in the final three minutes from Crettyard saw them clinch an emphatic win over Kilcavan-The Rock.
The game started quite nervy with both defences on top, particularly Shay McEvoy at the heart of the Kilcavan-The Rock defence.
However, in the 12th minute, it was Crettyard who got the first point of the game through Elliot Rice.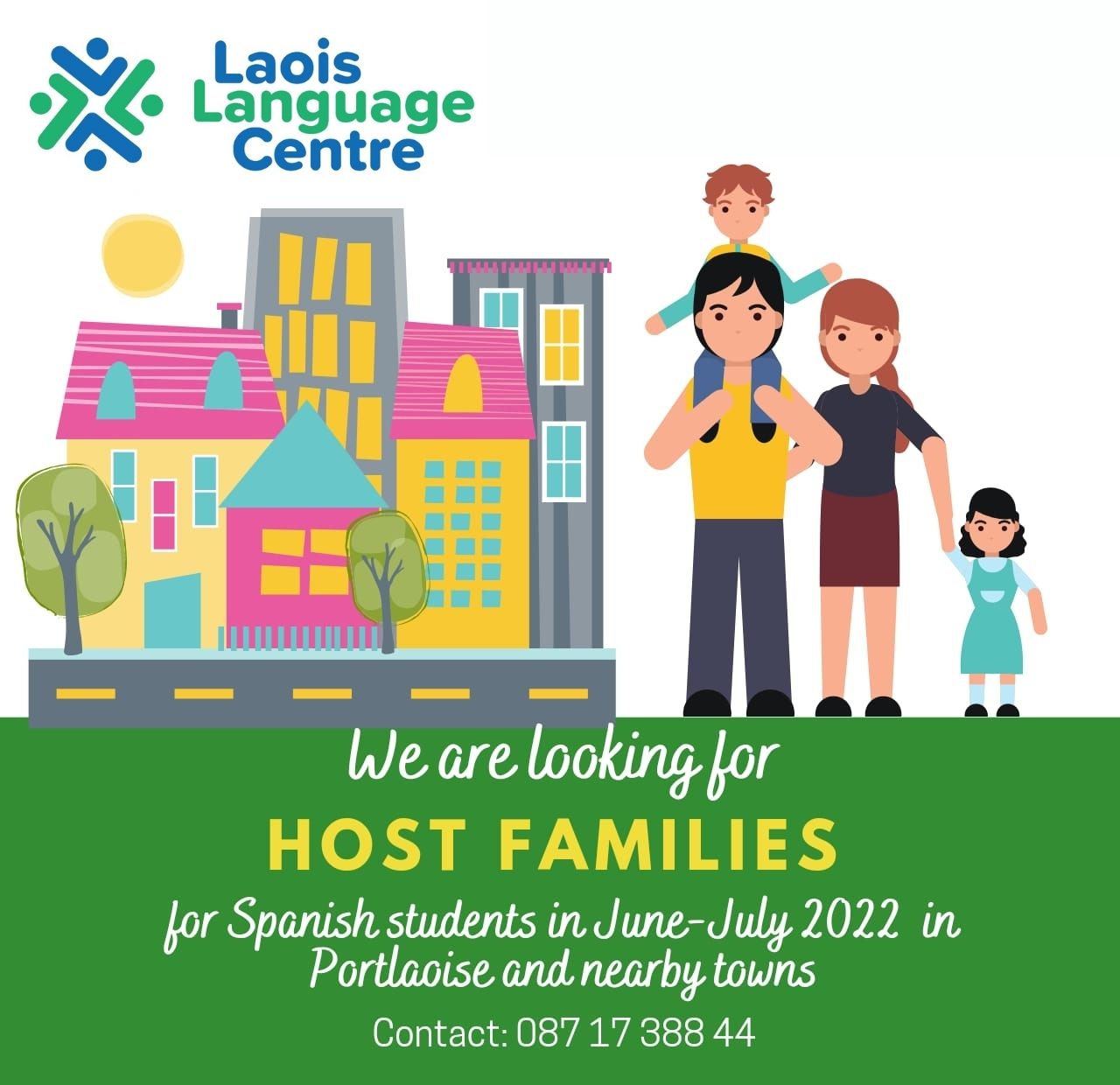 Kilcavan-The Rock replied immediately through danger man Dylan Cronin and this saw Kilcavan-The Rock get a foothold in the game.
They started to win midfield and a great team move was finished by Ian Dunne to give them the lead.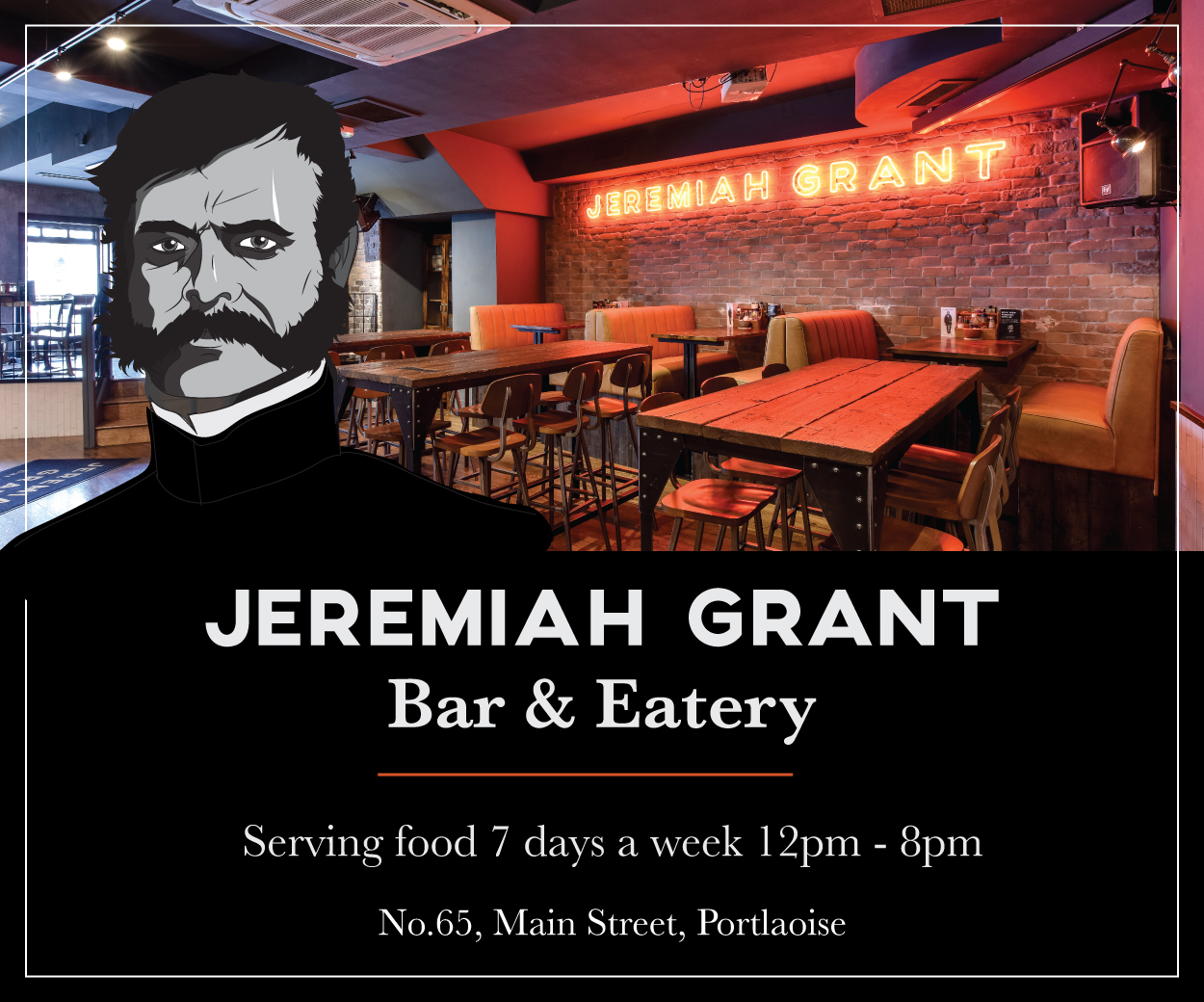 Cronin then had a goal chance shortly after but his shot was saved onto the crossbar heroically by Darragh Brennan.
Crettyard were really struggling in this quarter and Eoghan Lalor kicked two frees to extend the lead.
Kilcavan-The Rock had half a goal chance on the 22nd minute but Mark Dowling was off his line like a rocket to clear the danger.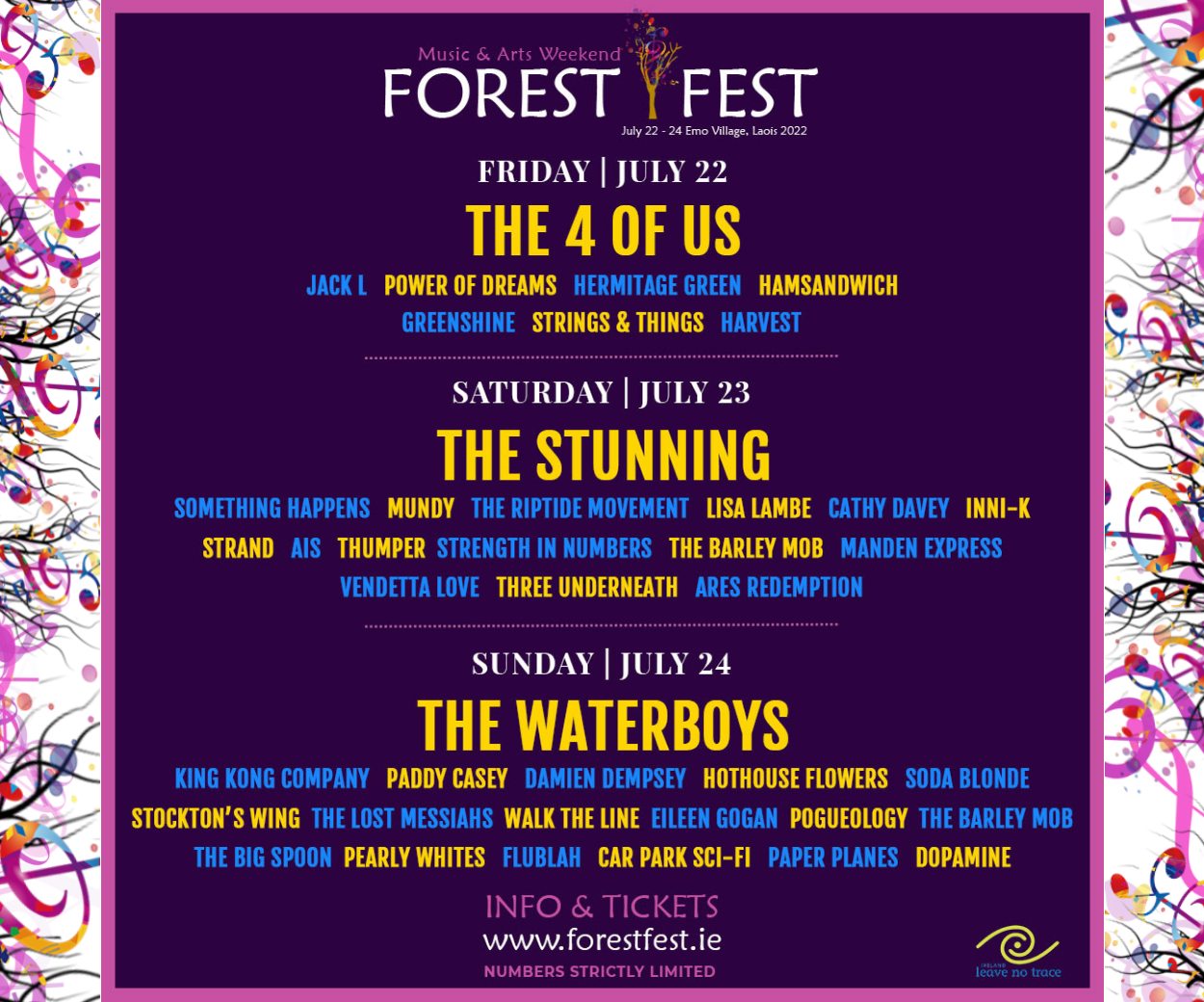 However, a minute later, Kilcavan-The Rock did get their goal.
Yet another fast counter from Kilcavan-The Rock resulted in a ball over the top to Dylan Cronin and he expertly finished low into the corner to put six points between the sides.
Crettyard badly needed a response with half-time approaching and they got just that. Rice hit a free and then a great high kick from play to narrow the gap.
Crettyard's intensity knew no bounds in the second half and a monster score from midfielder Jack Doyle had just the goal between the sides.
Long balls into Elliot Rice were causing havoc and he pointed a close range free after being fouled.
Crettyard kept coming and Kilcavan-The Rock's Conor Lalor was needed to deny Daly a go ahead goal.
Shortly after Cian O'Sullivan scored a simply ridiculous point from way out the field for Crettyard as Kilcavan-The Rock's lead was now just the one point.
To Kilcavan-The Rock's credit they dug in and looked dangerous on the counter but the balls in were just not sticking like they had in the first half.
Despite that, with three minutes to go Kilcavan-The Rock were still hanging on but it would be another high ball in that would be their undoing.
Jack Doyle worked a short free to Cian O'Sullivan and he pumped the ball in long. Rice caught the ball and smashed it home on the turn to send the crowd into a frenzy and give Crettyard a two point lead.
Thirty seconds later and Crettyard hit on the counter attack. Captain Tiernan Patterson set up Darragh Curran who finished low into the net.
Kilcavan-The Rock did manage a reply with point through Tadgh Hughes but it was not enough as Crettyard ran out four point winners in the most dramatic of fashion.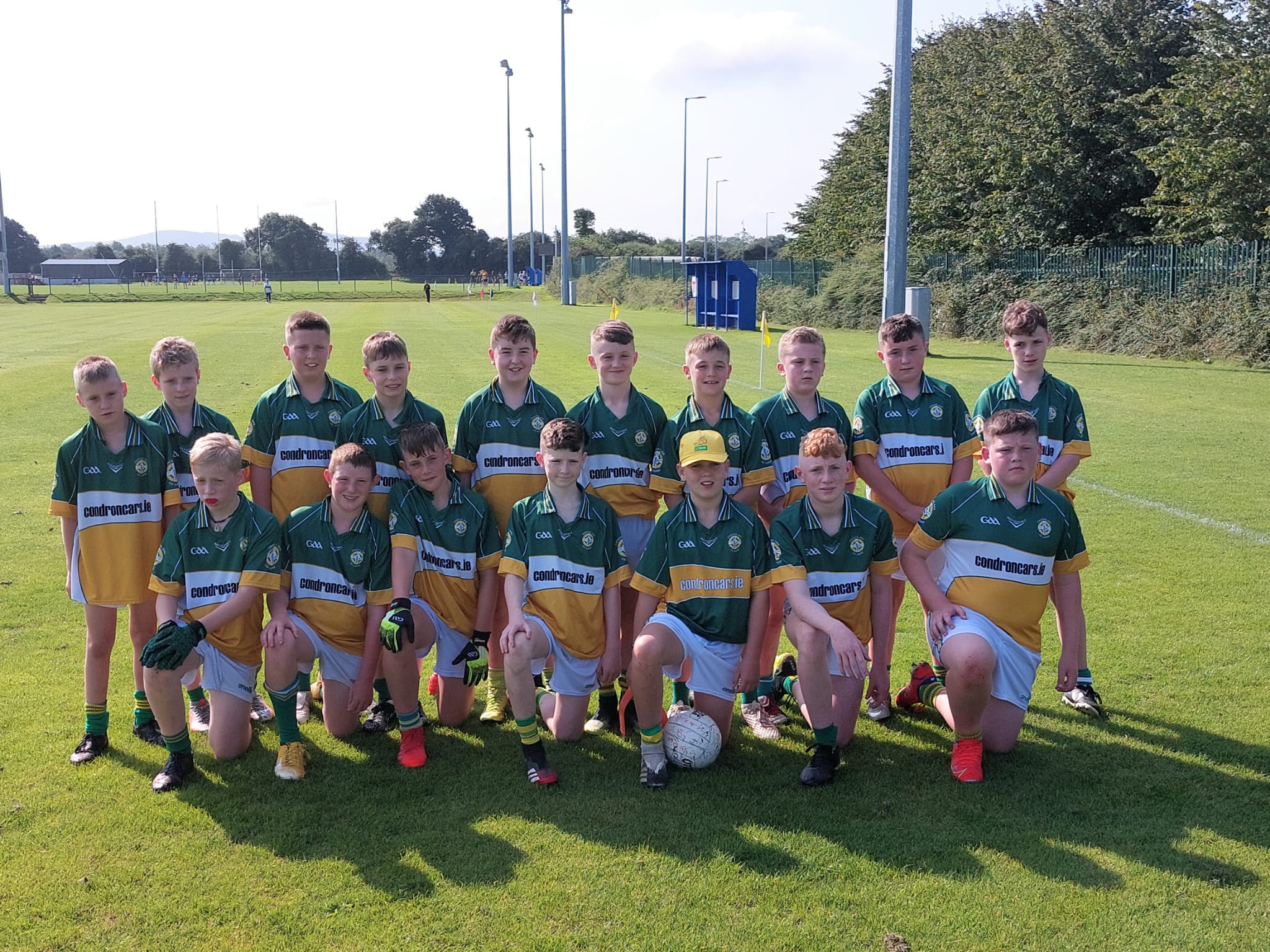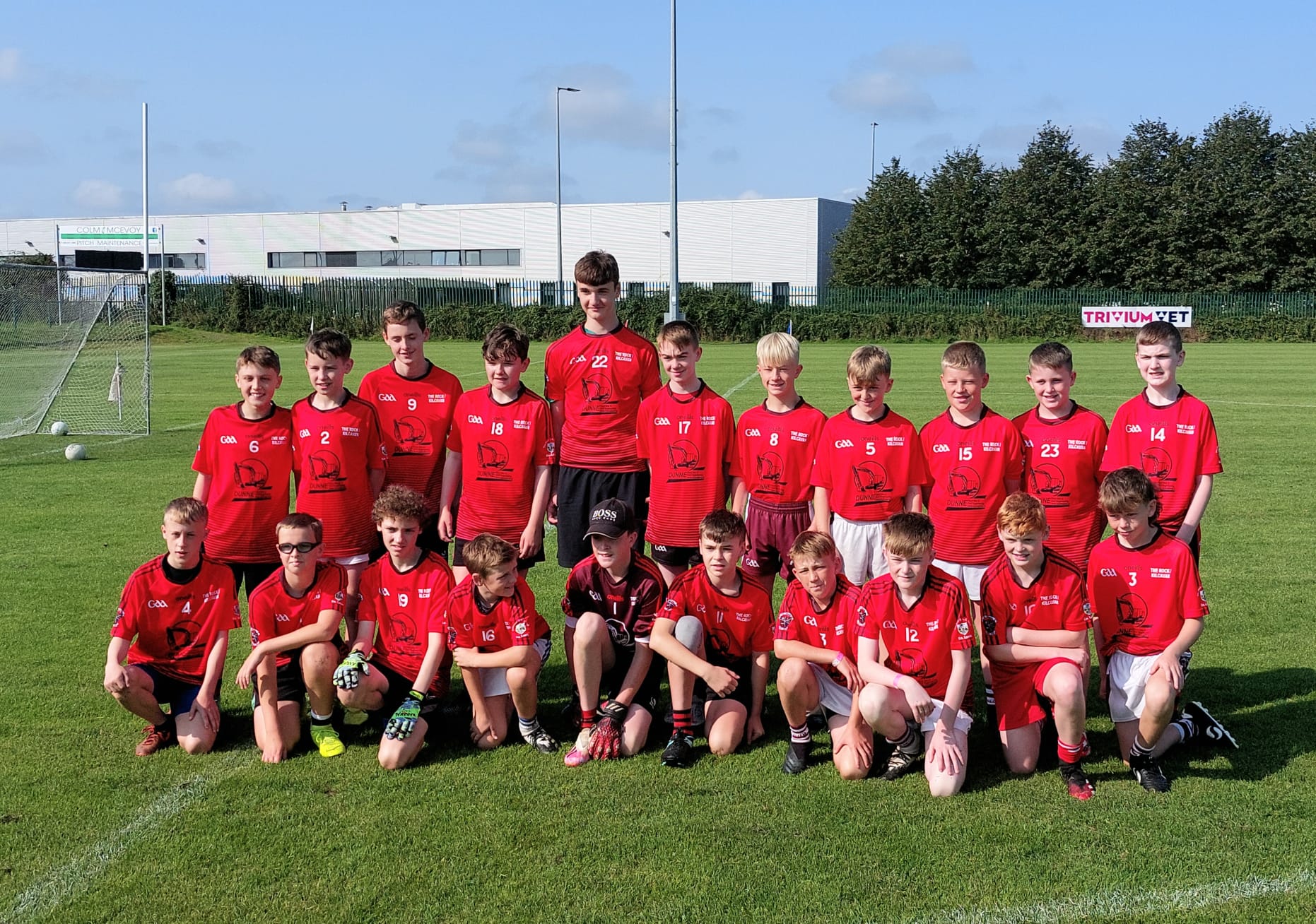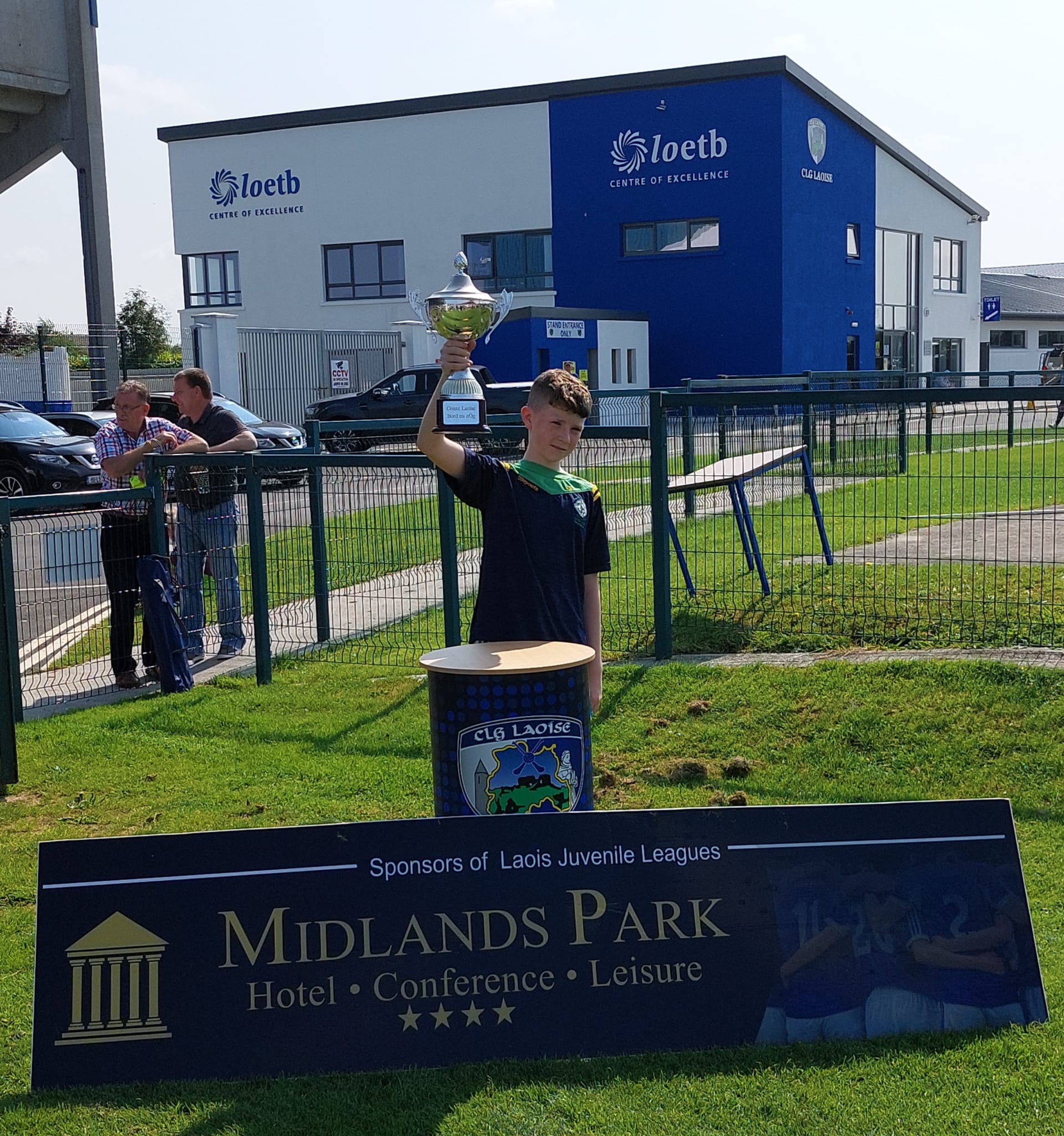 SCORERS – Kilcavan-The Rock: Dylan Cronin 1-1, Eoghan Lalor 0-2 (2 frees), Tadgh Hughes and Ian Dunne 0-1 each Crettyard: Elliot Rice 1-4 (2 frees), Cian O'Sullivan and Jack Doyle 0-1 each, Darragh Curran 1-0
KILCAVAN-THE ROCK: Conor Lalor; Dillon Smith, Shay McEvoy, Jack Davis; Lorcan White, Evan Standish, Conor Heffernan; Ian Dunne, Danial Conroy; Sean Conroy, Oisin McDermot, Eoghan Lalor; Tadgh Hughes, Dylan Cronin, Ryan Weston. Subs: Kevin Mullens for Weston (39)
CRETTYARD: Mark Dowling; Cormac Brennan, Cayden Duignan, Darragh Brennan; Aaron Brennan, Fionnán Brennan, Daniel Maguire; Cian O'Sullivan, Jack Doyle; Michael Brennan, Tiernan Patterson, Darragh Curran; Dylan Kearney, Elliot Rice, Oisin Dowling. Subs: Mikey Brennan for Dowling (39)
Referee: Johnnie Brennan
SEE ALSO – Remarkable second half revival sees Stradbally Parish Gaels topple Na Fianna Og and claim U-13 'B' glory