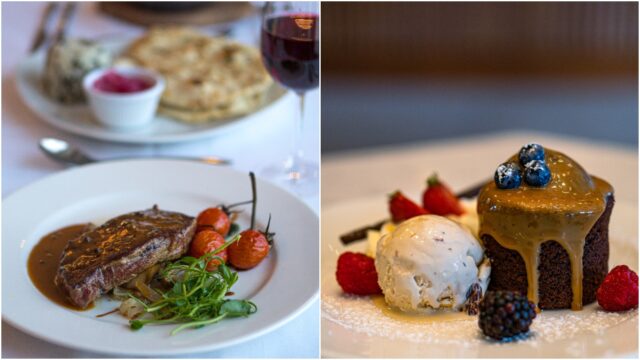 The Killeshin Hotel has just launched its new menu and it is filled with some delicious traditional selections with a modern contemporary twist.
Treat yourself to a delicious Pastrami Bruschetta,feast on the Prime 8oz Striploin Steak and indulge in the Earm Sticky Toffee Pudding.
The Killeshin Hotel provides food for all occasions including Christenings, Birthdays, Anniversaries, and Communions. The Killeshin is the ideal location for your bespoke Wedding as well.
Our head chef, Roland', attention to detail means that your Wedding Day will be include the outstanding food that makes your day all the more special.
And it doesn't end there! The Killeshin now has an extensive range of cocktails on the menu including an espresso martini, refreshing mojito's as well as old favourites such as a strawberry daiquiri.
It is also the perfect weekend choice for families and the ideal venue for new Mums to meet and talk.
There is ample free parking, plenty of space for prams and all our facilities are at ground level.
The Cedar Bar is not like any other hotel bar – it is the local choice for lunch for community and businesses alike because over the past number of years every part of the hotel has undergone an extensive refurbishment programme.
The Killeshin has served the community in its many forms since its humble beginnings almost 50 years ago.
Steeped in local history and part of many family celebrations throughout the years, it is entrenched in the locality.
The Killeshin has always been an Irish family-owned hotel and it is continuing on that track having been purchased by the Só Hotel Group in 2015 which is owned by Pat & Una McDonagh.
The conferencing offering is extensive with 15 dedicated conference suites catering for up to 800 delegates at any given time. It is a highly sought after conferencing venue bringing business to Laois from all over the country.
The Killeshin Hotel provides employment for over 100 staff, the majority of whom are locally based.
Rediscover the Killeshin Hotel and to make sure you celebrate your special moments in style.