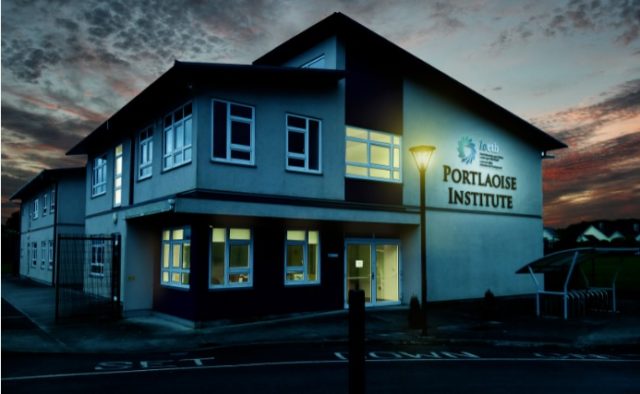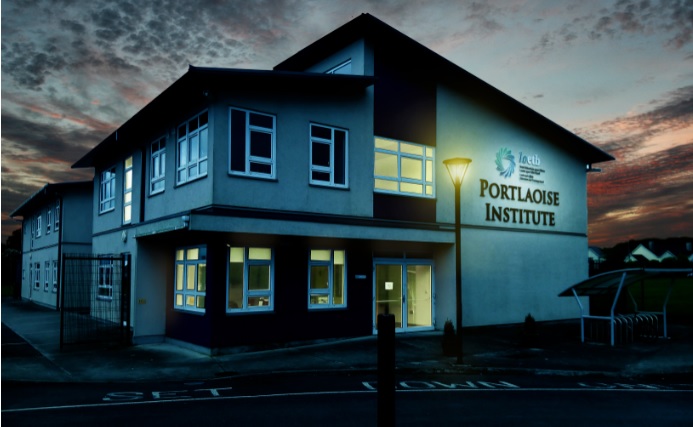 The demand for Healthcare staff has never been as high with a record number of vacancies advertised online.
The Health and Humanities Department at Portlaoise Institute currently has four distinct courses on offer to help students get started in the Healthcare sector and avail of the many employment opportunities currently available.
Portlaoise Institute offers courses that specialise in Healthcare Support, Nursing and Midwifery and Health Service skills with Paramedics.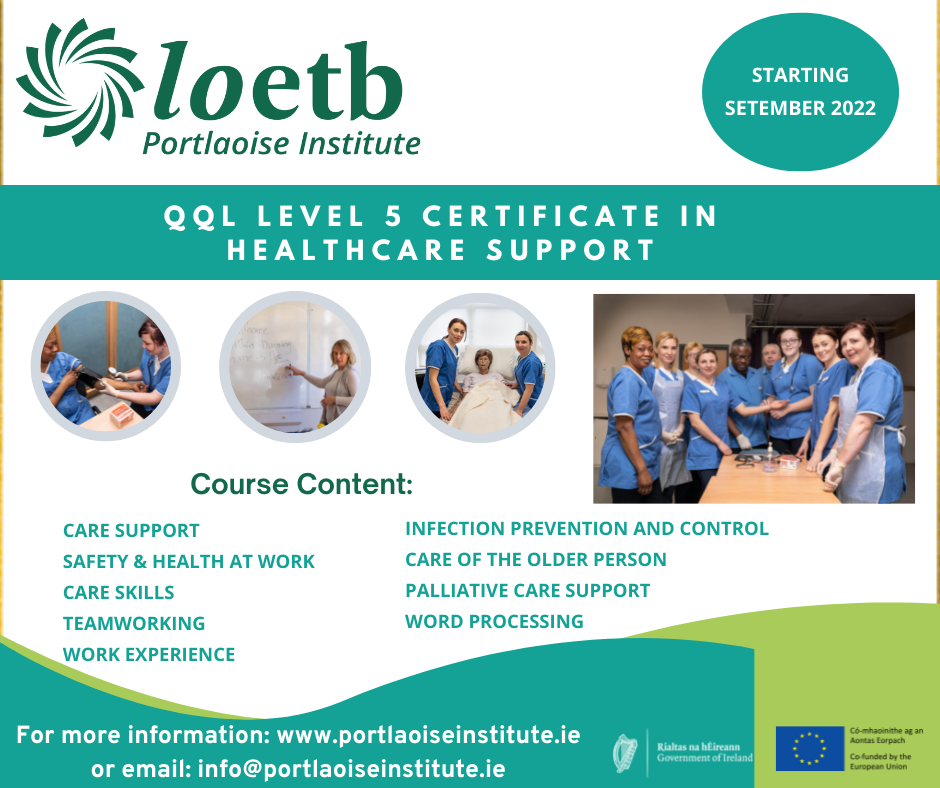 The Certificate in Healthcare Support
The Certificate in Healthcare Support is a course that offers graduates excellent employment opportunities in the Healthcare sector with many of our graduates gaining employment upon completion with local private home care providers.
This is an excellent course for a student who is looking for a qualification which they can use to enter into the workforce upon completion.
The range and depth of modules and the 150 hour work placement requirement in a healthcare setting ensures that graduates of this course are sought after upon course completion.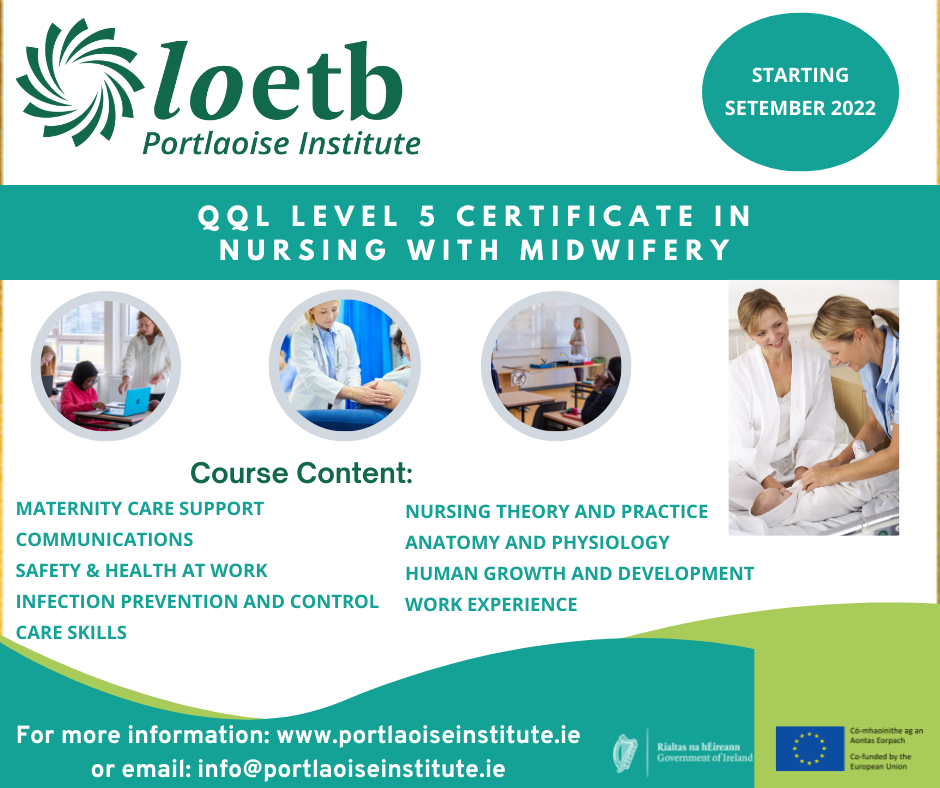 Nursing & Midwifery
The Nursing and Nursing with Midwifery courses provide an excellent base for students who wish to progress to further study and qualify as a registered nurse or midwife.
Students on this course will develop a solid grounding in important vocational modules such as Anatomy and Physiology, Nursing Theory and Practice and Infection Prevention and Control.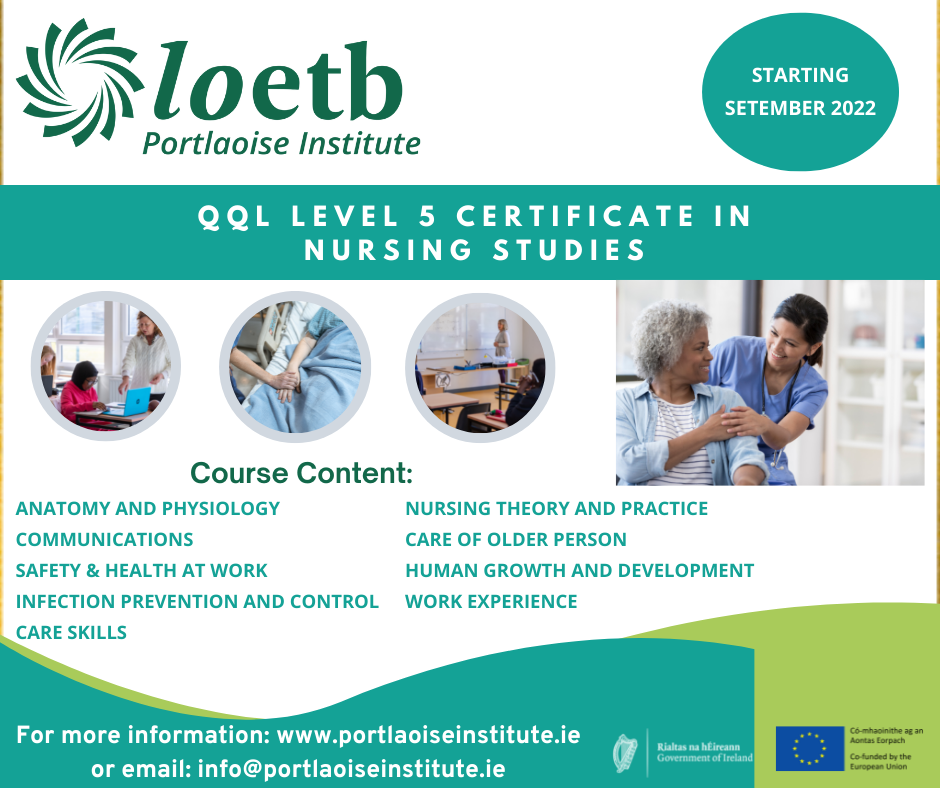 Students will also undertake additional qualifications in Manual Handling and First Aid. Students will also develop skills that can be transferred to further study such as team working, referencing and research skills.
Past graduates of this course have progressed to level 8 courses in Universities or have gained employment as a Healthcare Assistant in hospitals and in nursing homes.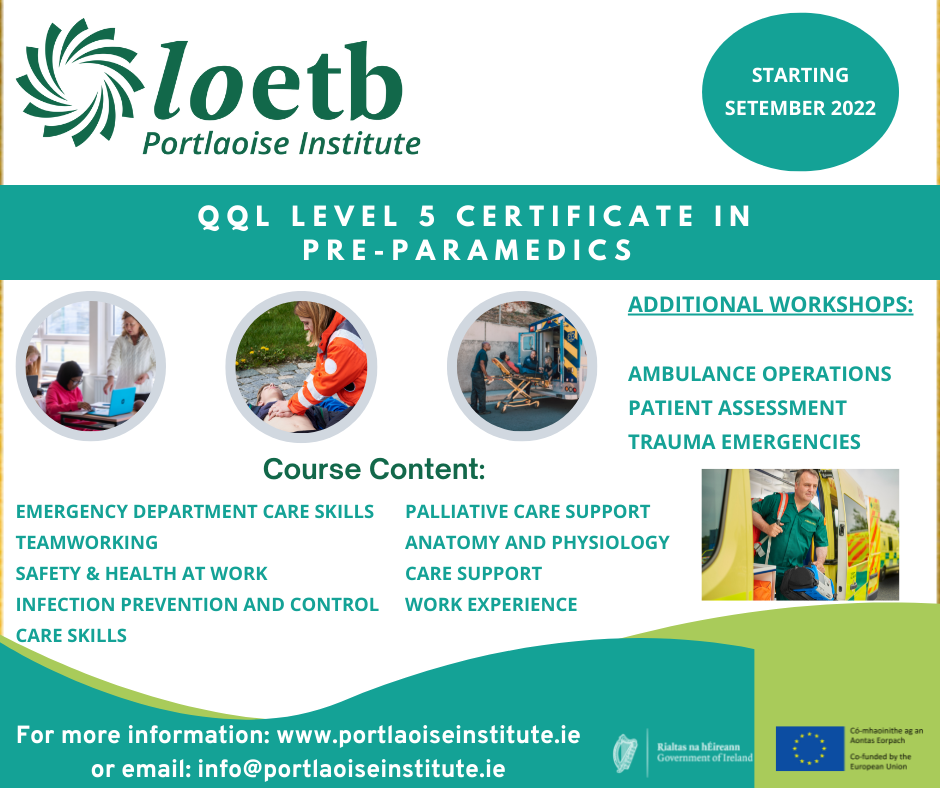 Health Service Skills with Paramedics Course
The Health Service Skills with Paramedics Course has undergone development for the upcoming academic year. 
As well as updating the course modules on offer to include Anatomy and Physiology, Portlaoise Institute have partnered with Medicall Emergency Medical Training to provide four bespoke workshops.
The workshops will focus on areas such as Ambulance operations and Anatomy and Physiology with Patient assessment as well as Trauma emergencies with emphasis on fracture management.
The Partnership with Medicall will allow students to go on a work shadow with an ambulance crew to get a feel for the profession.
The course aims to give students a comprehensive oversight of what the career involves as well as creating pathways to further training and study and allowing students to develop skills that can be used if completing an application for the HSE open competition for The National Ambulance Service.
All these courses are full-time starting in September and running until May, they are all delivered with a mixture of classroom based and online learning.
To apply go to www.portlaoiseinstitute.ie. 
SEE ALSO – Folly Festival set to return with a bang to Cullohill this July 8 and 9