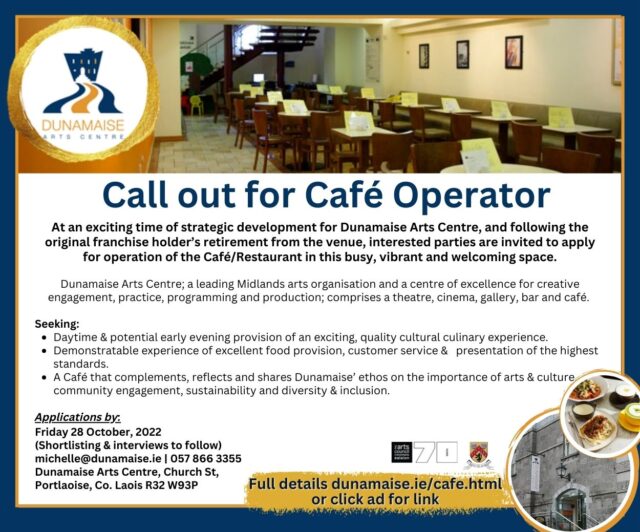 Dunamaise Arts Centre wish to inform customers that, after 23 years, Caffe Latte will cease operating at the venue and now invites applicants to tender for the operation of its Café/Restaurant by 28 October 2022. 
Caffe Latte operated at Dunamaise under the proprietorship of Ken McPherson and has been an integral and much loved part of the arts centre; serving up delicious meals and home baked products; including the famous "Club Sandwich" and fruit scones for which they were renowned!
Patrons from far and near enjoyed the gourmet foods and drinks on offer and the warm welcome from all the staff.
Now, the Proprietor Ken McPherson has made the decision to bid farewell to his arts centre setting, consolidate his successful catering businesses and allow more time with family. Caffe Latte will continue to operate from Lyster Square, Portlaoise. 
Ken McPherson said: "I would like to thank all the staff who have worked at Caffe Latte in Dunamaise over the past 23 years. My success would not have been possible without them!
"To all the loyal customers down through the years, thank you so very much, you have been super.
"And while we are finishing in the arts centre, we are streamlining our business so we will be offering all food and beverages at Lyster Square and look forward to seeing and serving you there!"
Director of Dunamaise, Michelle de Forge said: "It's the end of an era here at Dunamaise Arts Centre! 
"Ken and his super team have served up quality food, along with welcoming smiles and chats for over 20 years, and customers have come to feel at home here.
"The fantastic coffee alone has fuelled me through long office days, and our patrons have benefitted from tasty event catering and seasonal meal deals too.
"Caffe Latte at Dunamaise has been integral to our quality offering to our patrons and we'll be lucky to welcome in as strong a business in the future."
It's a time of change across the arts and entertainment sector nationwide. Dunamaise Arts Centre is coming out of two years of rolling lockdowns, armed with a new Strategic Business Plan, a number of new Directors on its Board and a renewed commitment to artists and audiences alike.
"While changes can bring challenges, the Board of Directors are optimistic about welcoming in a new café/restaurant in this new phase for Dunamaise.
"There's huge potential here and we will continue to offer the best quality hospitality our patrons have come to expect.
"We wish Ken and his team all the very best and are sure to continue visiting his Lyster Square Caffe Latte location for tasty coffees and more!", added Michelle.   
An invitation is now extended to interested parties to apply for operation of the café/restaurant in this busy, vibrant and welcoming space, comprising a theatre, cinema, gallery, bar and café, which welcomes over 30,000 event attenders per annum.   
One of the Midlands leading cultural venues, Dunamaise Arts Centre is in its 23rd year of operations, coming out of Covid lockdowns with a bigger and busier events programme than ever before.
New Board Members along with the dedicated staff team are welcoming back patrons and expanding audiences as they engage the community through top quality arts events and entertainment for all ages.
A redevelopment of the company brand and a new website are also currently underway. This is an exciting time for the arts centre and the new café will be an integral part of that journey!  
Applicants will be interested to know that careful management and investment in greening the arts centre is ongoing.
Through water waste reduction, LED lighting installation and energy monitoring, Dunamaise has reduced its running costs and its carbon footprint significantly in recent years and now has a B1 BER Rating – remarkable for such a huge, heritage building.
These cost savings, as well as eligibility for Government subsidies on utility bills, mean that Dunamaise is an attractive location for a new business investment. 
Currently, the café configuration seats 65 patrons over c.82 sq.m and the well-equipped, spacious kitchen covers c. 23.2 sq.m, with staff facilities included.
The opportunity is there for revamped décor and service areas. Early evening, pre-theatre meals could be offered as well as busy breakfast, lunch and afternoon trade, serving the busy town centre area.
A Café with a strong culinary personality, a vibrant aesthetic and the highest standards of customer service and presentation will be a huge draw to the people of Portlaoise and beyond.
Partnership with the arts centre is encouraged to collaborate on offerings of the whole venue and to develop mutual promotional opportunities.
A shared ethos of the importance of arts and culture, community engagement, sustainability and diversity & inclusion is among the assessment criteria.
To Tender
Full details about Dunamaise Arts Centre, the café operations required, the contract award criteria and the application form are on www.dunamaise.ie/café .
Contact michelle@dunamaise.ie or 086 8551937 with any queries and to arrange a site visit in advance.
The application deadline is Friday 28 October 2022 via email or post to: Michelle de Forge, Venue Director, Dunamaise Arts Centre, Church St, Portlaoise, Co. Laois. A process of shortlisting and interviews will follow.