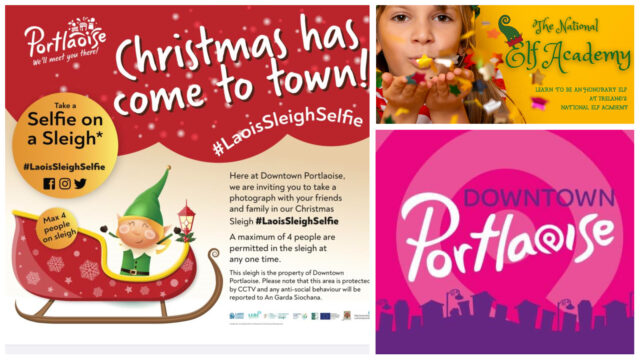 Downtown Portlaoise in conjunction with the Town Team, Laois County Council, the Business Support Unit and Laois Partnership have been working hard this year to bring a new and exciting Christmas experience to Portlaoise town.
Programme of Events
Switching on of Christmas Lights
The 'Switching on' of the Christmas Lights will take place on Friday 25th November at 6.30pm in Market Square.
Santa and 65 Kitchen Choir will be taking part. There will be an "old style" bandstand located in Market Square from Friday 25th -Monday 28th November to facilitate music and entertainment throughout the weekend.
This is a big undertaking each year, and this year is no exception.  Downtown Portlaoise has purchased low voltage lights so the electricity use is minimal and this is the reason we chose to proceed with putting up the lights.
It's the standing charge for the electricity meters that is our big bill every year.
Christmas Market
A two-day Christmas market will take place on Saturday,, November 26, and Sunday, November 27, from 11-5.30pm.
This market will be in its usual location in Market Square and Main Street, and there will be music and entertainment in the bandstand over the course of the weekend, all designed to create a Christmas atmosphere for people visiting Portlaoise.
Christmas Lighting
There will be enhanced Christmas lighting and decorations throughout the town in addition to the normal Christmas streetlights.
Specifically, there is a large reindeer located at the main roundabout leading into Lyster Square which will be a very attractive feature at this location.
There is a sleigh located outside the AIB bank in Lyster Square which will be an interactive feature that will permit up to four people to get in and take a picture.  #LaoisSleighSelfie is the handle, so get snapping and let us see your pics.
It is envisaged that these pictures can be shared online to promote "Christmas in Portlaoise".
There will also be enhanced Christmas lighting in Lyster Square to highlight this area as a shopping destination.
National Elf Academy
For families – An event management company has been hired to deliver a family Christmas event entitled 'The National Elf Academy' in the Dunamaise Arts Theatre from Sunday, November 27, to Tuesday, December 20.
This is a 45-minute Christmas Experience.  Enter the Winter Wonderland and help to make Christmas decorations, decorate a tree, sing and dance and then maybe Santa might beam in from the North Pole, where he is busy making toys, to say hello and present your Academy Certificate.
There will be a Christmas Gift also. Booking for this show is made online via the Dunamaise Theatre website.
€30 euro for a family of 4 and single additional tickets can be purchased also.  Tickets are selling,  so hurry,  as there are a very limited supply of places over the next few weekends.
Children with special needs will be catered for, just make this known when booking your tickets.
There will be road signs erected on all the approach roads promoting Portlaoise as a place to visit during Christmas.
Friday, November 25
6.30pm – Lights Turned On by Santa, Top Square, Portlaoise
Saturday, November 26
11am-5.30am – Street Market on Main Street, Portlaoise
Sunday, November 27     
11am-5.30am  – Street Market on Main Street, Portlaoise
Sunday, November 27 to Tuesday, December 20
Weekends – The National Elf Academy Opens in The Dunamaise Theatre
Book here  – Fun Family Christmas Experience