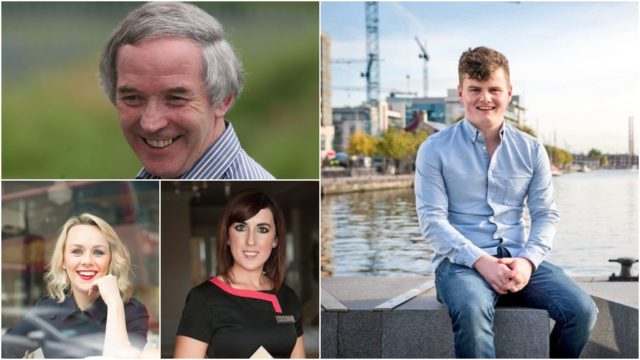 Are you doing your Leaving Cert this year and hoping to move away to college next September? Have you someone in your family in that position?
If so, an event being organised by the People First Credit Union next Tuesday, March 13, in the Killeshin Hotel in Portlaoise is one you should really go to.
With a host of high-profile speakers and an amount of useful information, it promises to be both an entertaining and insightful evening.
Today as students are gearing up for that final exam – the Leaving Certificate – many are still left wondering what it is all for.  They can move from a place where they are dedicated and have a sense of purpose, to a feeling of pressure and wonder, as they think about their future.
People First Credit Union are hosting a FREE practical information evening for Leaving Certificate Students and their Parents who are members or from schools in our common bond area in the Killeshin Hotel on Tuesday, March 13, at 7pm.
This evening is open to students and parents from schools across our common bond in Portlaoise, Stradbally, Abbeyleix, Ballinakill, Heywood and Athy.
What is most important at this point of change for any student, is to see the next step on your career journey. To talk about these changes, we have enlisted some top experts to speak at our student evening.
John Lonergan – ex-Governor of Mountjoy Prison and motivational speaker
John will be on hand to discuss:
Education and Emotional Health
How to manage stress for both parents and students in the run up to exams
How to prepare and plan for life after secondary school Financially and Emotionally
Sinead Brady – accredited Career and Coaching Psychologist.
Sinead designs career focused programmes for individuals. Some of the topics Sinead will discuss:
CAO
Change of mind form
What if college is not for you and what your options are
Carol Murphy – from People First Credit Union
Carol has seen first-hand stressed parents and students worrying about how to plan. Carol will discuss:
Student Loans
Grant Payments and Paypal
Students and their Credit Union in the 21st Century
Harry McCann – Irish entrepreneur
Harry McCann is a 19-year-old Irish entrepreneur. He founded his first business, Kid Tech, in 2014 just after his 15th birthday. Over the space of a year, he set out to 'Teach the Next Generation Tech' through short courses which he had designed and created. The help and support of British Actor, Stephen Fry, and technology giant, Blackberry allowed him to travel across Ireland to introduce one thousand kids to computer coding. In 2015, after early success in the business world, he went on to found the first Digital Youth Council in the world at 15-years-old. Harry will discuss:
How to be the creator of your own destiny
What if college is not for you and what are your options
Damian Butler – Budgetary Advice Officer in UCC
Damian will share his knowledge of:
Costs involved in sending your child to college
Securing accommodation
How to cope with college life
SUSI Grant.
Places are limited and booking is essential. To register please email carol.murphy@peoplefirstcu.ie with your school name and number of places required.
SEE ALSO – New company seeking to create up to 70 jobs in Portarlington