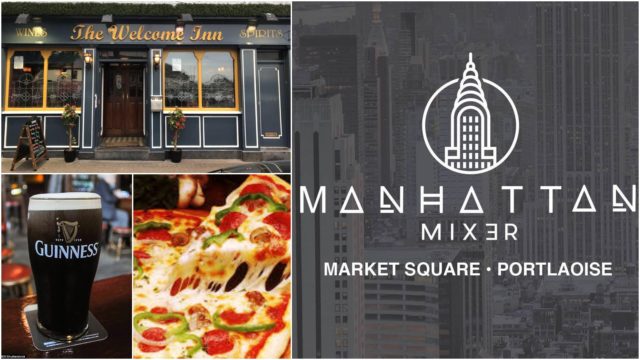 Where would you get a deal like it?!
Always looking to do that bit extra, the team behind Manhattan Mixer and the Welcome Inn have a great new Pizza and Pint deal – one that sees you get a 12″ Pizza and a pint of your choice for just €10.
The pizza comes from their neighbours Mezza Pizza and the deal is available seven days a week in the Welcome Inn and from Thursday to Sunday in the Manhattan Mixer from 6pm to 10pm.
The full pizza menu is as follows:
Mixer Special
Pepperoni, Ham, Mushrooms, Pepper, Onion, Pineapple and Sweetcorn
Meaty Mixer
Spicy Beef, Pepperoni, Ham and Bacon
Margarita
Mozzarella Cheeze and Tomato Sauce
BBQ Chicken
BBQ Sauce, Chicken, Red Onion, Peppers, Ham and Cheddar Cheese
Pepperoni Express
Double Decker Pepperoni and Double Cheese
Hawaiian
Ham and Pineapple
SEE ALSO – Welcome Inn brings quiz with a difference to Portlaoise