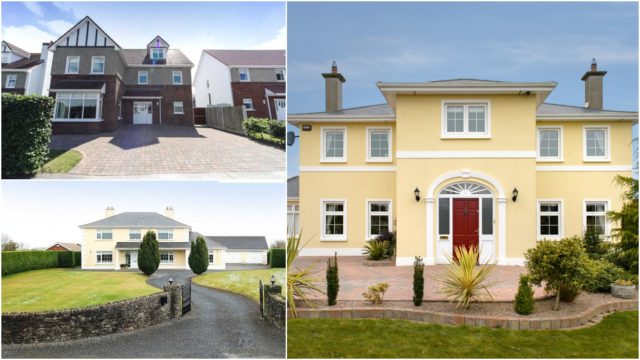 A total of 69 residential properties changed hands in November in Laois – with one house breaking the €500,000 barrier and two more exceeding €400,000.
The figures for November represent a drop from October – the busiest month of the year on the local property scene – when 83 houses were sold and compares to 78 sold in November of 2017.
In total, it means that 698 houses have now sold in the first 11 months of the year, compared to 709 in 2017.
In 2017 there was 781 house sales recorded in Laois, the highest number since the Property Price Register began their figures in 2010.
The most expensive house in Laois sold was a property in Carriglea in Killenard for €550,000 making it one of just five homes in Laois to sell for more than €500,000 in 2018.
Indeed it is the second most expensive house sold in the county in 2018 – a house in Pilgrim Hill in Castletown sold for €590,000 in June.
Blackhill House in Abbeyleix went for €460,000 in November while 4 Aspen Way in Foxburrow in Portlaoise made €400,000. 
Those sales now mean that 14 houses sold in Laois in 2018 for €400,000 or more, excluding the December figures which aren't yet fully complete.
Coming in just under the €400,000 mark was a house in Ballytegan in Portlaoise which went for €390,000.
NOVEMBER 2018
€550,000 – 49 Arlington Green, Carriglea, Killenard – 14/11/2018
€460,000 – Blackhill House, Abbeyleix – 9/11/2018
€400,000 – 4 Aspen Way, Foxburrow, Portlaoise – 16/11/2018
€390,000 – Ballytegan, Portlaoise – 2/11/2018
€270,000 – 48 Dun Masc, Dublin Road, Portlaoise – 2/11/2018
€260,000 – Avalon, Davitt Road, Mountmellick – 9/11/2018
€255,000 – 11 Heywood Village, Ballinakill – 12/11/2018
€250,000 – Mullaghanard, Rosenallis, Portlaoise – 29/11/18
€250,000 – Rosbran, Athy – 7/11/2018
€244,315.74 – 141 Ashewood Walk, Summerhill Lane, Portlaoise – 1/11/2018
€235,000 – Dysartbeigh, Mountrath – 26/11/2018
€220,000 – Keelogue, Killeshin – 8/11/2018
€218,061.67 – 4 Brescula Close, Bellingham, Mountrath Road – 20/11/2018
€215,859.02 – 2 Brescula Close, Bellingham, Mountrath Road – 9/11/2018
€210,000 – Acragar, Mountmellick – 9/11/2018
€205,000 – Ballymaddock, Carlow Road, Abbeyelix – 7/11/2018
€200,000 – Main Street, Abbeyleix – 21/11/2018
€193,832 – 24 Holdbrook, Portlaoise – 9/11/2018
€188,500 – 49 Glenkeen Park, Fairgreen, Mountmellick Road, Portlaoise – 2/11/2018
€185,021 – 6 Brescula Close, Bellingham, Mountrath Road – 21/11/2018
€172,500 – 14 Primrose Avenue, Esker Hills, Portlaoise – 15/11/2018
€171,806.17 – 74 Cross of Newtown, Ballyroan – 13/11/2018
€171,806 – 1A Abbey Court, Portlaoise – 29/11/2018
€170,000 – Derrin, Borris-in-Ossory, Portlaoise – 22/11/2018
€166,500 – 10 Rockview Drive, Mountrath Road, Portlaoise – 30/11/2018
€165,000 – 3 The Village, Ballylinan, Athy – 28/11/2018
€163,000 – 5 Davitt Court, Mountmellick – 23/11/2018
€162,000 – Ellis Lodge, Rushboro – 22/11/2018
€160,000 – 55 De Vesci Court, Fairgreen Village, Portlaoise – 1/11/2018
€159,000 – 11 Woodgrove Lawns, Ballyfin Road, Portlaoise – 16/11/2018
€157,500 – Crookady Road, Rossleighan, Portlaoise – 22/11/2018
€157,000 – 44 Lake Drive, Kilminchy, Portlaoise – 19/11/2018
€150,000 – 8 New Road, Portlaoise – 7/11/2018
€145,000 – 9 Dunamaise Court, Kilminchy, Portlaoise – 1/11/2018
€140,000 – 7 Triogue Manor, Greenmill Lane, Portlaoise – 16/11/2018
€140,000 – 12 Abbey Court, Abbeyleix Road, Portlaoise – 22/11/2018
€140,000 – 19 Abbey Court, Abbeyleix Road, Portlaoise – 22/11/2018
€135,000 – 37 The Hermitage, Portlaoise – 5/11/2018
€132,000 – 29 Mell Street, Kilminch, Portlaoise – 30/11/2018
€130,000 – 81 St Joseph's Terrace, Mountmellick – 9/11/2018
€127,000 – Mura, 3 Newpark, Portlaoise – 9/11/2018
€125,000 – 45 Silverwood, Mountmellick – 22/11/2018
€125,000 – Deerpark, Portarlington – 19/11/2018
€125,000 – Main Street, Mountrath – 15/11/2018
€121,000 – Emo Gate Lodge, Emo – 16/11/2018
€120,000 – 10 Crann Nua, Portarlington – 16/11/2018
€117,500 – 38 Lake Glide, Kilminchy, Portlaoise – 12/11/2018
€117,000 – 105 Chapel Street, Mountmellick – 22/11/2018
€111,598 – 11 Castle Drive, Kilminchy, Portlaoise – 29/11/2018
€110,000 – 5 Station Road, Portarlington – 2/11/2018
€105,000 – 15 Glenbarrow, Ballyfin Road, Portlaoise – 15/11/2018
€100,000 – Harpurs Lane, Portlaoise – 13/11/2018
€100,000 – Glenside, Abbeyleix Road, Portlaoise – 7/11/2018
€95,000 – Errill Village, Portlaoise, Co Laois – 20/11/2018
€92,500 – 70 Rush Hall, Mountrath – 9/11/2018
€90,000 – 135 Crann Nua, Portarlington – 23/11/2018
€90,000 – 15 Castle Mews, Kilminchy, Portlaoise – 2/11/2018
€86,692 – 11 Kylebrook, Abbeyleix Road, Portlaoise – 29/11/2018
€78,000 – 29 Harbour Street, Mountmellick – 12/11/2018
€74,000 – 56 Rush Hall, Shannon Road, Mountrath – 5/11/2018
€65,000 – Derrin, Borris-in-Ossory, Laois – 5/11/2018
€55,000 – 12 Kilminchy Court, Portlaoise – 22/11/2018
€51,500 – 8 Newtown Perry, Rathdowney – 2/11/2018
€45,000 – Knockeil, Rathdowney – 9/11/2018
€25,000 – 119 Aghnaharna Drive, Summerhill, Portlaoise – 21/11/2018
€25,000 – 120 Aghnaharna Drive, Summerhill, Portlaoise – 21/11/2018
€25,000 – 121 Aghnaharna Drive, Summerhill, Portlaoise – 21/11/2018
€25,000 – 122 Aghnaharna Drive, Summerhill, Portlaoise – 21/11/2018
€20,000 – 53 O'Moore Place, Portlaoise – 5/11/2018
SEE ALSO – Increase in residential property sales in October following September slow-down