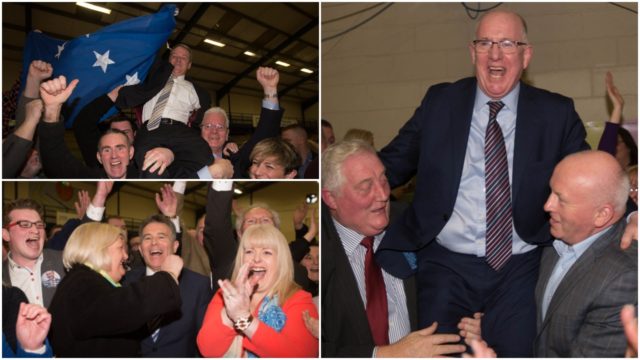 Although joined at the hip since the birth of the nation Laois-Offaly were separated for the first time for general election purposes in 2016.
Previously, a 5-seater Laois-Offaly was divided into two 3-seaters for that February election which was primarily fought off the back of crippling austerity measures, pay reductions, service cutbacks, the bank bailout and the dreaded and since abandoned water charges.
The outgoing coalition Government of Fine Gael and Labour felt that it done such a good job in salvaging the country from the economic wreck they had inherited in 2011 from the hugely discredited Brian Cowen led Fianna Fáil/Green administration, they were expecting some gratitude from the electorate.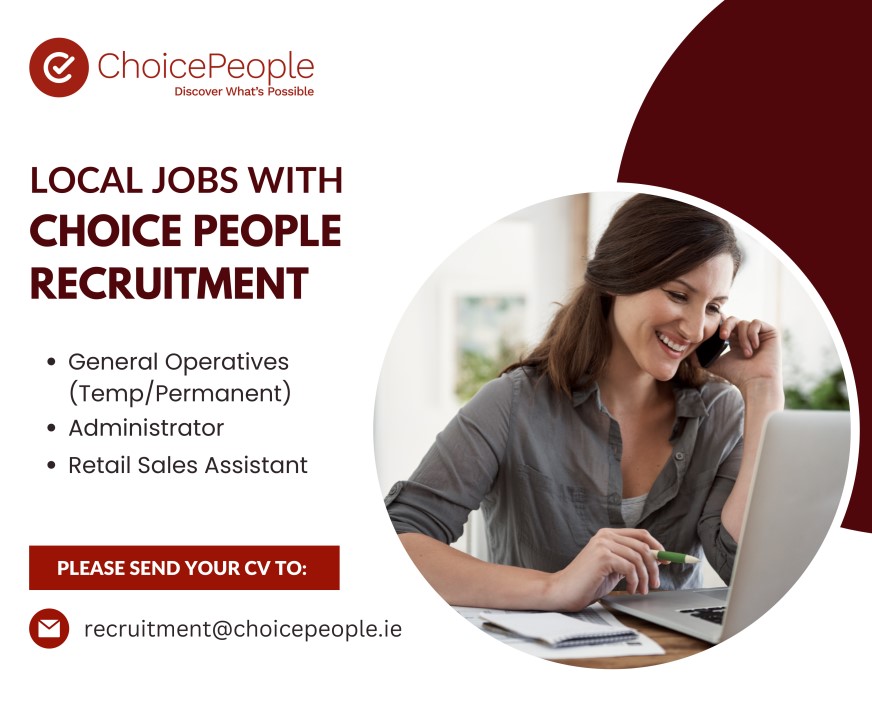 'Keep the Recovery Going' chanted Enda Kenny's election slogan. The electorate didn't buy it.
Weary voters gave their answer in droves and despite Pat Rabbitte's analysis that the electorate would hardly reward those who destroyed the country and punish those who saved it, long suffering voters let rip.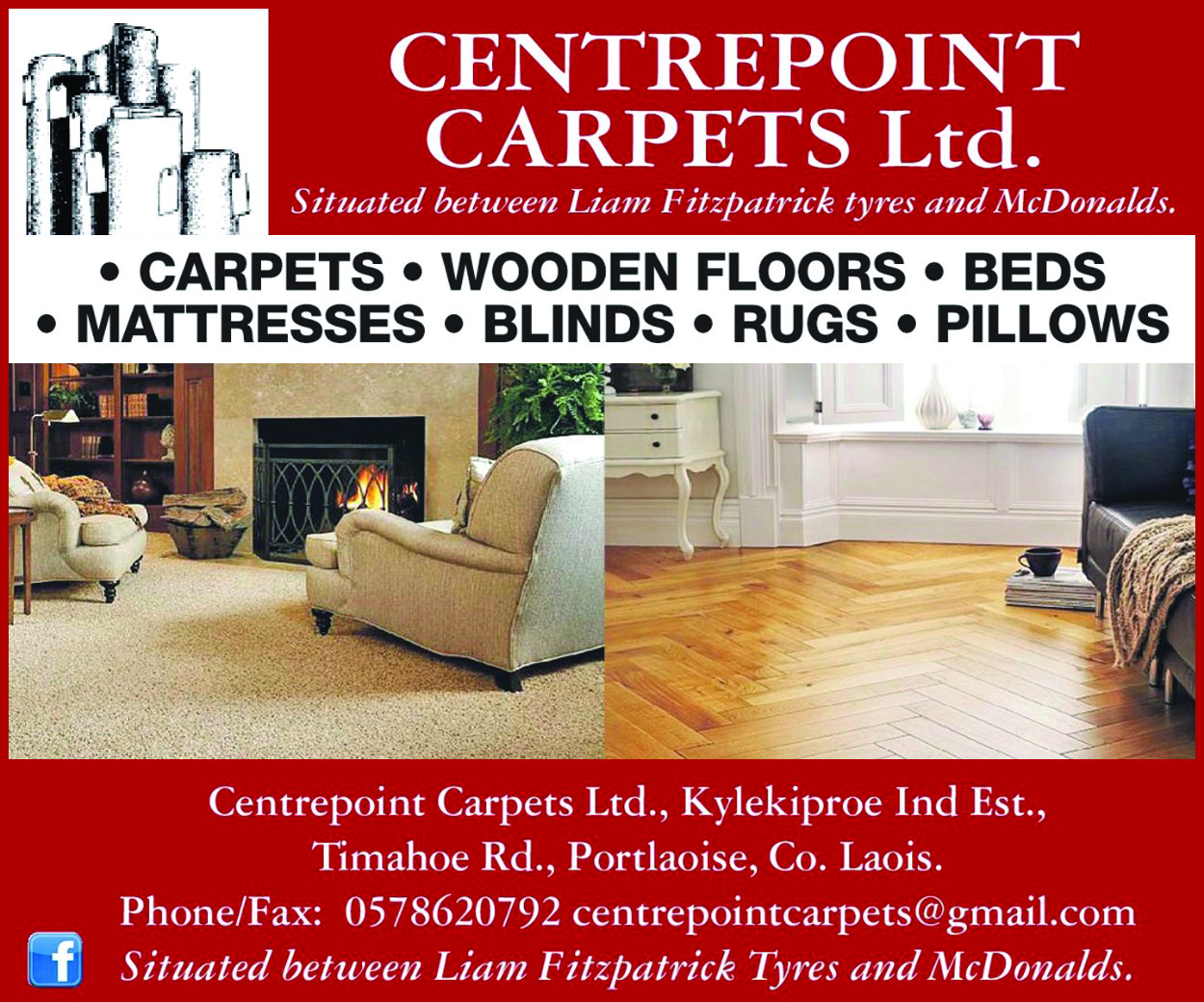 Fine Gael got it in the neck and lost 26 seats compared to 2011. Labour were taken from the knees and hobbled away, near mortally wounded, struggling to hold on to just 7 seats in stark contrast to its 2011 haul of 37.
While Labour is still in the recovery ward, Fine Gael miraculously, largely thanks to some deft negotiation skills by Enda Kenny went on to lead a minority Government.
In the intervening period both Fine Gael and Sinn Féin went for generational change at the top of their parties with Leo Varadkar and Mary Lou McDonald taking over from Kenny and Gerry Adams.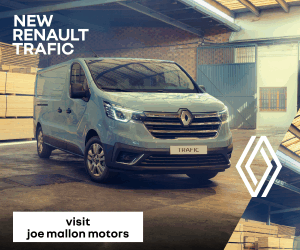 Labour avoided a leadership contest and opted instead to mark time with Brendan Howlin taking over from Joan Burton by agreement, without a membership vote.
Even the most optimistic of commentators didn't give the minority Government a chance of lasting a year such was the Dáil arithmetic and its shaky foundations.
Fine Gael had 50 seats compared to Fianna Fáil's 44. Sinn Féin for their part were sitting pretty in opposition up 9 seats to 23.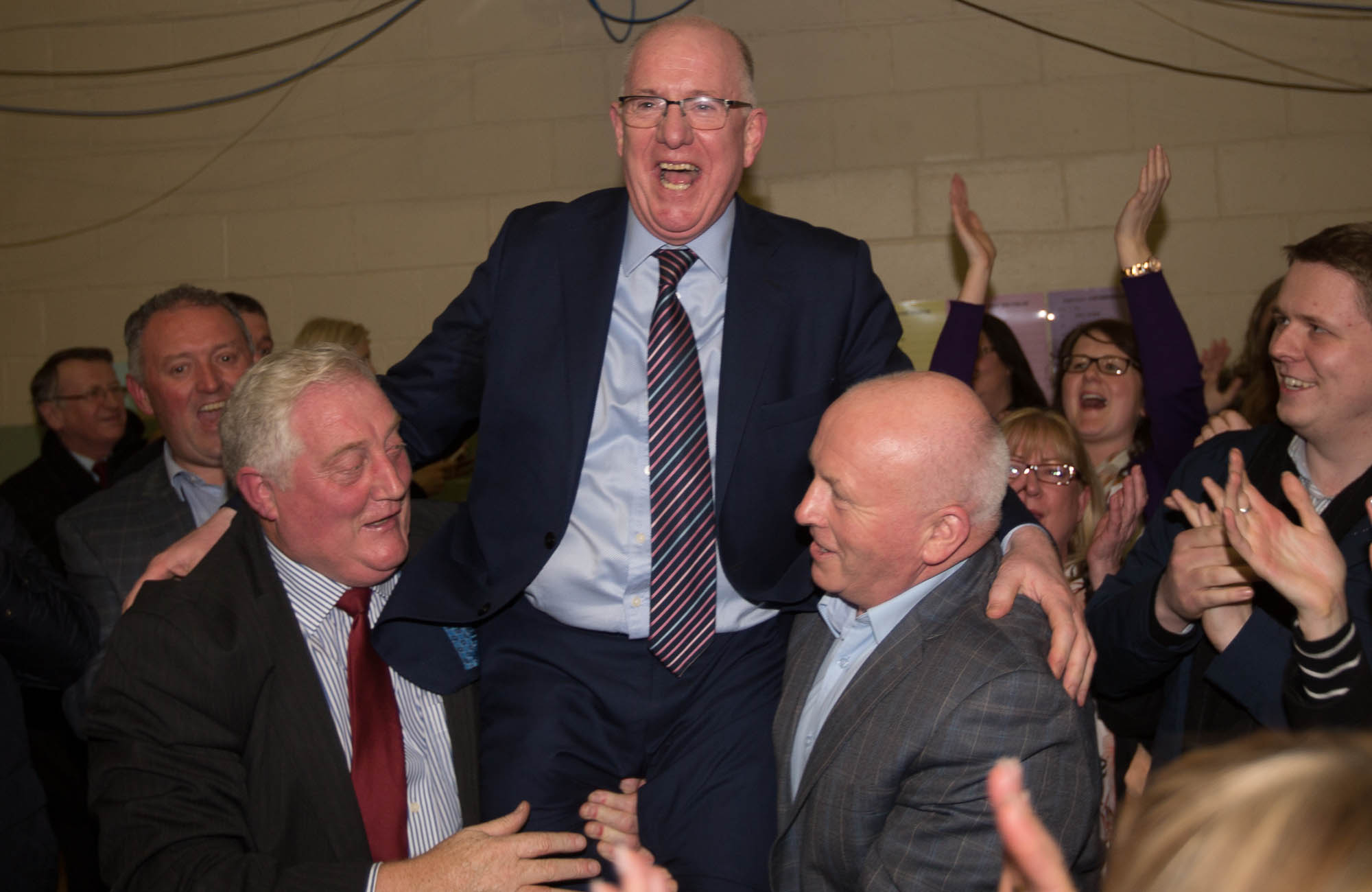 However, the Government that Enda Kenny cobbled together went on to defy political gravity and defy all predications of its life expectancy by lasting four full years.
This was largely due to Micheál Martin and his party honouring a bizarre and unprecedented 'confidence and supply' agreement justified by the uncertainty which prevailed around British politics and Brexit. Multiple jobs for an assortment of Independents from Boxer Moran, to Shane Ross and Katherine Zappone also helped keep the fragile administration in place for far longer than anticipated.
Locally, the election was a tale of two counties.
Laois was a foregone conclusion according to the pundits and that's exactly how it panned out.
Seán Fleming romped home, topped the poll by securing a massive 35% of the vote.
He did so in the absence of any running partner in Laois, as Cllr Catherine Fitzgerald who had also been selected to run on the FF ticket withdrew in advance of the election.
Sinn Féin's Brian Stanley secured the seat which he first won in the previous 2011 election with over ten thousand votes on the third count, with Minister Charlie Flanagan also being returned on the third count.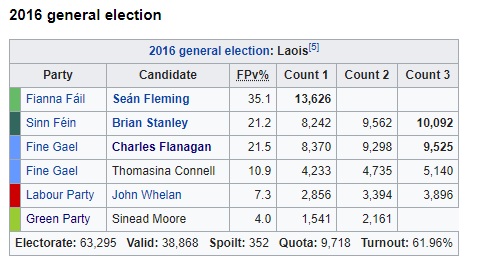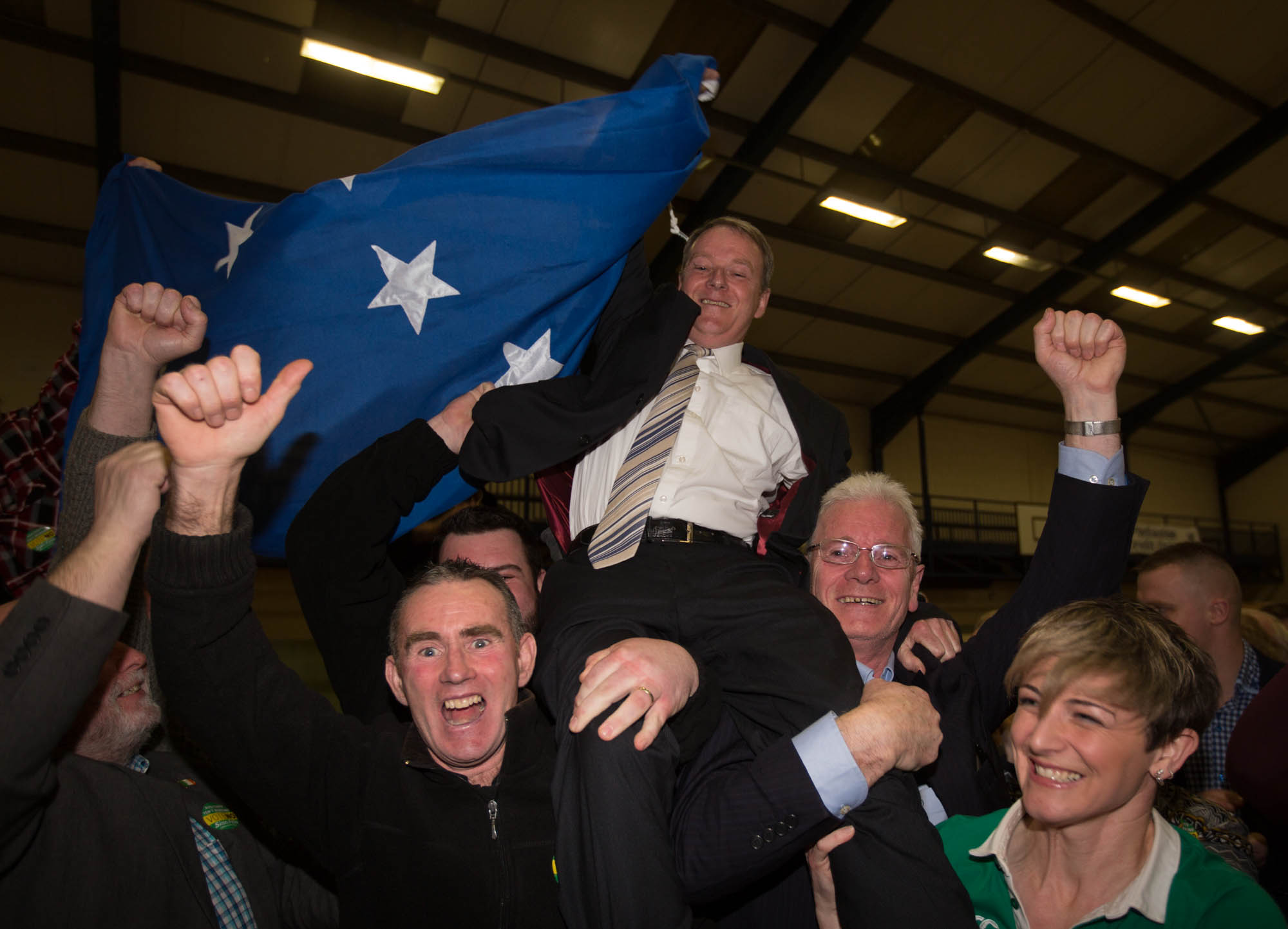 Nothing surprising about any of that but it's worth noting the performance of first time candidate, Thomasina Connell for FG.
She took almost 11% of the vote and finished with over five thousand votes, so some surprise perhaps that she's not on the ticket again this time, especially as she has secured a Council seat in Portlaoise in the interim.
Labour's Senator John Whelan bowed out with 3,896 votes in what was the quickest Laois election count ever, as his Party struggled and lost long held seats right across the country. (That marked the end of my political career and as you can see I am back on the kango as a journalist and leading current affairs commentator!!)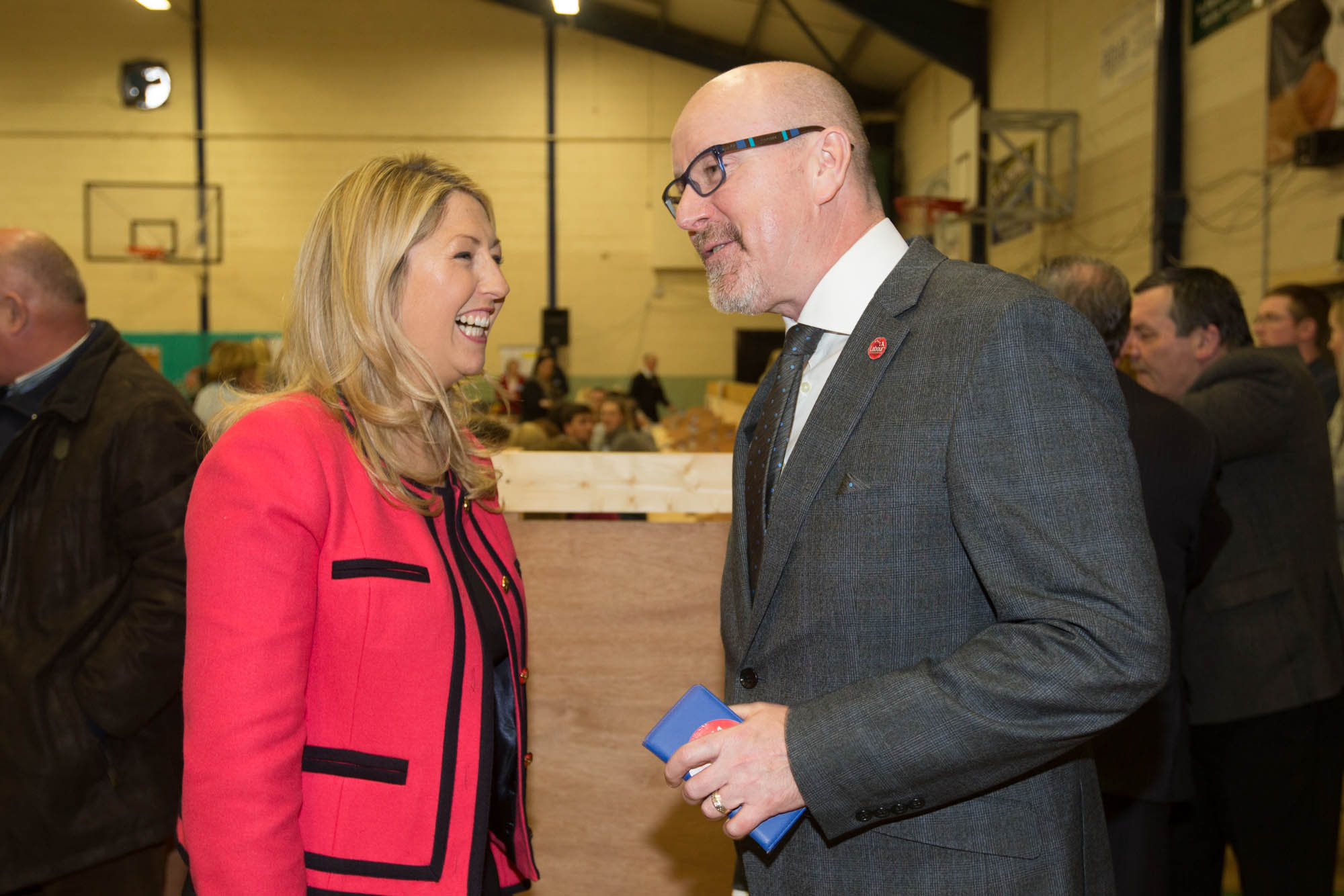 Labour Senator John Whelan with Fine Gael candidate Thomasina Connell at the Laois General Election count in St. Mary's Hall, Portlaoise.
Picture: Alf Harvey/HRPhoto.ie
Running for the Green's was Sinéad Moore from Emo.  The Green candidate this time, Senator Pippa Hackett will have to more than double the Green support to be in with any chance of a seat in the reconfigured Laois-Offaly.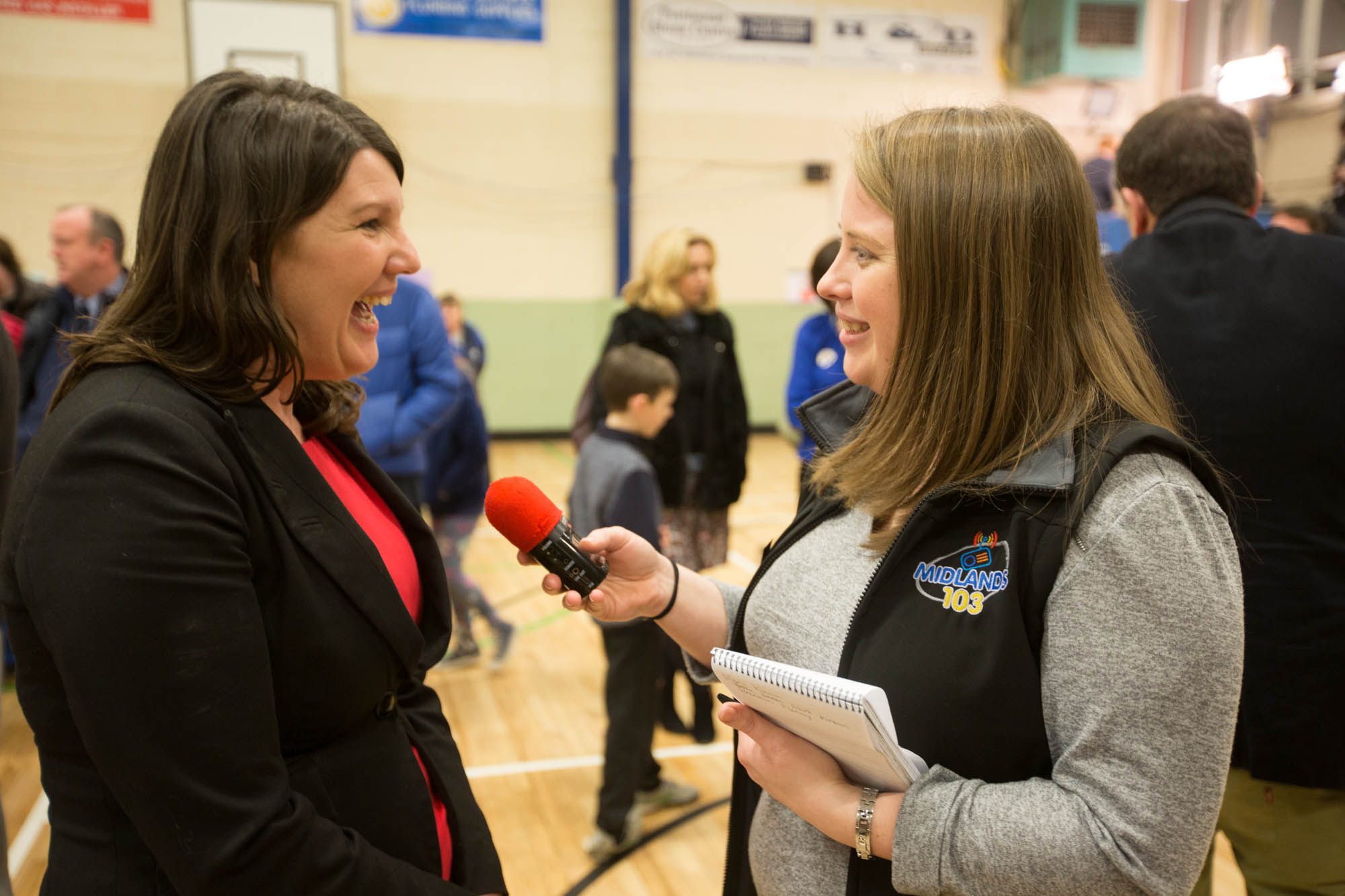 Offaly proved far more interesting
You wouldn't have to be a student of psephology to see at a glance that Fianna Fáil fluffed their chance of a gain in Offaly in 2016.
FF are past masters at vote management and tight transfers, all the more reason they were disappointed to see Cllr Eddie Fitzpatrick losing out to Sinn Féin newcomer Carol Nolan for the third seat by just 170 votes on the 7th count. Cllr Fitzpatrick is not on the ticket this time.
Now with the 5-seater restored and in the aftermath of a very strong local elections performance last summer Fianna Fáil are likely to target Laois-Offaly for a possible gain.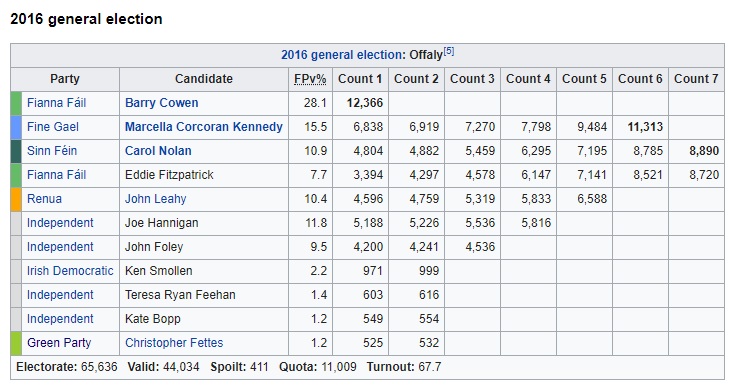 Carol Nolan has since left Sinn Féin over the abortion issue and will contest as an independent. Furthermore the Sinn Féin vote in Offaly virtually collapsed in the local elections last year, down 12% resulting in a loss of all 3 of their Council seats.
Barry Cowen will poll strongly again and will be looking to help his running mate Cllr Peter Ormond get over the line. Cllr Ormond is currently Chair of Offaly County Council and one of those from around the country who came out against Minister Charlie Flanagan's RIC commemoration proposed for Dublin Castle last Friday.
Outgoing TD's Carol Nolan and Marcella Corcoran-Kennedy are going to come under pressure.
As can be seen from the figures out of Offaly from 2016, two other significant players are Cllr John Leahy and John Foley.
This is John Leahy's third general election and he will expect to go well off the back of a strong local election outing. He has since quit as Renua leader and is running this time as an outright rural independent, with this campaign launched by Roscommon TD, Michael Fitzmaurice.
The former Fianna Fáil man, John Foley from Edenderry polled over four thousand first preferences in 2016.
He first ran for FF in 2007 but fell out with them when he didn't get the nomination in 2011 to run alongside Barry Cowen with outgoing Taoiseach Brian Cowen bowed out. Foley has opted to go as an independent ever since and always polled well.
John Foley indicated this week that he will not contest this time so that's a big swathe of votes going a begging in north Offaly.
On the face of it this may further benefit Fianna Fáil or geographically Senator Pippa Hackett of the Greens as she is based in nearby Geashill.
Meanwhile, outgoing TD and former Minister, Marcella Corcoran-Kennedy is boxed off in Birr surrounded by three strong candidates Carol Nolan, John Leahy and Peter Ormond.
Far from being a foregone conclusion there will be a battle royal for the 5th seat in Laois-Offaly this time round.
There will be a casualty even before the count starts as there are six outgoing TDs contesting five seats. That seat along with Portarlington and its hinterland are transferred into Kildare South to make it a 4-seater.
There is also the question of where will the Labour pool of votes, numbering about four thousand even on a poor day, end up, as for the first time every they will not have a candidate on the ballot in Laois-Offaly.
Nominations to contest the election on February 8 close this Wednesday, January 22.
The Laois-Offaly count will be held in Portlaoise starting on Sunday, February 9 at a venue yet to be confirmed.
The Returning Officer will be Mr Paul Fethersonhaugh.
SEE ALSO – Laois-Offaly General Election 2020 – who will win, who will lose, check out our Talking Politics Podcast after the opening week of the campaign
SEE ALSO – Laois-Offaly is a totally different kettle of fish in 2020