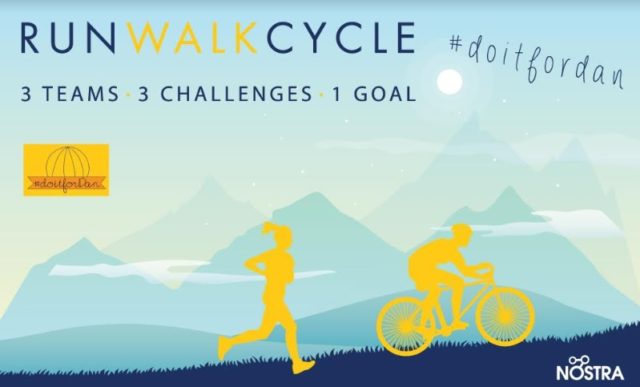 Nostra's aim is to help 1 million people. Not only with IT related needs. This extends to any person or group of people, internal and external to the company that may need help. This forms part of Nostra's CSR.
Nostra initiated an annual charity event in May 2016 which came to be known as 'Dawn to Dusk'.
As a company, Nostra select specific, known, and local beneficiaries for which to fundraise for. Nostra are delighted to have raised over €55,000 to date for children in need of help Zaki Djellabi, Alex Donnelly-Byrne, Jack McNiffe, and Lauren Fitzgerald. It is a pleasure to set out to raise some money for Dan.
In 2020, the year of COVID 19, we are determined more than ever to make a difference. So, on Friday, April 24, we launch a virtual tour of Ireland. Across our team of 80 people we are going to virtually Run, Walk and Cycle the 601Km Malin to Mizen distance. A total of 1800 Kms over 14 days.
1,803 kms, 3 teams, 1 GOAL:
Nostra's 'Virtual Malin to Mizen 2020'
This will all be done virtually and within government guidelines.
The goal is to raise much needed funds for the DoitforDan Trust, supporting Laois boy Dan Donoher.
Dan was diagnosed on the 6th December with a rare genetic neuromuscular disease called Spinal Muscular Atrophy (SMA) Type 1 and Scoliosis. Life expectancy of an SMA type 1 child is 18-24 months.
However, a drug only available in the USA can help. The cost of the treatment is $2.1 million. Dan has just turned one and the widow for treatment is now just 12 months.
The DoitforDan campaign has already reached well over €1.3 million at this stage and has captured the hearts of the nation.
Barry O'Loughlin said "The response of the country to DoitforDan has been phenomenal. We in Nostra really wanted to do our little bit to help. It is important that we all play a part now to help get to the target and beyond and ensure Dan gets the treatment he needs as soon as possible.
"We are very privileged to be able to support such a brave and inspiring family. The team just wanted to take it and go once they heard about it and we look forward to the next two weeks and let's see how we get on."
Nostra's 'Virtual Malin to Mizen 2020' will kick off on 24th April and daily updates can be found on LinkedIn and Instagram.
To donate, please visit https://www.gofundme.com/f/malin2mizen-do-it-for-dan
SEE ALSO – Laois businessman looking to bring jobs to his home county