---
The LaoisToday Business Briefing is brought to you in association with Laois Chamber. Interested in joining Laois Chamber? Visit www.laoischamber.ie or e-mail info@laoischamber.ie .
---
Finline Furniture honour long-standing staff members with over 200 years of combined service.
The National Minimum Wage increased on 1 January 2022. The employer PRSI threshold increased from €398 to €410.
Enterprise Ireland's end of year results and new three-year strategy, 'Leading In A Changing World', was launched last week. It is reported that 68% of new jobs were created outside of Dublin and companies supported by Enterprise Ireland in the Midlands saw net employment increase by 4% to 11,416 in 2021.
An annual grant of €2,000 has been announced for employers who employ apprentices in one of the 37 apprenticeships which have been established since 2016. This extends financial support to all apprentice employers for the first time.
---
Business Supports
NEW FRONTIERS – Apply for Phase 1 of the Enterprise Ireland New Frontiers programme. New Frontiers helps early-stage entrepreneurs to take the leap, offering a supportive yet challenging environment to help develop your business idea.
Delivered on behalf of Enterprise Ireland by the Institutes of Technology and Technological Universities, New Frontiers offers a combination of practical and interactive workshops, personalised mentorship, co-working space, and funding.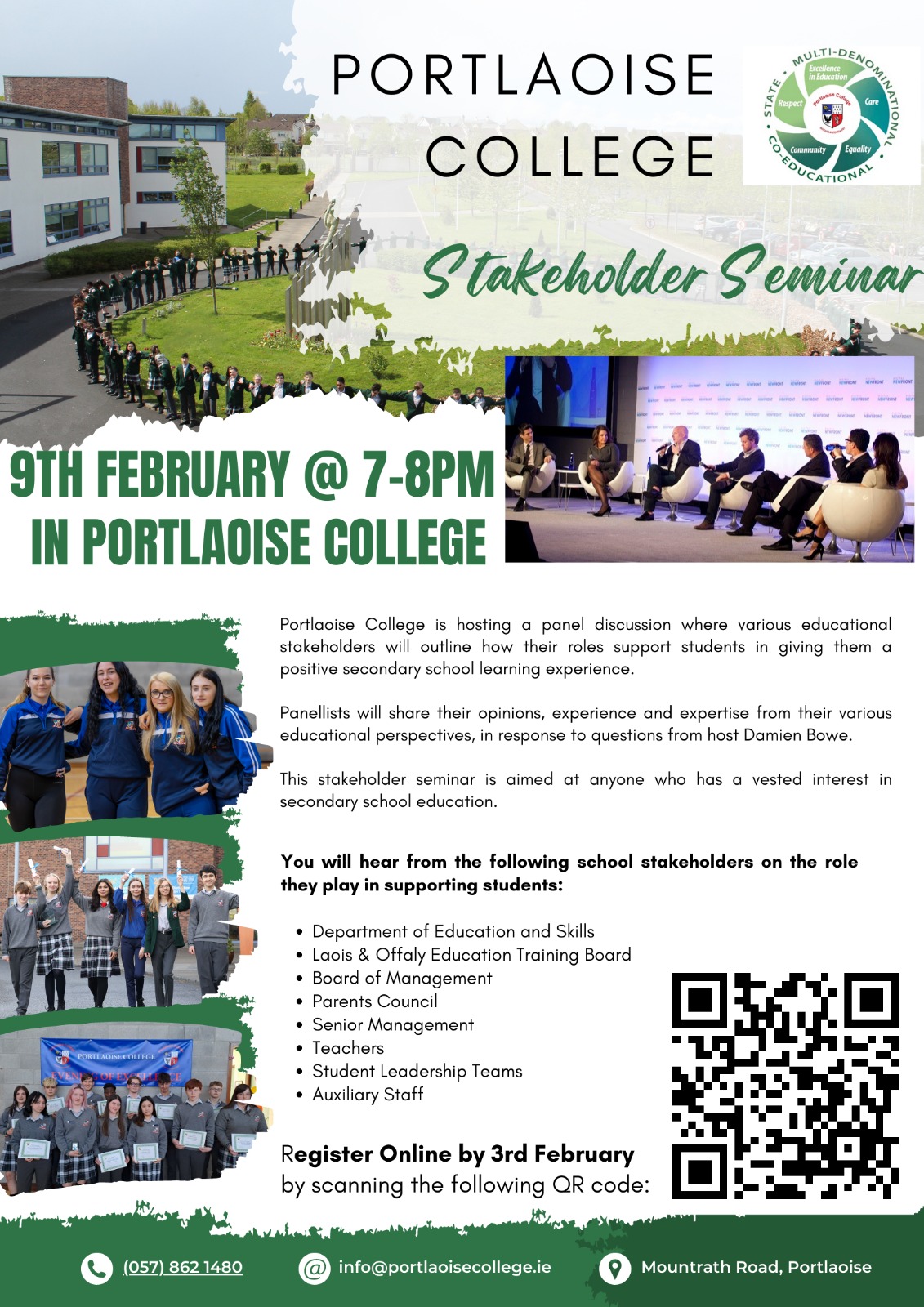 We help you reduce risk and dramatically increase your chances of success. Over three phases, you will gain the confidence and skills to develop your business idea within a supportive and encouraging environment.
The closing date for the programme in Institute of Technology, Carlow is 21st February 2022. The programme runs Tuesday 1st, 8th, 15th and 22nd March. Visit https://www.newfrontiers.ie/ for more information.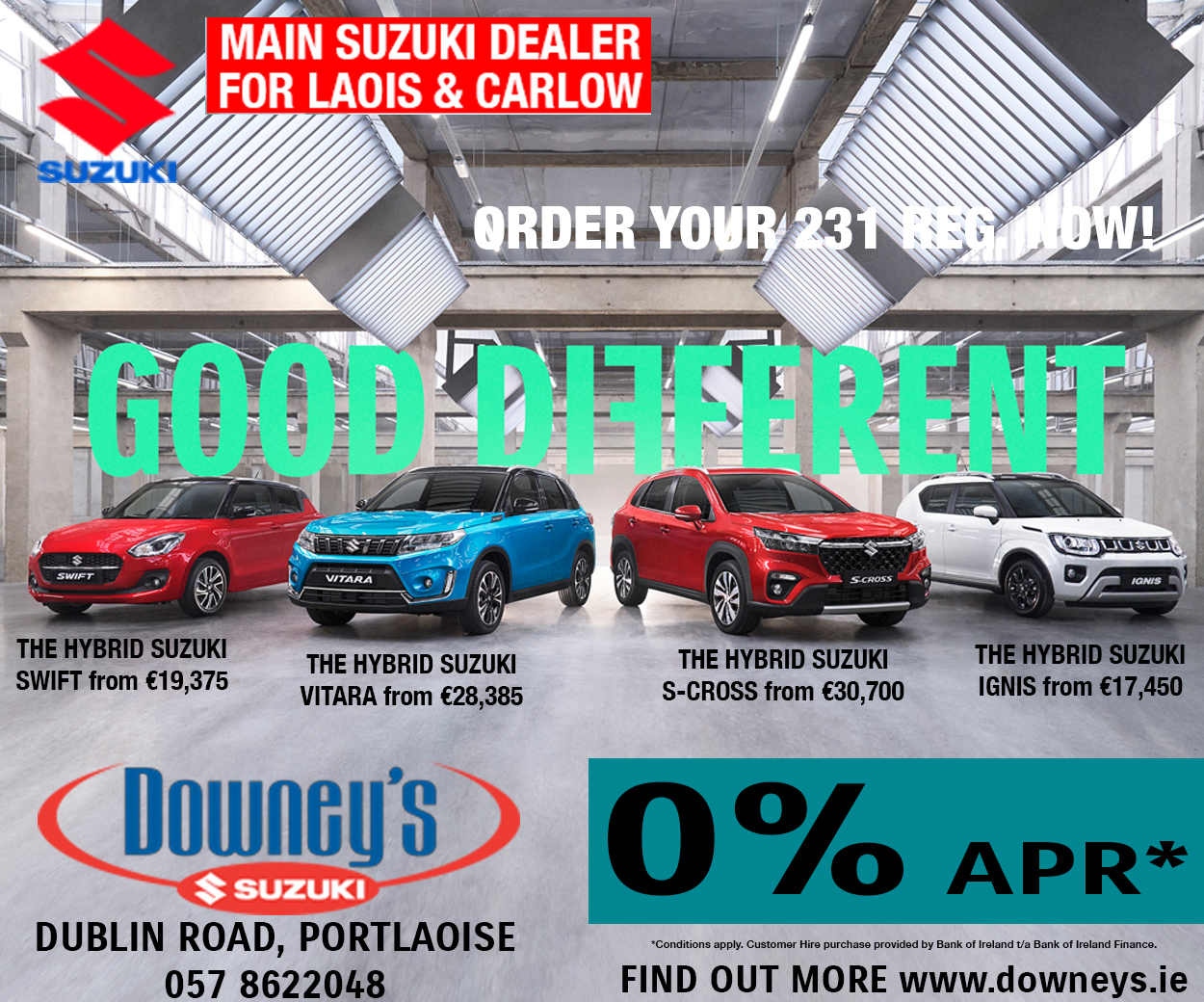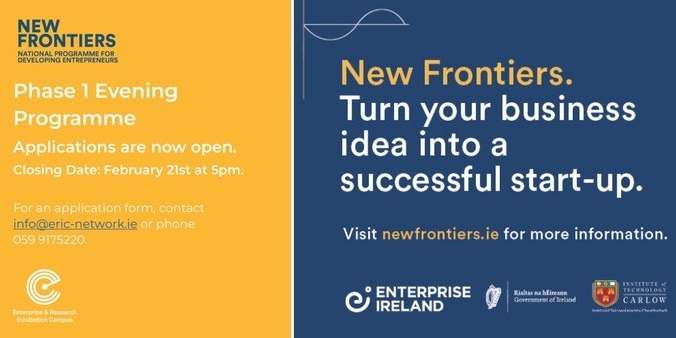 ---
CLIMATE TOOLKIT 4 BUSINESS – Check out the new Climate Toolkit 4 Business, providing practical and cost-effective actions that every business can take to support Climate Action transformation and build resilience.
Start your journey towards a sustainable business by visiting https://www.climatetoolkit4business.gov.ie/.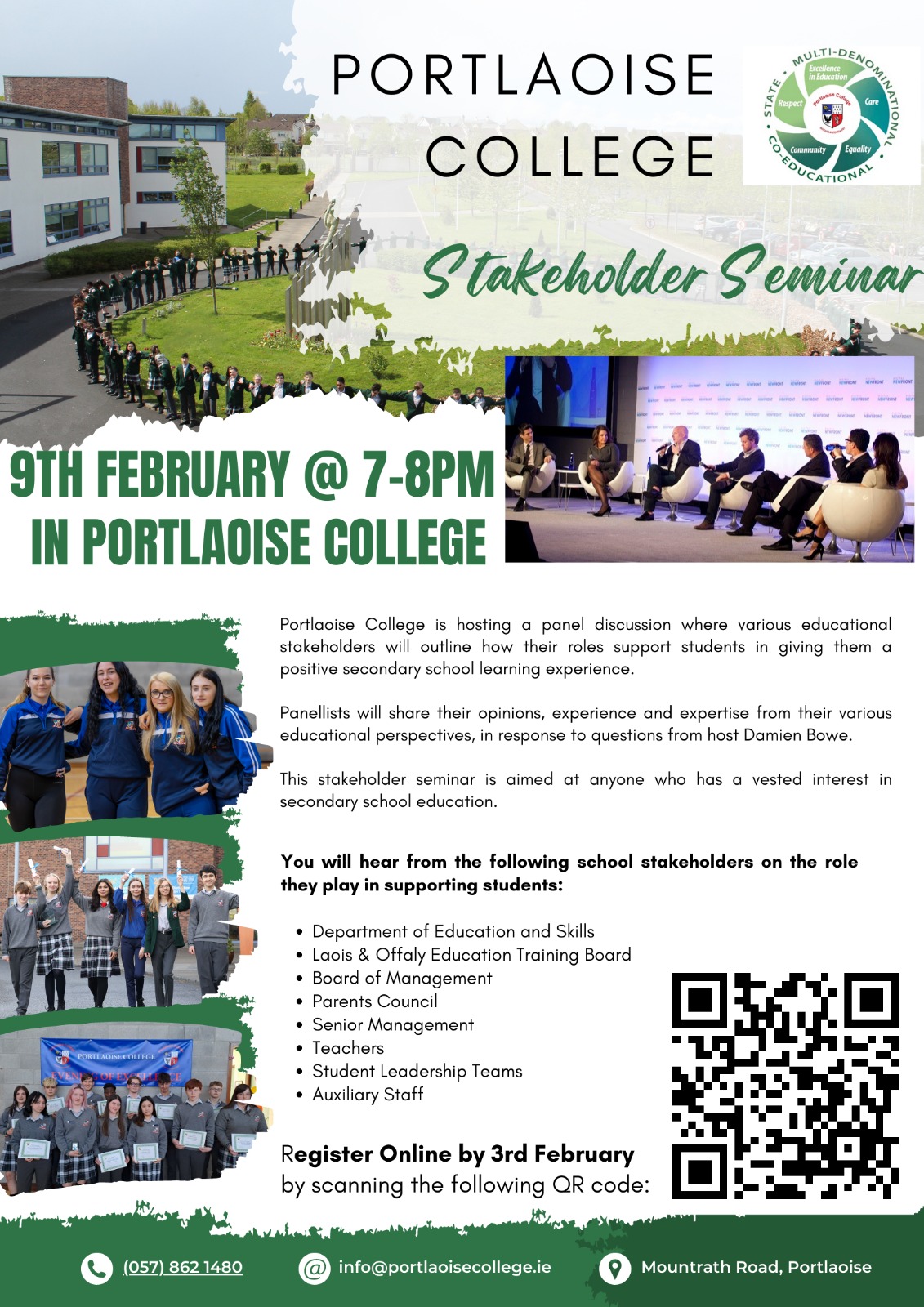 Enterprise Ireland's range of new supports enable Irish companies of all sizes and in all sectors to develop and implement a digital roadmap for their business. Visit https://globalambition.ie/digital/ for more information.
---
Business Spotlight – Laois Chamber Member ND Audit & Advisory
Laois Chamber CEO Caroline Hoffman caught up with Noel Delaney, Managing Director and Shane Keane, Senior Manager, in the ND Audit & Advisory Office located at 41-42 Grattan Steet, Portlaoise.
Tell us a bit about ND Audit & Advisory and why you chose Portlaoise for your office?
Having spent 24 years in a large accountancy firm based in Dublin, advising a broad range of clients from multi-nationals to SME owner managed businesses I felt that there was definitely a gap developing in the market for ambitious, growing owner-manged family run types of organisations of all sizes.
I set ND Audit & Advisory up as a boutique audit and advisory services firm with offices in Portlaoise and Dublin, to cater for those types of organisations who need accurate and quality advice and professional services.
All sizes are important and we cater for all those types of organisations.
We chose Portlaoise as the location for our main office as it is at the heart and crossroads of Ireland. We also have access to talent and excellent staff, who do not need to commute to get the same quality of training and career progression as they do in Dublin and London.
Staff wellbeing is so important, and we offer a comfortable place to work and the same opportunities for our staff to grow and develop their careers. Anyway, being a Ballyroan man, Portlaoise was the obvious choice and took about three hours off my daily commute!!
With our hybrid working conditions and national and international clients, it doesn't matter whether we are located on Grattan Street or Grafton Street, because our clients get the same high quality service and our team get that high quality experience.
Being based in the town centre in Portlaoise, we also feel that we contribute to developing and growing mini economy within the town and we anticipate that we will create an even bigger footprint over the next few years.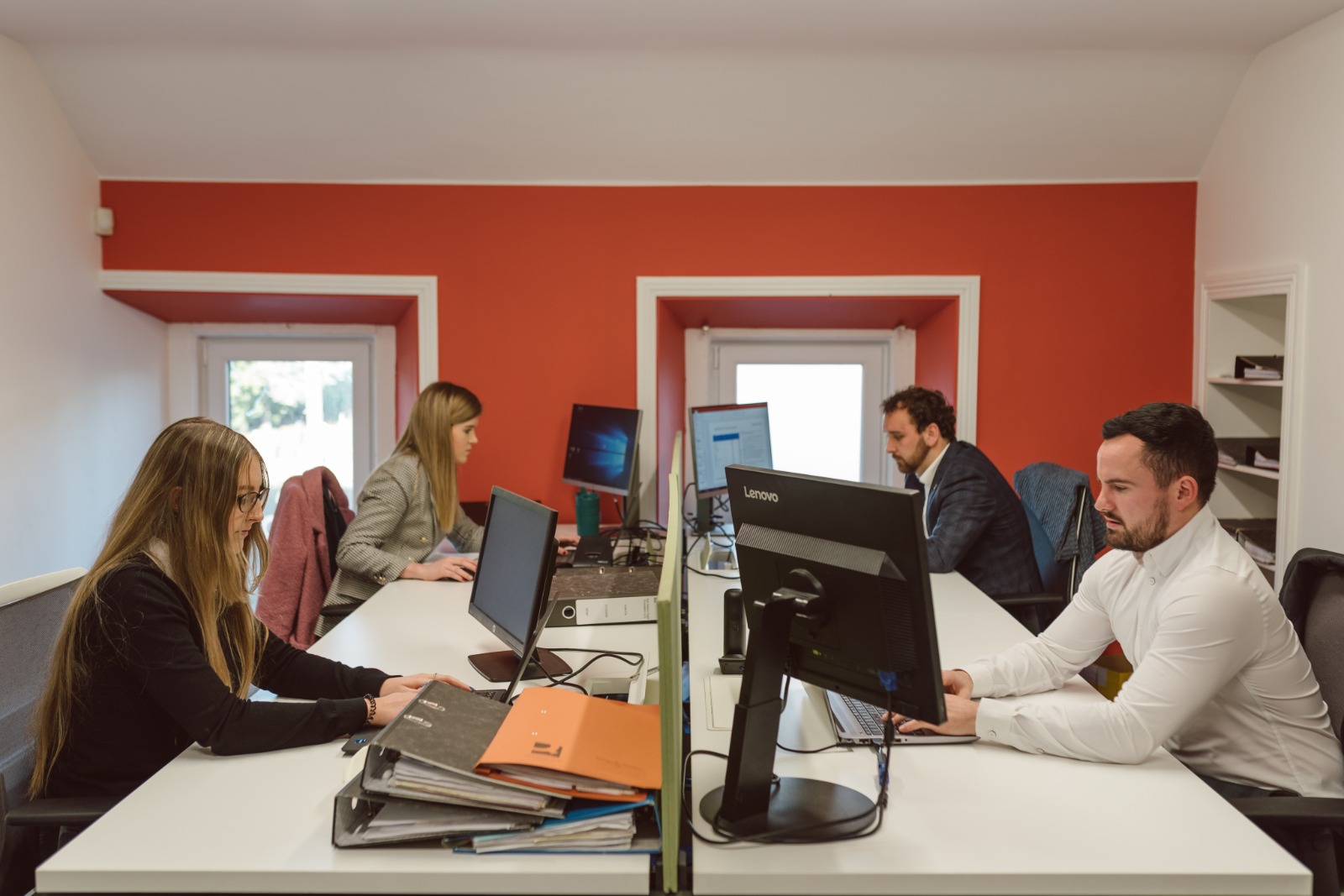 How has ND Audit & Advisory grown since you officially opened in October 2020?
It's been exciting. We started with two people (Noel Delaney and Shane Keane), with our first recruitment drive taking place in August and September 2020. When our doors opened, we took on three staff with five staff by mid-October 2020.
We now have a total of 12 staff including consultants, growing from two to 12 staff in the space of 15 months. It has been a really busy 15 months which creates a dynamic workforce.
The range of services we offer has also grown and we now have experienced professionals in Audit, Advisory, Taxation (Corporate and Personal), Company Secretarial, Outsourcing and corporate finance and recovery.
I have taken the learnings that I received from my large practice experience and adopted the best practice to a young, dynamic, tech savvy and agile services firm.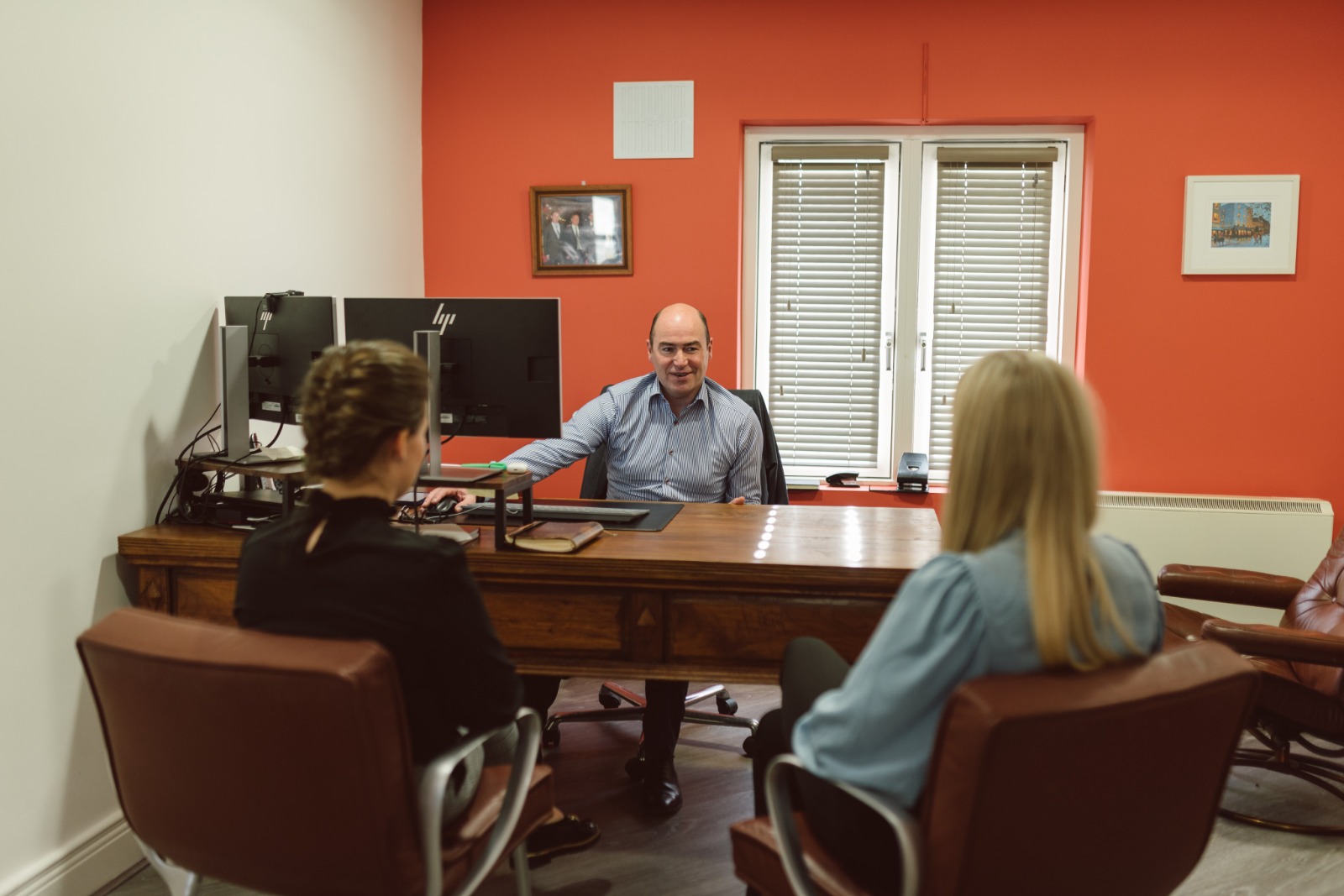 For any business considering locating in Laois, what would you say are the best things about being located in Laois?
Portlaoise is essentially at the cross roads of the entire country. With the ongoing developments at Junction 17 National Enterprise Park there are huge benefits to Portlaoise and the county, particularly for the manufacturing and distribution sectors.
Location wise, Laois is a brilliant location as it is so central. Critically we have a strong and educated workforce seeking high quality work locally.
I was one of those people on the N7 or train to Dublin every day looking for career progression in Dublin and I think that Portlaoise can be a centre that can offer the same opportunities for progression but less of the commute!
Infrastructure wise Portlaoise is a large town with a large population and hinterland. There is a lot of untapped potential in Laois, and instead of driving to Dublin, Cork or Limerick, why not have a central office here?
The infrastructure is here, we are just an hour from Dublin Airport and Limerick, 1 hour 20 minutes to the Jack Lynch tunnel, 30 minutes to Carlow and Tullamore, and 45 minutes to Kilkenny we are at the heart of the Island.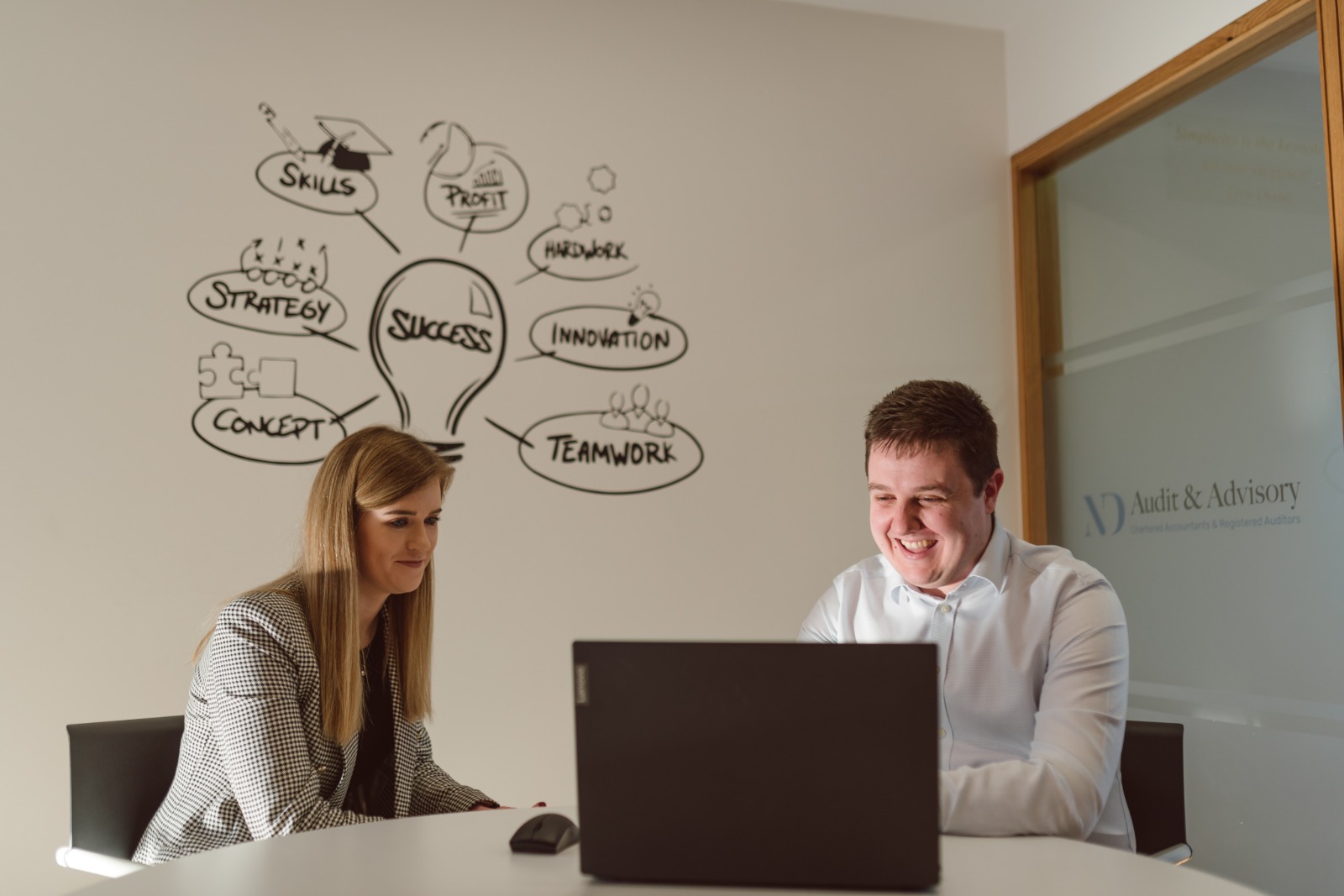 What is the most valuable piece of advice you have been given?
One of my former partners, who interviewed me in the early 90s now retired and still a really good mentor of mine, told me at my interview that: "To be successful here there are only two things you need to worry about – Relationships with your clients and relationships with staff; once you mange those everything else comes easy."
I've always used that mantra as a guide and this is definitely as important now as it ever was. People are at the heart of everything we do.
Where would you like to be in five years' time with ND Audit & Advisory?
It is all about quality, not necessarily quantity. In 5 years' time, we want to be the go-to, leading advisory practice in the Midlands region.
We want to remain town centre based here in Portlaoise, employing local people and giving them experience, training, and the same quality of work as sitting in an office in Dublin or London.
We want to create a sense of community that people will want to work with us or work for us. We definitely want to be able to serve local people and we want to drive the local economy.
It isn't all about the main urban centres and what the last two years of a pandemic have shown us is that supporting local services at a high quality level is really important.
Ultimately in five years time I want a mid to large-sized practice, which is approachable by all organisations.
It doesn't matter if your business decisions are being made at a board room table or at the kitchen table we will be there to support you.
Visit www.ndauditandadvisory.ie. Current Vacancies with ND Audit & Advisory
---
What's Coming Up?
LAOIS CHAMBER NETWORKING EVENT – Register for Laois Chamber's first Networking Event of 2022 via Zoom on Thursday 27th January, 9am-10am to network and meet other members. We will be joined by Therese Walsh of TW Performance Solutions who will give a presentation "Together works: helping Leaders deliver business change, through their people". E-mail info@laoischamber.ie to register.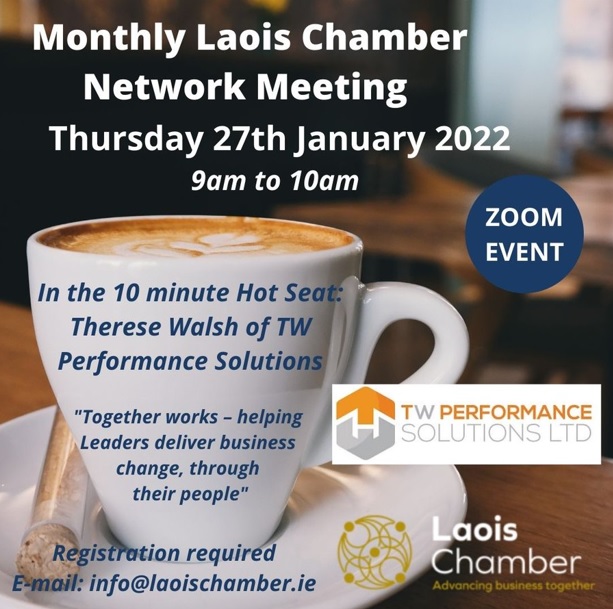 LEO TRADING ONLINE VOUCHER – Local Enterprise Office Laois are holding a FREE workshop and Q&A on Tuesday 18th January at 10am to learn about the application process for the Trading Online Voucher. You'll learn about e-commerce, website development tools & how to complete the TOV application process. Book now at https://bit.ly/LaoisTOVJan18
SEO BOOTCAMP – FREE SEO Bootcamp with Local Enterprise Office Laois on 25th January & 8th February from 10am to 12.30pm. At the end of the workshop each participant will have evaluated their own website SEO and will have the skills, tools and knowledge to be able to implement their website SEO themselves or in conjunction with their web team.
Book now at https://www.localenterprise.ie/Laois/Training-Events/Online-Bookings/T2202-SEO-Bootcamp.html
SEE ALSO – Business Briefing: Award winners, business supports and Laois company NetSupport on their story so far