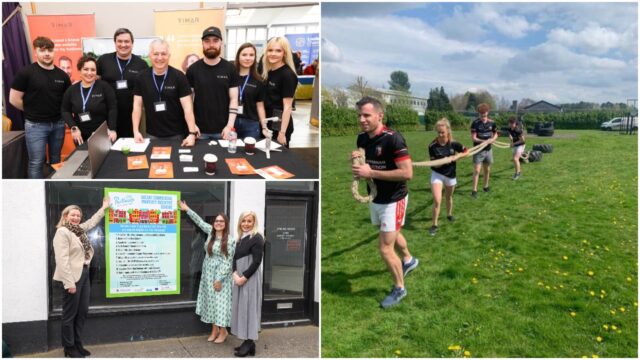 Laois Chamber CEO Caroline Hofman caught up with Alastair Roe Strategic Director of VIMAR Digital Marketing.
This is a Portlaoise-based digital marketing company catering for businesses big and small…
---
Tell us a bit about VIMAR Digital Marketing and what you offer?
VIMAR Digital Marketing was set up to be different in a number of ways. Our vision was to create a reliable team of marketing and technical experts all under one roof.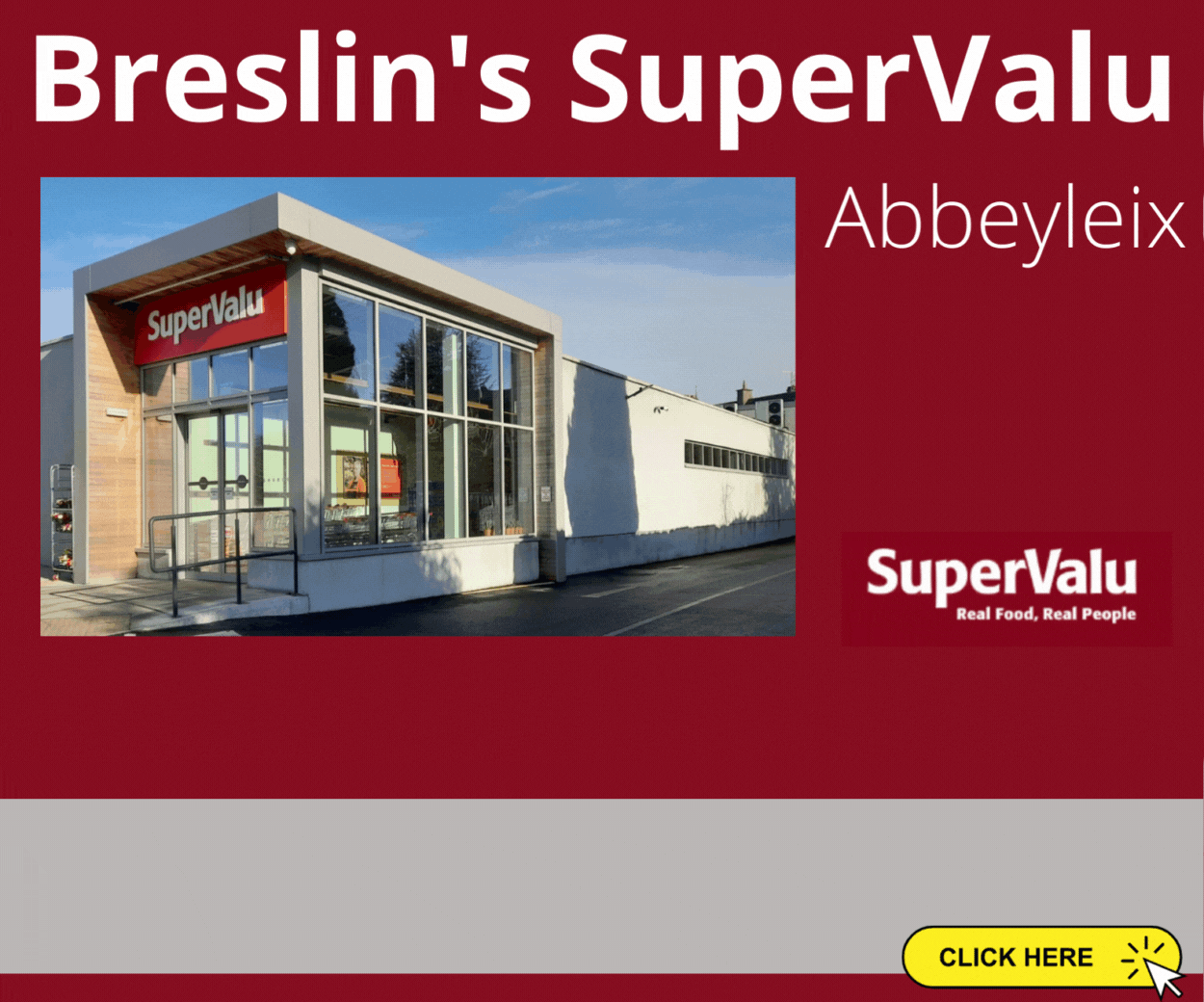 We could see that it was successful in larger cities like Dublin, but it just wasn't available here in Laois. Industry leading graphic design matched with bespoke development capabilities is something we aimed to focus on.
We believed this would give local small and medium businesses the opportunity to excel when looking to improve their brand online.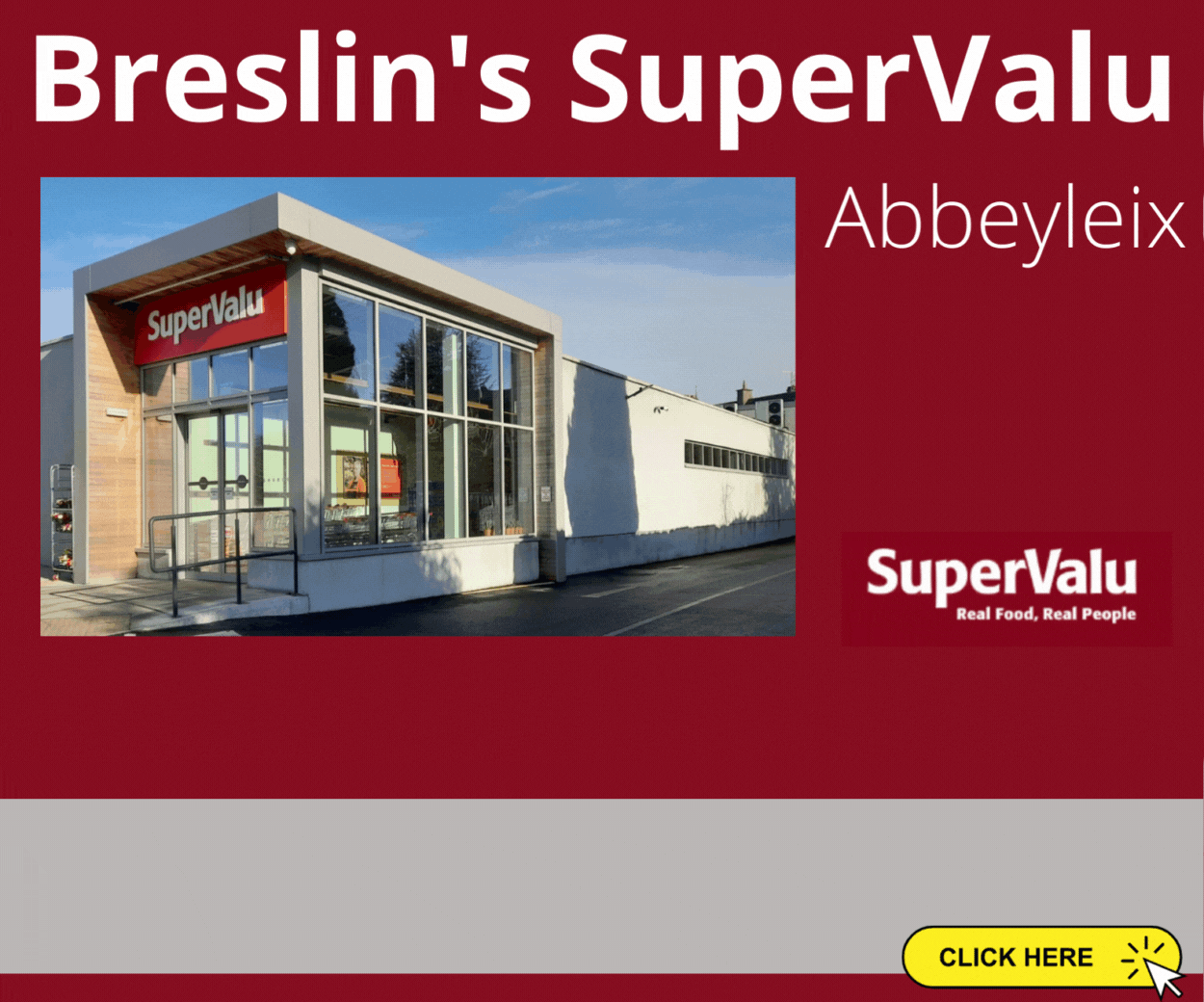 My job as the Strategic Director is to typically work with our clients to figure out how to best market their business online.
Being a small business, our clients get to know our team during a project. It's not always simple to get success, but we definitely put the work in.
Our aim is to partner with businesses and help them grow in many different ways.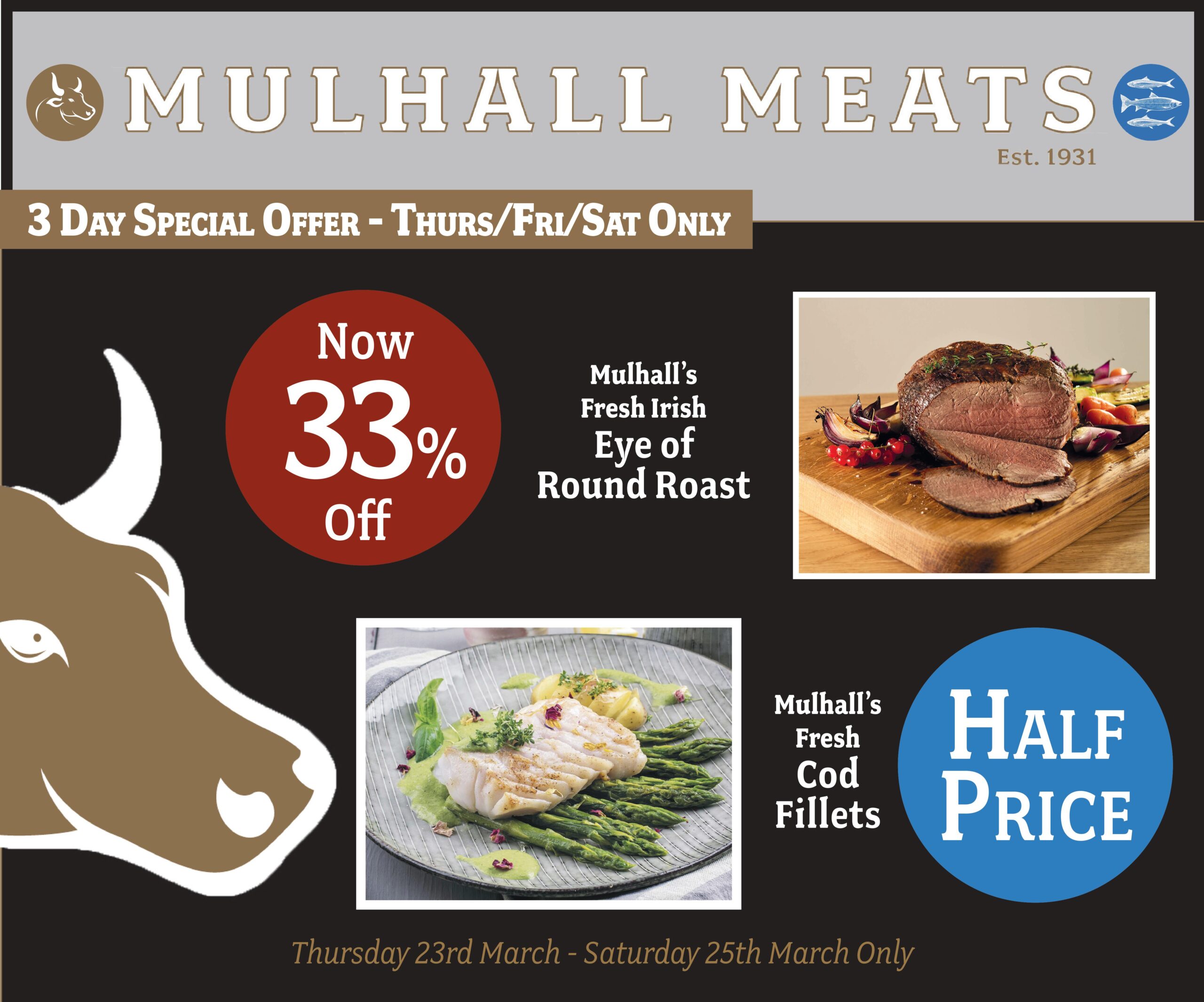 Our services are vast but can be summarised into six main categories; Branding, Web Design and Development, Online Advertising, Search Engine Optimisation (SEO), Social Media Marketing, and Content Production (Copywriting/Video).
These services can be either project based or part of a longer term partnership.
When was VIMAR Digital Marketing established, and how have you grown since then?
The team started to come together in late 2018, but our office was first launched in Portlaoise town in May 2019.
The initial founding partners were Jan Smolorz, Greg Margas and myself, Alastair Roe. With different business backgrounds, we jumped into growing our own brand straight away.
Already with a selection of clients across Ireland, we aimed to grow locally first.
Our growth at this stage was hard earned, as we were the new company in town. We took on lots of exciting projects early on which helped us rapidly grow our team.
This allowed us to expand our team and move to a new office in 2021 at Unit 1 Pepper's Court, opposite the Laois Shopping Centre.
You may have seen the giant white 'V' in our window while passing. Our new office has much better capacity for growth.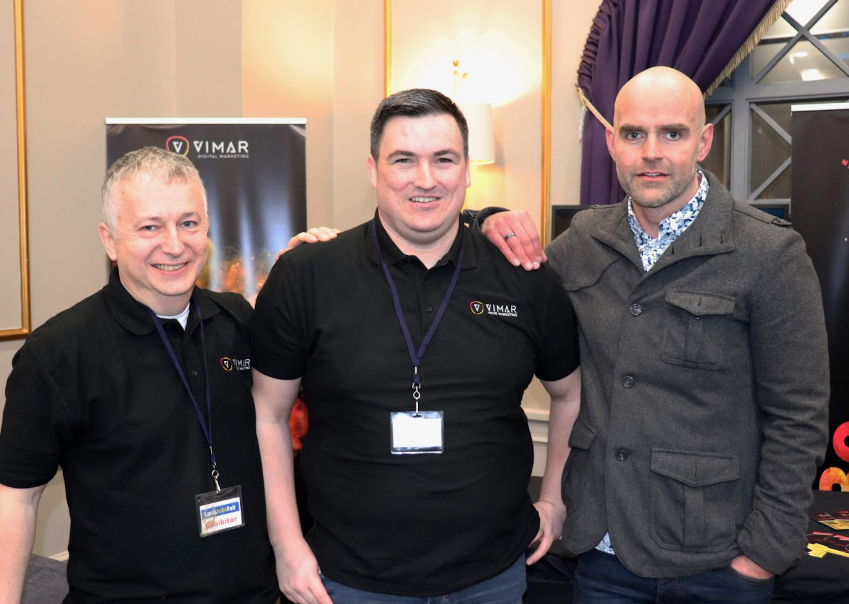 Can you highlight some recent key achievements/news at Vimar Digital Marketing?
We are an award-winning agency with an ambitious vision to be a large employer here in Laois. We aim to compete with the best digital agencies in the country.
We have had great success on campaigns promoting local events such as the Leaves Festival, Laois Culture Night, Laois Gift Card and of course the Laois Jobs Fair last month.
Partnering with organisations such as Laois Chamber and Laois County Council have been fantastic in recent years. We manage hundreds of websites and want to do more ongoing campaigns.
The pandemic had forced many businesses to start thinking differently about how they attract customers. With the help of Local Enterprise Office Grants, many small businesses have been able to make drastic improvements to their online marketing abilities.
This has helped us to support small local businesses such as Miller's Home and Garden, Doyle's Shoes and The Laois People to all improve their online presence.
We have had some great support from LEO Laois to help us grow with projects such as Lean for Micro and we recently completed a Green for Micro campaign. Building a bigger, better company is our aim for the coming years.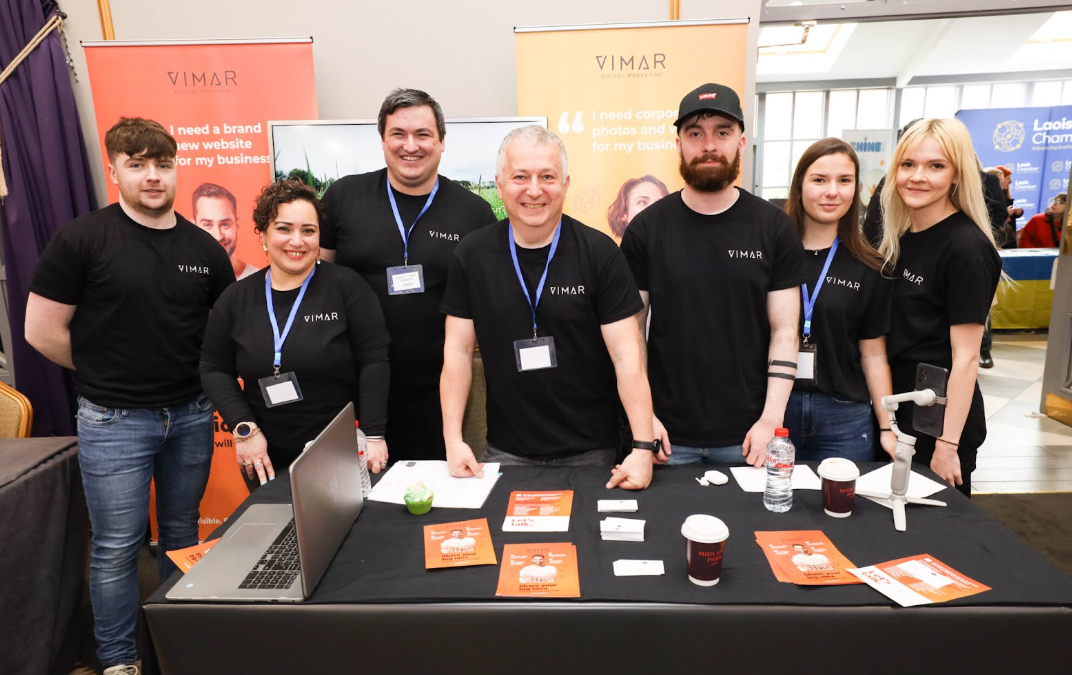 For any business considering locating in Laois, what would you say are the best things about being located in Laois?
Of course, we believe in Laois as a place to be in business. There are so many opportunities to grow and expand across the country, and we have clients in Dublin and Cork.
A big benefit for me personally is that there is a good business community here in Laois. Getting to network with other businesses and being able to speak to decision makers has helped us get off the ground and secure local business.
Laois Chamber Networking and BNI have been invaluable to us over the last three years. Of course getting home from the office in less than ten minutes is a big bonus.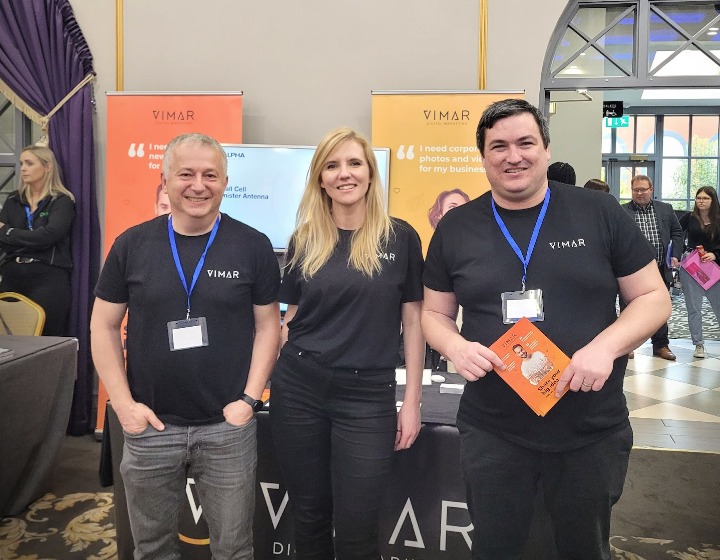 What is the most valuable piece of advice you have been given?
'Knowing what you want to achieve'. I've always focused on having a vision for what you want to achieve in business.
Having this belief and overall focus is what gets you through the difficult times in business. Celebrating the success along the way keeps the whole team going.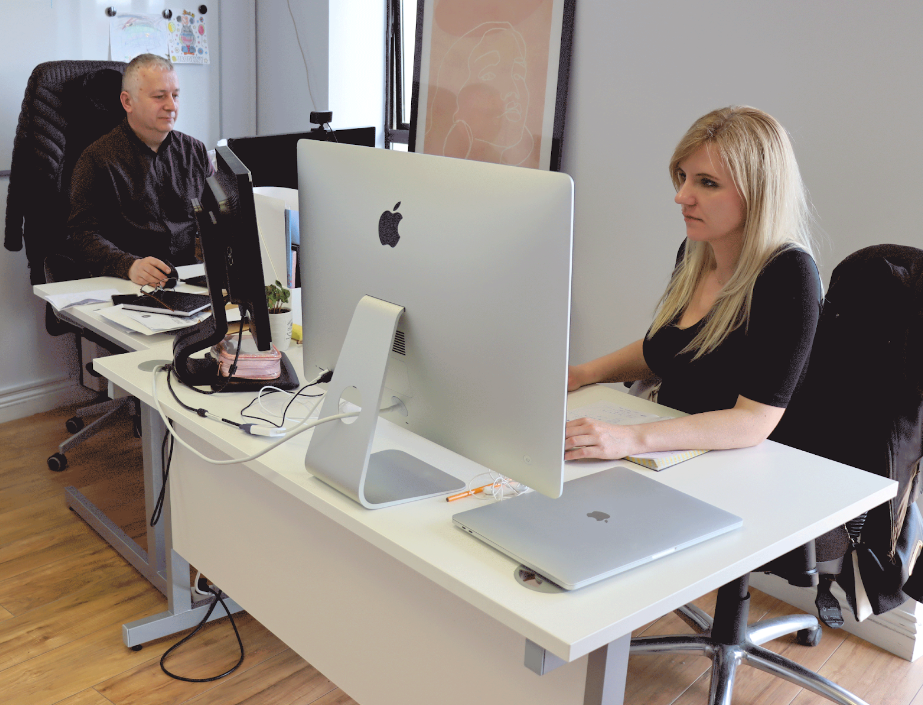 Where would you like to be in 5 years' time with Vimar Digital Marketing?
We want to be the best. In 5 years' time we aim to be competing against the top creative agencies for the biggest companies in Ireland and attracting the most talented people to work here in Laois. The digital landscape is rapidly changing and we want to be a part of it.
Visit www.vimar.ie
---
Business News
Congratulations to Laois Chamber member, Mochua Print, who recently won the top award for  Best Printing and Graphic Design Agency along with the Eco-Conscious Excellence Award in the Irish Enterprise Awards 2022.
Last month 427 students across 7 schools took part in the Laois Enterprise Awards with Portlaoise College coming out winners in 6 out of the 7 categories. These winners, with the support of the Local Enterprise Office Laois, represented Laois in the National Finals.
2nd Year Portlaoise College students Oisin Grundy and Mosa Hafeez triumphed in the All Ireland National Student Enterprise finals.
Oisin was the overall Winner in the Junior Creative Video competition where he came up with the innovative idea of designing a water bottle that can change the flavour of your water. While Mosa was placed 2nd in the Intermediate Entrepreneurial Journey Competition. Mosa created a social media app that censors advertising.
The Programme runs from September to May each year, and students get to do everything a real life entrepreneur would do from coming up with the business idea to marketing, sales and preparing a business plan.
The recent Laois Chamber April Networking Event took place in the beautiful event space in Bloom HQ, Mountrath. St. Canice's Credit Union and People First Credit Union gave attendees a presentation on how Credit Unions can help local businesses with a range of loans and services available.
Laois Chamber have been shortlisted for two categories in the Chambers Ireland awards: Local Authority Collaboration – Commercial Vacancy Incentive Scheme; Best Membership Initiative – Business Briefing in association with Laois Today. The winners will be announced on 2nd June.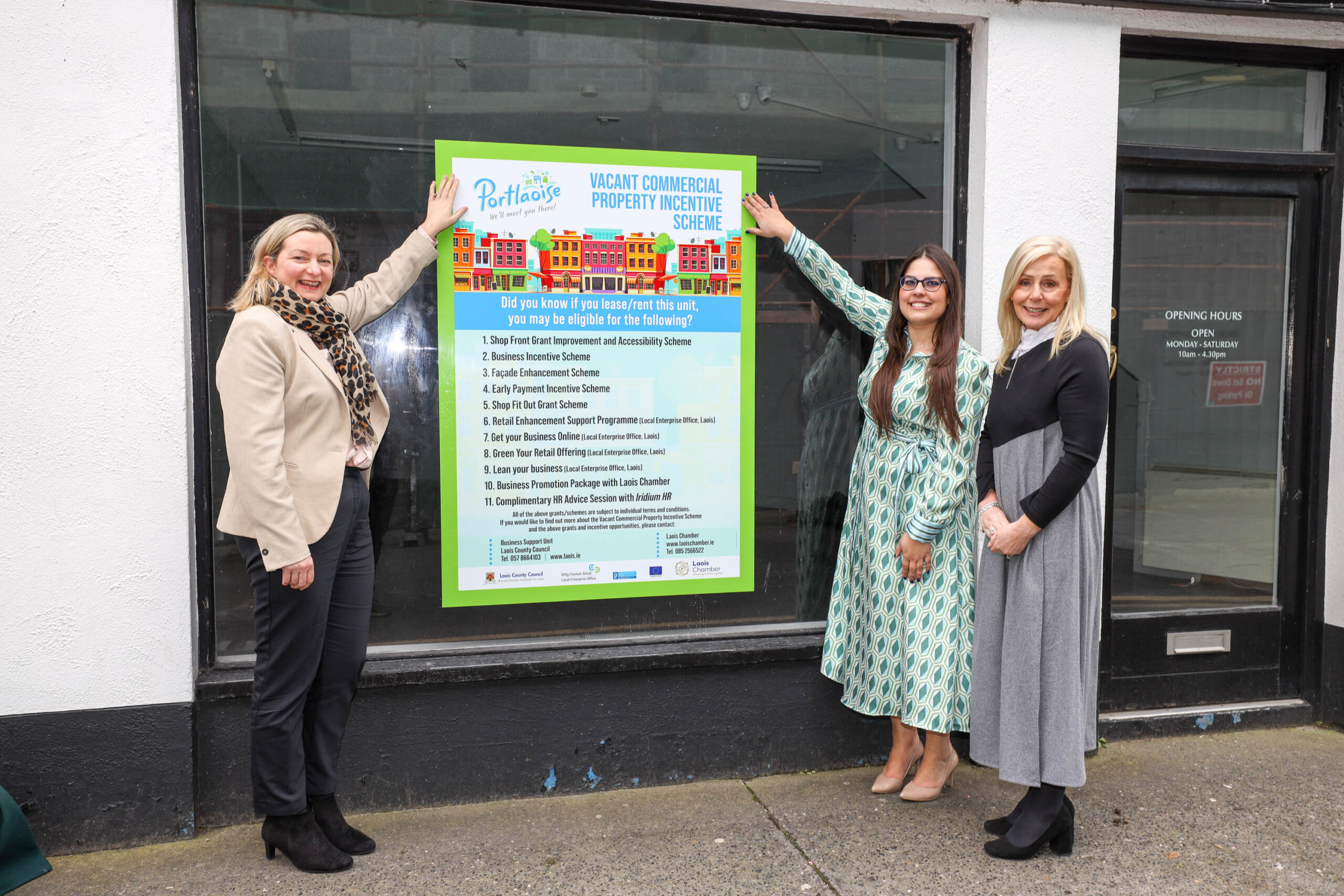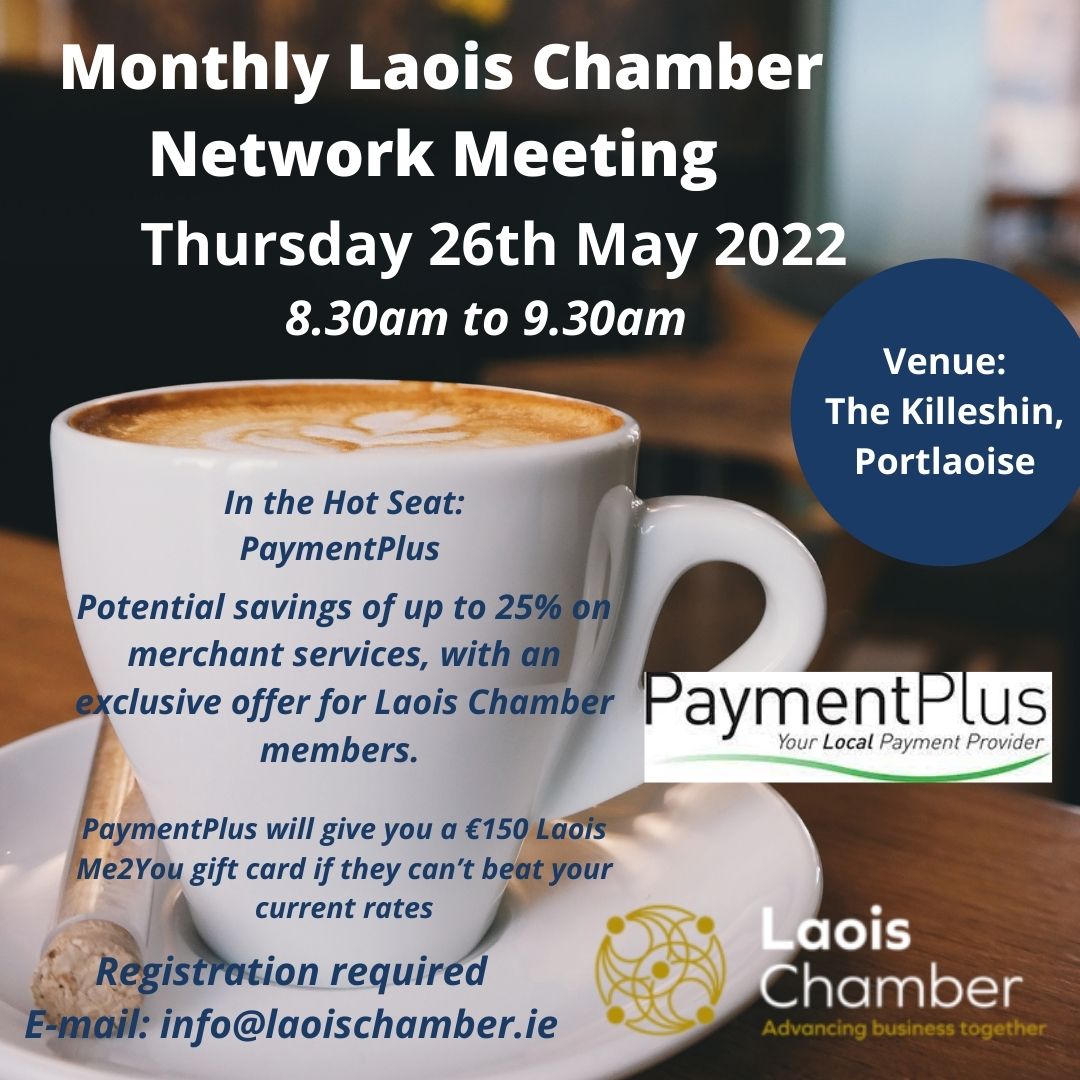 ---
Business Supports
Technical Assistance for Micro Exporters (TAME)
The worst of Covid has finally passed and overseas expos and trade shows are back on the agenda again. If you are an exporter looking to attend a trade show or to develop export specific marketing material them come to us a find out more about Local Enterprise Office Laois' TAME micro exporters grant.
 Apply online here: https://www.localenterprise.ie/Laois/Financial-Supports/TAME-Export-Grant/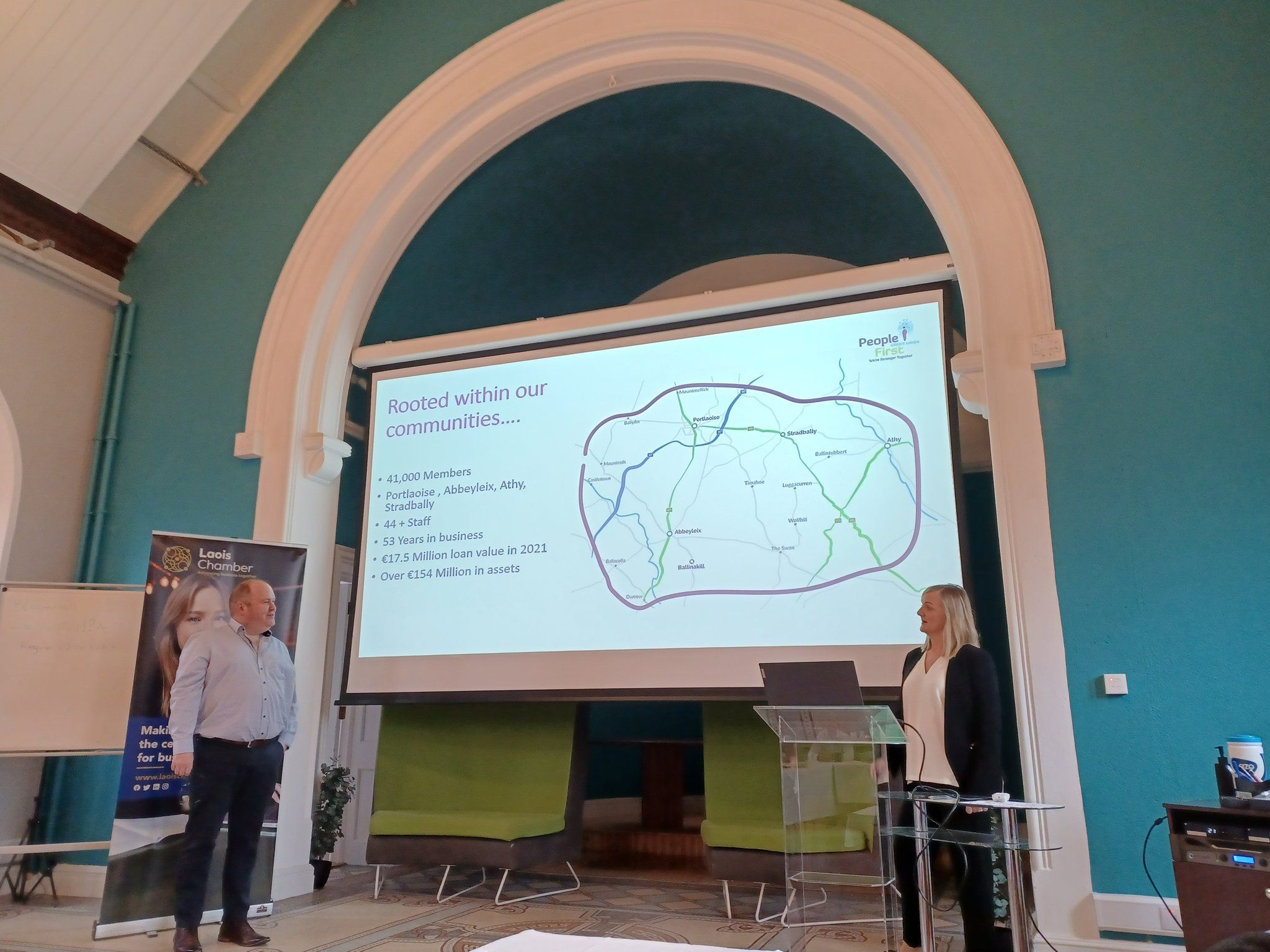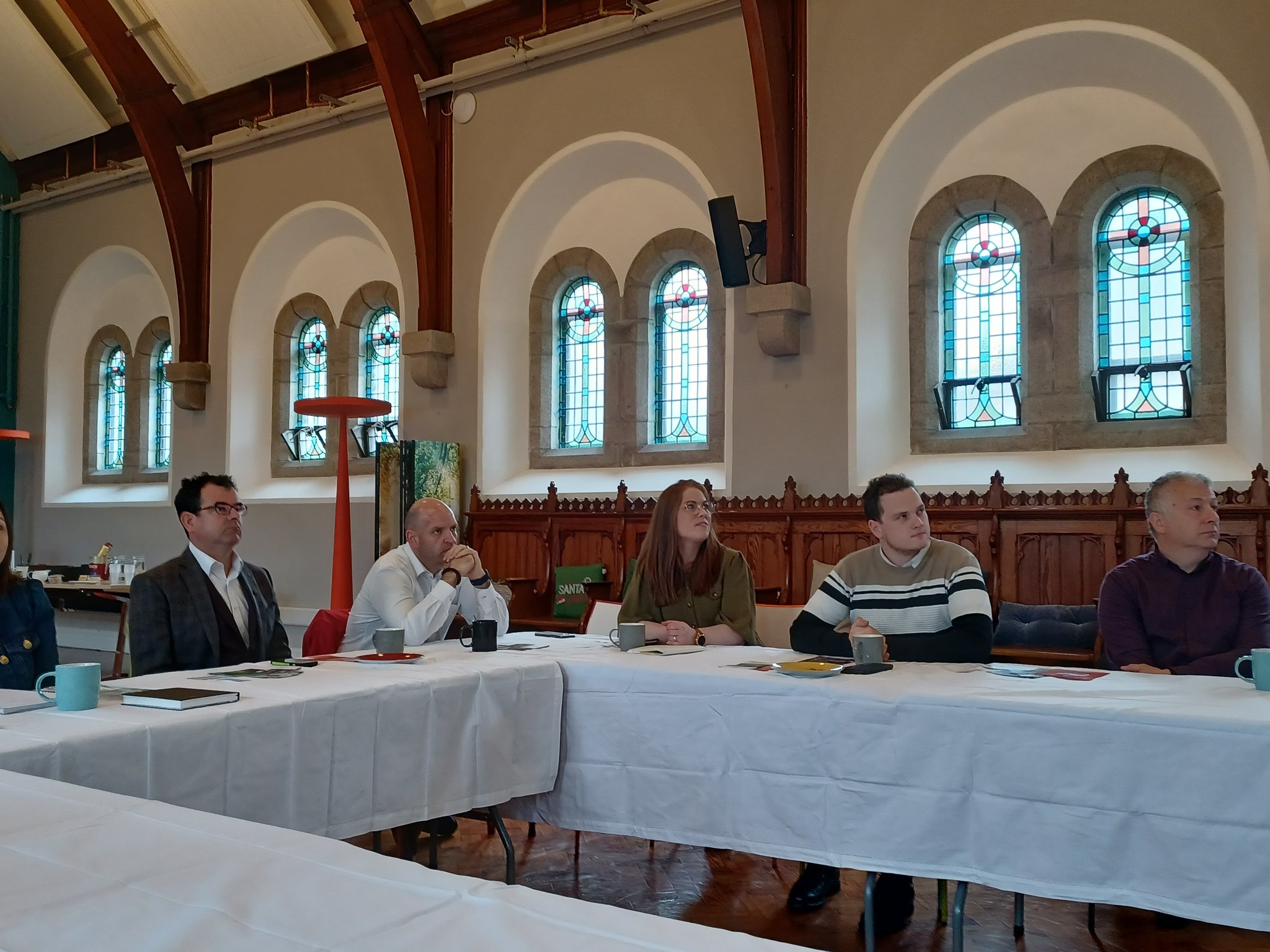 What's Coming Up?
Laois Chamber May Networking Event
Date: Thursday, 26th May
Time: 8.30-9.30am
Venue: The Killeshin, Portlaoise
PaymentPlus will give a brief presentation on potential savings of up to 25% on merchant services exclusive to Laois Chamber members.
E-mail info@laoischamber.ie to register.
Only 3 weeks to go to Shine in Emo 2022 in Saturday 21st May in the beautiful surroundings of Emo Court House and Parklands.
Shine 2022 will see the worlds of sport, business, tourism, food, art and culture come together as 32 amateur teams battle it out for the title of Ireland's Fittest Club. Visit www.shineinemo.ie – Admission is FREE!
Workshop for Limited Company Directors with Local Enterprise Office Laois
Date: Wednesday, 11th May 2022
Time: 9.30am – 12.30pm
Venue: Online
This course educates Limited Company Directors in their obligations to both the Revenue and the Companies Registration Office (CRO) and the related filing deadlines.
Book your place here for FREE: Online Bookings – Laois (localenterprise.ie)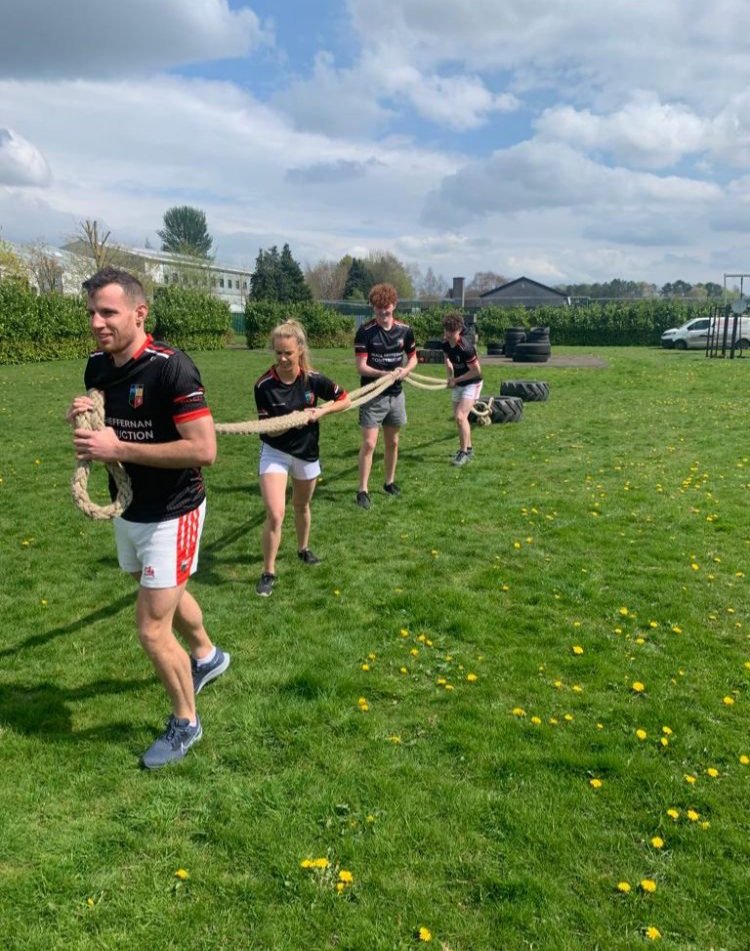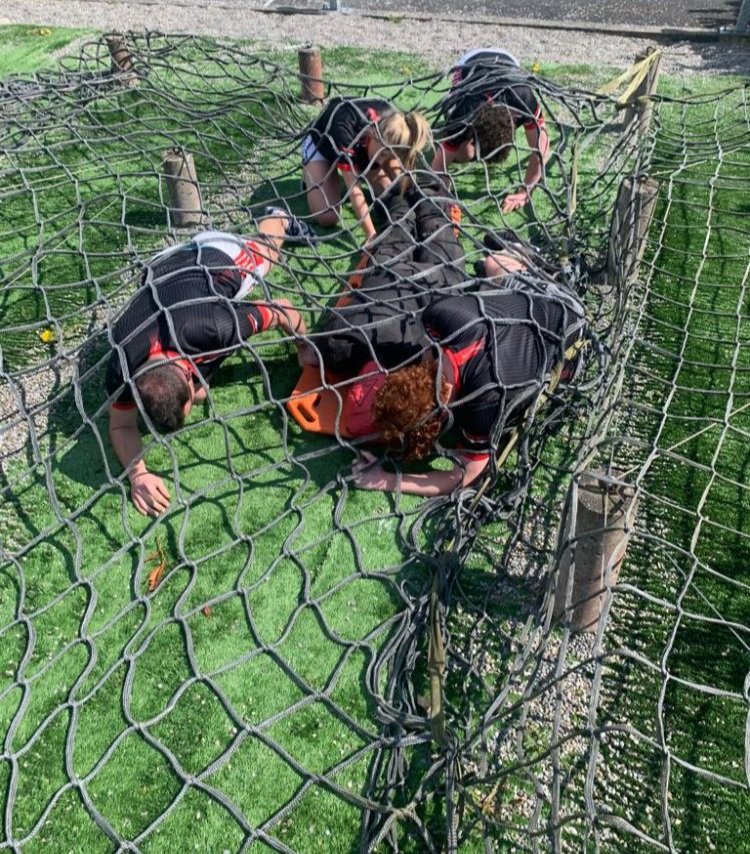 SEE ALSO – Business Brief: A thriving graphic design company, events to look forward to and latest supports