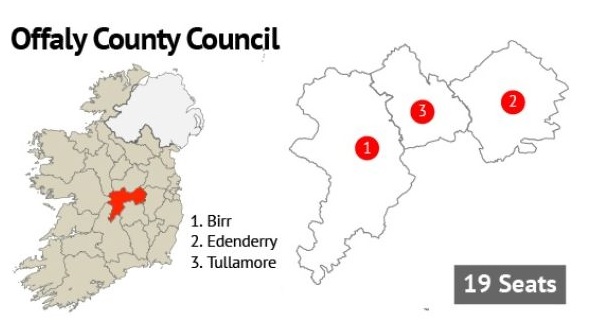 Brought to you in association with People First Credit Union
The political interests in Laois and Offaly have almost forever been intertwined, the two counties having been together – with just one exception – as a constituency since the foundation of the state.
Therefore, what happens in Offaly during the Local Elections is invariably of interest to the parties and candidates in Laois.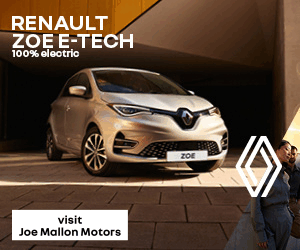 It's a county that holds quite a lot of national interest. The fallout from Carol Nolan's departure from Sinn Féin over her anti-abortion stance, the presence of Renua leader John Leahy and the strong Fianna Fáil support in Tullamore – a legacy of the Brian Cowen days – are all worth monitoring.
Amazingly there are currently no female councillors in Offaly – an unusual one given that two of the county's three TDs are women.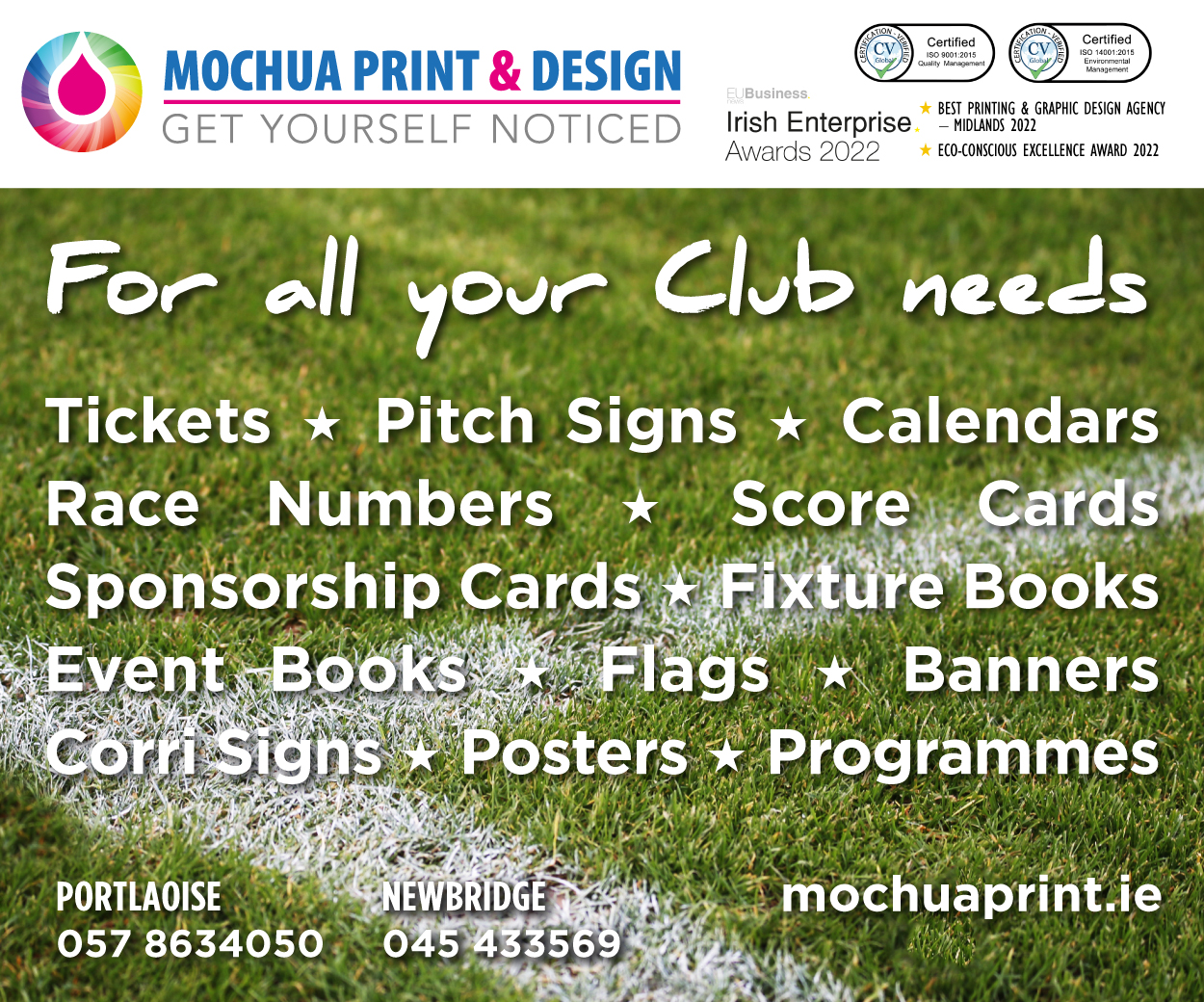 Carol Nolan and Sinead Dooley were both elected in 2014 but have since left the council and been replaced by men. There are eight female candidates in Offaly on this occasion.
Like Laois, Offaly have 19 council seats to fill across three districts – Birr (six seats), Tullamore (seven seats) and Edenderry (six seats).
There are 35 candidates in the running, slightly down on the 38 that ran in 2014. The sorting of the Offaly votes will take place in Banagher Community College but because of fears that the count may not be done by Monday in time for the students to go to school, the count is being held in Mucklagh.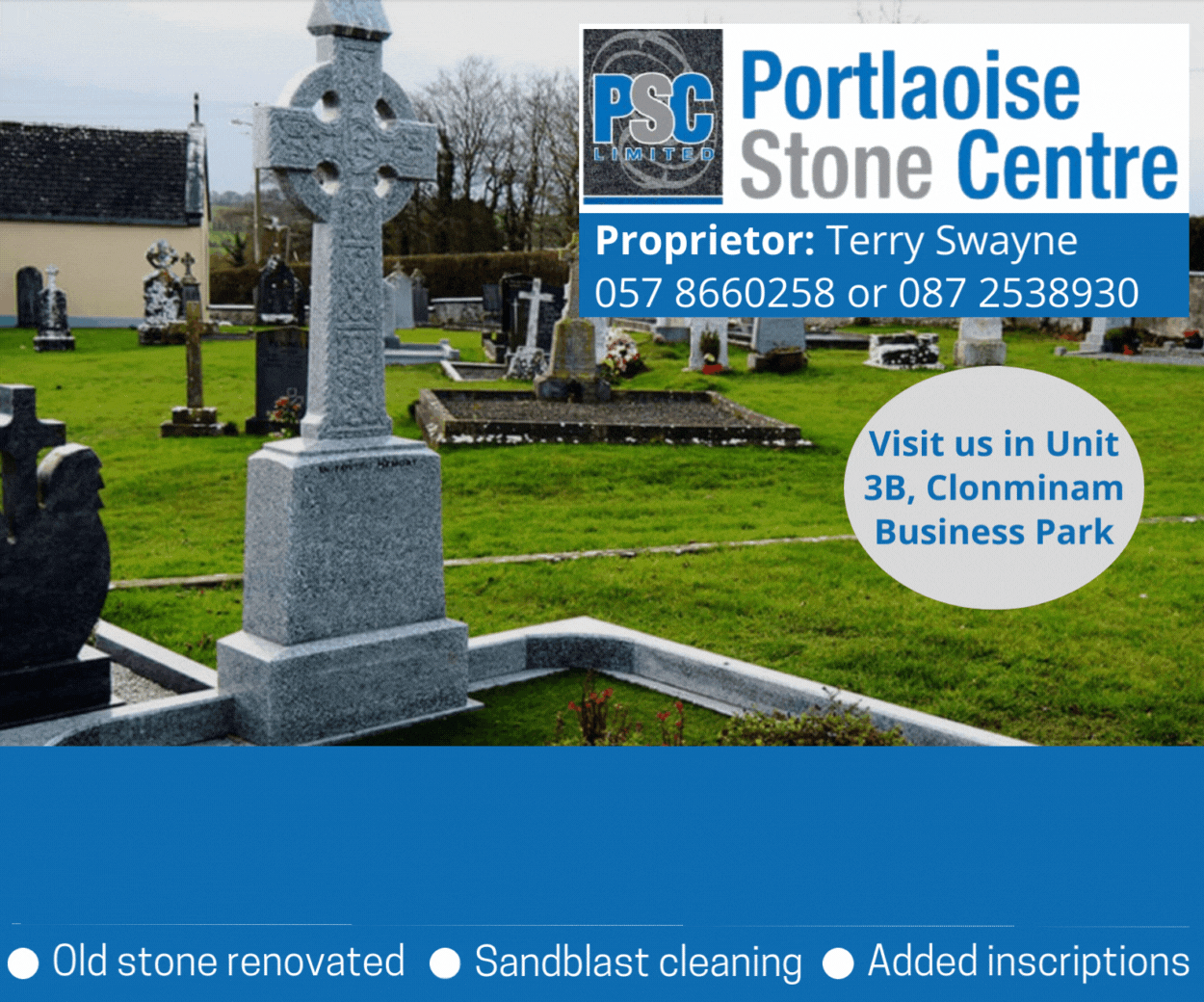 Here we take a look at the three areas, all of which border Laois.
Birr – 6 Seats
The six-seater Birr District comprises the two old Birr and Ferbane areas – previously both four-seaters – and stretches from Doon and Ballinahown near Athlone right down to Cloughjordan and Moneygall near Nenagh.
It's a district packed with heavyweights. All six sitting councillors are running while three of them will be candidates in the next General Election.
Renua leader John Leahy, Fine Gael's John Clendennen and Fianna Fáil's Peter Ormond will all be bidding for a Dáil seat while current TDs Marcella Corcoran-Kennedy (Fine Gael) and Carol Nolan (Independent) have both served as councillors in this area too.
Clendennen is one of the young and rising faces of Fine Gael at national level and will be on the party ticket at the next General Election alongside Charlie Flanagan and Marcella Corcoran-Kennedy.
From the well-known Giltraps pub in Kinnity, his father Percy, a close associate of the Enrights in Birr, was a councillor for almost 40 years prior to John winning the seat in 2014.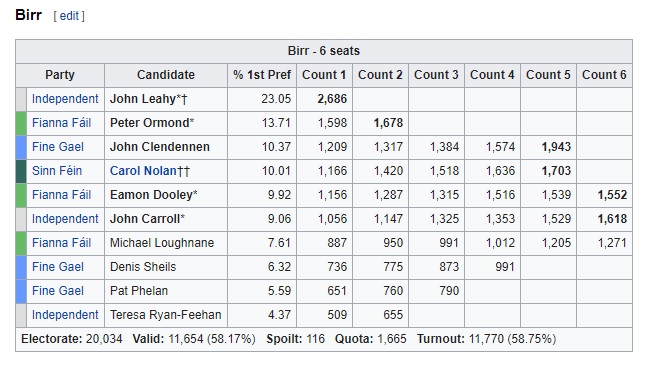 Ormond, who is from Shinrone, has been a strong vote getter since first being elected as a young candidate in 1999 and has been rewarded as Barry Cowen's running mate in the next General Election.
Leahy, however, was the strongest of them all five years ago when he was then as an Independent. He polled well in both General Elections in 2011 and 2016 but pulled in a phenomenal 2,686 votes in the Locals in 2014, with a massive 23% of the vote and a surplus of more than 1,000.
He has since thrown his lot in with Renua and has ended up as the party leader following Lucinda Creighton's departure and now has a running mate in Monica Barnwell.
Will he go as well again this time? Is the strong Leahy vote now as strong as a Renua candidate? If he does as well as 2014, will it transfer to Barnwell?
How all the General Election candidates fare now will be worth keeping an eye out on ahead of the General. Carol Nolan's anti-abortion stance saw her leave Sinn Féin and the party has been rocked in Offaly by that.
They won a seat in each area in 2014 and topped the poll in both Edenderry and Tullamore with Martin O'Reilly and Brendan Killeavy respectively.
Nolan is now an Indepedent TD while neither O'Reilly nor Killeavy are running this time.
Sean Maher, who was co-opted in place of Nolan in 2016, is running in Birr and will have a good chance while the two other sitting councillors John Carroll (Independent) and Fianna Fáil's Eamon Dooley was also be hoping to hold on.
Of the challengers Hughie Egan (Fine Gael) from Ferbane could be in with a chance as could Independent Joe Wynne, who is now aligned with Carol Nolan but has a strong Fianna Fáil background and previously would have been close with Barry Cowen.
The Social Democrats have a candidate in Clare Claffey while the other candidates include Birr's Bernie Fanneran and Banagher's Alan Kenny (both Fianna Fáil), Birr's Marian Pilkington (Fine Gael) – a sister-in-law of Offaly hurling legends Johnny and Declan – and Habibul Mukhtiar (Independent).
Birr candidates
Bold denotes sitting councillor
Monica Barnwell (Renua Ireland)
John Carroll (Independent)
Clare Claffey (Social Democrats)
John Clendennen (Fine Gael)
Eamon Dooley (Fianna Fáil)
Hughie Egan (Fine Gael)
Bernie Fanneran (Fianna Fáil)
Alan Kenny (Fianna Fáil)
John Leahy (Renua Ireland)
Seán Maher (Sinn Féin)
Habibul Mukhtiar (Independent)
Peter Ormond (Fianna Fáil)
Marian Pilkington (Fine Gael)
Joe Wynne (Independent)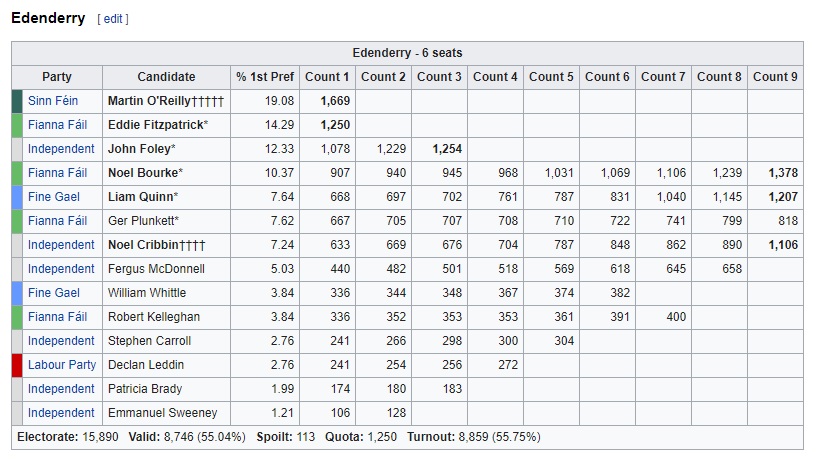 Edenderry – 6 Seats
The Edenderry District has a couple of familiar faces – with three recent General Election candidates in the mix.
Fianna Fáil councillor Eddie Fitzpatrick from Cloneyhurke just outside Portarlington – who was just narrowly beaten by Sinn Féin's Carol Nolan to the last seat in Offaly in the 2016 General Election – is seeking to be elected for a fourth term having won a seat in 2004, 2009 and 2014.
Interestingly, Fitzpatrick has been elected for the PDs in 2004, then as an Independent in 2009 before switching to Fianna Fáil in 2014.
He was overlooked by the party to be a candidate in the next General Election and hinted at a run for Europe. That didn't materialise so he's solely focussed on the local scene again. He was elected on the first count in 2014 and could top the poll this time.
Former Fianna Fail General candidate John Foley from Edenderry – now an Independent – is looking to retain his seat, as is Fine Gael's Edenderry-based Liam Quinn, a candidate in the 2011 General Election.
Noel Cribbin has recently come under the Fine Gael banner having been elected as an independent in 2014 while Sinn Féin's Alan Davy is seeking to be elected in his own right, having been co-opted instead of 2014 poll-topper Martin O'Reilly who resigned to take up a new job as a school principal.
The decision of Fianna Fáil's sitting councillor Noel Bourke to retire leaves a gap with the party pinning their hopes on the newcomers Pat Daly, Robert McDonell and Christine Traynor, the Edenderry-based barrister, who also threw her name in the hat at the party's recent General Election selection convention.
Edenderry candidates
Bold denotes sitting councillor
Noel Cribbin (Fine Gael)
Pat Daly (Fianna Fáil)
Alan Davy (Sinn Fein)
Eddie Fitzpatrick (Fianna Fáil)
John Foley (Independent)
Pippa Hackett (Green Party)
Robert McDonell (Fianna Fáil)
Fergus McDonnell (Independent)
Liam Quinn (Fine Gael)
Christine Traynor (Fianna Fail)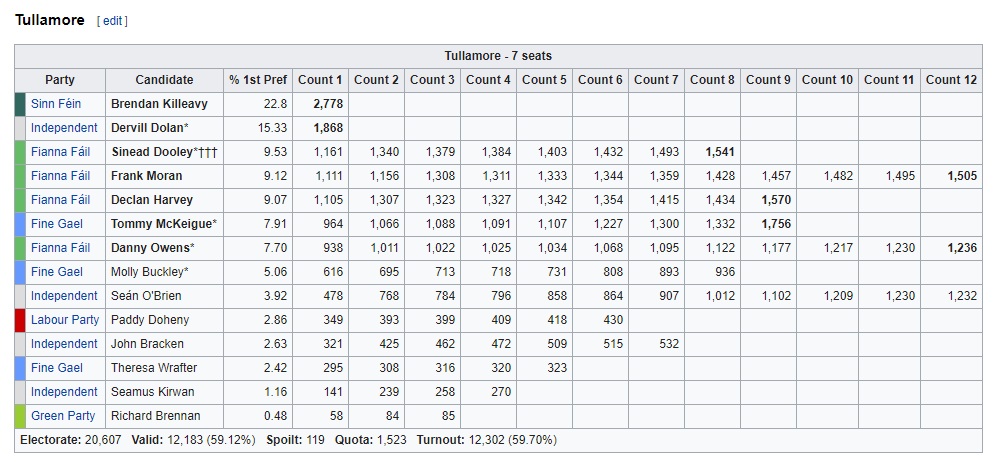 Tullamore – 7 seats
The Tullamore District is going to be a very interesting one to keep an eye on – and no matter what happens there's going to be new faces taking their seats on Offaly County Council.
Just four of the sitting seven sitting councillors are running again – and none of the top three vote getters from 2014.
Brendan Killeavy (Sinn Féin), Dervill Dolan (Independent) and Sinead Dooley (Fianna Fáil) won the first three seats five years. Killeavy, a first-time candidate, got almost 2,800 votes over 1,200 over the quota. He has stepped aside and newcomer Anne Marie Ennis will be aiming to pick up some of that support.
Dervill Dolan, an Independent councillor from Clara, is stepping down after three terms while Sinead Dooley resigned in 2017 after taking up a position with Irish Rural Link. She was replaced by Tony McCormack, meaning that there has been no female Offaly councillor since her departure.
Fine Gael's long-serving Tommy McKeigue is retiring. In all there was over 6,000 first preferences votes cast for successful candidates in 2014 that aren't contending this time.
McKeigue stepping aside means that Fine Gael field an entirely new team with Bernard Westman, Deirdre Fox and Neil Feighery all on the ticket.
Fianna Fáil – incredibly strong in the home area of former Taoiseach Brian Cowen and his brother Barry, a current TD – will be hoping for a similar return as five years ago when all four of their candidates were elected.
Sitting FF councillors Declan Harvey, Frank Moran and Danny Owens – who managed the Camross hurlers to Laois championship success last year – are all in the mix again.
Other candidates include Independents John Bracken and Sean O'Brien – a former Labour councillor who went close in 2014 – Renua's Brendan Galvin and Ken Smollen from the Irish Democratic Party.
It is telling that the Labour Party which once had three Town Councillors in Tullamore and a TD in Pat Gallagher from 1992 to 1997 hasn't a single candidate contesting in the entire county.
Tullamore candidates
Bold denotes sitting councillor
John Bracken (Independent)
Anne Marie Ennis (Sinn Féin)
Neil Feighery (Fine Gael)
Deirdre Fox (Fine Gael)
Brendan Galvin (Renua Ireland)
Declan Harvey (Fianna Fáil)
Tony McCormack (Fianna Fáil)
Frank Moran (Fianna Fáil)
Sean O'Brien (Independent)
Danny Owens (Fianna Fáil)
Ken Smollen (Irish Democratic Party)
Bernard Westman (Fine Gael)
SEE ALSO – Big changes across the border in Kildare Local Elections