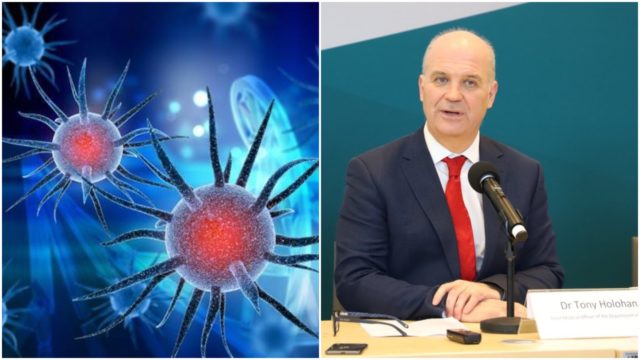 A total of 424 new cases of Coronavirus have been diagnosed in Ireland today.
This is an increase on the 3,849 cases from yesterday and takes the overall total to 4,273.
While now 120 people have died from the disease – an increase of 22 from yesterday. The average age of the people who have died is 82.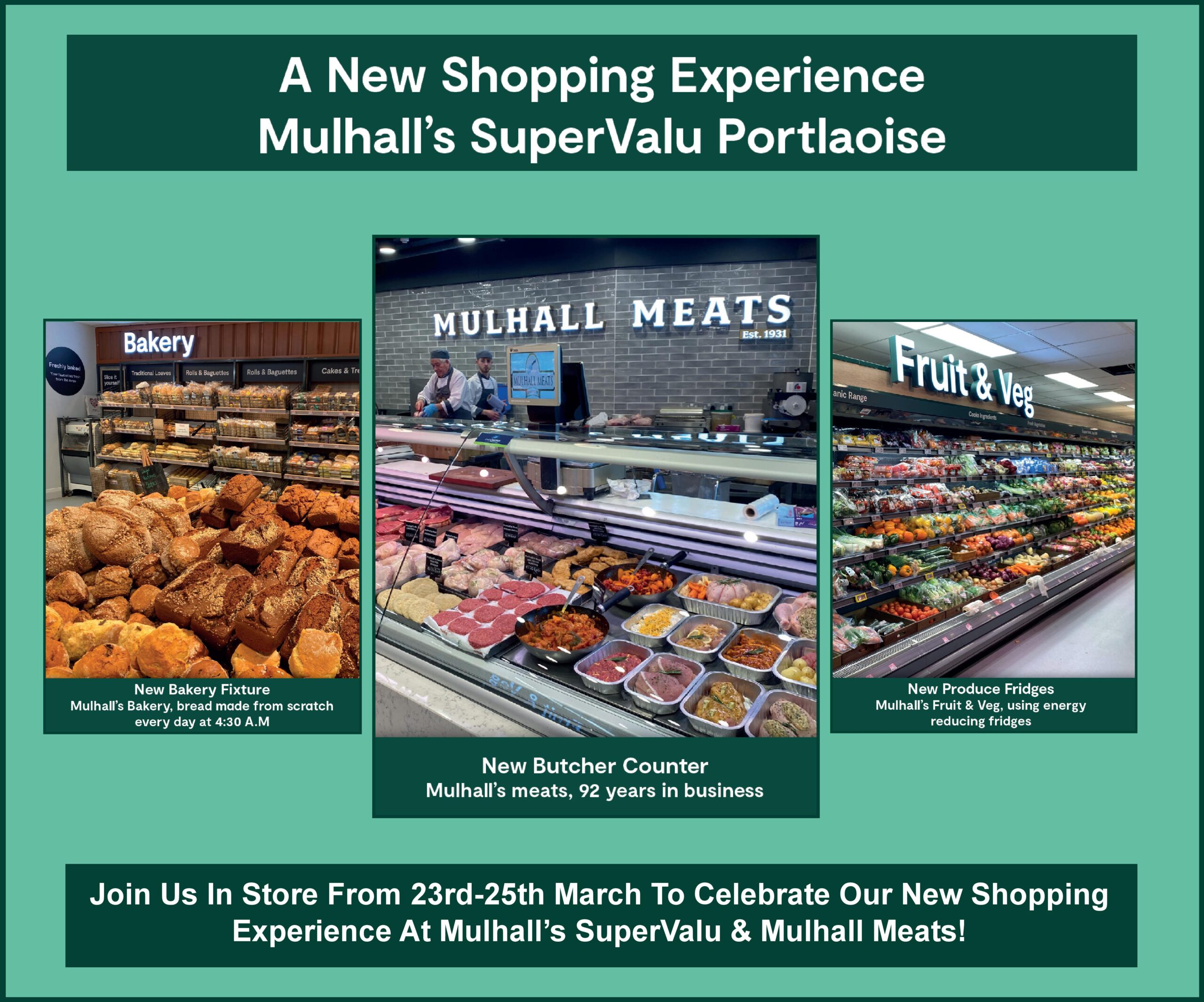 18 of today's deaths are located in the east, 3 in the south, 1 in the west of the country.
The patients included 11 females and 11 males. 16 of the patients were reported as having underlying health conditions while the average age of the people who died today is 80.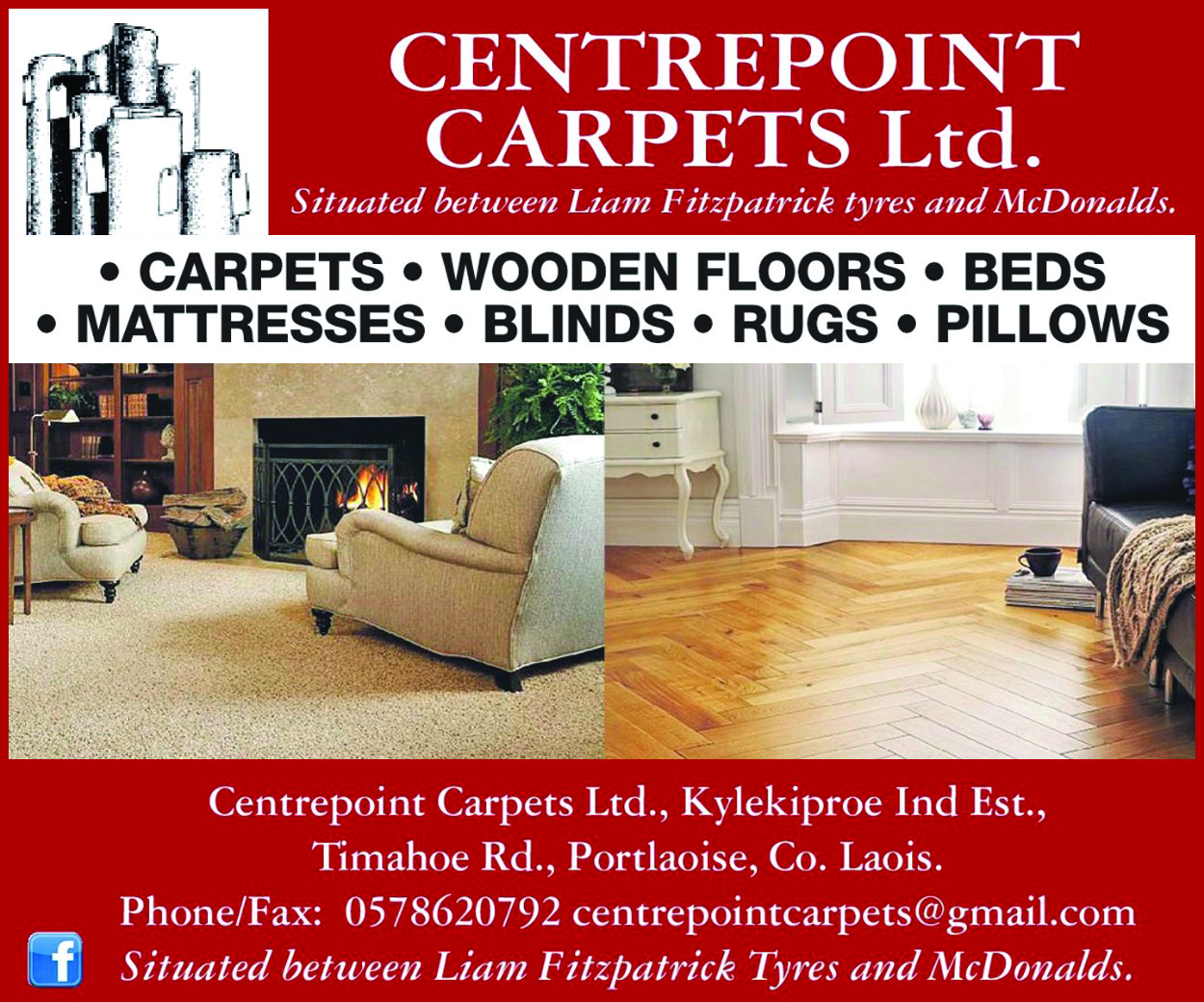 Dr. Tony Holohan, Chief Medical Officer, Department of Health, said; "We are concerned with the number of clusters identified in nursing homes. We have identified a range of measures, working with the HSE. We need to see continuous actions being taken to reduce the risk of transmission in nursing home and long-term residential facilities."
Dr. Ronan Glynn, Deputy Chief Medical Officer, Department of Health, said; "We are now facing into the end of week one of new measures. It has been a tough adjustment but these efforts save lives. We will continue to protect vulnerable groups against this virus, by staying home and following public health advice. These efforts result in lives saved.
"Anyone over 70 years of age should remain cocooned as per public health advice, and for essential food and prescription shopping, call on family, friends or services to help you. Over 70's should not be leaving home."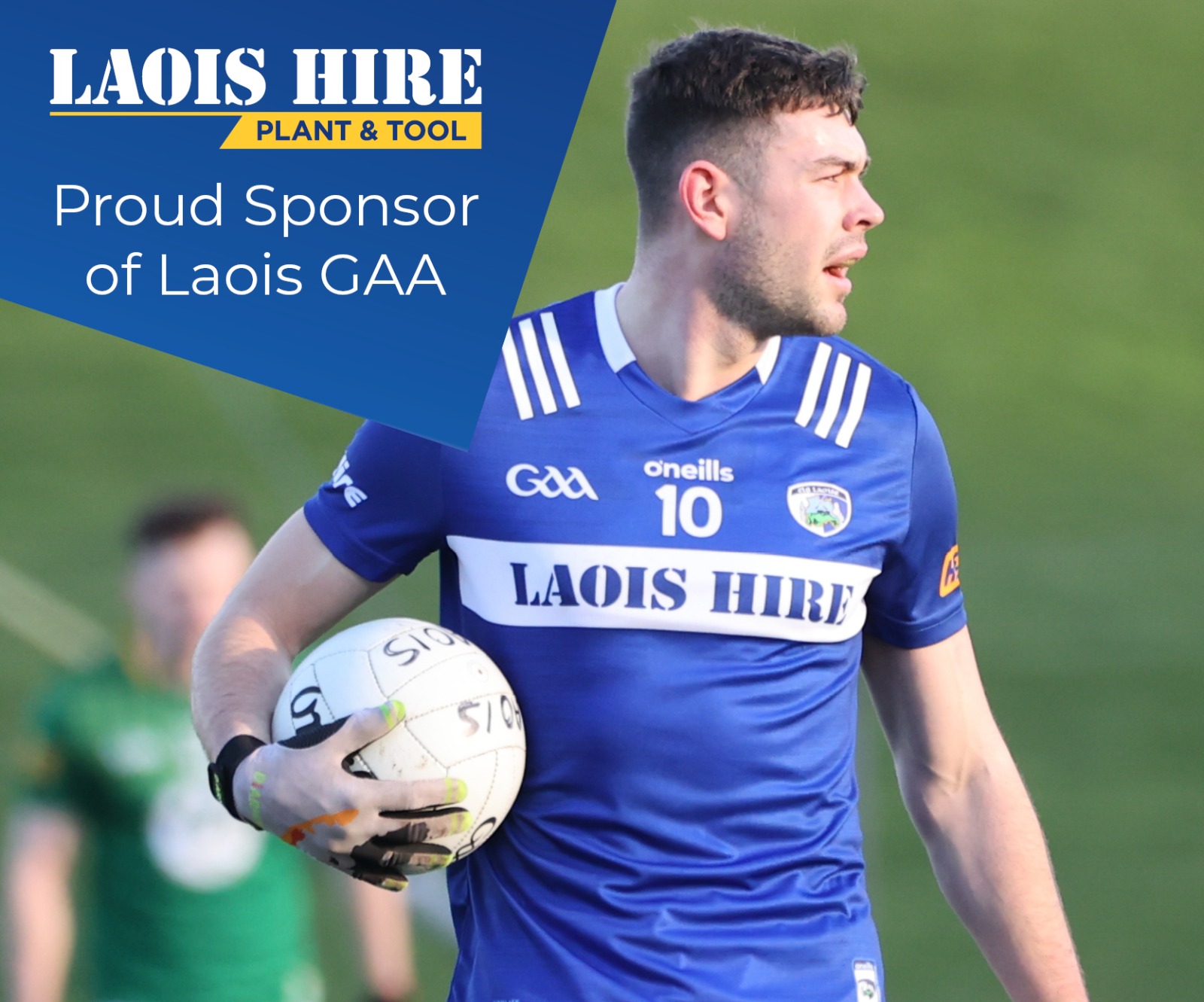 Dr. Colm Henry, Clinical Chief Officer, HSE, said; "There is now a clear picture of more severe illness in older people. This underlines the importance of our advice on cocooning and requires all of us to support any vulnerable people who find themselves in isolation."
People have been asking for the stats on recovered patients but as yet, the HSE have not released these.
However, a website giving stats on worldwide figures of Coronavirus, says that just five people have recovered in Ireland.
Today's data from HPSC, as of midnight, Wednesday 1st April 2020 (3,655 cases), reveals:
· 49% are male and 51% are female, with 171 clusters involving 626 cases
· Median age of confirmed cases is 48 years
· 1,039 cases (28%) have been hospitalised
· Of those hospitalised, 148 cases have been admitted to ICU
· 948 cases (26%) are associated with healthcare workers
· Dublin has the highest number of cases at 2,077 (57% of all cases) followed by Cork with 292 cases (8%)
· Of those for whom transmission status is known: community transmission accounts for 61%, close contact accounts for 23%, travel abroad accounts for 16%
Links to today's other Coronavirus stories 
Hilary Treacy: Why extra care is needed when you're working from home
Laois TD calls on banks to 'change attitude' during Coronavirus pandemic
Laois Doctor explains how Coronavirus has changed practice, testing issues and offers advice for non-Covid patients
Laois lads turn cancelled Aintree trip into 'Do It For Dan' fundraiser
WATCH: Laois Community turns out in force to celebrate much loved granny on 100th birthday
Change of opening hours of St Canice's Credit Union Branches
Northern Ireland, the UK and globally 
There have been 12 more deaths from Coronavirus in Northern Ireland, double the previous highest daily figure.
This brings total fatalities to 48. There are 130 new cases, bringing total in Northern Ireland to 904.
The UK suffered its deadliest day in their battle with Coronavirus as they registered 684 new deaths, taking total to 3,605.
New York also suffered its deadliest single day from Coronavirus, with 562 additional deaths across the state for a total of 2,935 fatalities, Governor Andrew Cuomo said.
Cuomo warned that people were going to die in the near term due to a lack of ventilators for hospital beds and called for resources from across the United States to be deployed to New York to help it deal with the growing crisis in the state.
There are now more than 1,061,000 cases globally with at least one in almost every country on the planet. Almost 57,000 people have died. While 225,000 have recovered.
Latest Health Department Data
The latest HPSC stats on COVID-19 reveals that a second person aged 25-34 has died from the pandemic in Ireland.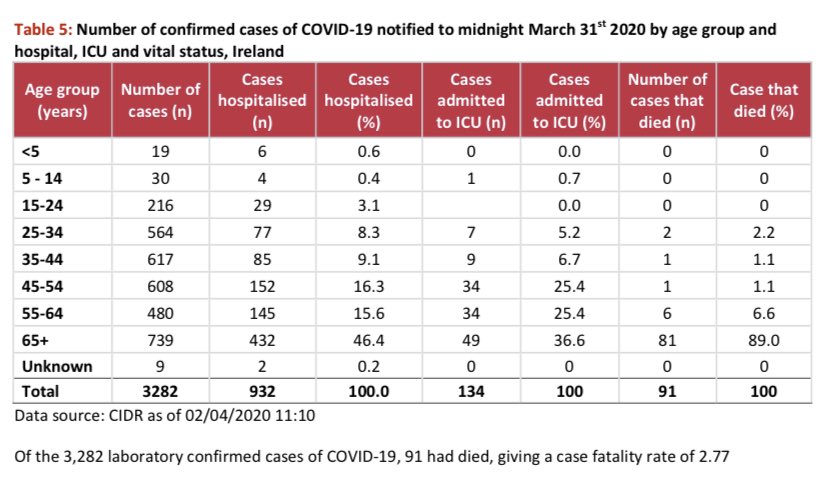 It also reveals that the number of clusters in nursing homes has now risen to 38, while hospital clusters now number 29.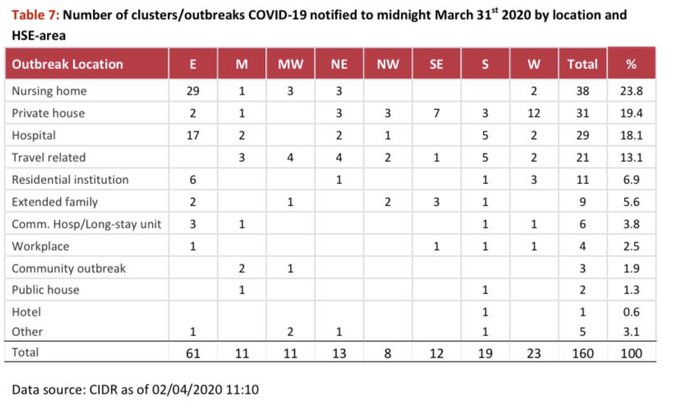 Here's the breakdown for total cases confirmed as of Tuesday night – there are eight cases involving children under one year.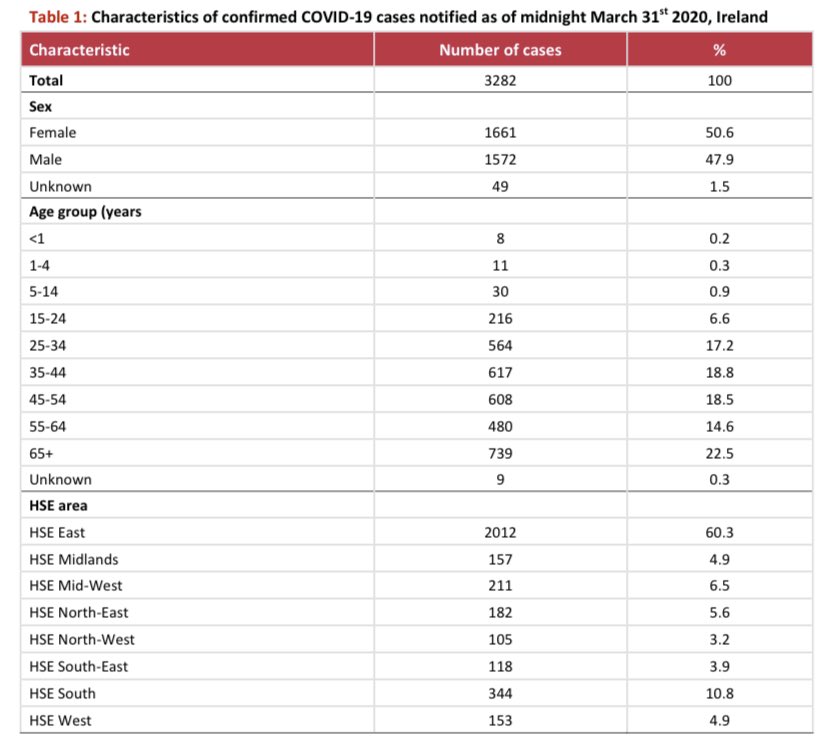 Economy update 
Over the next three months, the Central Bank believes the economy here could collapse by 25%.
It warns that unemployment could rise to 25%, with up to half a million jobs lost.
Premier League 
The Premier League season has been suspended until it is safe to resume play, as it is announced players may have 30% of their salary cut.
In a statement on its website, it sets out a number of new steps being taken following a Premier League Shareholders meeting held today.
The statement lists new measures regarding the season, players, steps to support the NHS, supporting clubs' community work and promoting public health messages.
It confirmed that the Premier League will not resume at the beginning of May, stating that "the 2019/20 season will only return when it is safe and appropriate to do so".
Coronavirus Myths
As yet, there is no cure currently for COVID-19.
So people suggesting/selling special remedies like vitamin C, garlic, home cures, drinking bleach, or putting half an onion in rooms around the house are – well you know don't you?
The World Health Organisation has advice on some of these urban legends.
Cuisle Centre 
The Coronavirus outbreak has led to the Cuisle Centre in Portlaoise closing.
They said: "The Covid-19 restrictions mean that we have had to temporarily close our doors, but we are still here to support you and your family.
"As we know this is a confusing time for our patients as chemotherapy and surgery are been rescheduled – we will be continuing to give you support and guidance over the phone.
"Just call 0578681492 and leave your name, number and a brief message and we will get back to you. You can also contact us on email: info@cuislecancersupportcentre.ie or messenger us through facebook.
"Stay safe everyone, wash your hands and take a little exercise."
Important information 
Symptoms of Covid-19 include:
Cough
Shortness of breath
Fever
Breathing difficulties.
Further resources:
A helpline for older people who are concerned about the coronavirus has been launched by Alone. The number is 0818 222 024, and it's open Monday to Friday, 8am-8pm.
SEE ALSO – For more Coronavirus stories click here