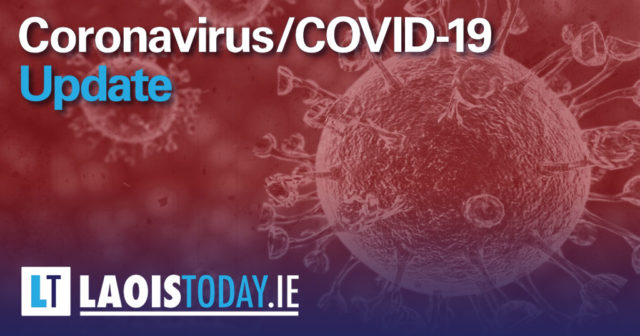 HSE release stats on Coronavirus in all hospitals including Portlaoise
The HSE have released the latest figures in relation to Coronavirus and how they are impacting all hospitals – including Portlaoise.
The HSE have released the latest figures in relation to Coronavirus and how they are impacting all hospitals – including Portlaoise.
They have unveiled the total number of confirmed cases, suspected cases and vacant/occupied beds in Portlaoise Hospital.
As of yesterday April 4, Portlaoise Hospital were dealing with four confirmed cases of Covid-19.
You can read Alan Hartnett's full piece here.
---
Guards continue to encourage people to comply with health guidelines
A high-ranking member of An Garda Síochána has appealed with the public to continue observing the strict health guidelines as the battle to contain the spread of Coronavirus continues.
The Deputy Commissioner, Policing and Security, John Twomey addressed the issue this Sunday morning.
"We want to thank people for the high level of compliance with the health guidelines," he said.
"It is vital that continues today and for the rest of the time they are due to be in place."
You can read the piece in full here. 
---
Studying during Coronavirus: Portlaoise College student on prepping for state exams in a pandemic
"I do think that the decision to cancel the orals and practical elements of some subjects was the right decision," says Lauren Mills from Portlaoise College, the latest Leaving Cert student latest exam student to feature in our 'Studying during Coronavirus' series.
"From what I can see, this option seemed to be the only way forward. However, when I heard the news initially I was disappointed that students that would not have worked as hard for these exams were awarded the same grade as me."
You can read the piece in full here. 
---
Conor Stapleton: What the most recent research is telling us about Covid-19
"Covid-19 has changed our lives utterly and … it can be difficult sometimes to separate the fact from the fiction, the ominous WhatsApp message from the actual science," writes Conor Stapleton from Vicarstown, a 4th year medical student in Trinity College Dublin.
With that in mind, he has a look at what the most recent research is telling us.
You can read his piece in full here. 
Portaoise Hospital ICU nurse calls on people to start wearing masks in public
An ICU nurse working in Portlaoise Hospital has called on members of the public to start wearing homemade masks when they are outside in a bid to curb the spread of Coronavirus.
Mountrath native Muriel Russell says that she is concerned about the welfare of shop assistants who are coming into contact with members of the public on a daily basis.
You can read the piece in full here.
---
HSE 'will have capacity' to carry out 4,500 virus tests per day
RTE have reported that the HSE are hoping to carry out 4,500 tests per day – if they can get sufficient supplies of the testing reagent, the substance needed for the analysis.
According to Laura Hogan's piece for RTE, 18 hospitals are now testing and other labs will also add to capacity from the end of next week.
Labs had been carrying out between 2,000 and 2,500 tests but late last week that figure had been down to 1,500.
You can read the full RTE piece here.
---
Cases in Europe beginning to slow?
Another RTE report is saying tha officail figures for Europe suggest unprecedented measures to restrict people's movements are working and that Italy and Spain may have hit a peak.
Spain has recorded a second successive daily fall in Coronavirus deaths while in Italy there has been a new low in the percentage increase in cases while the number of people recovering has increased.
---
Taoiseach rejoins medical register and will work one session per week
Taoiseach Leo Varadkar has rejoined the medical register and is to work a session a week to help out in the Coronavirus crisis, The Irish Times has reported.
Mr Varadkar studied medicine and worked as a doctor for seven years before leaving the profession for politics. He was removed from the medical register in 2013.
However, he rejoined the medical register in March as the coronavirus pandemic began to hit Ireland, and is set to work within the Health Service Executive on a weekly basis, in an area suited to his qualifications.
---
It has never been as important to be part of the Home Team.@HSELive @officialgaa #HomeTeam #StayAtHome #Covid19 pic.twitter.com/Oyi97d2rCd

— GPA (@gaelicplayers) April 4, 2020
GAA stars weigh in on importance of staying at home
Well-known GAA personalities Brian Cody, Kieran McGeeney, Sinead Goldrick and Lee Chin are among those to feature on video produced by the Gaelic Players Association and Women's Gaelic Players Association.
"We're usually at the end of the leagues, getting ready for the white-hot battle of championship football. But this year is different," says the video.
"This year, we're all part of the one team. We have a common opponent that we will only overcome together."
The video is part of a wider #HomeTeam campaign the GPA and WGPA have been pushing out on social media channels of late.
---

Worth a read – Pat Critchley interview in The Irish Times
Keith Duggan of the Irish Times has a great interview with the much celebrated Laois man Pat Critchley this weekend about his life and times, with particular focus on his wide and varied coaching career.
"The why of it for Pat Critchley is the kind of person you might just help to shape, years down the line," writes Duggan.
"Lots of our past pupils are coaching. It has a generational effect," says Critchley in the piece.
"I often tell the story of the starfishes in Mexico. All these starfishes washed up on a beach. The old fisherman was throwing them back in and a tourist spots him and shouts: 'You can't save them all'. And he replies: 'No. But I saved that one'.
"And sometimes you never know what becomes of the people you teach or coach. But you just got to keep doing what you do."
You can read the piece in full here.
---
Also worth a read – Restarting Ireland – when and how will we get back to normal?
Business, tourism, sport, politics, hospitality, school.
Absolutely everything you can think of has been greatly effected.
How or when can things 'get back to normal' asks Jennifer O'Connell in the Irish Times.
Looking at all sectors, she speaks to a variety of different experts who try to predict what way the world will look if and when the Coronavirus has passed.
---
Nolans Locksmiths announce details of 24/7 call out service during Coronavirus pandemic
As locksmiths are deemed an 'Essential Service', Nolans Locksmiths, based in Portlaoise, will continue to provide an emergency 24/7 call out service.
Contact Details:
Conor – 085-2833064
Jack – 086-2624270
---
Downey's Centra launch delivery service and provide update on services during Covid-19
Downey's Centra on the Dublin Road in Portlaoise have announced an update on their services during the current Coronavirus pandemic.
In an effort to assist those who are Cocooning or in Isolation during this pandemic, we will be offering a delivery service.
Orders can be placed in the morning from 9am until 12pm, with delivery in the afternoon.
Ordering and Payment can be done over the phone (057-8671200)
---
Gerry Browne Jewellers – online service continues
Gerry Browne Jewellers continues operating online under strict health and safety measures.
From your many calls we realise that you still want to mark birthdays, anniversaries and all life's special occasions.
Our online shop is available 24/7 – we won't let you down.
---
St Canice's Credit Union – update to opening hours
As the Covid-19 situation evolves, St Canice's Credit Union must adapt our opening hours to protect staff and enable back office work to remain up to date.
We would like to thank so many members for signing up to an online account, opening a current account, availing of the new debit card facility, doing business over the phones and for heeding our message to stay away from branches as much as possible.
From next Monday, April 6, all branches will close one hour earlier each day.
Certain branches will close the doors an extra one day per week.
Rathdowney closed Mondays
Ballyragget closed Tuesdays
Graignamanagh closed Tuesdays
Mountrath closed Tuesdays
Durrow closed Wednesdays
Callan will close on Saturdays from April 11
All branches are closed for Good Friday, Easter Saturday, Easter Sunday & Easter Monday (April 10-13)
---
For the laugh – 'Chainsaw' in training
Is there any GAA nickname quite as intimidating as 'Chainsaw'?!
And Paddy 'Chainsaw' Carroll from Rathdowney-Errill is like every hurler in the country with no games to play or none likely in the foreseeable future.
But that doesn't stop players from practising in their back yard or garden and 'Chainsaw' is making sure he keeps his eye on.
The Rathdowney-Errill Together We Are One Facebook page posted a clip of him rising the ball a couple of times and then taking his frustration out on a leylandii hedge.
Would it have been yellow? Red? Or a life ban?!
Or would the ref have told him to calm down and behave himself?
SEE ALSO – Acknowledgement: Roseanna (Rose) Dunne – Coolroe, Ballybrittas, Co Laois