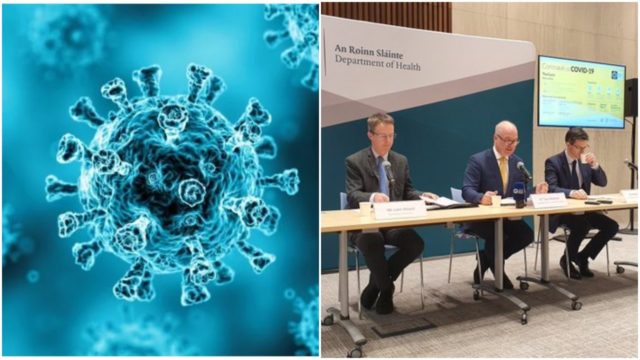 A total of 325 new cases of Coronavirus have been diagnosed in Ireland today.
This is an increase on the 2,910 cases from yesterday and takes the overall total to 3,235.
While now 71 people have died from the disease – an increase of 17 from yesterday.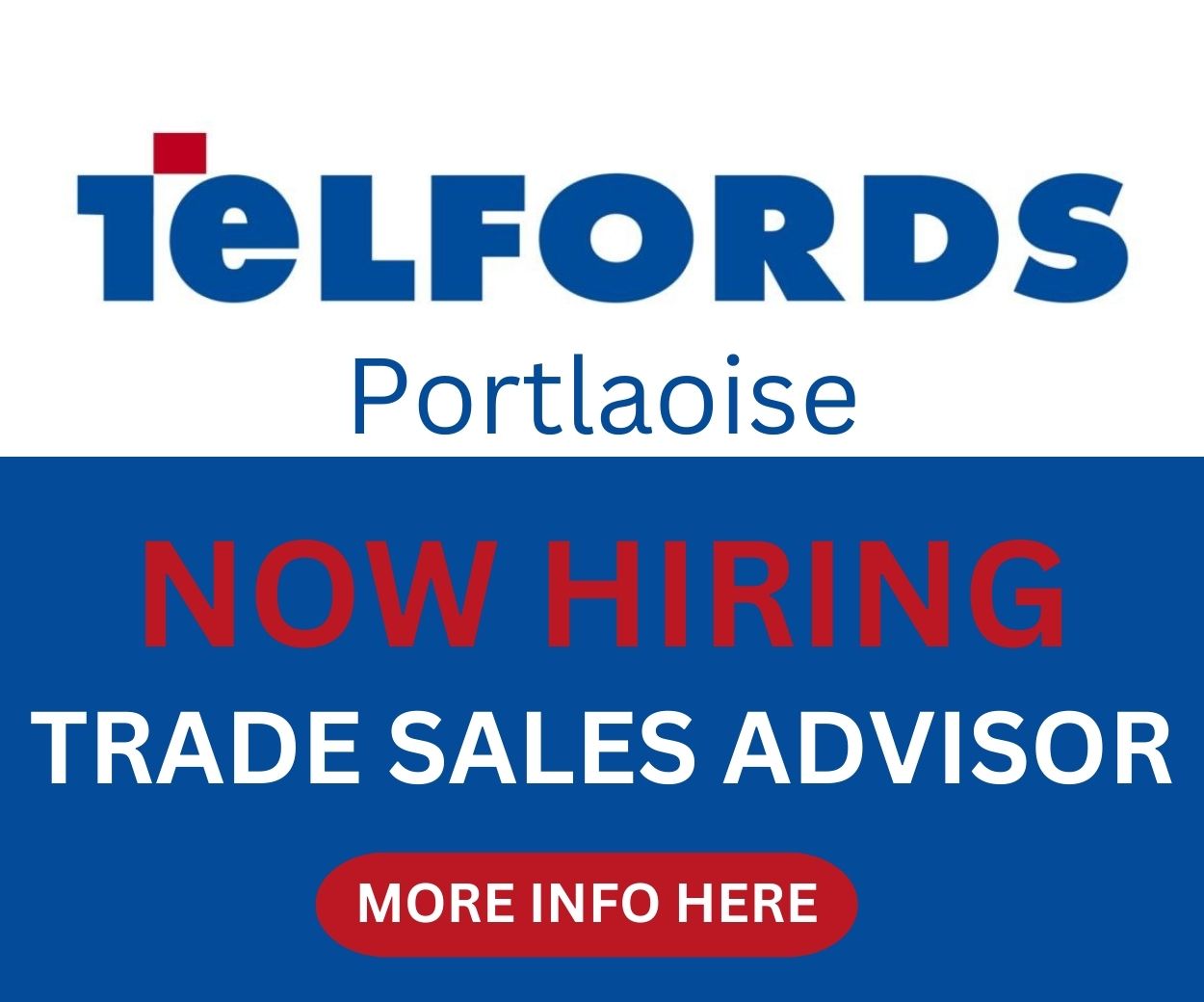 8 of the people who passed away today are in the east, 3 in the south and 6 in the west. The median age of COVID-19 related deaths is 84.
8 of these patients were reported as having underlying health conditions.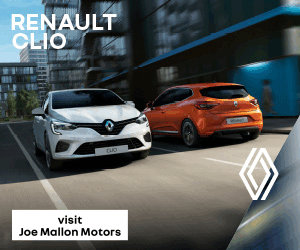 To date, 30,213 tests have been carried out in laboratories across the country, as of midnight, Monday 30 March.
Over the past week, the positivity rate for tests carried out increased from 6% to 15%, as per the objective of the new case definition.
While in Laois, as of March 30, there are 15 confirmed cases of Coronavirus in the county.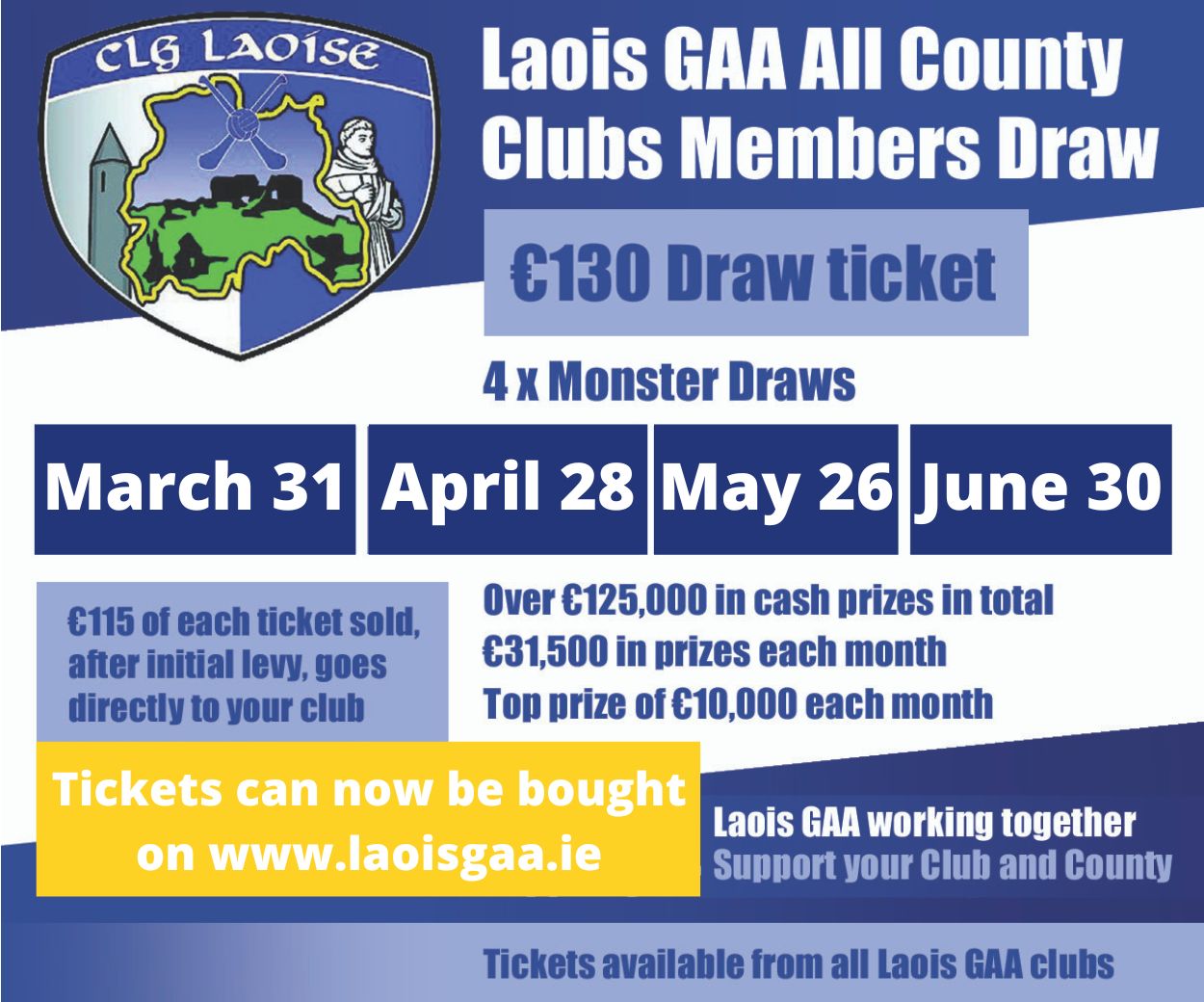 Dr. Tony Holohan, Chief Medical Officer, Department of Health, said; "The measures that we have recommended today should significantly enhance the preparedness and response to cases and outbreaks in nursing homes and other residential settings.
"As we have said from the beginning our efforts must be focused on protecting the most vulnerable to COVID-19 and these recommendations announced today seek to achieve this."
Dr. Ronan Glynn, Deputy Chief Medical Officer, Department of Health, said; "As the number of cases increase we are getting a better picture of our experience of this virus in our community.
"Today we are providing more information on cases in healthcare workers and deaths. We will continue to provide more details as reliable data emerges."
People have been asking for the stats on recovered patients but as yet, the HSE have not released these.
However, a website giving stats on worldwide figures of Coronavirus, says that just five people have recovered in Ireland.
Today's data from the HPSC, as of midnight, Sunday 29th March (2,677 cases), reveals:
49% are male and 49% are female, with 118 clusters involving 494 cases
22% of clusters located in private houses, 20% located in nursing homes and 18% located in hospitals
Median age of confirmed cases is 47 years
703 cases (26%) have been hospitalised
Of those hospitalised, 113 cases have been admitted to ICU
647 cases are associated with healthcare workers
Dublin has the highest number of cases at 1,487 (55% of all cases) followed by Cork with 238 cases (9%)
Of those for whom transmission status is known: community transmission accounts for 51%, close contact accounts for 26%, travel abroad accounts for 23%
The National Public Health Emergency Team met today (Tuesday 31 March 2020) and made the following recommendations;
To focus contact tracing on suspect cases within prioritised groups. The HPSC to update guidance to GPs and contact tracing teams.
Contact tracing to encompass the period from 48 hours prior to the onset of symptoms given the risk of asymptomatic transmission.
In response to infections in long term residential care (nursing homes, disability and mental health) and homecare settings NPHET will work with the HSE to identify a number of measures which can be taken to strengthen support to staff and providers of nursing home care.
Links to today's other Coronavirus stories 
Check out these incredibly talented Durrow sisters as they sing a song a day
Studying during Coronavirus: Scoil Chriost Ri student on prepping for state exams in a pandemic
Laois Abroad: Teacher and pub owner in South Korea on how Coronavirus has changed life in Asia
LISTEN: Young Laois woman records stunning rendition of 'The Parting Glass'
Sinead Grehan: A new way of (remote) working – Guidance for Employers and Employees
Northern Ireland, the UK and globally 
There have been six further deaths due to Coronavirus in Northern Ireland, bringing total to 28. There are 53 new cases, bringing total to 586.
In Britain, there are now 22,141 cases with 1,808 deaths – an extra 400 people passed away today – the biggest one day rise so far.
The death toll in England from the Coronavirus outbreak rose by 367 to 1,651, the NHS said. "Patients were aged between 19 and 98 years old and all but 28 patients (aged between 19 and 91 years old) had underlying health conditions," it added.
Spain registered 849 fatalities related to coronavirus overnight – the highest number in 24 hours since the epidemic started, although the increase in percentage terms was slightly lower than in the previous days, the health ministry said.
A 12-year-old girl confirmed to have Covid-19 has died in Belgium, health officials said. The young age of the fatality "is a very rare occurrence," said a government spokesman, Dr Emmanuel Andre, adding that her death "shook us".
There are now more than 806,000 cases globally with at least one in almost every country on the planet. Almost 40,000 people have died. While 172,000 have recovered.
Stats on Healthcare workers and ICU patients
The HSE has released stats on the number of healthcare workers who have been infected with Covid-19 as of March 28.
578 have contacted Coronavirus so far and 26 of them are based in the Midlands.
Meanwhile, they have also released stats on the age profile of the first 44 patients who passed away.
One person died in each of the 25-34, 35-44 and 45-54 categories while three people in the 55-64 age category passed away and 38 were aged 65 and over.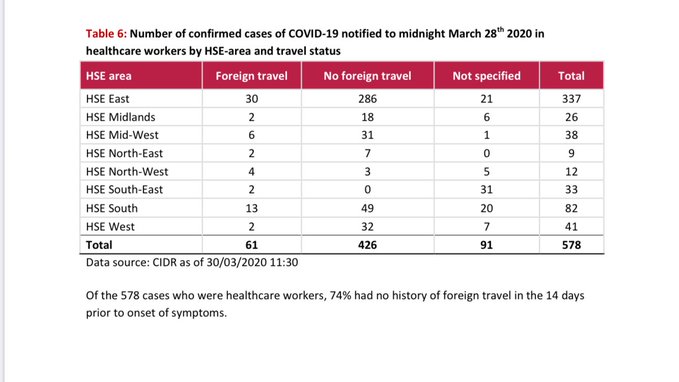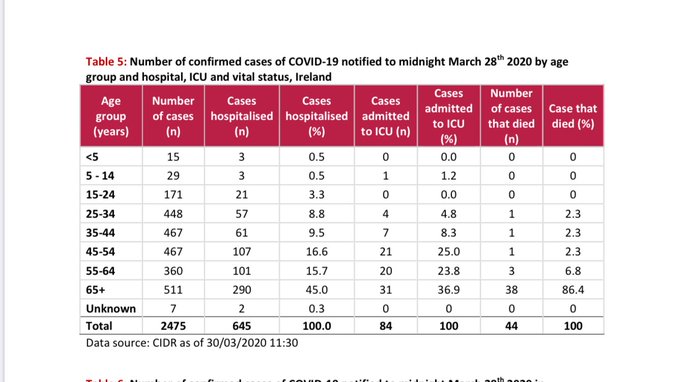 Clinical Trials
Critically ill patients with Covid19 in Ireland will be asked to take part in a clinical trial on how to treat the disease.
he trial will test the effects of different interventions for Covid19 patients, who are being treated in intensive care units. These interventions include antiviral drugs and immunomodulatory drugs.
St Vincent's University Hospital in Dublin and University Hospital Galway will begin the trialing these interventions next week, which is part of a global research effort to tackle the pandemic.
If a patient is too unwell to give consent, their next of kin could then be asked for permission.
No miracle drug Mr Trump 
The European Commission said that there was no evidence that a drug touted by US President Donald Trump, as a potential miracle cure against COVID-19 was effective against the disease caused by the Coronavirus.
Trump had said that hydroxychloroquine, an anti-malaria drug, could be among "the biggest game changers in the history of medicine" for its potential effects against COVID-19.
"The efficacy of hydroxychloroquine in the treatment of COVID-19 patients has to date not been proved," a spokesman for the European Commission said on Tuesday, relaying an internal opinion from the European Medicine Agency.
ICU situation 
The President of the Intensive Care Society of Ireland says she is encouraged that there is a fall off in Covid-19 cases and contact cases and "devoutly hopes" that the restrictions are working and will continue to work.
However, Dr Catherine Motherway warned that ICUs in Dublin are under significant pressure with 107 patients on ventilators while there are another 26 patients, with suspected coronavirus, in ICU beds.
Over 37% of those in ICU are aged over 65.
Coronavirus Myths
As yet, there is no cure currently for COVID-19.
So people suggesting/selling special remedies like vitamin C, garlic, home cures, drinking bleach, or putting half an onion in rooms around the house are – well you know don't you?
The World Health Organisation has advice on some of these urban legends.
Cuisle Centre 
The Coronavirus outbreak has led to the Cuisle Centre in Portlaoise closing.
They said: "The Covid-19 restrictions mean that we have had to temporarily close our doors, but we are still here to support you and your family.
"As we know this is a confusing time for our patients as chemotherapy and surgery are been rescheduled – we will be continuing to give you support and guidance over the phone.
"Just call 0578681492 and leave your name, number and a brief message and we will get back to you. You can also contact us on email: info@cuislecancersupportcentre.ie or messenger us through facebook.
"Stay safe everyone, wash your hands and take a little exercise."
Important information 
Symptoms of Covid-19 include:
Cough
Shortness of breath
Fever
Breathing difficulties.
Further resources:
A helpline for older people who are concerned about the coronavirus has been launched by Alone. The number is 0818 222 024, and it's open Monday to Friday, 8am-8pm.
SEE ALSO – For more Coronavirus stories click here