Brought to you in association with People First Credit Union
In keeping with the lower number of candidates this year putting themselves forward for election, there are only nine names in the hat for the six seats in the Graiguecullen-Portarlington Municipal District.
That compares to 13 this time five years ago and 22 in 2009 when you factor in the two old electoral areas – Luggacurren and Emo – that have since been amalgamated and seen their overall number of seats reduce from eight to six.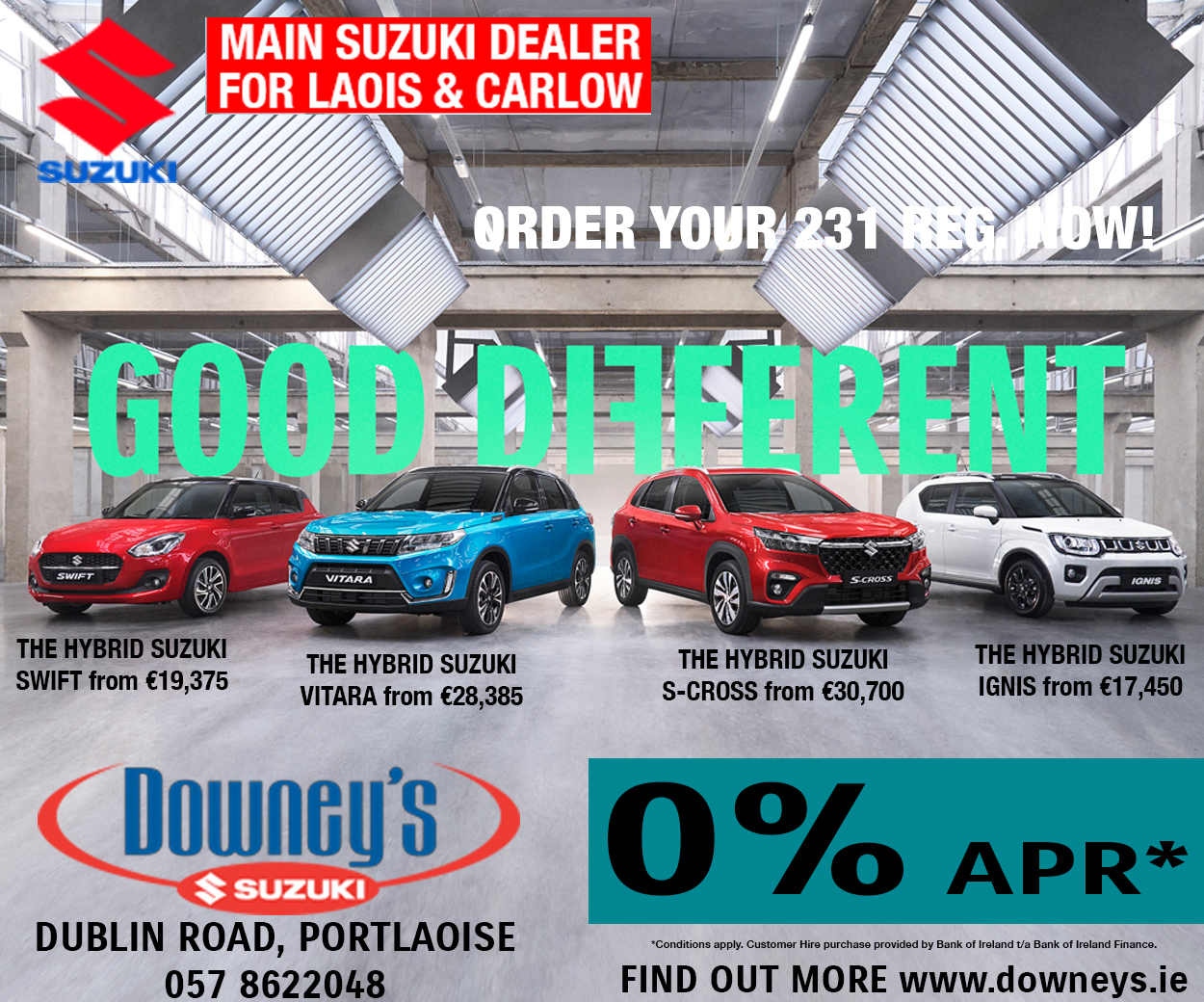 Currently the six seats are held by Ben Brennan (Independent) from Crettyard, Padraig Fleming (Fianna Fail) from The Swan, John Moran (Fine Gael) from Ballylinan, Paschal McEvoy (Fianna Fail) from Stradbally, Tom Mulhall (Fine Gael) from Emo and Aidan Mullins (Sinn Fein) from Portarlington.
It's a large area that stretches from Portarlington down to Graiguecullen and Killeshin and touching four different counties – Offaly, Kildare, Carlow and Kilkenny.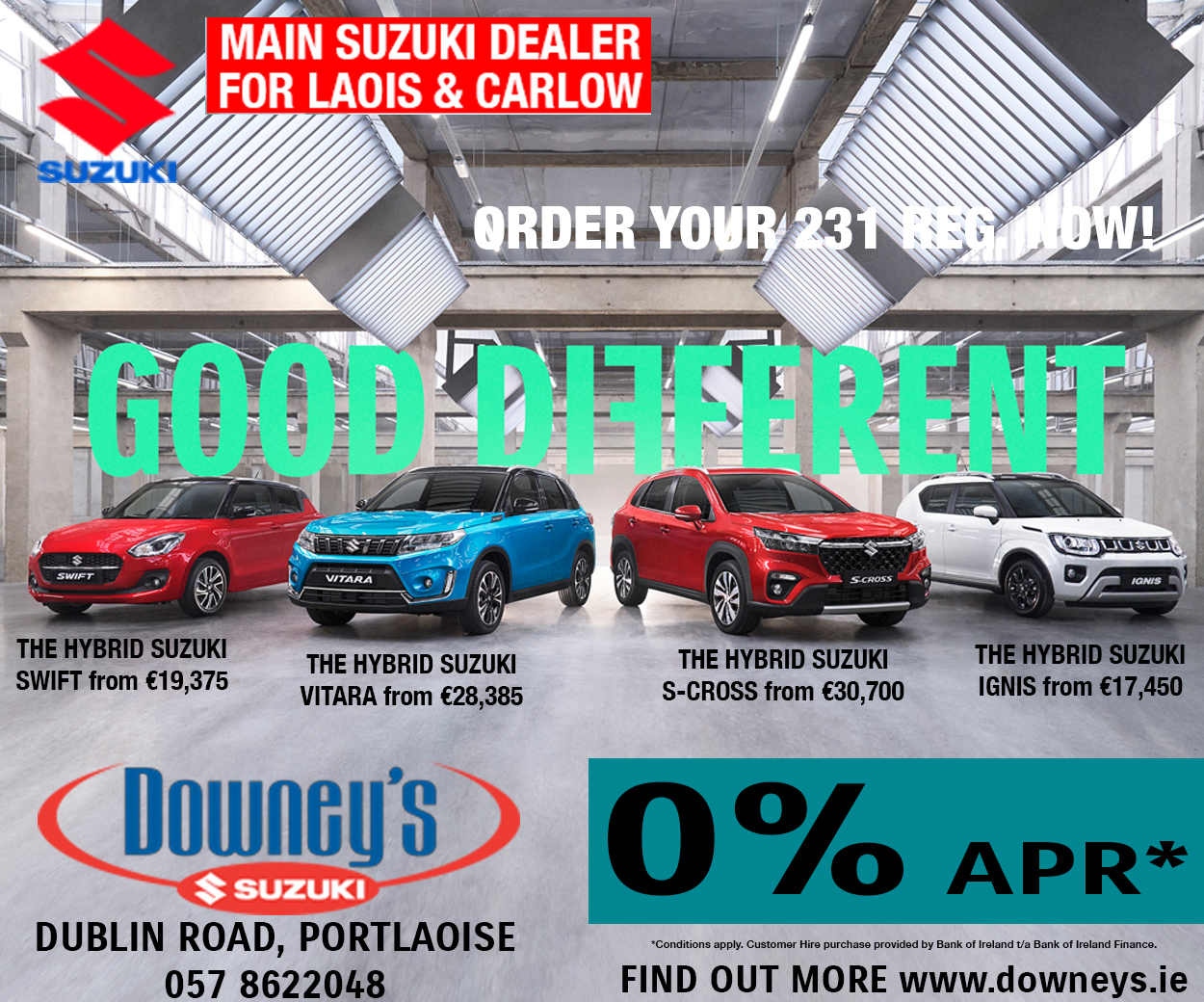 Indeed some voters in this area are in the unusual position of voting in Laois for the Local Elections – but in Kildare South when the next General Election comes around.
All of Portarlington, Killenard and Ballybrittas have been moved to bring Kildare South up to a four-seater while Laois and Offaly go back together again to make a five-seater instead of two three-seaters as they did in 2016.
Bookended by two large urban areas – hence the Graiguecullen-Portarlington name – it is largely rural in between, taking in the likes of Emo, Killenard, Ballybrittas, Vicarstown, Stradbally, The Heath, Ratheniska, Timahoe, Ballyadams, Ballylinan, Barrowhouse, Arles, Crettyard, The Swan, and Wolfhill.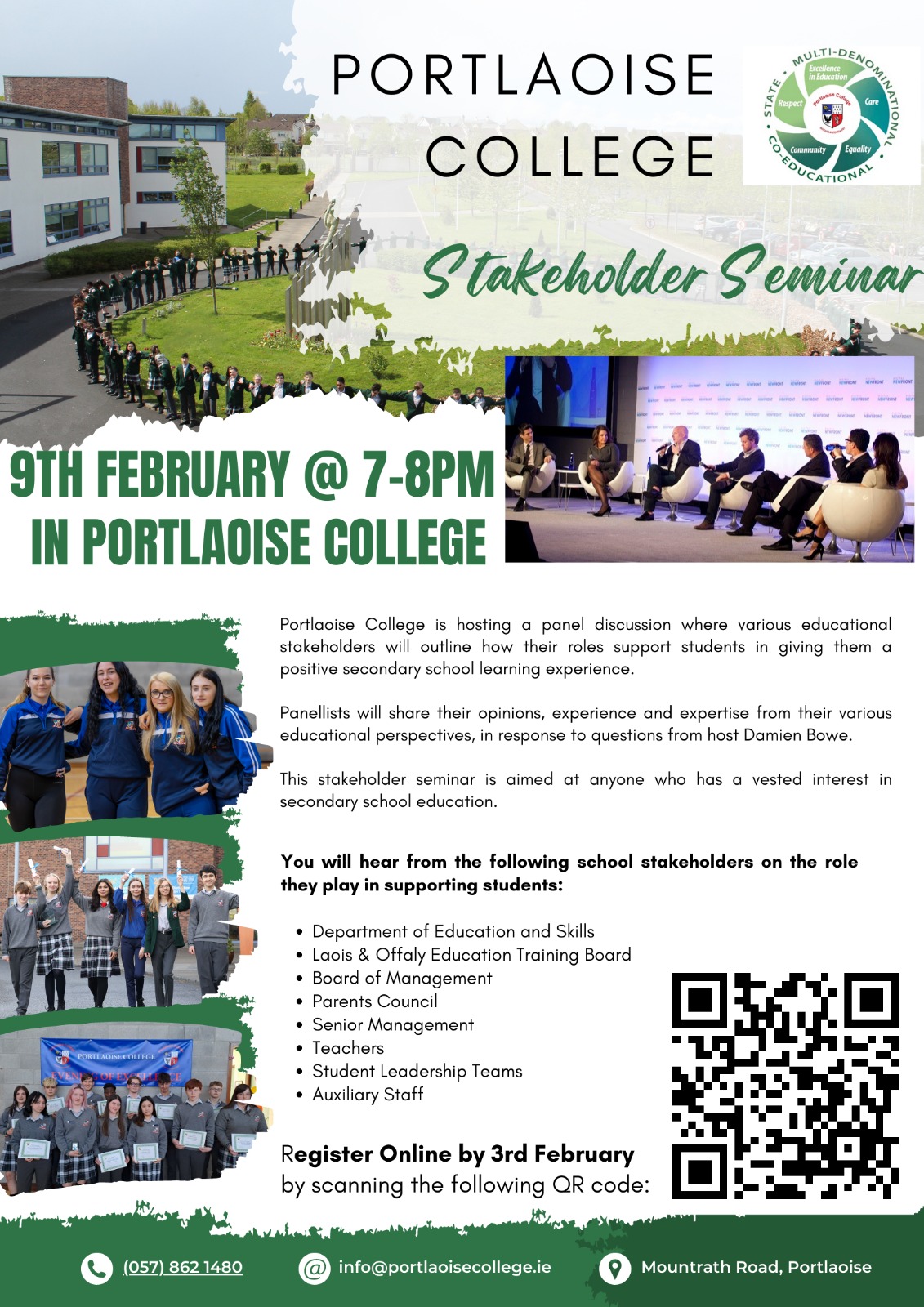 The reduction in the number of seats and the low number of candidates mean that this area could be one of the quicker counts – but there is still an amount to consider before anyone is deemed elected.
Generation game for Morans and Fine Gael
John Moran has retired from politics after a 28-year spell in the council and a spell as Cathaoirleach in 2008. It left Fine Gael with considerable boots to fill but his daughter Aisling is the one to step forward and attempt to hold onto the seat for both the party and the family that they've held since 1991.
A political researcher by profession, she'll be keen to maintain her father's support while also being her own woman. John was a hugely popular councillor who topped the poll in the old Luggacurren area in 1999 and 2004 and elected on the first count in 2009.
As part of a wider Fine Gael collapse, he saw his vote fall from 1,162 in 2009 to 906 in 2014. Aisling could have a battle to hold on to the seat but of the new candidates she's in pole position.
How they voted in 2014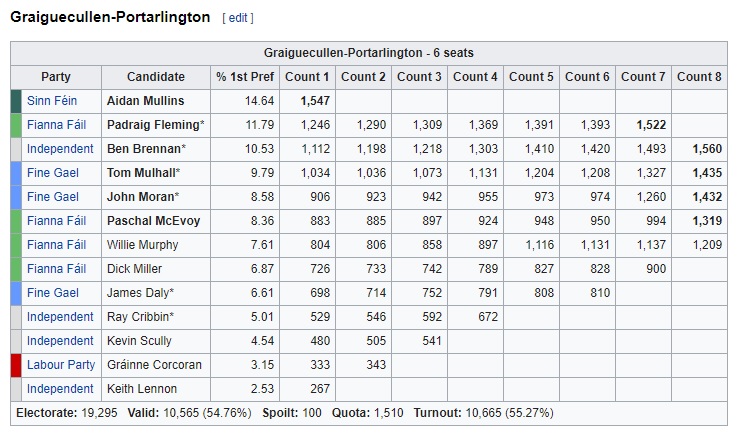 New Fine Gael face in Stradbally
Vivienne Phelan is the youngest candidate in this district and has already built quite a political profile for herself.
A qualified vet, she has climbed to the upper echelons of Young Fine Gael and is also well got in the party locally. She is closely aligned to Charlie Flanagan having nominated and spoken in support of the Minister for Justice at the two Fine Gael General Election selection conventions in late 2017 and the summer of 2018.
She declared at the local FG selection convention that she wanted to put Fianna Fail "back in their box" in Stradbally and later landed herself in hot water on social media for her views on student nurses.
That experience will no doubt have been eye-opening but she's in the race and will be looking to make a big impression.
There was always the guts of 700 Fine Gael votes for her Stradbally-based predeccessor James Deegan while James Daly in Timahoe was a strong vote getter for a number of years prior to his collapse in 2014.
If Aisling Moran doesn't maintain what John got in 2014, then some of those votes could come to Stradbally – even if there has been a high profile dispute between the two over posters – while she'll also be looking closely at her running mate and the party's senior representative in the area now, Cllr Tom Mulhall.
Emo man now FG's experienced face
It's only ten years since Emo man Tom Mulhall was first elected but he's gone from being the new face on the scene to the party's senior figure in the Graiguecullen-Portarlington District in what is a relatively short spell in the political world.
Where once he was the newcomer behind James Deegan in the old Emo area and then behind James Daly and John Moran, now he's the party's only sitting councillor on the ticket and Cathaoirleach as recently as 2016-2017.
He topped the poll at the first time of asking in 2009 and withstood a considerable local storm (excuse the pun) on the contentious issue of the proposed wind turbines to gain almost 300 extra votes in 2014.
He's fancied to get in again – and his potential transfers could be of interest to Moran and Phelan.
Timahoe votes up for grabs
When the Luggacurren and Emo areas were combined for the 2014 elections, one of the interesting aspects of it was that it brought Timahoe in with their fellow parishioners Stradbally and Vicarstown.
For a small village they have a long and proud record of returning councillors but that came to an end the last time out when James Daly (Fine Gael) lost his seat and Dick Miller (Fianna Fail) failed in his bid to win back the seat he held from 2004 to 2009.
Fianna Fail's Paschal McEvoy is based in Stradbally – ran in the old Emo area in 2009 – but his roots are very much in Timahoe having served as Timahoe GAA chairman and represented the club in a variety of roles on the Laois County Board.
McEvoy, who got 501 first preferences in 2009 on his first attempt but returned to get almost 900 the last time, was one who benefitted from the new area. He will be hoping to pick up plenty of those Timahoe votes, as will Padraig Fleming up the road in The Swan.
Despite disappointing outcomes, Miller and Moran won over 1,400 first preferences between them in 2014 and almost 2,000 between them in 2009. Those votes have to go somewhere this time too.
Huge numbers to play for in Portarlington
If a small village like Timahoe can have a big say, a town the size of Portarlington with its ever-growing population is obviously a huge player.
Sinn Fein councillor Aidan Mullins is a very strong candidate and after polling over 1,500 first preferences in 2014 and being elected on the first count, he should grow that vote considerably this time.
An experienced Fianna Fail supporter in the area recently observed that Mullins could get 1,800 – our hunch is that he could get even more.
Portarlington voters will vote for Portarlington candidates and there are only two in the town – Mullins and Fianna Fail newcomer Deirdre O'Connell-Hopkins.
Five years ago there were over 3,200 votes cast between four Portarlington-based candidates (Mullins, Fianna Fail's Willie Murphy, former Fianna Fail councillor Ray Cribbin and Grainne Corcoran for Labour).
In 2009 there was over 3,300 among seven candidates from the town – Mullins, Murphy, Cribbin, sitting independent councillor Paul Mitchell, Margaret Guijt Lawlor for Labour, Fine Gael's Winnifred Champ-Cox and Frances Emerson, another independent).
When there was four seats up for grabs in the old area, two of them were invariably from Port. That dropped to one on the last occasion. There should be enough votes in the town to elect two councillors if they went a certain way. But that's obviously easier said than done.
O'Connell-Hopkins is originally from Rathangan and a close ally of Kildare South TD Fiona O'Loughlin, whose General Election constituency now includes Portarlington, Ballybrittas and Killenard.
She'll need to poll strongly to have any chance and she could be transfer-friendly. Mullins doesn't have a Sinn Féin running mate so if he gets a big surplus, then it's all to play for.
Big battle in The Swan, Crettyard and Wolfhill
Three of the nine candidates in the area – Cllr Padraig Fleming, Cllr Ben Brennan and first-time Labour candidate Eoin Barry – are all within a stone's throw of each other in The Swan, Crettyard and Wolfhill.
Fleming (Fianna Fail) and Brennan (Independent) were both comfortably elected on the last occasion, polling well over 1,000 votes each. In Brennan's case that marked an almost doubling of his 2009 vote when he finished behind Fianna Fail duo Dick Miller and Laurence Phelan in sixth in terms of first preferences but still managed to win a seat.
Fleming, a brother of TD Sean, was also elected on that occasion in 2009 for the first time. It'll take something massive from one of the challengers to move either of them.
Eoin Barry has ran an incredibly energetic campaign and looks a very good candidate. He's been active on the local and national political scene for quite a while – and was part of the Laois For Yes campaign in the abortion referendum and involved in the local cross-political group supporting Michael D. Higgins' presidential re-election.
He'll be looking for votes right across the district and to do well in the likes of Graiguecullen, where there's a huge population and no local candidate.
All three of Barry, Brennan and Fleming will be hoping to do well there.
List of Candidates
Eoin Barry (Labour)
Ben Brennan (Independent)
Padraig Fleming (Fianna Fail)
Paschal McEvoy (Fianna Fail)
Aisling Moran (Fine Gael)
Tom Mulhall (Fine Gael)
Aidan Mullins (Sinn Fein)
Deirdre O'Connell-Hopkins (Fianna Fail)
Vivienne Phelan (Fine Gael)
Voting for this year's Local and European Elections takes place on Friday, May 24, from 7am to 10pm. The count for all three Laois areas then begins early on Saturday morning, May 25, in Portlaoise.
SEE ALSO – 1999 Election Memories: The count that ended up in court as Fianna Fáil glory in their boomtime purple patch