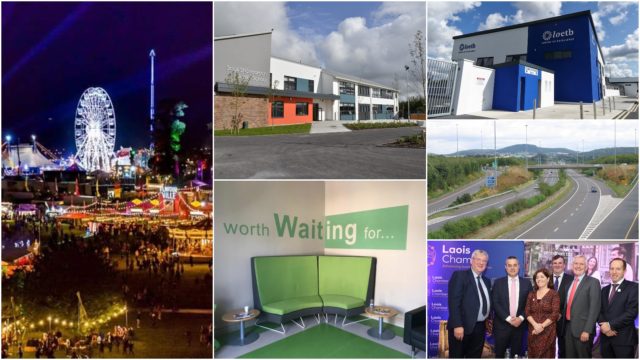 In this age of social media – and the constant negativity that goes with it – it would be easy to think that the world is a terrible place, that Ireland is a cesspit and that there is nothing good or progressive in Laois whatsover.
With a General Election looming, everything will be political of course, as will positive announcements that will be deemed vote-buying ahead of the country going to the polls.
On Wednesday of the week before last, Minister Charlie Flanagan announced that over €2 million in funding is being made available for 'The Cube' in Portlaoise, ;an 'incubation hub' which will assisting in attracting and developing companies with a low carbon focus; on Thursday we broke the story that almost €400,000 was going towards a new initiative that would serve the working hubs in Portarlington, Mountmellick, Mountrath and Rathdowney; on Friday, €300,000 was announced for Portarlington Leisure Centre.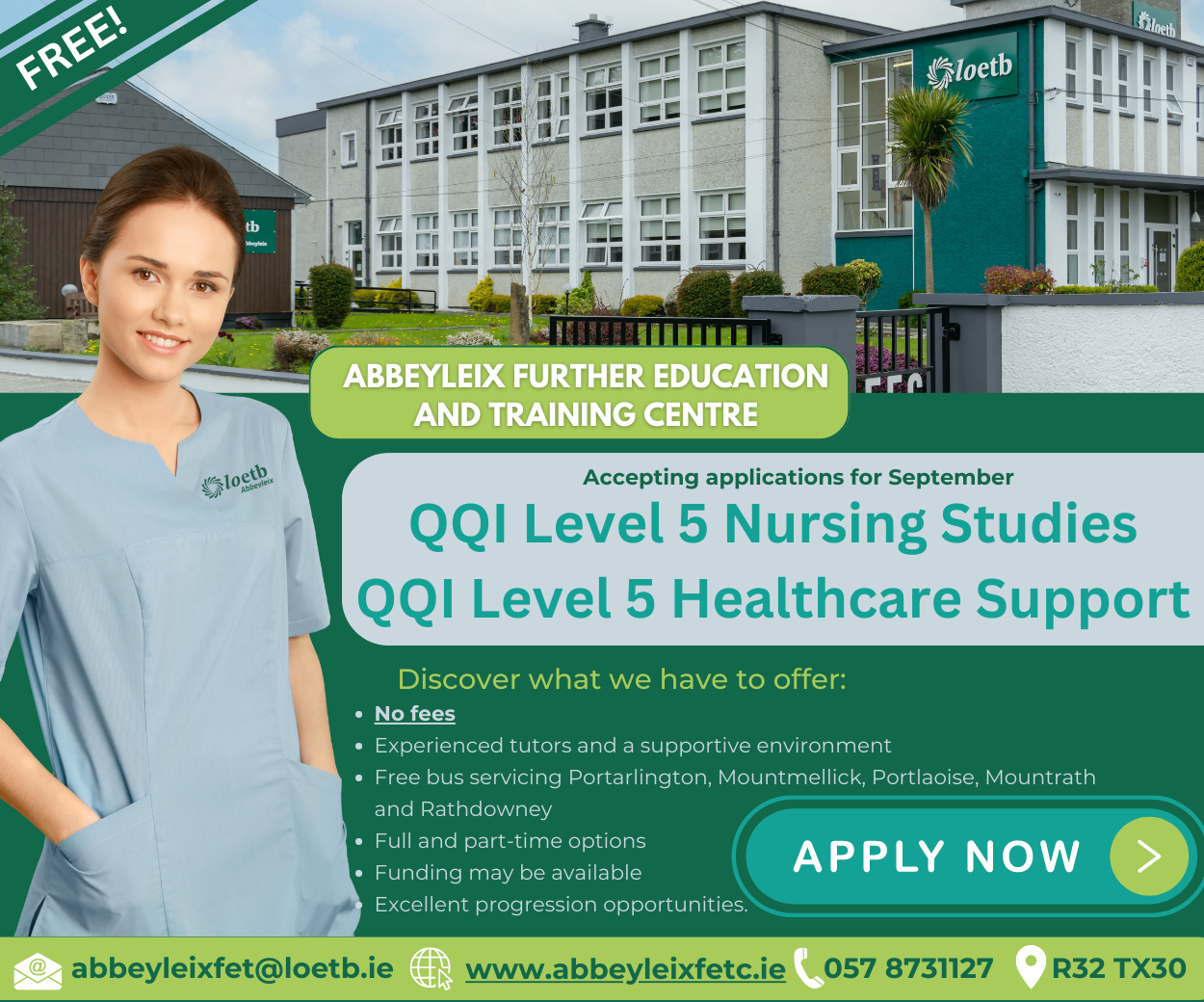 While that was all great news, and warmly welcomed, there is still obvious things to worry about – not least a housing crisis and serious concerns over the future of Portlaoise Hospital.
But there's plenty to be positive about too.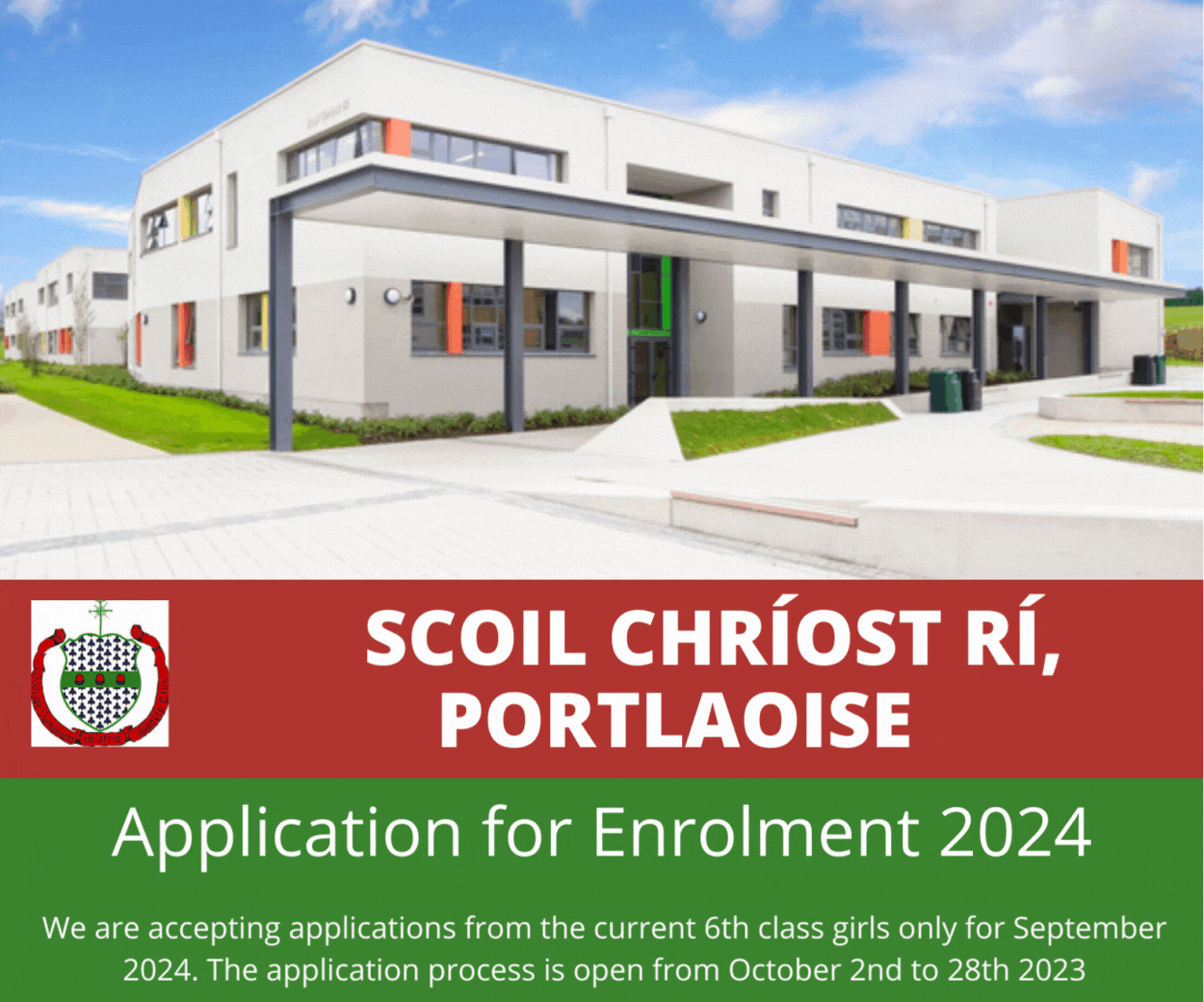 As we begin a new decade, we've picked out a host of developments in Laois in recent years that are worth being upbeat out. It's not all bad.
1 – Jobs announcements 
We're blue in the face hearing that Laois has been overlooked by state agencies when it comes to job creation in the county and the figures don't lie in that regard.
But over the last two years or so there has been a very obvious upward trend. Glanbia are currently constructing a €130 million cheese manufacturing facility at Togher outside Portlaoise, one that will create up to 80 high quality jobs when complete.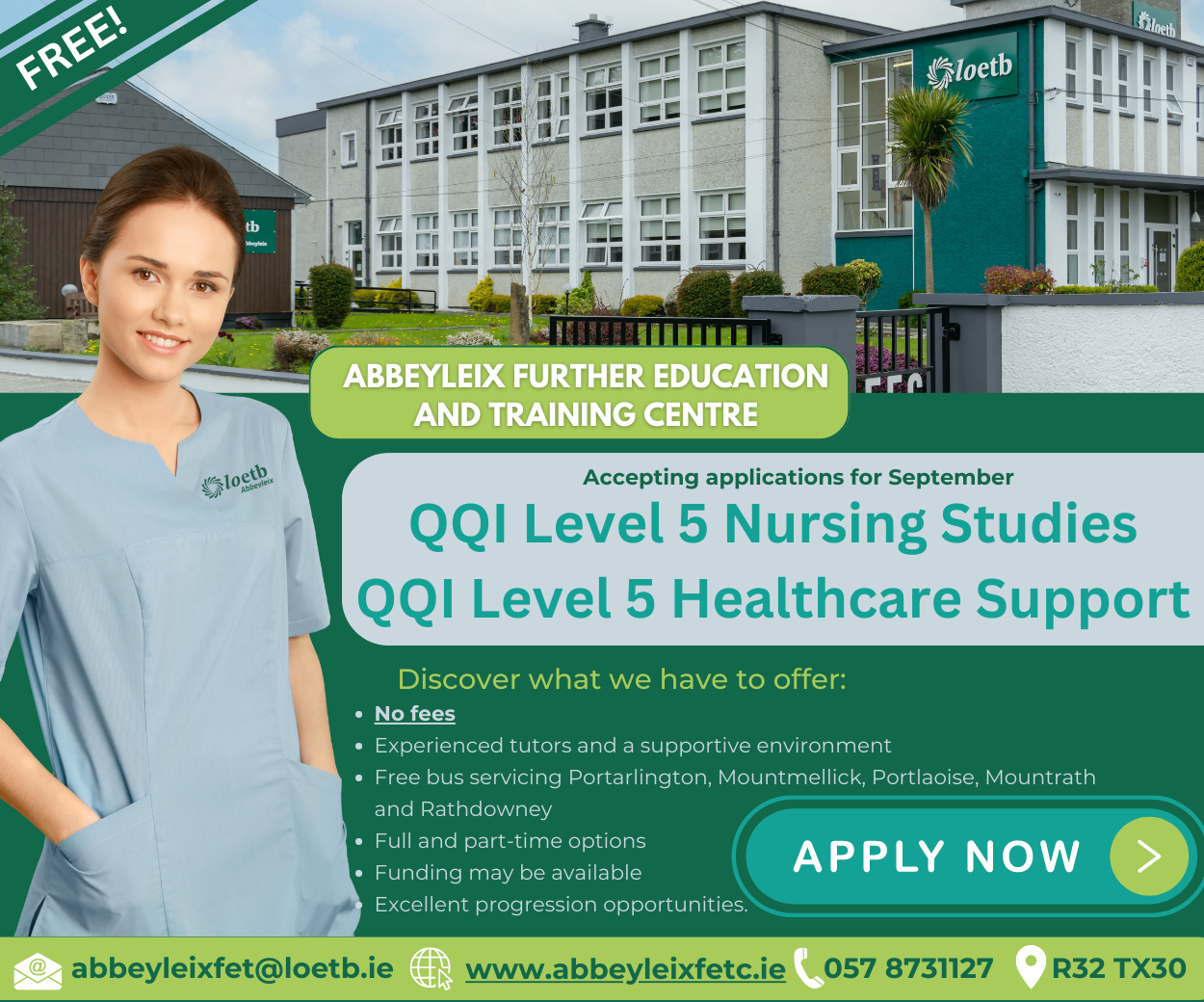 Just a short distance away in the IDA Business Park on the Mountrath Road, Canadian firm Greenfield Global –  who manufacture and distribute fuel ethanol, industrial alcohol and alcohol-related products – are working on a factory and distribution centre where there will be a further 75 jobs.
Within a stone's throw in Clonminam Business Park is Trifol – the world's first plastic waste to wax plant which was opened in July 2019 following a €12 million investment. Employing 16 people initially, there are plans to increase that to 30.
And then there is SkOUT Secure Intelligence, a leading provider of cyber-security technology and solutions to businesses, organisations and SMEs that is creating 30 jobs, also in Portlaoise. Killenard native Aidan Kehoe is the company's founder. 
In a relatively short period of time that is a significant increase on previous local job announcements.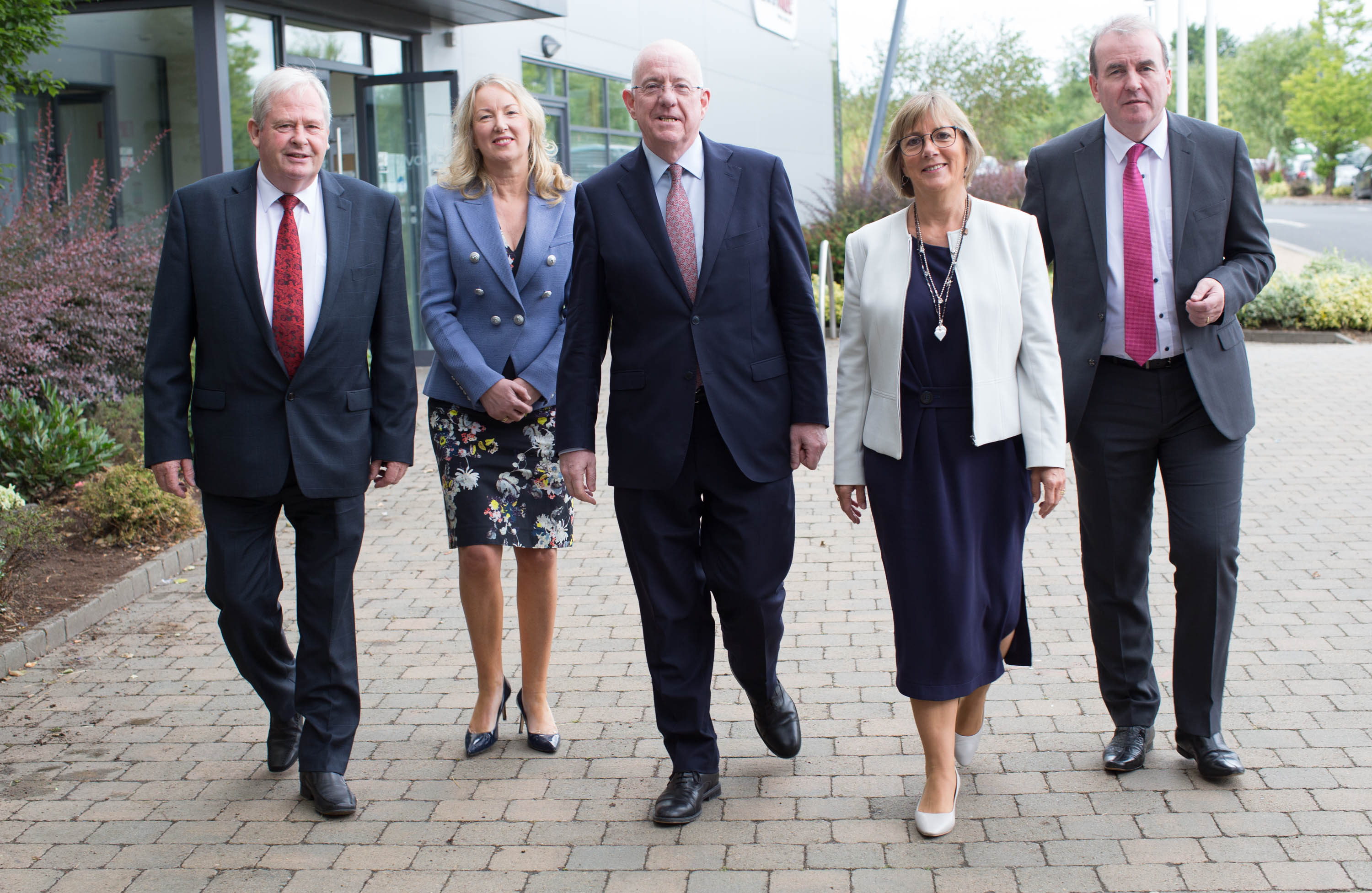 2 – Re-formation of Laois Chamber
Laois was one of the few counties in Ireland that didn't have a Chamber of Commerce – but that was righted in 2019 when the Chamber was re-formed having being wound up a number of years back.
In conjunction with Laois County Council, a board was put in place, a CEO was advertised for and appointed and then it was launched amid incredible positivity in September.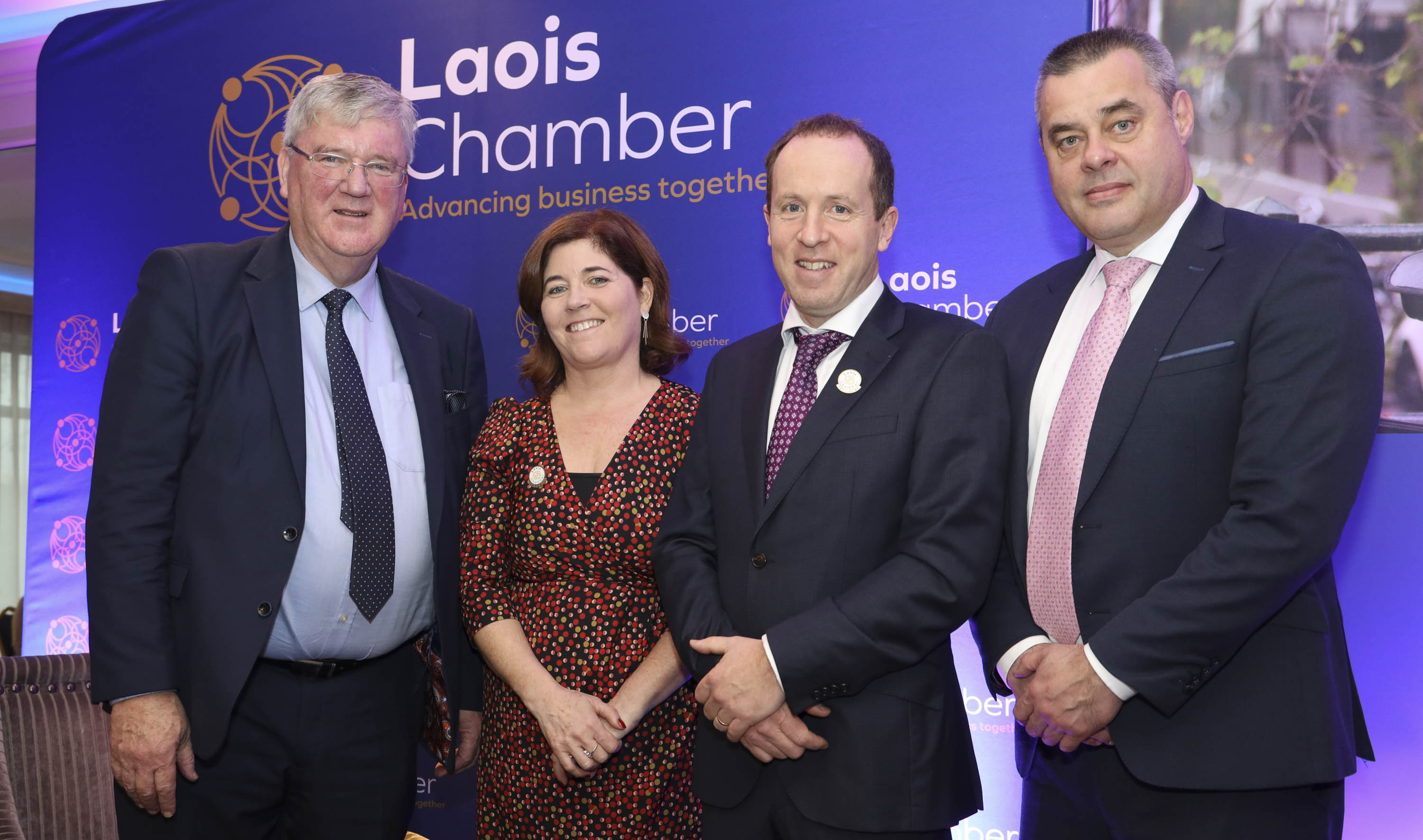 Since then there has been almost weekly events, a business breakfast where Supermac's owner Pat McDonagh was the guest of honour and there will be a first ever Laois Jobs Fair in February.
CEO Bernie Everard and President Martin Crowley are bringing incredibly energy and ideas to the role and an active Chamber can only be good for Laois.
Expect more positive announcements in 2020.
3 – Working Hubs
LaoisToday is privileged to be based in Portlaoise Enterprise Centre in Clonminam Business Park since our formation in February 2017. A number of businesses are based in the premises and there are similar facilities dotted around the county.
Portarlington Enterprise Centre, like its counterpart in Portlaoise, is linked to Laois County Council and was refurbished in 2018 while Portlaoise is in line for a similar facelift in the coming weeks.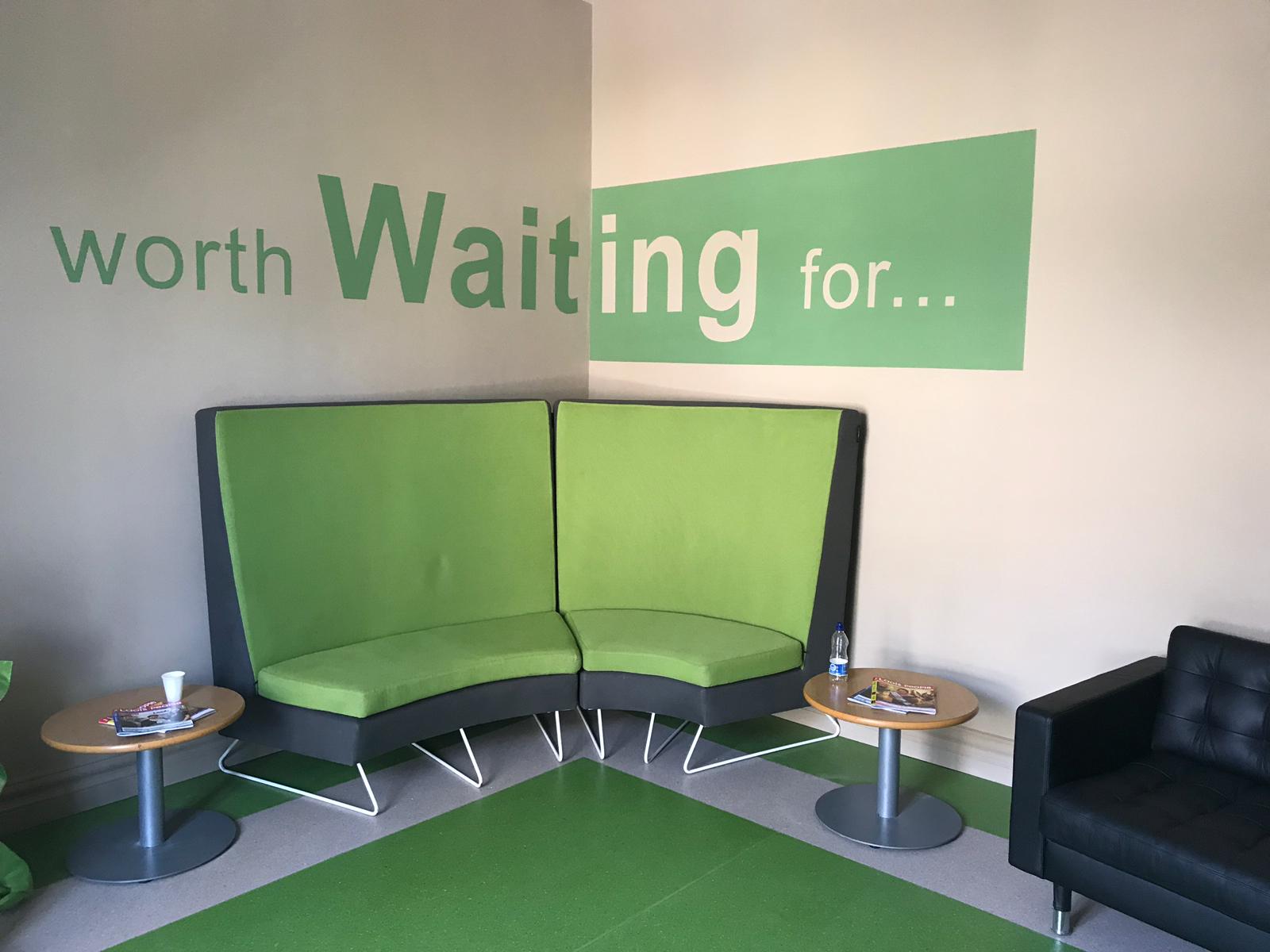 But 2019 saw three further facilities actually opened with plans announced for another.
Vision 85 in Portlaoise, Bloom HQ in Mountrath and the Webmill in Mountmellick are all co-working spaces with a range of options available to employers, self-employed and those who may be able to work a day or more week closer to home.
There are also plans in place in Rathdowney for something similar in the old Outlet centre. 
Not many counties have so many options in this space. It's a sign of Laois's proximity to Dublin and the changing work model but these developments are all a step in the right direction too.
4 – Portlaoise
Portlaoise is a county town to be proud of and sits pretty on both the M7 and M8 within easy striking distance of Dublin. Facilities and amenities in the Town continue to improve all the time and Portlaoise has largely eclipsed its long time rival Tullamore on many fronts.
New inner relief orbital roads have eased traffic congestion as well as opening up more of the urban quadrant for development largely within the nucleus of the town centre.
Plans are finally afoot for a new courthouse which will remove it off the Main Street and Church Street location to a more appropriate site off the new orbital route. It will still be convenient enough but off the Main St where its presence often led to off putting and intimidating behaviour as well as Garda and Prison Service vehicles parked along the street due to the absence of proper facilities and holding cells.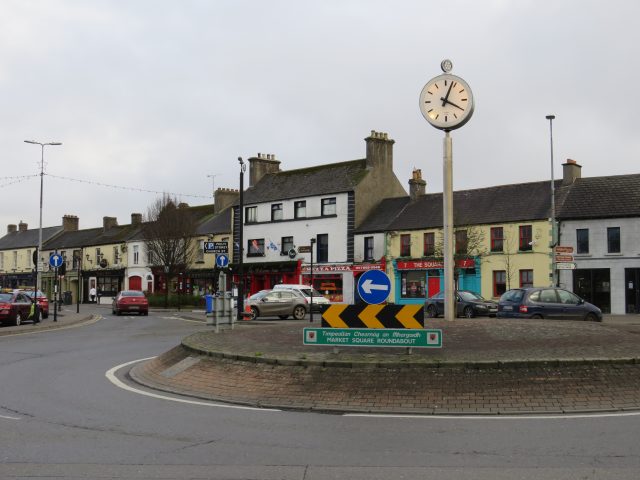 In parallel there is long overdue progress being made for a modern new Garda station, something which was first mooted over 50 years ago.
With work at an advanced stage on the regeneration of the Old Fort Quarter and Fitzmaurice Place, construction on the new county library starting this week on the site of the former Shaw's store and the prospects of a County Museum in the historic courthouse building to accompany the successful Dunmaise Arts Centre it makes for a potentially vibrant cultural quarter in the old town.
Missing from this largely positive picture though is the dire need for a new indoor sports facility to replace St Mary's Hall, which has given great service but is no longer fit for purpose.
5 – Proximity to major cities
Yes, there is plenty of mentions of the thousands of Laois people leaving the county every day to work.
And while few people have positive things to say about commuting, Laois people are within driving distance of Dublin. The capital city will always have the greatest selection of best-paid jobs but if Laois people want to work in some of those jobs and be close to their family, then they can be.
Not everyone can say that.
And there's many other benefits of being close to the cities and on a great road network. The country's main universities, big matches, concerts and all the attractions of major cities are no distance now.
Dublin is only an hour away. Limerick is just over an hour, Cork and Galway no more than two hours. All almost exclusively on motorways that are now better than ever.
6 – New schools
For the most part, the current generation of children in Laois are now in newer, more modern schools than ever before.
In Portlaoise alone, there has been an almost complete re-location of schools. The Holy Family primary schools in Aughnaharna opened less than two years ago, likewise Scoil Bhride in Knockmay while Maryborough NS, Educate Together and the Gaelscoil are all on the same site in premises less than ten years old.
Portlaoise CBS and Scoil Chriost Ri are on a beautiful campus on the Borris Road and Portlaoise College on the Mountrath Road. Dunamase College – Laois's newest secondary school – is currently based in the old 'Tech' in the centre of town, they have plans to move to a new site on the Timahoe Road.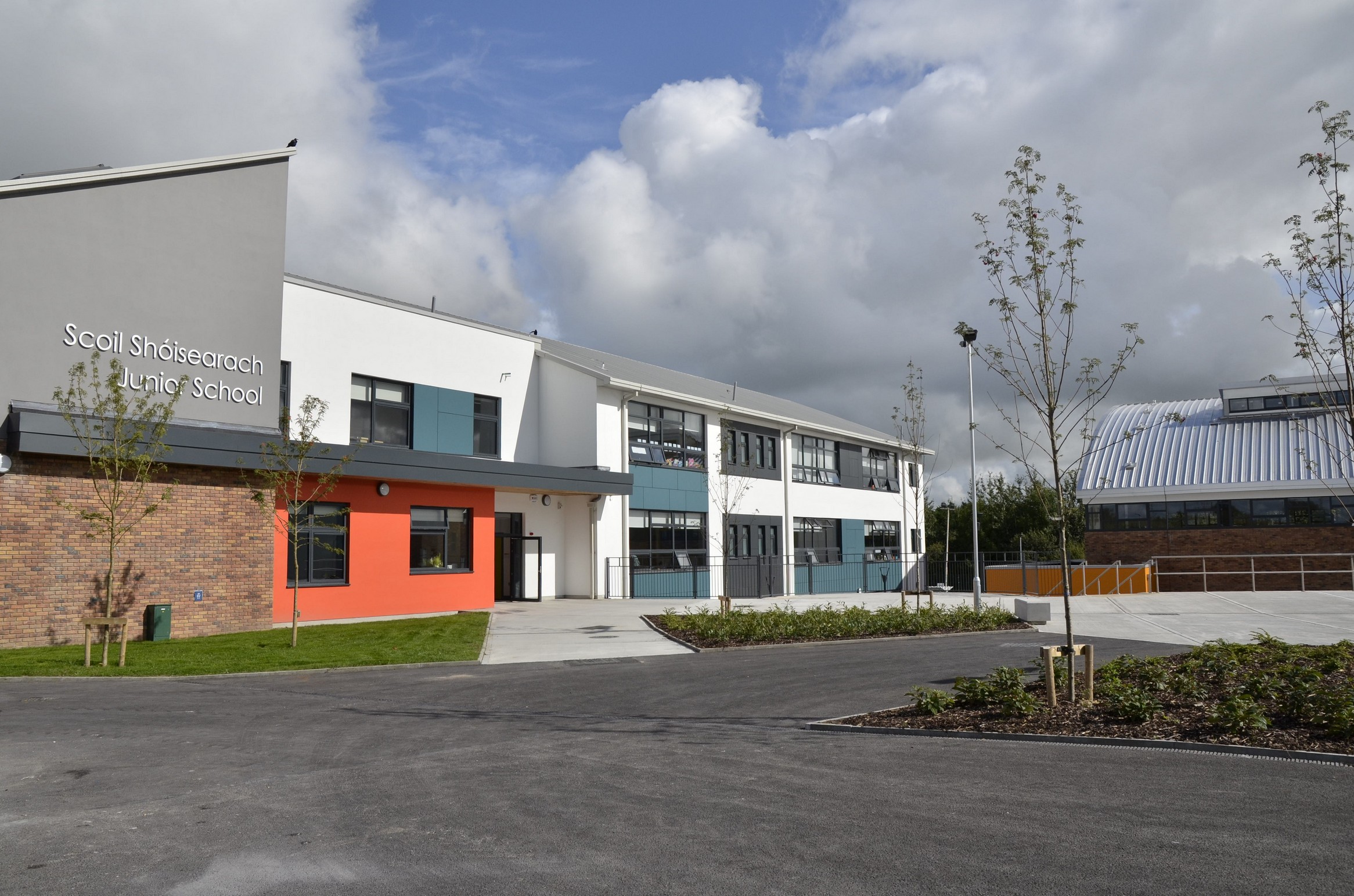 Work on the new St Francis school on the site of the old St Paul's primary school is progressing well though the same cannot be said about the Kolbe school.
Around Laois there have been numerous new schools over the last decade or so and while there are some that are in need of upgrades, there has been considerable progress.
In all it is some change from a generation ago where most children were sitting in the same classrooms as their parents did before them.
7 – Concerts, events and festivals
Since 2004, the Electric Picnic has been our doorstep, going centre stage, so to speak, every September.
It has become Ireland's biggest and most popular music festival with plans announced in 2018 to continue for another ten years.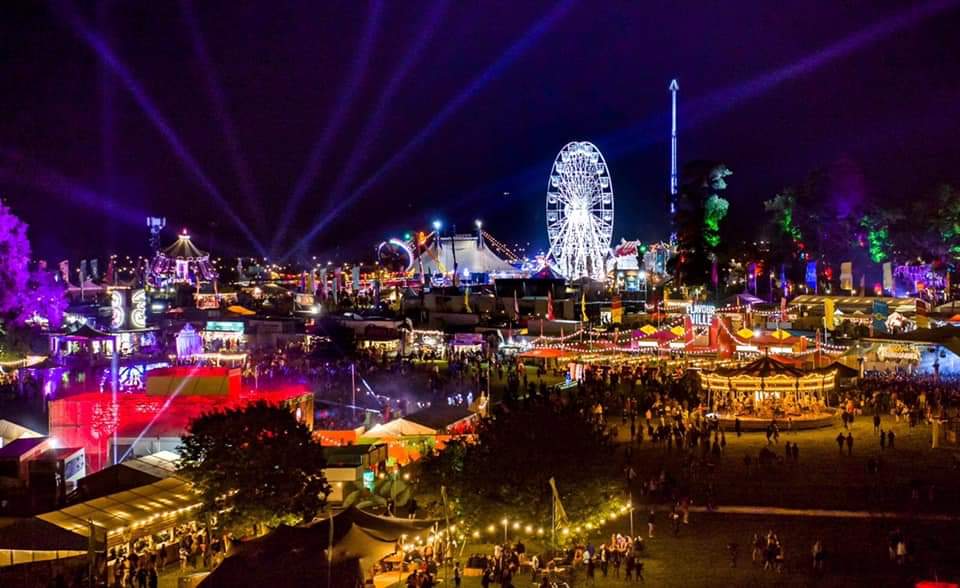 The National Ploughing Championships are always within distance. It is a Laois-based business afterall. But since spending three years in Athy in 2009, 2010 and 2011, on only one occasion has it been more than one county away from us.
One year in Wexford followed by three in Ratheniska, three in Tullamore and its current home in Carlow has meant that the 'Ploughing' – one of Europe's biggest outdoor events – is always within an hour's drive.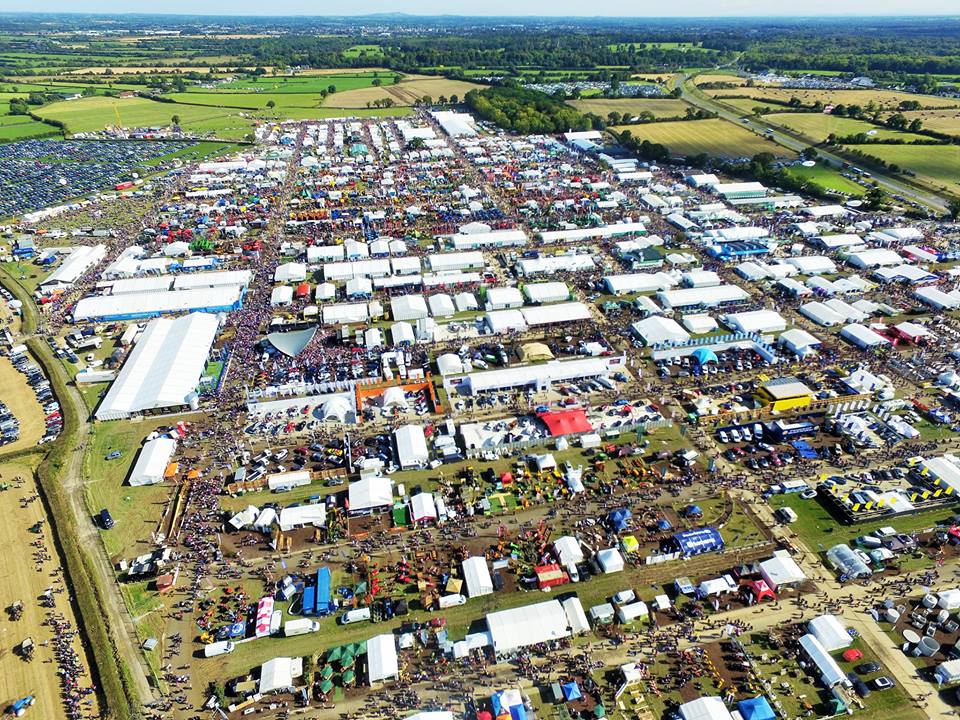 That has come as a welcome boost to the many local sports and community groups have been able to avail of the fundraising opportunities that it provides.
And we're fairly sure that Anna May, Anna Marie and all in the NPA will bring it back to Laois in the not too distant future.
And while the Picnic and the Ploughing come within a couple of weeks of each other and get national attention, below the radar there has been a couple of high quality local festivals in recent years too.
The Old Fort in Portlaoise, the Durrow Scarecrow and the Folly in Cullahill have led the way while a number of others have shown too the best of communities coming together and also availing of support from Laois County Council.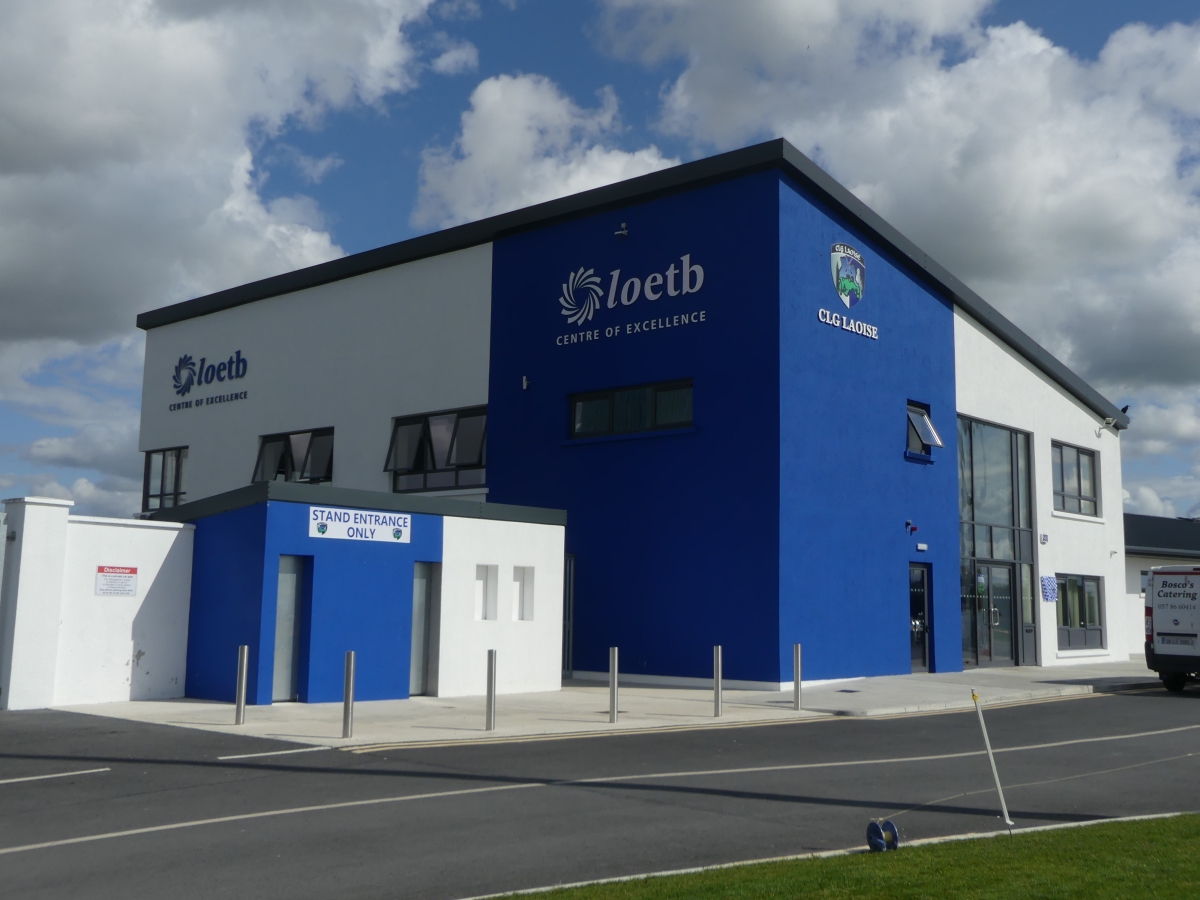 8 – Laois GAA facilities
Circumstance may have played its part but Laois GAA have facilities that are the envy of every county in Ireland.
Portlaoise's attempt to sell their grounds on Fr Brown Avenue to a developer and move to Rathleague didn't work out the way they wanted but it did eventually work well for Laois.
They now have their state of the art Centre of Excellence (sponsored by the Laois-Offaly Education and Training Board), complete with three fully floodlit, Croke Park-sized pitches, dressing rooms, gym, office space and meeting rooms.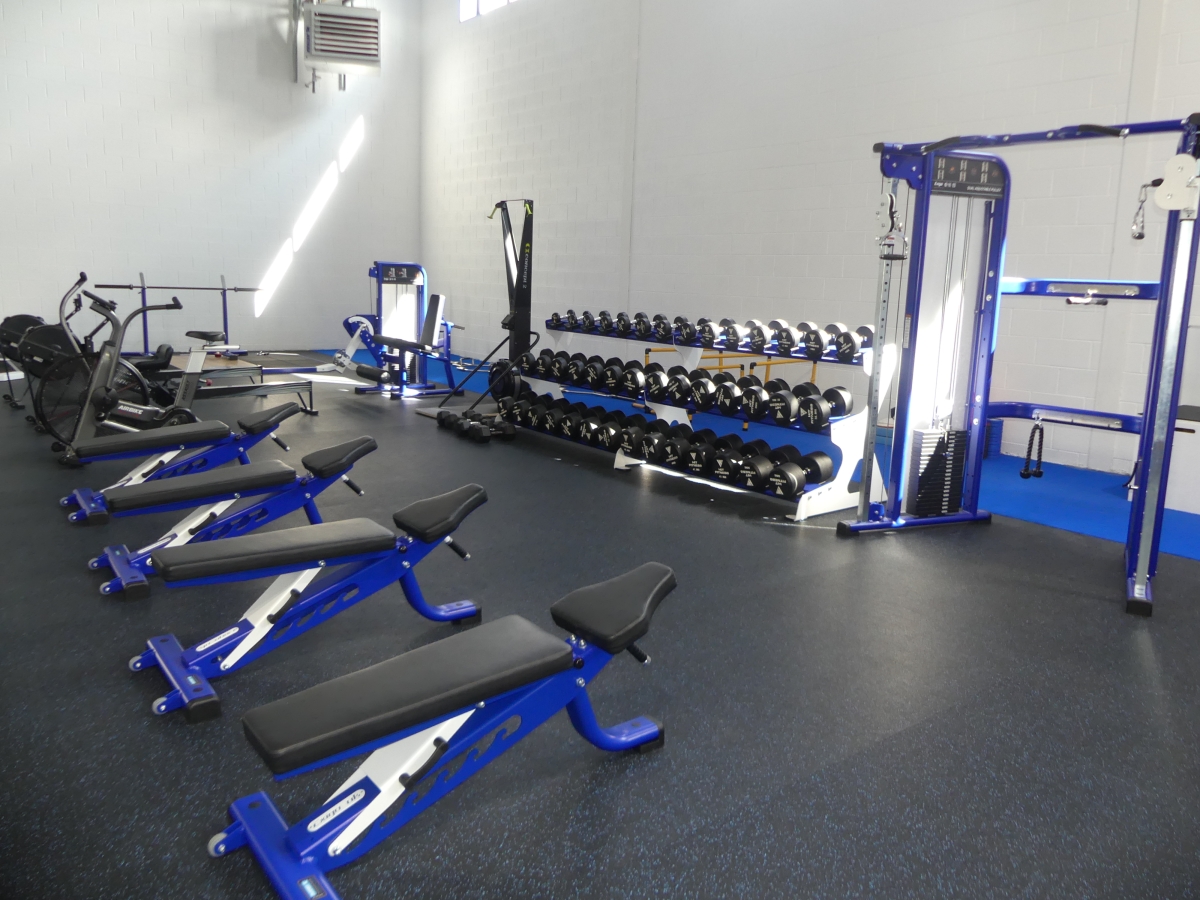 No other county is lucky enough to have their main grounds (now renamed MW Hire O'Moore Park) right beside their training facilities and the full-time administrative and coaching staff.
Success on the field won't automatically follow but in terms of facilities, Laois are absolutely top of their game.
9 – Tourism
With the Slieve Blooms, Emo Court and the Rock of Dunamase as anchor tenants Laois Tourism should be in a far strong position than it is. However, this is being addressed and the potential is promising.
The new Slieve Bloom mountain bike trail has seen its first phase up and running over the Christmas and this offers vast opportunities to gateway towns and villages like Mountrath, Mountmellick, Ballyfin and Rosenallis.
Laois Tourism deserves to be a stronger brand and what can be achieved is illustrated with the numbers out walking and hiking in the Slieve Blooms and not just during the popular Laois Walking Festival; enjoying the walks around the resplendent Emo Court and the thousands that flock to the flagship Electric Picnic every year.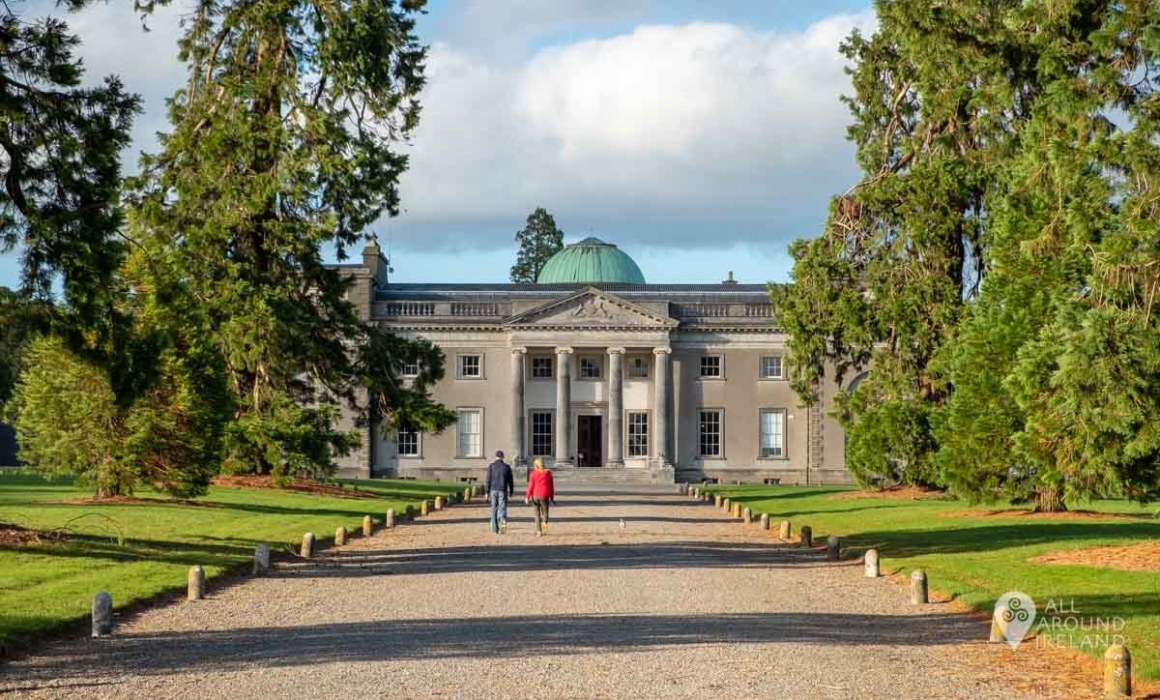 Work is underway to make more of the Rock of Dunamase in terms of parking, services and the added value of an interpretative centre and about time too.
Some headway being made on the Barrow Blueway also will be a boost to Laois tourism interests as it taps in to the appeal of such amenities with a section from Monasterevin via Vicarstown and onward to Athy included in the investment for this long awaited project.
The success of events like the Durrow Scarecrow Festival show what can be achieved when a community pulls together and gets behind a good idea. This is also reflected in the new lease of life and popularity of the Farmers Market at Lyster Square in Portlaoise each Friday morning, showcasing local and artisan produce.
Yes, there are glaring gaps in the Laois tourism offering, but many of these are being addressed and this merely illustrates the scope their is for growth, improvement and development. In time this should get us off the bottom of the league as one of the least visited counties in terms of visitor numbers and tourism spend.
10 – Commuter Friendly and Carbon Aware
While there is a big drive on, and rightly so, to create more jobs directly in Laois and to facilitate more family-friendly work practices and remote working there is always going to be the need, demand and attraction of working in the Big Smoke.
There is no county in Ireland better served by such a good rail service as Laois. The frequency of trains serving Portlaoise and Portarlington is unrivaled anywhere outside of the Dublin. There are also relatively good train options out of Ballybrophy and Monasterevin.
We may quibble about the punctuality and standing room only on some of the busier services which Irish Rail definitely need to address but the frequency of the service is second to none. There are also excellent and regular bus services to and from Portlaoise with central bus stops and shelters at James Fintan Lalor Avenue.
This gives commuters the option of leaving the car at home and the good news in that department is that the Council are making headway on a new development at the former CBS site adjacent to the Portlaoise train station to provide a further 100 car parking spaces for commuters.
The development itself is part of an ambitious urban renewal programme being embarked upon by the local authority in partnership with approved housing bodies like Respond and Cliúd to transform the former Brother's and Convent sites as well as that of the derelict County Hotel building on Main Street for social housing.
This in turn will help alleviate the housing demand and the upward pressure on rents.
There are also some signs that the building of private housing is starting to finally scale up in Portlaoise, with planning applications for new units off Harpur's Lane and near the train station also being advanced.
The local authority for its part is embracing its climate change responsibilities and while these were recently described by one councillor as "all waffle" there are some worthwhile and ambitious objectives incorporated in their strategies.
These include a dramatic improvement in the number of charging points for electric vehicles and a transition to more energy efficient public lighting as Portlaoise embraces the challenge of a carbon friendly town and all the obligations that go with that.
SEE ALSO – Check out the dedicated jobs section on LaoisToday