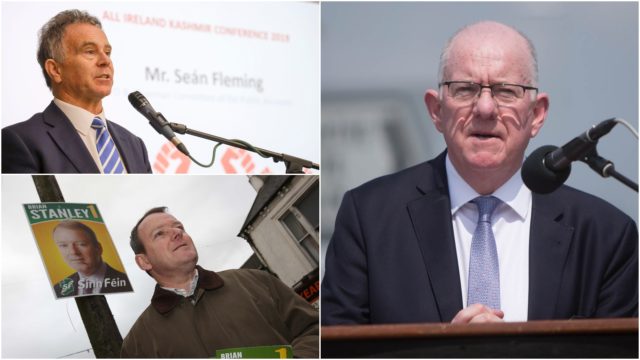 In an age of political flux, 2020 as it approaches, is highly unusual with the degree of certainty it already offers.
The political demon that is Brexit and the ambiguity that has surrounded it for the past three years will finally be exorcised as Britain eventually leaves the EU.
This in turn clears the way for our own 2020 General Election before the summer. It is worth noting that the last two General Elections were held in the month of February, in 2011 and 2016, so a hat-trick of February elections cannot be entirely ruled out.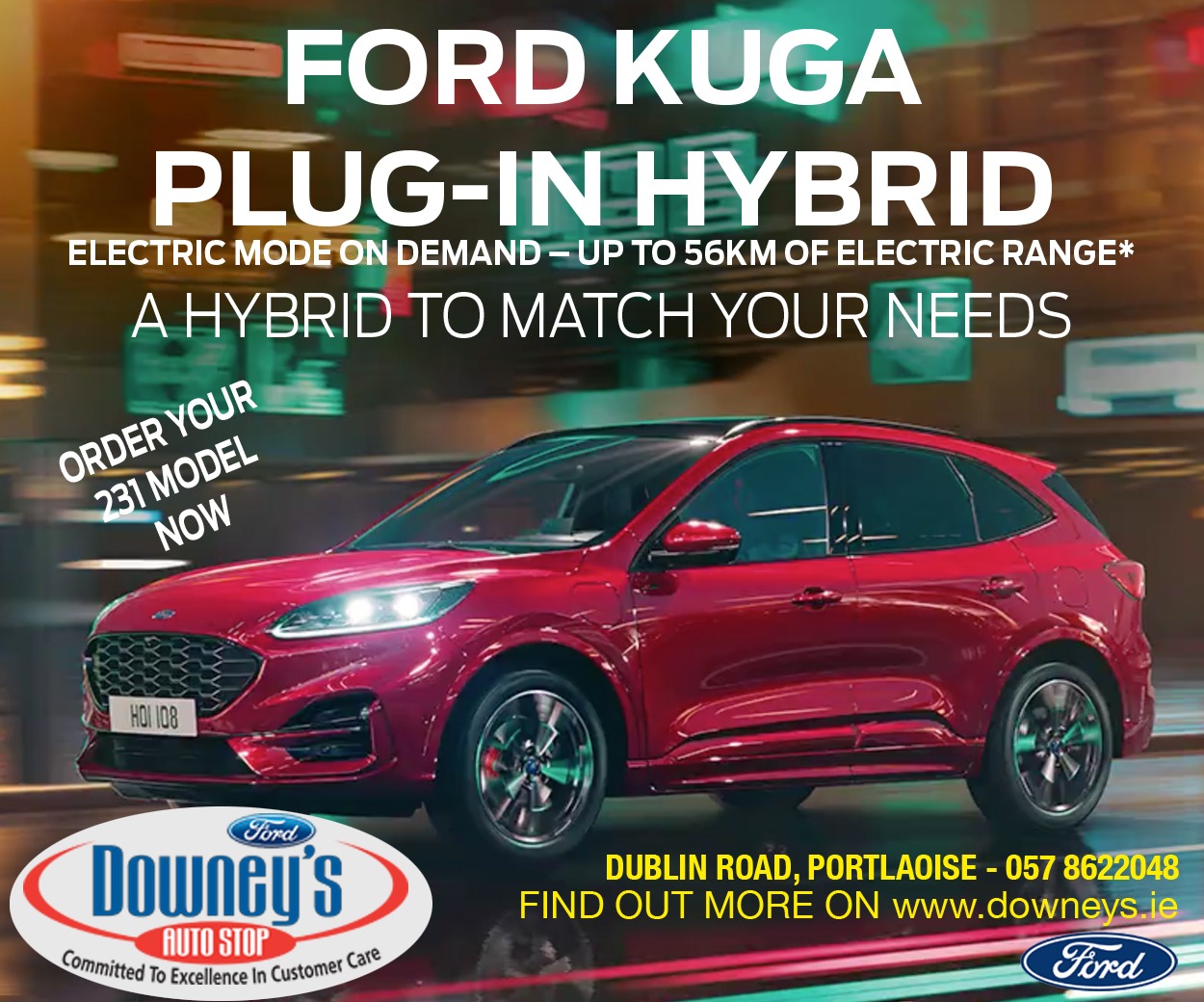 However, the mood music over the Christmas break has been to signal a preference in the higher echelons of Fine Gael and Fianna Fail for a post-Easter election, with May 8 as the possible date.
We will know soon enough, but an early summer polling day with a stretch in the evenings and less patients on stretchers in hospital corridors or homeless people stretched out in doorways would most likely suit the Government.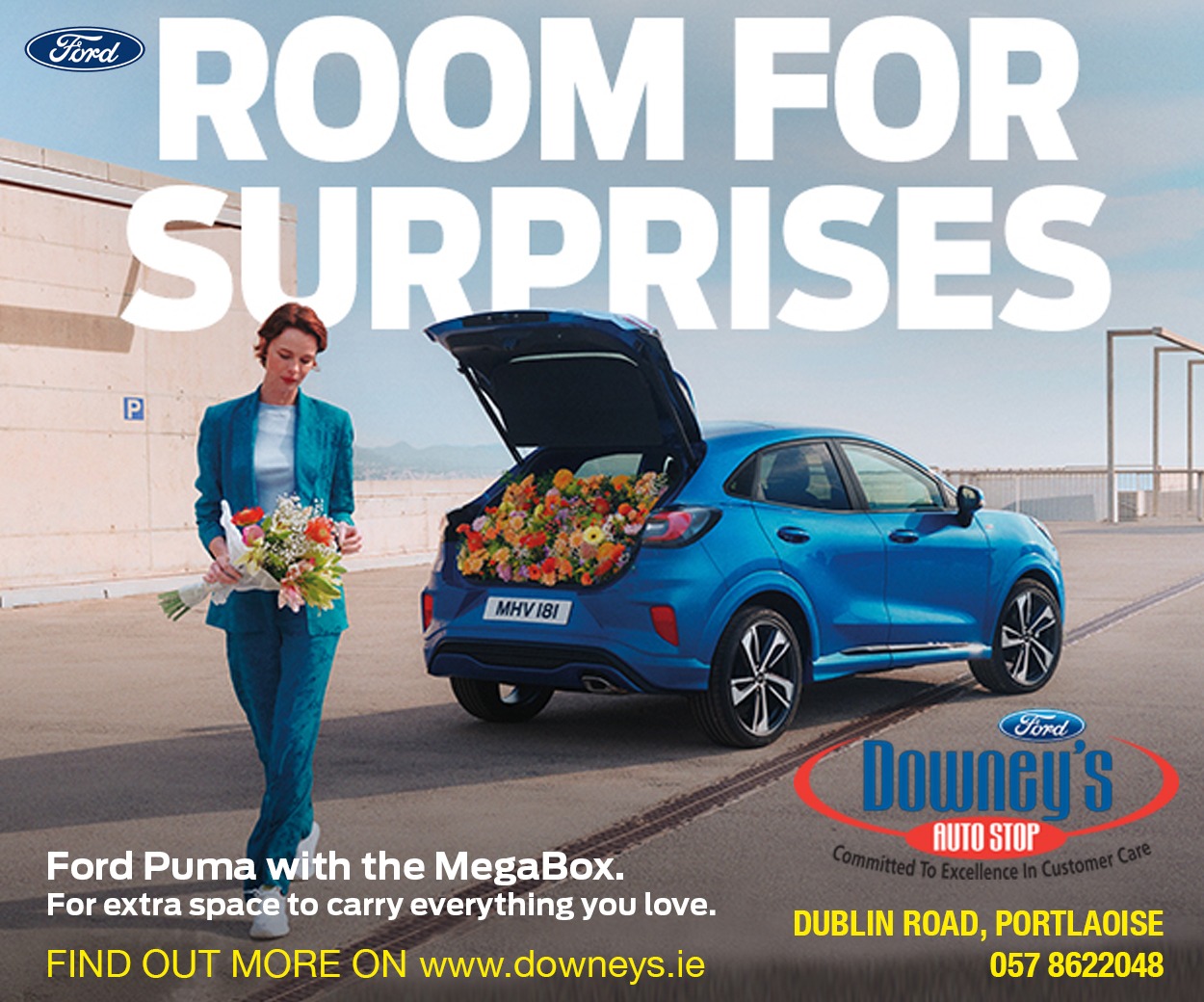 Health and housing are the twin issues which have haunted this Government's term and will pose their biggest challenges as Fine Gael, now nine years in power, seek a third successive term.
A daunting task at any time, but all the more difficult during a winter campaign, with the electorate still nursing the post-Christmas hangover and facing in to the new year credit card bills.
May 8 remains a far more appealing polling day than February 28, for all politicians for all sorts of reasons.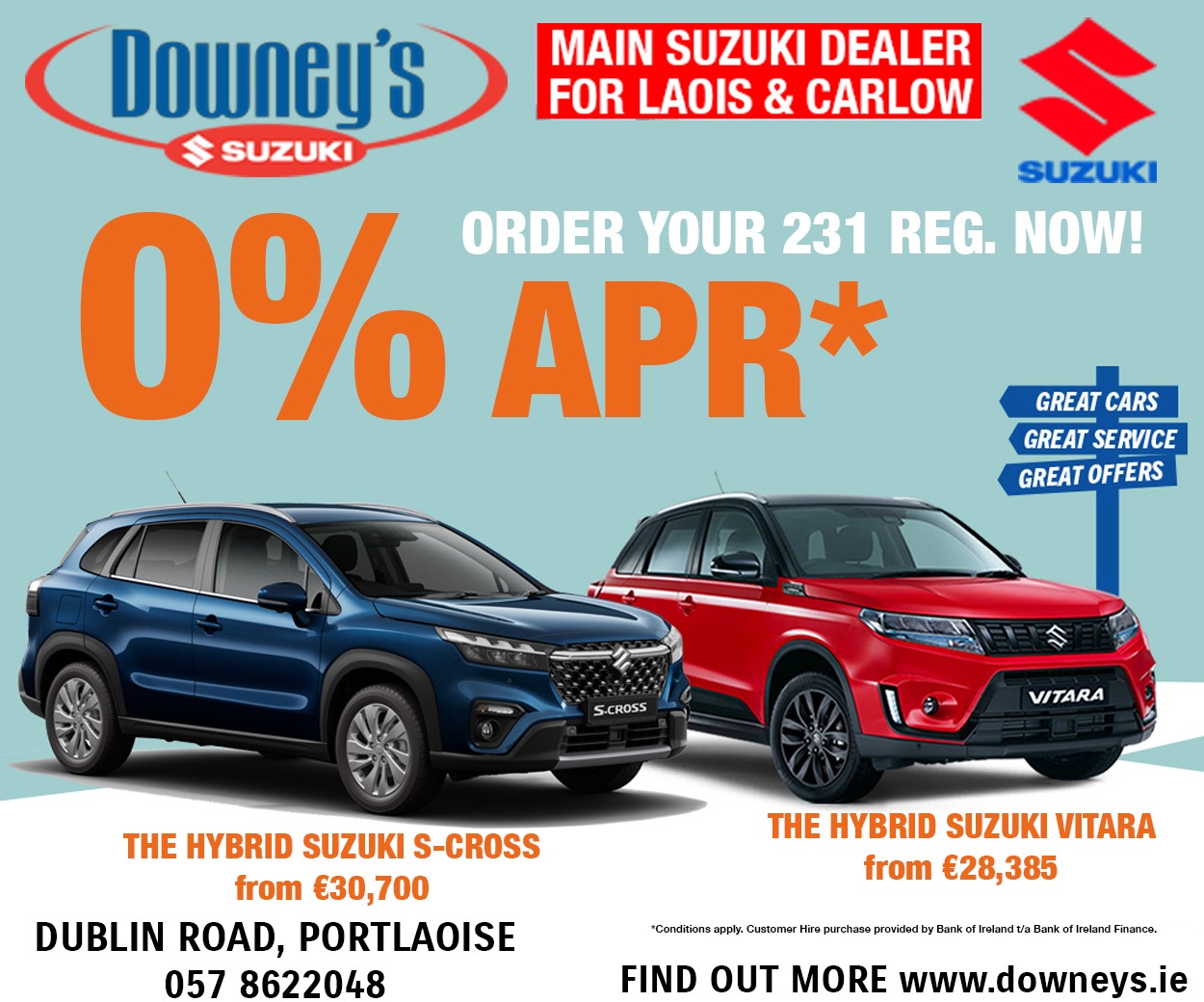 However, what remains fascinating is how little still separates the main parties or how little has changed in terms of overall electoral support for all of the political groupings since the last General Election and as manifest in the 2019 Local Elections.
The latest opinion polls indicated that Fine Gael and Fianna Fail are tied at 27%. This we know to be an accurate representation of their standing as it corresponds to the support they received in the local elections nationwide last May.
There is nothing between the two main parties, which means the outcome of the 2020 General Election will be decided by a handful of seats, determining who will lead the next government.
Both FF and FG will be reliant on at least one other coalition partner to secure a majority, therefore maximising the seat count is critical not just for the two main parties but for Labour, the Greens and Independent groupings, who will ultimately determine the nature and make-up of the next government.
Just how delicate a balancing act it all is was well demonstrated in the outcome of the 2019 local elections here in Laois. The local elections in Laois provided an interesting and tasty appetiser for the general election main course which will be served up in 2020.
The 2019 Local Elections in Laois and countrywide – an overview
In Laois the local elections were won by Fine Gael, who just about shaded Fianna Fáil by one seat to give them the slenderest of advantages.
This represented a reversal of the circumstances which prevailed following the 2014 local elections where FF had the slight edge. Either way, just as they have nationally, both parties sat down and negotiated and came up with a form of confidence and supply or power-sharing in the Council Chamber.
For the record FG won 7 seats; FF took 6; Sinn Féin held their 2; Labour their 1 and the Independents 3.
Fianna Fáil will be pleased with the poll topping performance of Padraig Fleming; but will be kicking themselves for losing Jerry Lodge's seat to Fine Gael in Portlaoise; while they will be bitterly disappointed that former GAA President, Liam O'Neill was unable to secure a seat.
Fine Gael on the other hand will be chuffed to take seven of the 19 seats, a slender but significant lead which helped put veteran councillor Willie Aird back in the Chair at County Hall as Mayor of Laois; Aisling Moran successfully succeeded her father John to secure that seat and while long serving Rosenallis councillor David Goodwin lost his seat, the consolation is that it went to the up-and-coming Conor Bergin.
Meanwhile it was Thomasina Connell who defied the odds to scrap and grafted her way to taking the last seat in Portlaoise.
Overall for Fine Gael it was a good result and one which saw generational change on their ticket, electing three young new councillors which resulted in some good succession planning, whether by accident or design.
Fine Gael edged it in Laois on seats even though they were behind Fianna Fail 32% to 30% on overall votes. Sinn Féin held their two Laois seats on 11%.
Nationally Fianna Fáil remain the biggest party in local government with 279 seats (27%); Fine Gael 255 (25%) with both parties increasing their overall number of seats by 12 and 20 respectively.
Sinn Féin by contrast took a hit countrywide registering 10% support, losing 78 Council seats, including all three seats which they had held in Offaly. Labour nationally remained static at 6% and returned with 57 Council seats, up six on their 2014 tally.
The Green Party were the big winners in the local elections across the country as they were breathing down Labour's neck. Also on 6% they secured 49 council seats, up by 37 from 2014, including a breakthrough seat for Pippa Hackett in Offaly and she has since been elevated to the Senate.
This close rivalry between the Greens and Labour will be one to watch and will be a critical factor both in Laois-Offaly and across the country in determining the outcome of the forthcoming general election.
Nationally the local elections returned 198 Independent councillors with a 22% share of the overall vote. In Laois there are still three Independent councillors with James Kelly topping the poll and Ben Brennan being comfortably returned, while Rathdowney's Brendan Phelan lost out to newcomer Ollie Clooney.
Conor Bergin announces his arrival
If the local elections in Laois in 2019 threw up one to watch, well then it's Conor Bergin. He kept his head down on the campaign trail after he came through the selection convention in Mountrath.
Since then he has gone on to make his mark as a councillor and someone who might well entertain loftier ambitions down the road.
Losing out to the young Borris man was his Fine Gael party colleague, David Goodwin from Rosenallis.
Mountrath man James Kelly too had reasons to be cheerful as he topped the poll, a reflection of the solid five-year shift he put in after first being elected in 2014.
Failing to make such an impression was Liam O'Neill from the neighbouring Trumera. Fianna Fáil had high hopes for the former GAA President and understandably so as the retired school principal had capably displayed his capacity on the national stage.
However, his campaign on the doorsteps never really got going and any plans FF had harboured for Liam O'Neill to replace their erstwhile colleague Brendan Phelan backfired.
It was Ollie Clooney who saw the gap and seized the day by securing a largely apolitical and cross-party support in his Durrow-Cullohill base as that locality was determined to have its own representation on the Council.
It was some personal consolation too for the tillage farmer and IFA man Ollie, who had earlier been overlooked at the Fine Gael selection convention.
The full count from this electoral area is set out here with the outgoing councillors Paddy Bracken, John King and Seamus Mc Donald also comfortably returned with the best turnout of all the electoral areas in Laois of 58%.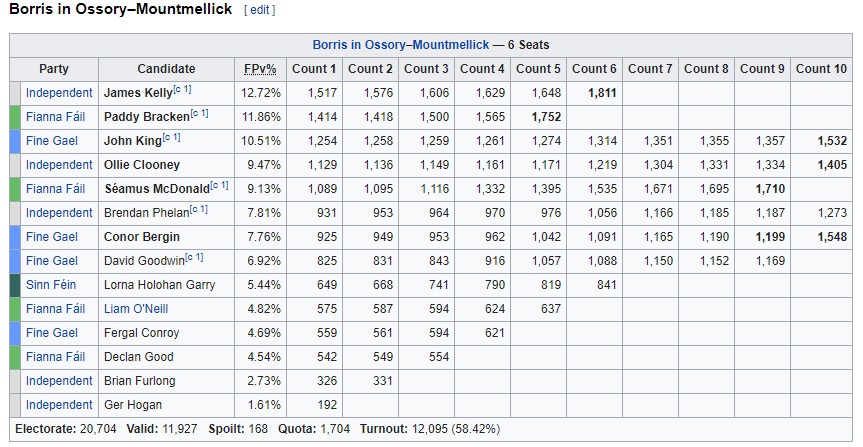 Padraig Fleming tops the poll in Graigue-Portarlington
Padraig Fleming topped the poll in this electoral area which saw all the outgoing councillors who contested comfortably returned.
The only change in this district was to see the popular councillor John Moran who had opted to retire being replaced on the Fine Gael ticket and in the Council by his daughter Aisling.
Since being elected in May the new councillor has proven to be her own woman and demonstrated a formidable, industrious and well researched style of representation. Only six months in and Aisling Moran has made her own mark in her own right.
Once again this area too has pointers for us in terms of the 2020 General Election.
Labour's Eoin Barry put in a good campaign and has proved to be a capable campaigner. He notched up a respectable 7.5% of the vote and if he can add a few percentage points to that come the general election well then he is in with a shout for the fifth and final seat, with the caveat that it will be a crowded and competitive field.
On the other hand Sinn Féin's Brian Stanley will be looking wistfully at Portarlington's councillor Aidan Mullin's 1,600 first preferences, a considerable 16% of the vote, as that Sinn Féin stronghold is being annexed and transferred in to the Kildare South constituency.
This leaves the Sinn Féin TD with quite a bit of ground to make up as he battles to retain his Dáil seat.
As previously noted, the outgoing councillors Tom Mullhall, Paschal Mc Evoy and Ben Brennan were all comfortably returned here.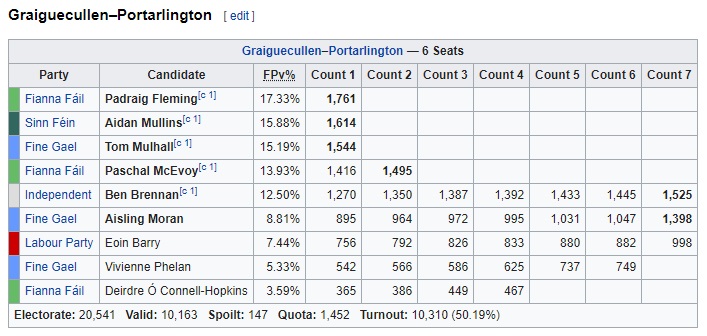 Fianna Fáil lose out due to bitter infighting in Portlaoise
A house divided against itself, Fianna Fáil managed to wash its dirty linen in public and then go on to spectacularly shoot itself in the foot in the Portlaoise electoral area. You can throw in whatever other metaphor or cliché you wish into the equation as Fianna Fáil pretty much managed to do it all.
Ultimately, the bitter in fighting in Fianna Fáil saw them lose the 'Jerry Lodge seat' and cost them control of the majority of seats in the Council into the bargain.
Their candidate Pauline Madigan took the hit gracefully, however, and despite her detractors has since regrouped, reorganised herself, seen off attempts to oust her from the Party's general election ticket and even gone to the lengths of renaming herself – taking her married name of Pauline Flanagan – in the interests of recognition and she's already out canvassing.
Taking full advantage of the Fianna Fáil turmoil in the county town was Thomasina Connell, who had a good outing in the 2016 general election and is a surprising omission from their 2020 ticket.
Thomasina took the last seat of seven in Portlaoise which saw Independent, Naeem Iqbal and Renua's Dom Dunne in the shake-up right to the very finish on the 14th count.
All the other outgoing councillors – the poll topping Willie Aird, John Joe Fennelly from his Abbeyliex stronghold, Caroline Dwane-Stanley for Sinn Féin, Catherine Fitzgerald of FF and Labour's Noel Tuohy and Ballyroan's Mary Sweeney – were at home and sound asleep as all this played out as we awaited the finale as the marathon Portlaoise count dragged on for three days.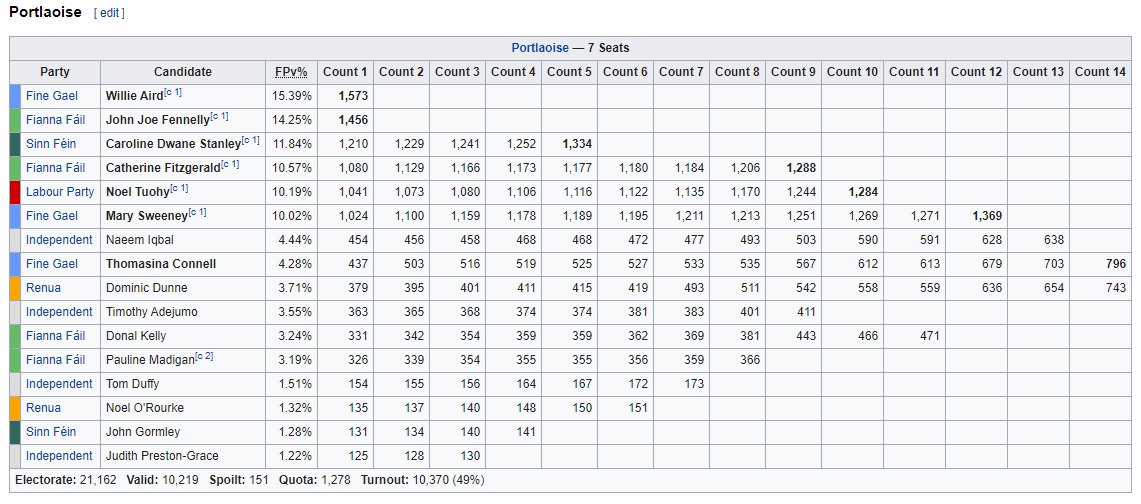 The return of the Laois-Offaly five-seater for General Election 2020
The general election of 2020 will see the return of the Laois-Offaly five-seater, albeit in a different shape and guise, offers countless possibilities and permutaitons.
A large chunk of county Laois has been transferred into the Kildare South constituency for the purposes of the constituency configuration.
This means that over 10,000 voters in Portarlington, Killenard and Ballybrittas will not be voting in Laois but in Kildare South instead along with their Monasterevin counterparts and will elect a Kildare TD.
This is just one of the many reasons that the 2020 election here will be far more interesting than the foregone conclusion that was 2016 when the Laois three-seater returned the outgoing TDs, Seán Fleming Brian Stanley and Charlie Flanagan in a canter. Charlie Flanagan has gone on to arguably have his best stint to date in the Dáil as Minister for Justice.
The newly configured five-seater will be a far more unpredictable affair, not least as there is neck or nothing between the two main parties.
However, Fianna Fáil remain far stronger in Offaly than Fine Gael taking eight seats to four in the local elections. Also, it should be noted that Fianna Fáil came tantalising close to securing two out of the three seats in Offaly in the 2016 general election and would have done so were it not for some unforgivably poor vote management.
As both Laois and Offaly have three TDs each in the outgoing Dáil, what is certain that at least one of the six will not be returned, with former Sinn Fein TD turned Independent, Carol Nolan looking the most vulnerable.
In Offaly there is also the question of Cllr John Leahy the former Renua Party leader who polled exceptionally well in the local elections with over 2,000 votes. Can he build on that and make it to Leinster House on his third attempt as an independent in 2020?
Since the withdrawal of Cllr John Clendennen from the Fine Gael ticket they are now only running two candidates in the new five-seater compared to Fianna Fáil's four, with the ruling Government party hardly displaying much ambition.
Will this present an opportunity for another FG candidate to enter the fray?
The other big question for Laois-Offaly voters will be just how important the climate change and green agenda is to them in real terms and will this manifest itself as support in the ballot box for Senator Pippa Hackett?
LaoisToday will be looking at all the candidates, issues, policies and permutations in fine detail in the coming weeks as we build up to General Election 2020.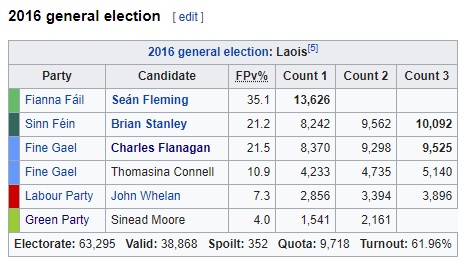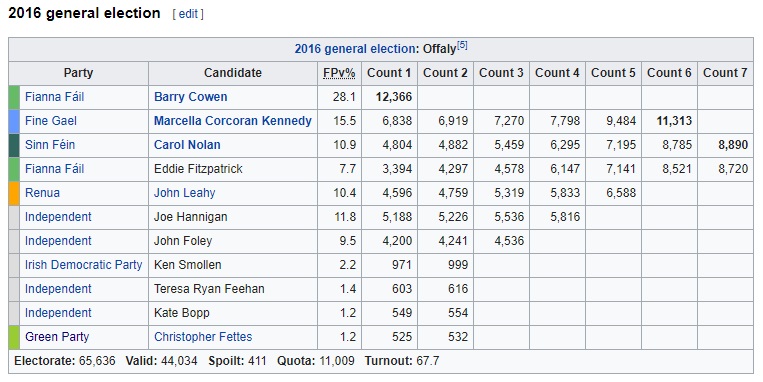 SEE ALSO – Weekend Read: New faces, departures and a crazy count – reflections on this year's Local Elections
SEE ALSO – Box by box – how your area voted in the 2019 Local Elections in the Borris-Mountmellick Municipal District
SEE ALSO – Box by box – how your area voted in the 2019 Local Elections in Graiguecullen-Portarlington
SEE ALSO – Box by box – how your area voted in the 2019 Local Elections in Portlaoise